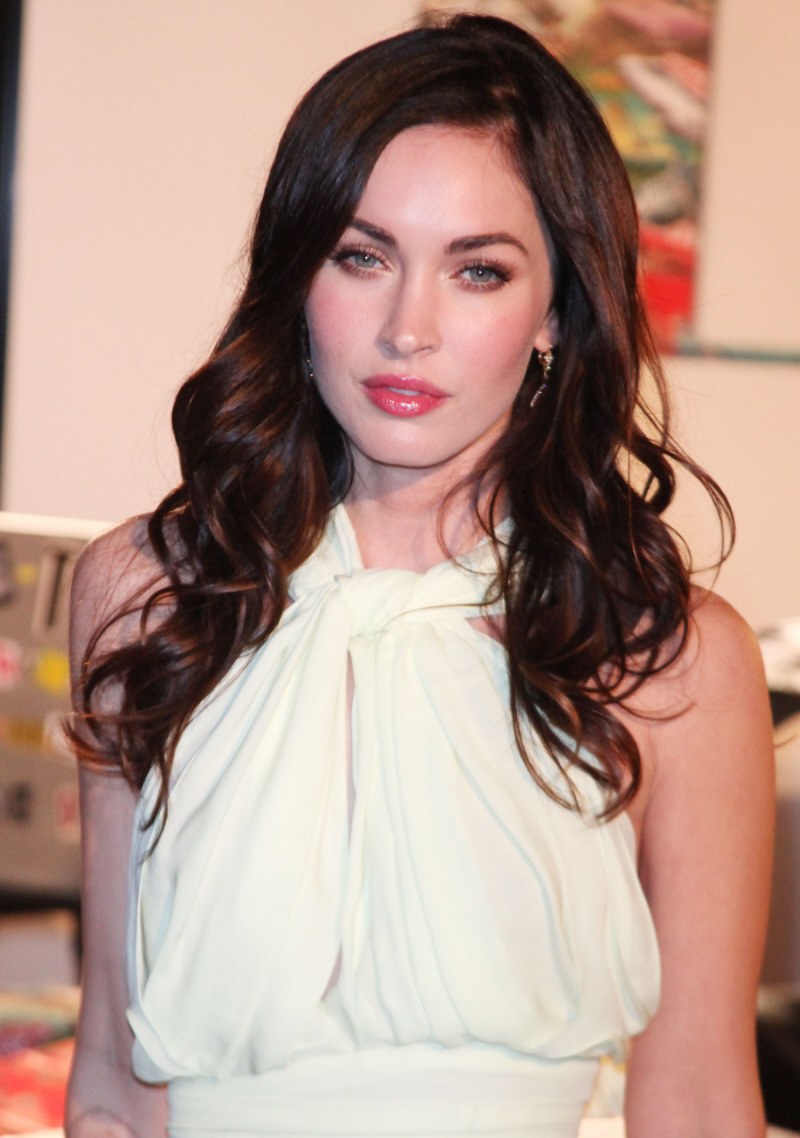 Before Megan Fox got pregnant, her body and general health was often discussed, often by Megan herself. When she first broke into Hollywood, many said that Michael Bay and producers asked her to gain weight for the Transformers movies, and Megan has said in interviews that she didn't always have the best diet, and that she would often go without eating. A few years ago, she went vegan and she really started looking super-crazy-thin, and then she went off veganism and gained some weight back. That was last year, and I said it was probably the best she ever looked – she's a small, petite girl, and you can really tell when she gains or loses five pounds, and when in doubt, gain the five pounds.
Anyway, Megan got pregnant around the end of 2011/beginning of this year, and she hid her bump for the most part, except for some notable (paid and highly organized) photo-ops. Megan gave birth to Noah Shannon in September, and now that she's promoting This is 40, Megan is talking about body image and weight gain again. Apparently, she only gained 23 pounds while pregnant and she's still carrying around 10 extra pounds.
Megan Fox isn't in any hurry to get her pre-baby body back after the Sept. 27 birth of her first son, Noah.

"I only gained 23 pounds when I was pregnant and I'm still 10 pounds heavier, but I don't want to kill myself trying to get back into shape because it's not a priority right now," she says in the Dec. 7 issue of the U.K.'s Daily Mirror. "I'm too in love with Noah and I don't want to be away from him. I just want to be home."

Fox, 26, also explains why she and husband Brian Austin Green, 39, recently decided to hire a nanny.

"Having an infant is difficult. It's a lot of work and I didn't hire any help because I overestimated my own abilities. I had no idea how difficult babies could be, so Brian and I were exhausted," the star of This Is 40 says. "You never sleep and you're awake all night and your entire life is devoted to this little thing that needs you constantly. And I love it. It's what I've wanted to do since I was a little girl."

The new mom continues, "I always wanted to mother things and I constantly had a doll I was taking care of. I don't receive the same satisfaction from my career as I do from being a mother so I'm really happy. But two weeks ago I said to Brian, 'We have to get a night nurse or we're going to get a divorce because someone's got to sleep in this house or we're going to kill each other.'"

Fox — stepmom to Green's son Kassius, 10 — tells the Daily Mirror that she'll be shying away from sexier roles now that Noah is in her life. "It changes your perspective about being overly sexual in a film when you have a baby. I'm going to be more cautious about choosing films because I'm already thinking about when he's in school and his friends are going to be showing him my photo shoots with me in a bikini and he's going to be horrified," the actress says. "So that will deter me from making some of the choices I made before."

Of course, Fox's wild days are far behind her. "I went through a stage in my early 20s when I was very rebellious against how I was raised and I wasn't worried about faith or religion," the Jennifer's Body star admits. "But now, maybe because of getting married and wanting to have a family, I've come back full circle."
For the "23 pounds" thing… it seems like too little to me, but I guess every woman's body is different and if we're taught not judge when a woman gains a lot of weight during her pregnancy, we shouldn't judge when she gains too little. It might just be because – as I said before – Megan is really, really small already. She's tiny. So, 23 pounds is a lot for her, I guess.
As for the nanny stuff… I'm not judging. I actually like how honest she is about not being able to handle it completely and needing some sleep.
Here's a photo of Megan last month: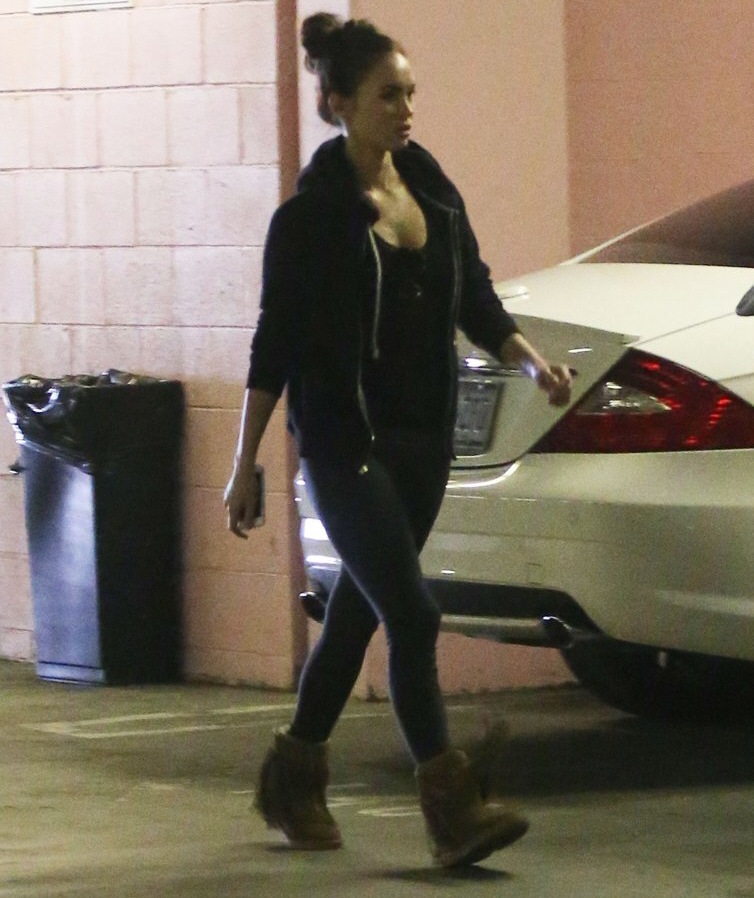 And here she is just a month before giving birth: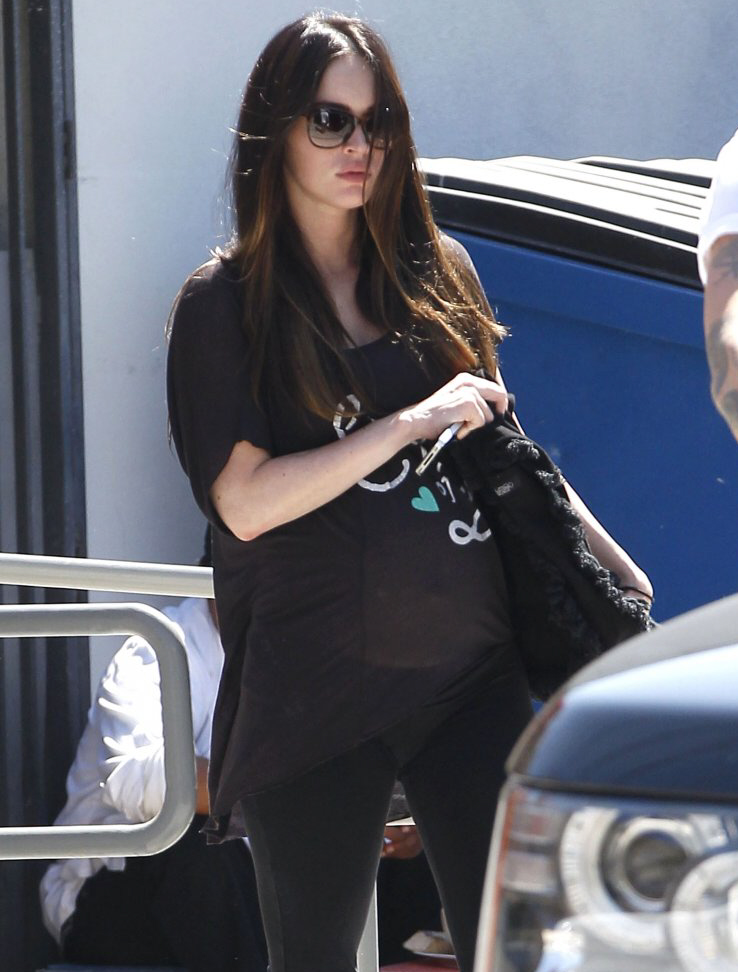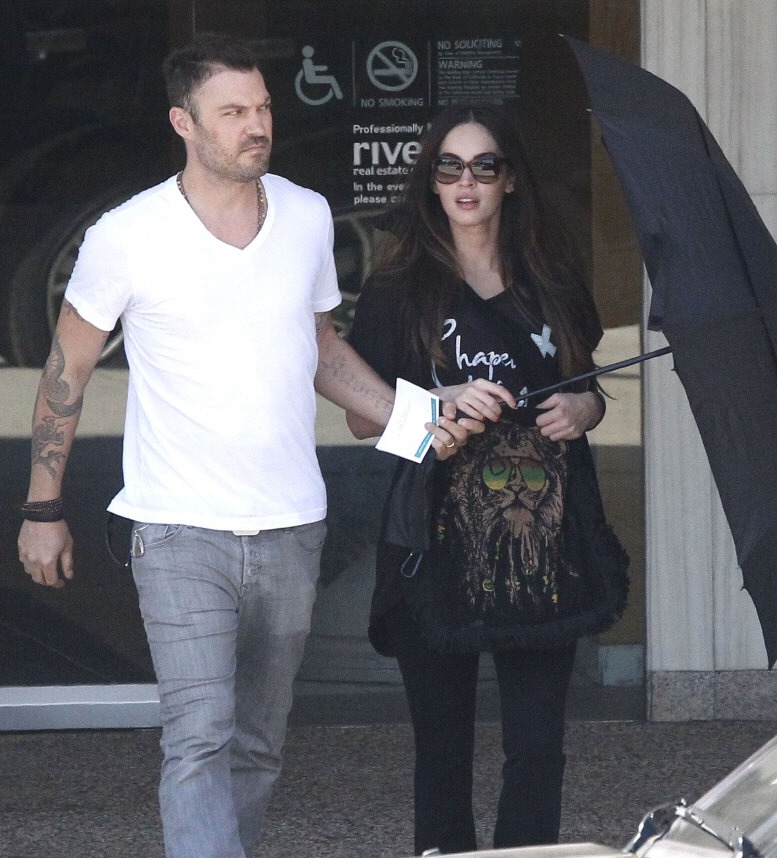 Photos courtesy of WENN, Fame/Flynet.