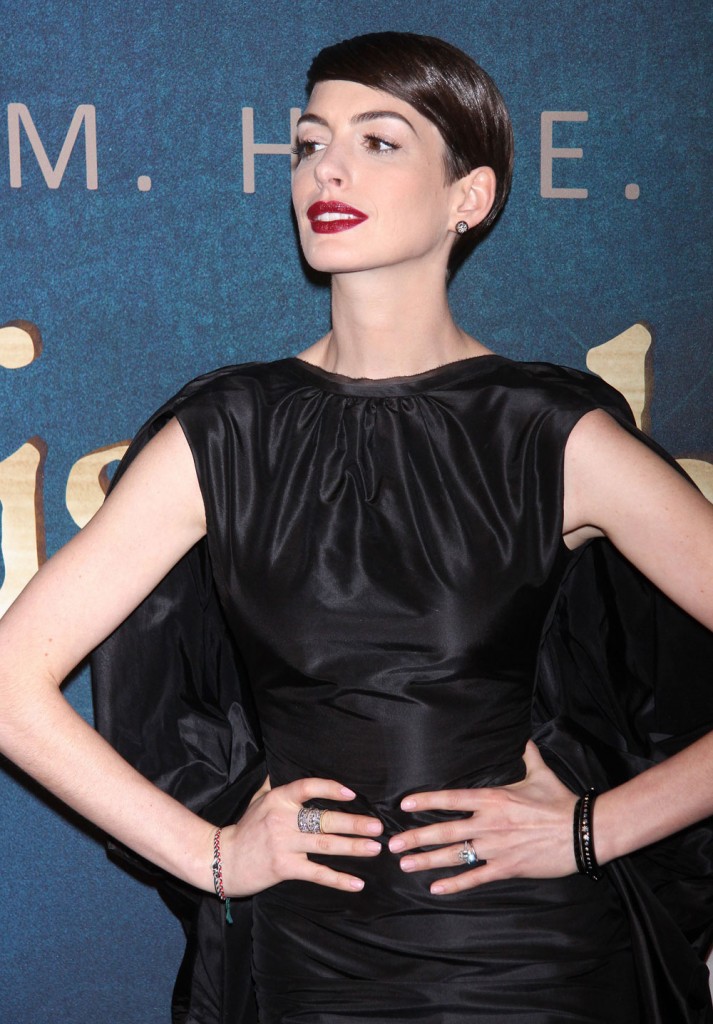 Yesterday a photo came out of Anne Hathaway getting out of an SUV outside her NY Les Mis premiere and flashing the paparazzi. She wasn't wearing any drawers, basically. (DListed has the censored version here. The uncensored version is easily Googled if you're interested.) We didn't run that story because we didn't have the pics and because the ad companies don't like it when we point out celebrities showing their goods. The flash looked deliberate to me, but you know me, I'm a cynical bitch. I was blogging in the Fall of 2006 when Paris Hilton schooled Britney Spears on how to show the goods to photographers. (She didn't train her very well, it was all too obvious and Britney did it on at least five separate occasions. I'm not exaggerating.) Also guilty of this practice was Lindsay Lohan, with at least two different flash moments that I recall.
My point is that Anne's dress was hiked up higher than it looked like it should have been, and the photo really reminded me of Britney, Lindsay, and Paris circa 2006. It was reminiscent of a played-out move, but it was possibly a mistake. Maybe she didn't want any undie lines in that fug Tom Ford number with the bondage shoes, and maybe it didn't occur to her to get a string bikini or a thong because she assumed she would be covered. She allegedly told a Vanity Fair writer at a luncheon that she was devastated by the photo. If it went down like that she must be mortified.
The "Full Hathaway" revelation was a shocking break from her flawless looks, and came hours after the actress left a taping of the "Late Show with David Letterman" looking stunning in red. During a luncheon Tuesday at the Four Seasons, Hathaway was overheard moaning about her mishap in the black taffeta Tom Ford gown.

"I was getting out of the car and my dress was so tight that I didn't realize it until I saw all the photographers' flashes," she told Vanity Fair writer Ingrid Sischy.

"It was devastating. They saw everything. I might as well have lifted up my skirt for them."

The "Devil Wears Prada" beauty, well on her way to being a Meryl, accidentally pulled the Britney when she attempted to seamlessly exit her black SUV with the help of a bodyguard who reached for her delicate hand upon arrival. But — oops! — as she swung both of her bondage-inspired boots toward the curb, her thigh-slit dress fell open and she flashed her lady parts.

Was her longtime stylist Rachel Zoe behind the mishap? Or was Hathaway just trying to avoid lines under her slim-fitting gown? Alexis Bryan Morgan, executive fashion director at Lucky magazine, says the incident was "shocking and unfortunate" because Hathaway is always "very pulled together." Morgan said Hathaway could have avoided the problem.

"It's so much better to be caught in Spanx," Morgan says. "If you're not looking for shaping I recommend the Commando brand. It's hands down the best. It's seamless and raw cut." She also recommends Spanx Simplicity High-Waisted Girl Short.

"The fabric is slinky and seamless, and if your dress flies up you're not naked," she says. "Her dress had ruching, I don't know why she felt she needed to go commando."

If Hathaway still prefers going pantyless, Patricia Fitzpatrick, founder and director of the Etiquette School of New York, offers a solution: "Even Kate Middleton has shown her underwear with her legs spread apart. To prevent it, before you get out, you put your knees together and then you bring them up and out and swing them over the side of the car out to the curb."

"Knees together girls!" Fitzpatrick says. "When you're sitting, you sit with your knees touching."

A classy recovery helps also.

"Do like Kate Middleton. Don't even answer questions about it and go on your way if it happens."

And she threw in one final solution: "Wear underwear."
I love how the NY Daily News got an etiquette expert to comment on this. It's totally obvious advice to wear some knickers and yet their expert plays it straight with advice on specific Spanx to wear! It's awesome. Well maybe it's true, maybe Anne didn't mean for this to happen. This is Anne Hathaway we're talking about, she's known as being classy and very professional. She's been all over the place lately though, and at this point I wouldn't put it past her to stage this. (Again, I'm cynical and have seen a lot, so take my opinion for what it is.) The verdict is still up in the air, I think.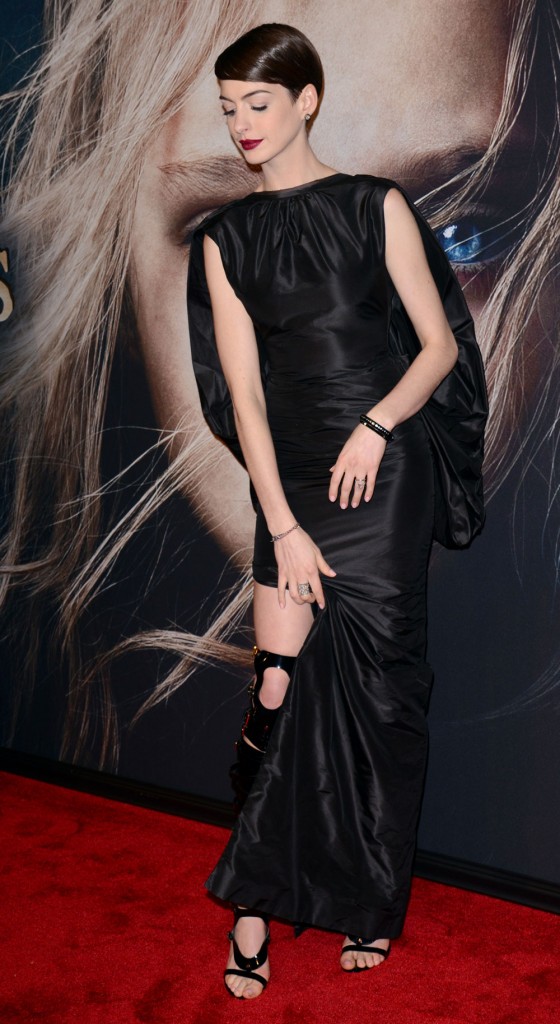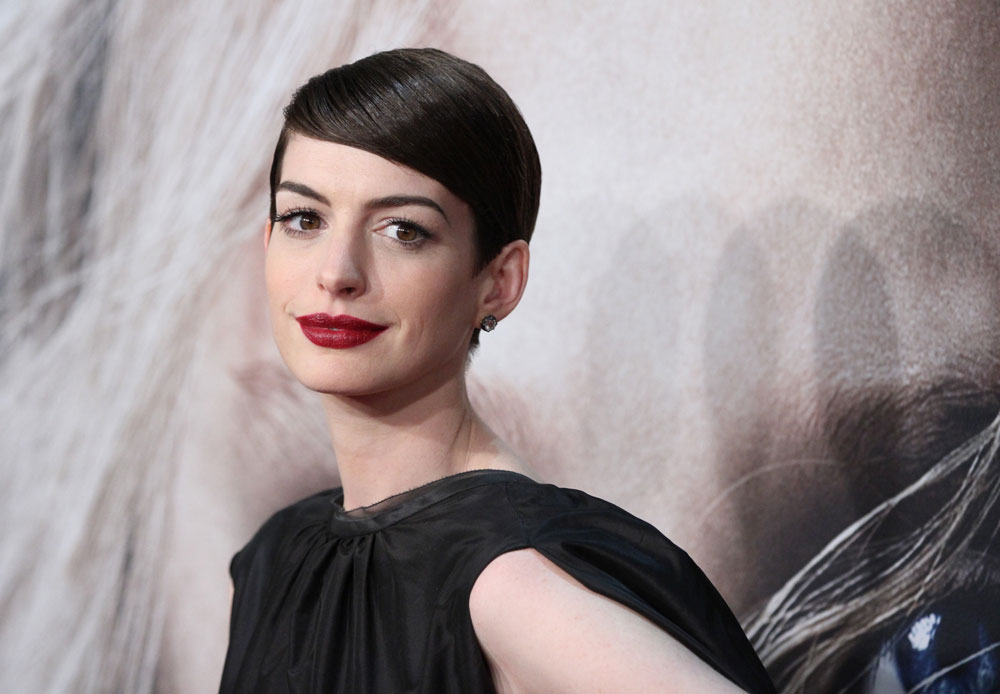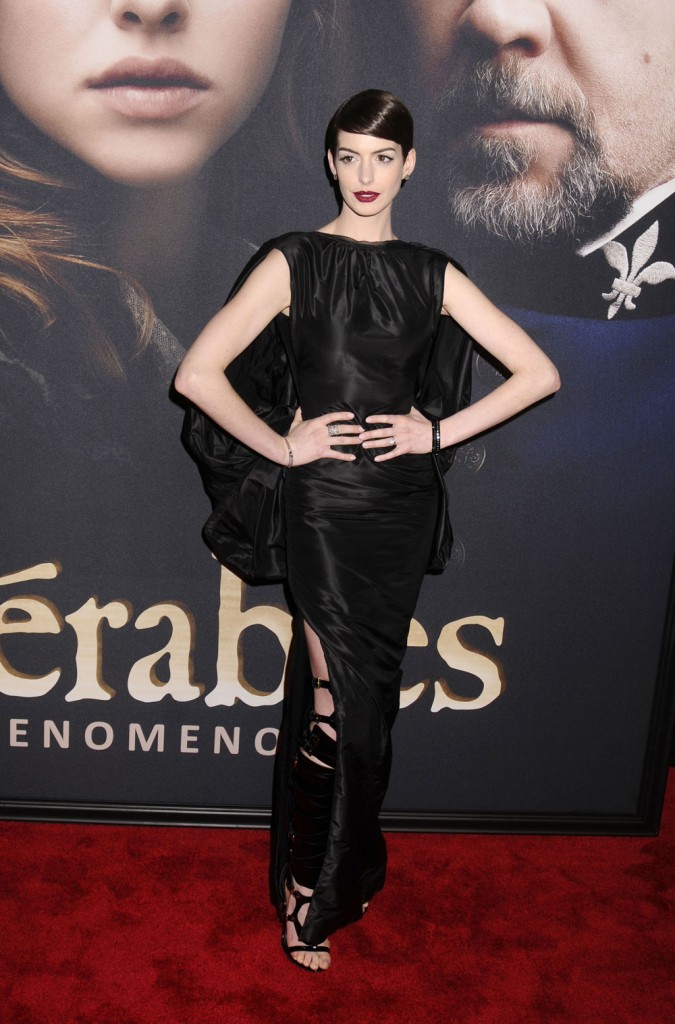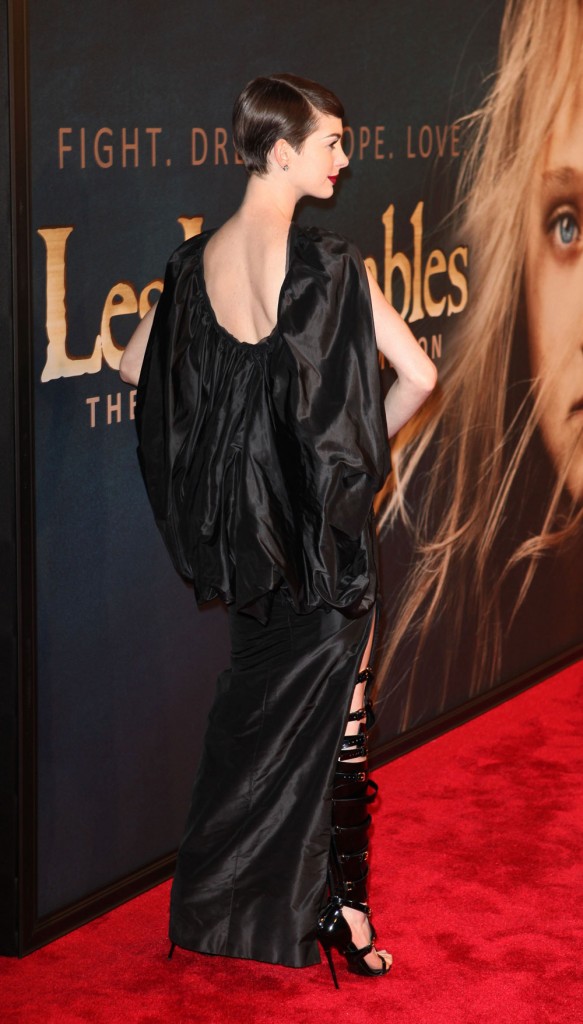 photo credit: WENN.com