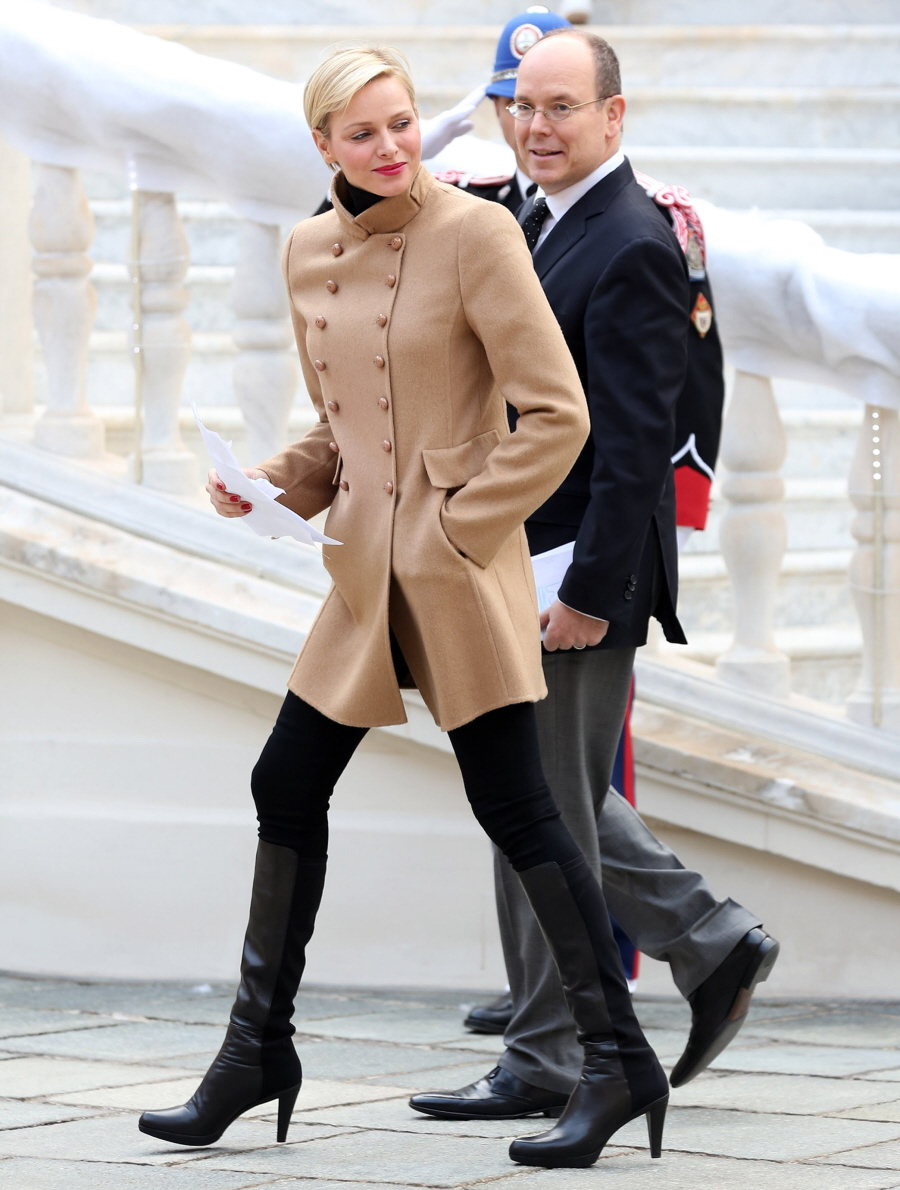 Poor, poor Princess Charlene. Did you forget about her in the wake of Baby Wales: The Baby To End All Babies? I did not forget about her. I imagine that as soon as Princess Charlene was informed of Duchess Kate's pregnancy, poor Charlene popped a few pills and closed her eyes, quietly awaiting Prince Albert's order. She knew she would be sent to the Insemination Dungeon, where The Baster of Doom awaits.
Anyway, here are some new pics of Princess Charlene and Prince Albert yesterday at the Christmas Celebration for Monaco Children. I really like her coat, although I would have gotten it another color. Maybe navy. Maybe black. Maybe red. This beige-y camel is just kind… eh. I do like she's youth-ing it up with some hot boots and she's showing off her legs. You know what? I was talking about all of the girls who chopped off their hair over the past few years, and I completely forgot about Charlene's Diana-esque chop. I still love it. The short hair really suits her.
As for the Baster of Doom, I really do think that Duchess Kate's gestation will probably force Albert and Charlene to really "try" for that heir. Vanity Fair published this funny and completely satirical piece about what went down after Kate's pregnancy was announced:
The scene: a drawing room in the home of Princess Charlene and Prince Albert of Monaco. Princess Charlene has just returned from one of her daily 13-hour swims to find Albert sitting in a chair, strumming his fingertips on the table.

Princess Charlene: [pretends not to notice Albert a few feet directly in front of her]

Prince Albert: [coughs, calling her bluff]

Princess Charlene: [looks over at Albert, purses lips into tight smile]

Prince Albert: Charlene.

Princess Charlene: Albert, hi. Um.

Prince Albert: Did you happen to catch today's news?

Princess Charlene: Uh. Yes. Uh, you mean. . . Syria. Terrible.

Prince Albert: [clears throat] Ah, I, uh, no. I mean, yes, an immense tragedy.

Princess Charlene: [looks at Albert, as if daring him to continue]

Prince Albert: No, I uh, was referring to Princess Kate. Pregnant, you know.

Princess Charlene: Yes, it's just awful about Syria.

Prince Albert: Indeed.
I kind of think my scenario is more realistic, what with the pill-popping and the Insemination Dungeon. Right? I really believe that situation is much more likely. Especially since Albert's nephew (and presumptive heir to the Monaco throne) recently knocked up his fiancée too. Poor Charlene. The Baster is upon us.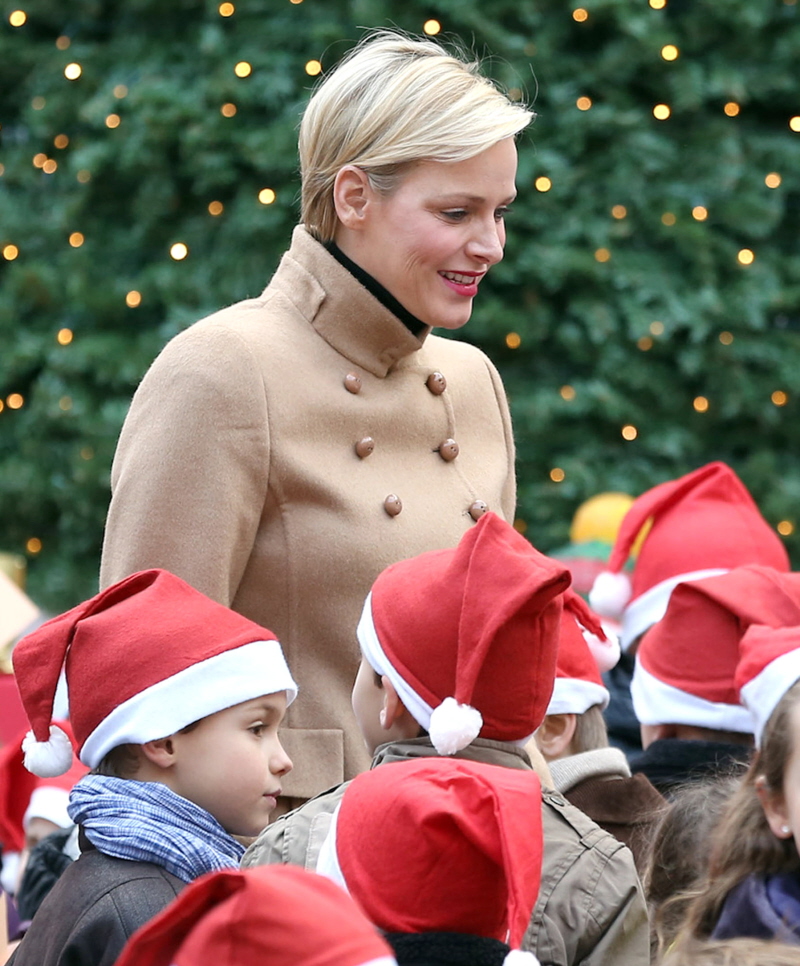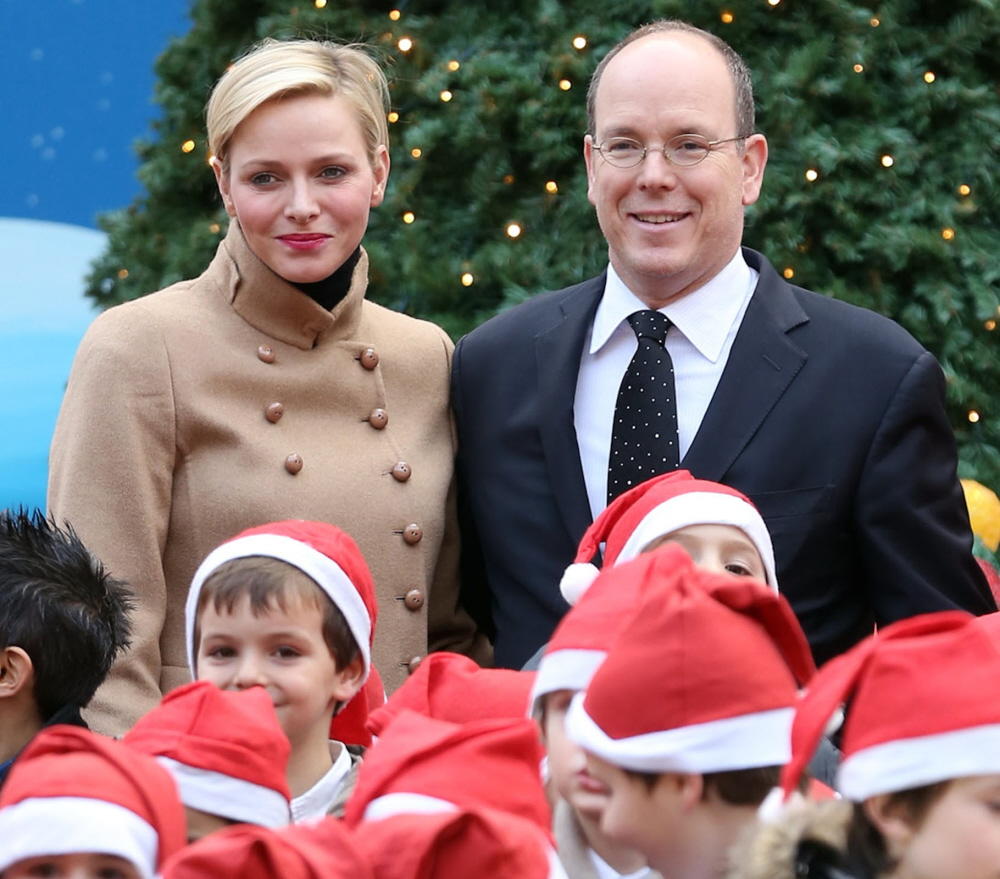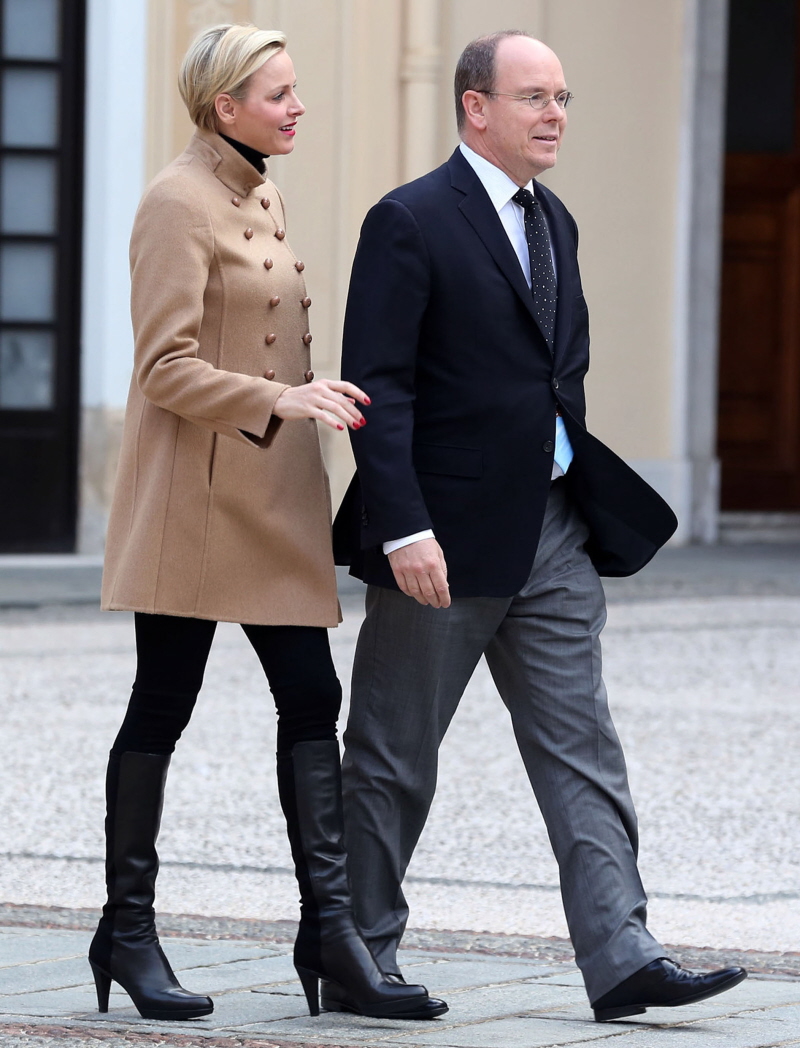 Photos courtesy of Fame/Flynet.