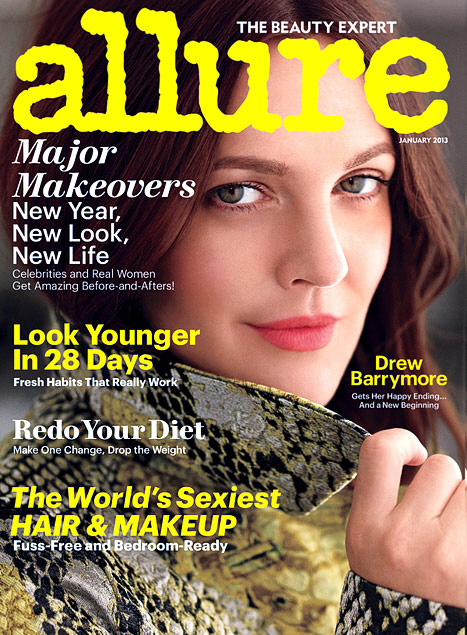 Ooooh, GIRL DRAMA! Except it's Drew Barrymore, so it's not like full-on girl-drama. It's Drew's version of girl drama, which it is pretty breezy and hippie and "Whatever… bitch." Drew covers the January issue of Allure (I have no idea what she's promoting other than her marriage and baby), and in between her "I've changed now, this is the new Drew" speechifying, Drew name-checks Kristen Wiig. Keep in mind… Kristen Wiig and Drew are FRIENDS. Or they were friends. Kristen used to do a dead-on Drew impression on Saturday Night Live. Drew dated Fabrizio Moretti for years, and now he's with Kristen. First, Drew says "She's got me down" about Kristen's impression and then, in reference to Kristen dating her ex, Drew says, "It all seems so wacky and incestuous, but that's kind of how life works. It seems fitting that they would find each other. I was like, 'Right, of course, that makes perfect sense.'" "Wacky and incestuous" is pretty rough language in Drew-speak. Here's more from Drew's Allure interview:
Drew Barrymore has come a long way from her turbulent days as a Hollywood wild child, but there are times she still feels like she's just playing the part of a responsible adult. Appearing on the cover of January's Allure magazine (on sale Dec. 20), the 37-year-old multi-talented A-lister says she can't shake the little girl inside her, despite the fact that she now has a little girl of her own — not to mention a husband, her own production company, and a star on the Hollywood Walk of Fame.

When Barrymore posed naked for Playboy in 1995, Steven Spielberg sent her a copy of the magazine. "His art department put clothes on me," she recalled. He also gave her a quilt with a note attached: "Cover up." "I was like, 'Yeah, I know, I'm sorry.'" She laughed wryly. "It's embarrassing to go through any rebellious stage in front of people that you love and respect, and yet I'm glad I did. I'm glad I lived such a full life before I settled down into a family, because I got to enjoy it and get it out of my system."

"The mistakes, the potholes, the journeys, the bad patterns ­- all of it is so much clearer to me now…but I still don't totally feel like a grown-up," the Golden Globe-winning actress tells the mag. "Maybe I never will."

Which is not to say she won't continue to try to evolve and better herself.

"I will always commit," she says of her approach to both personal and professional relationships. "I want to be that kind of mother. I'm that kind of friend. I'm that kind of producer. I do everything in this life-or-death way…The only thing I've tried to get better at is starting to believe maybe it's not life or death. But the [level of] commitment hasn't changed or wavered."

If anything, it's gotten even stronger. In June, the Big Miracle star pledged her devotion to art consultant Will Kopelman — son of former Chanel CEO Arie Kopelman and father to her 11-week-old daughter, Olive — when the two tied the knot in a Jewish ceremony at the actress' Montecito, Calif., estate.

"I'm a Kopelman now. I have stationery that says 'Drew Barrymore Kopelman,'" she gushes to Allure of life with her new husband.

The marriage is Barrymore's third — she was previously wed to Welsh bar owner Jeremy Thomas in 1994 and comic Tom Green in 2001 — but it's clear that she and her love of more than two years have something special.

"We have opposite experiences, but we're not opposites," the Grey Gardens actress says of her spouse, with whom she was first linked in 2010. "We're both very particular and detail-oriented. We love art and music and adventures, and we laugh our asses off together. It makes me almost want to cry. He's the father of my child, and I'm the mother of his child. I'm finally a part of a family, and it's a miracle."

"My first goal is to show [daughter Olive] E.T.—I cannot wait until she's old enough—and then Ever After, because I want her to see that you can rescue yourself," Barrymore said.

Prior to meeting Kopelman, Barrymore was in long-term relationships with her Going the Distance co-star Justin Long and Strokes drummer Fabrizio Moretti — who has since started dating the actress' Whip It pal Kristen Wiig.

"It all seems so wacky and incestuous, but that's kind of how life works," the director tells Allure of how she feels about the Bridesmaids star breaking the so-called "girl code" and stepping out with her ex. "It seems fitting that they would find each other. I was like, 'Right, of course, that makes perfect sense.'"

Barrymore doesn't begrudge her friend any happiness, especially since she's so happy herself. "I'm so lucky. It's amazing!" she told Ellen DeGeneres recently of life with her new family. "I never take it for granted."
Drew also talks about her body image and dieting, saying: "I don't think I've ever had or will ever have that kind of body where it's like, 'Watch me now! I'm in a bikini!' I cannot live a life where I'm deprived. I'd much rather be five, ten pounds heavier. With my luck, I'll get myself to that perfect goal weight, and I'll get hit by a bus. Then I'll be like, Sh-t. I'll be looking at myself from some afterlife, going, 'You idiot. You could have had the agnolotti, dummy.'" And that's Drew's appeal, isn't it? She's "normal". She seems like a girlfriend, someone you invite to the all-you-can-eat buffet. That is, until you start dating her ex?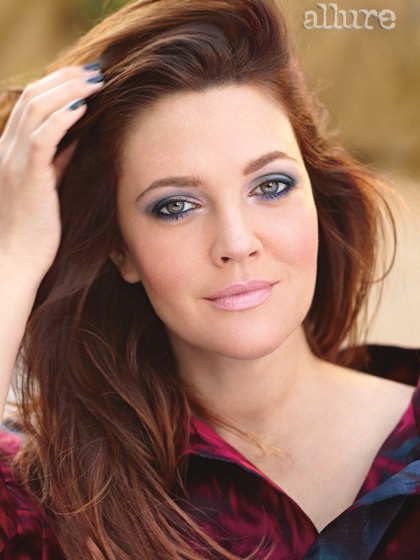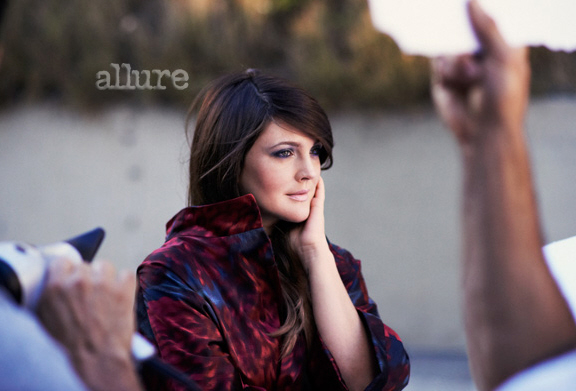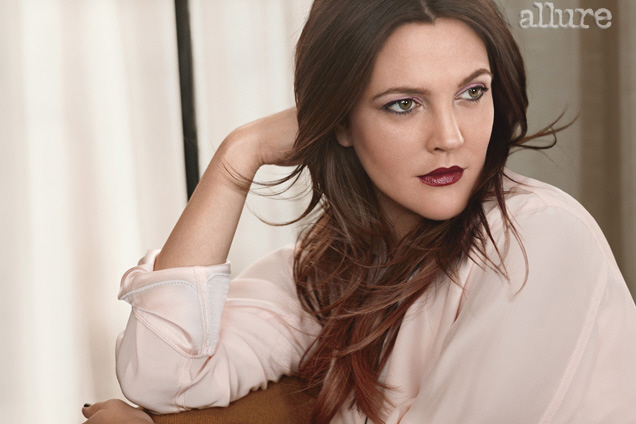 Photos courtesy of Allure.