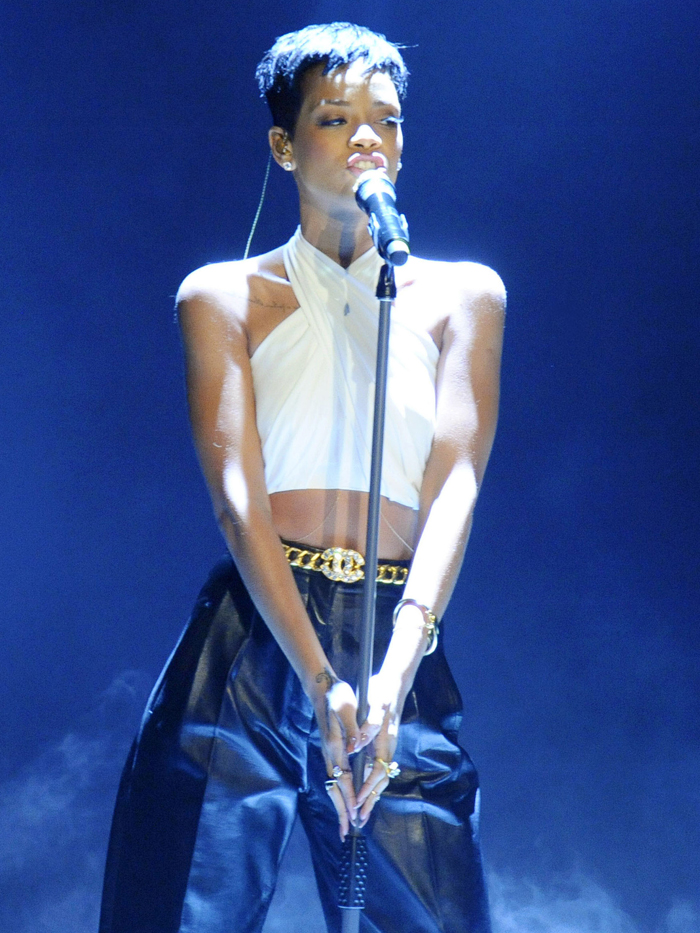 Over the winter holidays, Rihanna usually takes a vacation in her native Barbados, and this year is no exception. Kaiser already covered Rihanna's enviable bikini photos, so I'm using some photos of RiRi from earlier this month while she was travelling through Germany and Paris to support her latest album, Unapologetic. Oh, and Rihanna just tweeted a rather NSFW photo of her right butt cheek tattoo that just happens to be a drawing of a marijuana leaf. So basically, she's being trashy as always.
At the moment however, Rihanna has done a good thing, and she should be recognized as such. She's donated $1.75 million to Barbados' Queen Elizabeth in honor of her late grandmother who passed away in June; the donation was meant to provide new equipment and renovations for the hospital's oncology wing, which has now been renamed Clara Braithwaite Centre for Oncology and Nuclear Medicine. This is a very good development in Rihanna's pop star existence: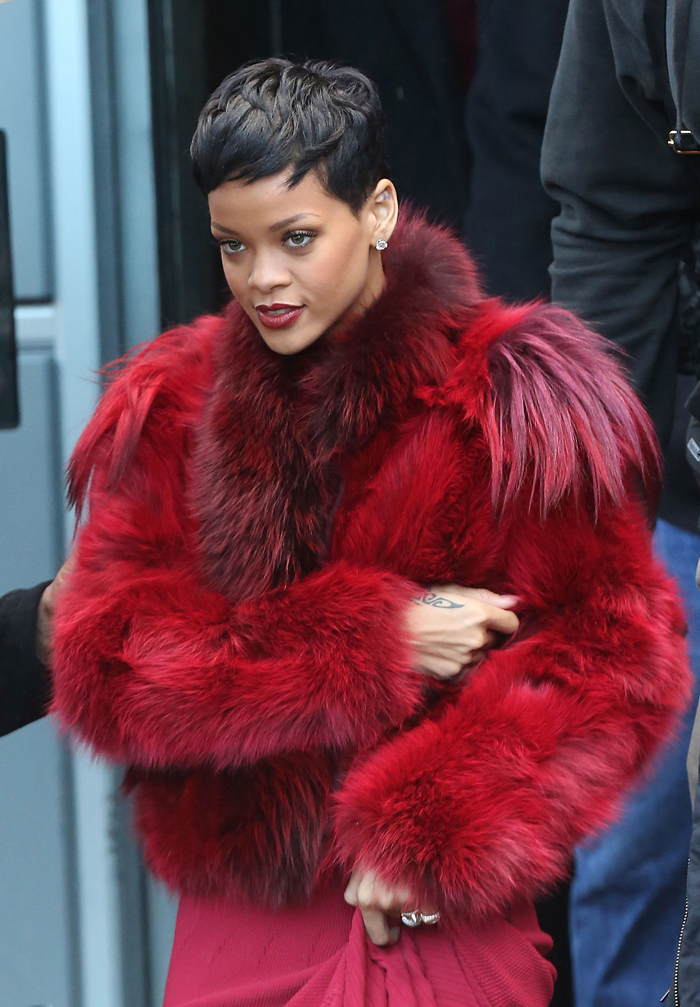 Rihanna knows the real reason for the season: helping those who need it most.

According to E! News, the Barbados-born beauty, 24, has donated $1.75 million to help modernize a hospital in her home country. The generous gift to Bridgetown's Queen Elizabeth Hospital is in memory of her late grandmother, who passed away this summer.

"This was my way of giving back to Barbados, in a form of philanthropy, by assisting the QEH in its continued modernization program," Rihanna shared in a statement. "I believe that this will have a huge impact on the people of Barbados. This was all done to save lives, or at least extend them."

Following the donation, the hospital has renamed its cancer treatment center after Rihanna's beloved Gran Gran Dolly. (The department will now be called the Clara Braithwaite Centre for Oncology and Nuclear Medicine.)

In August, the singer opened up during a sitdown with Oprah about what she learned from Clara Braithwaite, whom she described as one of the greatest people she had ever known.

"She was a well-rounded woman," Rihanna explained, growing emotional. "She taught me a lot about forgiveness, loving my enemies, spirituality [and] strength as a woman."

Shortly after her passing, Rihanna paid tribute to her grandmother — as well as the values she instilled in her — by getting a tattoo of the Egyptian goddess Isis. According to Egyptian mythology, Isis was a champion of the oppressed, a protector of the dead and the goddess of children.
[From Us Weekly]
Obviously, it's damn near impossible to knock Rihanna for donating such a large sum for such a worthy cause. Rihanna was incredibly close to her grandmother and was publicly devastated after her granny died, so it stands to reason that RiRi would decide to take philanthropic measures and help those who suffer from the same disease that claimed her grandmother. Also and from a purely selfish standpoint, I like the idea of Rihanna throwing herself into such pursuits, which give her at least a little less time and energy to dwell on Chris Brown.
Update Bloody hell. Rihanna spent Christmas in Chris Brown's arms after all. So much for her fleeting sanity.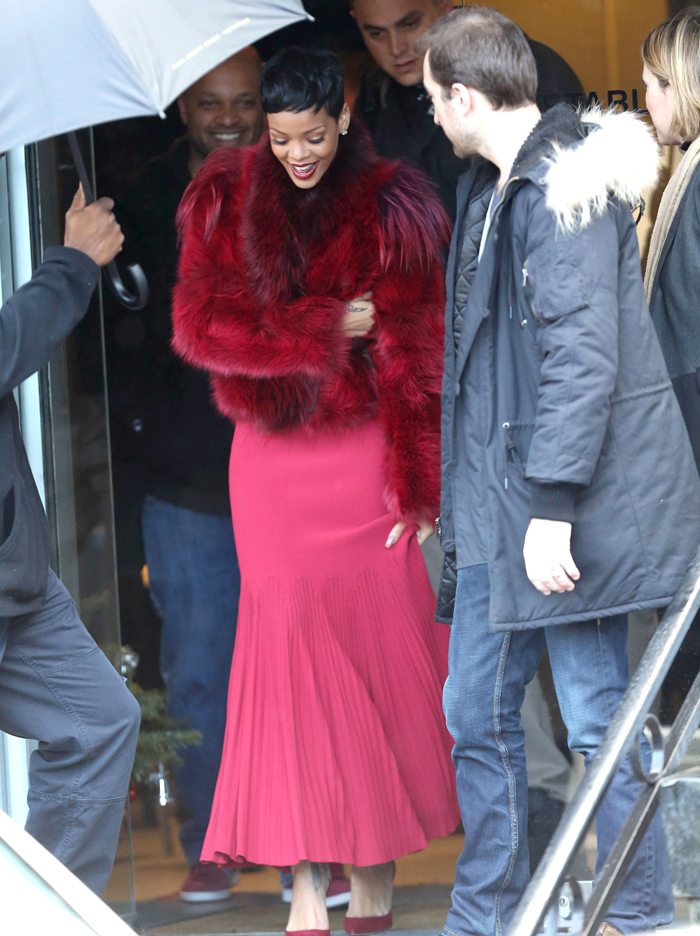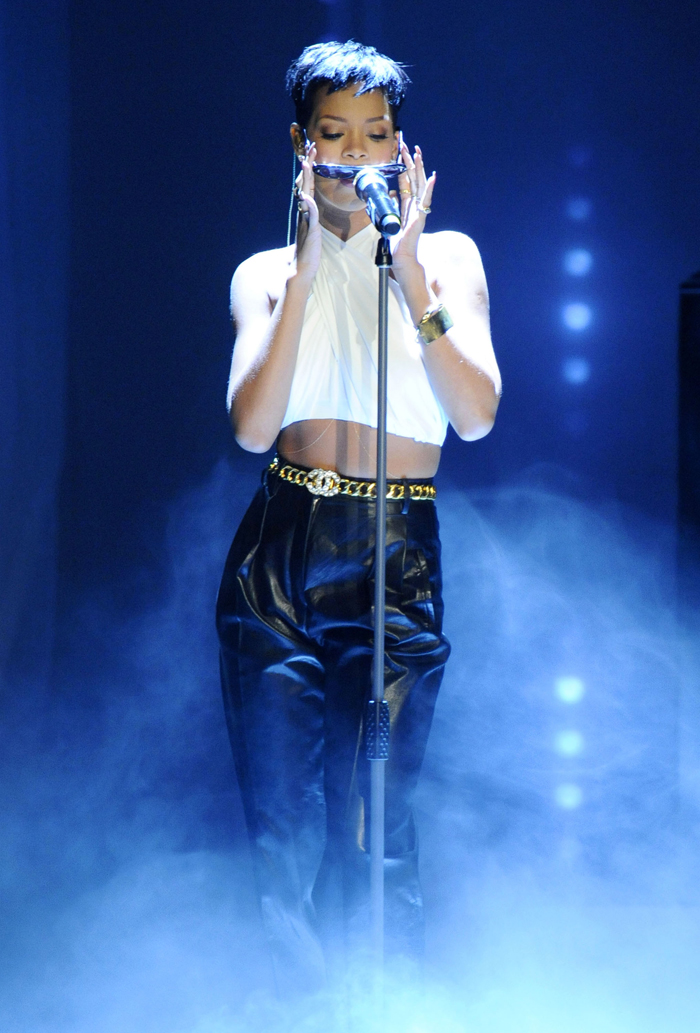 Photos courtesy of Fame/Flynet