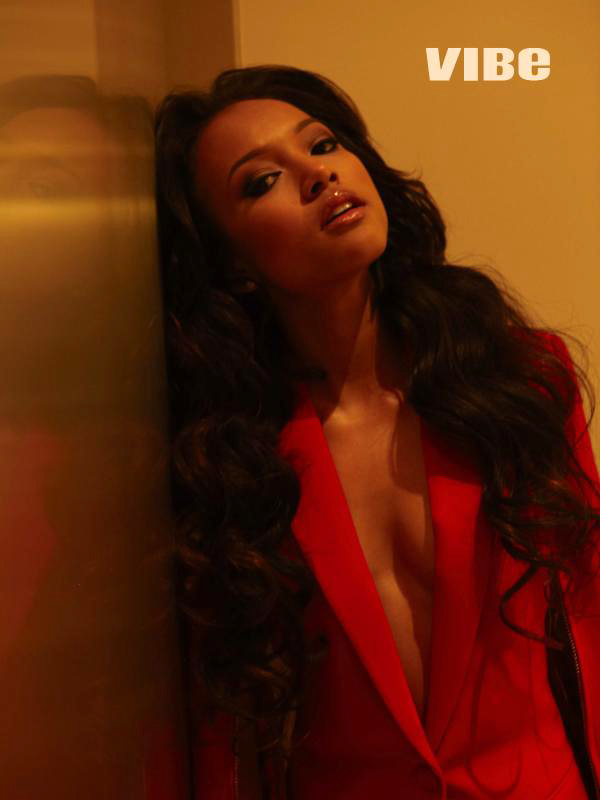 Karrueche Tran appears in the February/March issue of Vibe magazine to promote her new clothing line (?) that she's collaborating upon with Chris Brown (uh-oh). Karrueche maintains that she is the "creative director" of this unisex line that is a companion to Brown's men's line, and that Chris gives her complete freedom to basically do whatever she wants. Actually, I don't think many of us really care about what these clothes are even going to look like. Instead, this is more of a case of wondering exactly how long it will take for Chris to go back to Karrueche's waiting bed (she admits as much during this interview) and leave Rihanna twisting in the wind. Not that most of us would mind Chris and Rihanna breaking up again, but RiRi obviously wants to be with the guy despite what common sense would dictate.
The more I think about it (and I honestly try not to do so), I'm almost certain that these three fools have some sort of "arrangement." Right now, Chris and Rihanna are supposedly back together after they went to a post-Christmas Lakers game, but Chris seems to move freely between the two women, and they just put up with the madness with the understanding that each of them will receive their turn again. At the time of this interview, Karrueche has no problem admitting (in no uncertain terms) that she wants Chris back. Sigh. Here are some excerpts: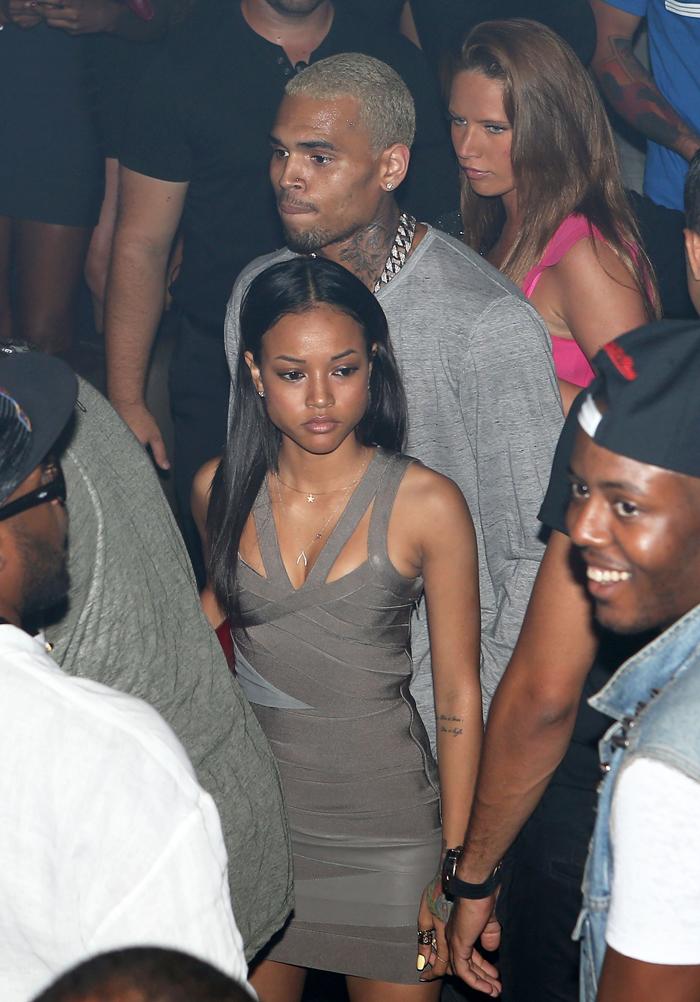 Why the fashion line? "Chris [Brown] wanted to do a female line for his men's line ["Black Pyramid"]. So he asked me to take over and 'The Kill' was gonna be a women's only line but it's actually unisex. When I first started, I pretty much thought of the name. Then from there, we started making very basic sample t-shirts, hats, beanies and socks. That's what a lot of people saw online and on Instagram. They saw certain people wearing it, so it created this really big buzz in our very first stages. We got a little bit ahead of ourselves and we wanted to do this really awesome launch on 12/12/12, but we kinda had to slow it down 'cause things weren't 100% completely done. That's why we waited."

On being a "model": "I never was an official model. I always tell people I'm not a model but I've done modeling. Now I'm signed with a commercial agency, so hopefully that is going to pick up but before I was just doing favors for friends who needed somebody for their lookbook."

How she copes with the scrutiny: "A lot of people are like, 'Don't go on your Twitter, don't read the blogs.' I do read my Twitter a lot and I get a mixture of the positive people who are like, 'I understand, I've been there before, stay strong,' and then there's the negative people who are just always negative for no reason."

Is she happy with her love life? "[R]ight now of course not. It's a lot going on but it could be a lot worse. And that's how I look at life. I take it for what it is. I move forward, grow from it and at this point, that's what I'm doing. I'm not gonna sit and dwell and become consumed in that negativity because I could very much be that person, especially when things are so public and so thrown in my face. But like I said, things can be much worse. So I'm good."

She still loves Chris: "I do care about him and I do love him. Family is very important to me, and I've always put it in my mind to remember that. For me, I'd love to meet somebody and grow and build a foundation, but I don't want to even think about marriage right now. I can't even get a clothing line out."

Could she ever be in the same room as Rihanna and Chris together? "For everybody, emotionally, that would just be way too much. I'm a very mature person so if the time ever did come where we would need to sit down and talk, I'd do it. I'm a mature person. I can work it out but that would be a lot. (Pause) Yeah, it would be a lot."
[From Vibe]
Sure, this "clothing line" is just a professional arrangement, right? What a mess. In response to the buzz being created by Karrueche's declaration of love in this interview, a member of Rihanna's team has contacted Hollywood Life to say that "Ri thinks of it as his charity work. He's not f**king her, he's mentoring her. Ain't nothing going on with them like that. Not a chance, baby." Hahahahaha.
Note by Celebitchy: Rihanna has posted a note on her Instagram, that many people think is a sign that she's broken up with Chris. Again. If that's the case it's just a matter of time before she takes him back.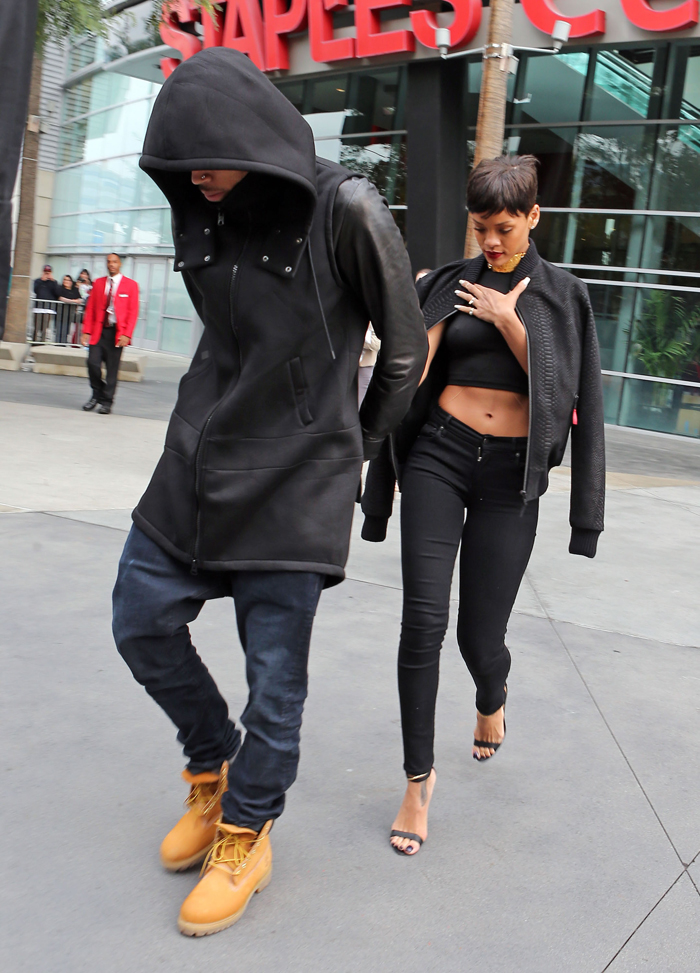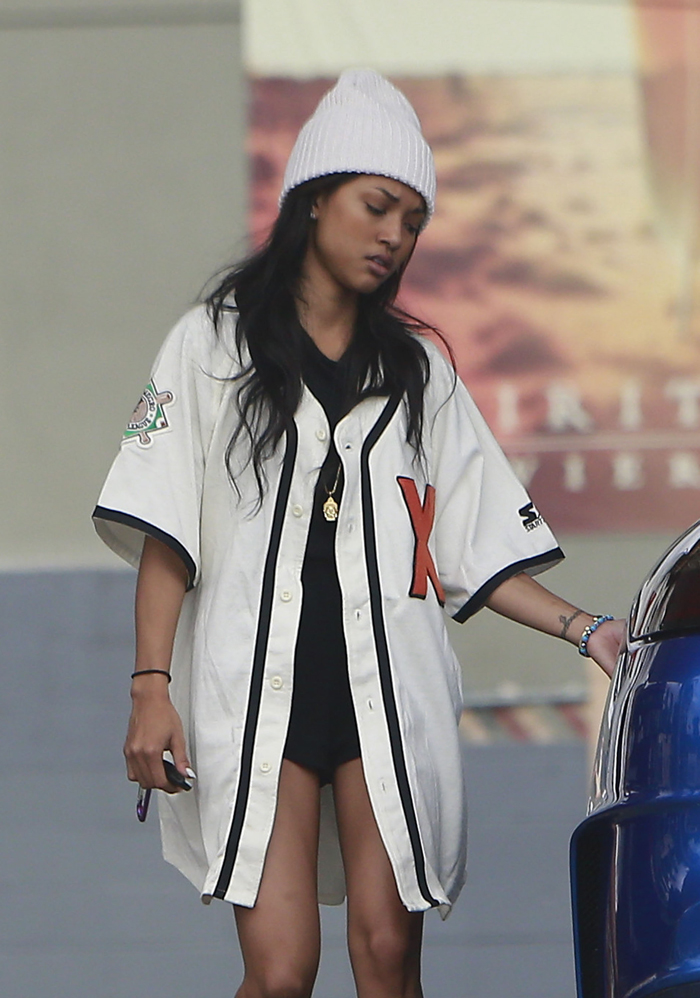 Photos courtesy of Fame/Flynet and Vibe