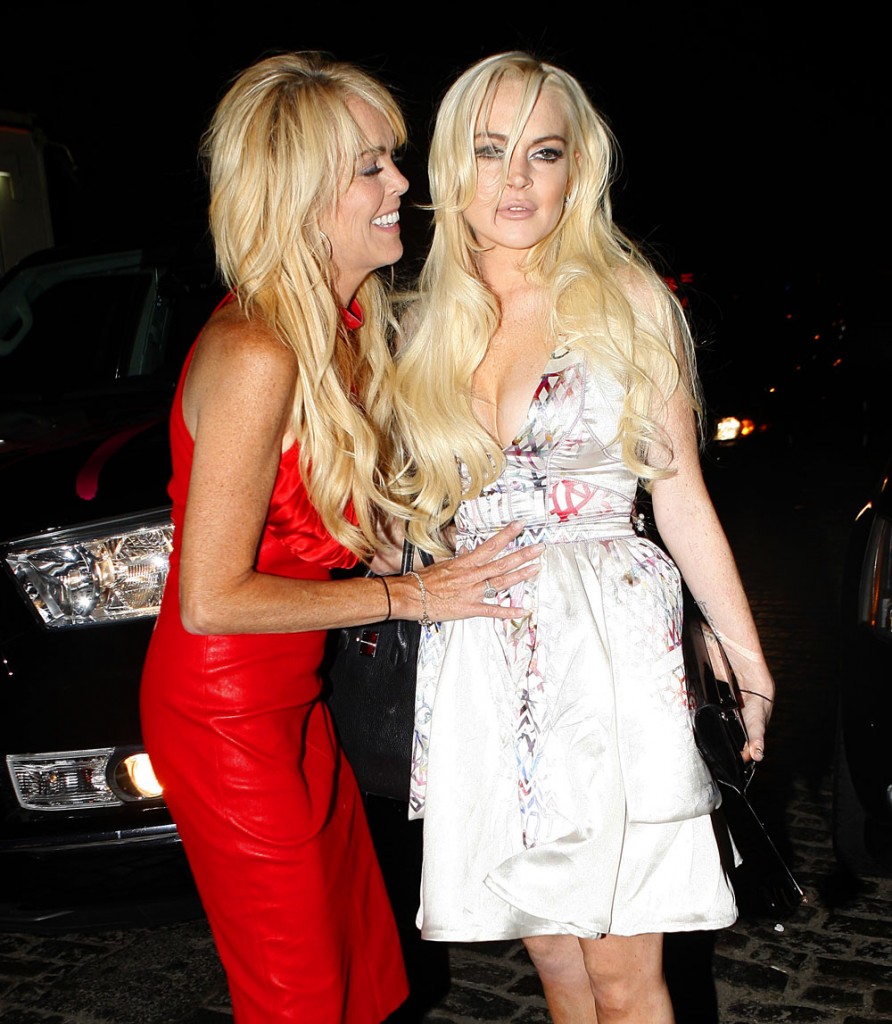 On Monday we saw a new interview that Dina Lohan gave The NY Daily News in which she said, "Lindsay is messed up because her father is messed up." It was notable to me not because Dina was continuing the Lohan family tradition of deflecting blame and never being accountable for anything, but because she was finally admitting that Lindsay had a problem. When Dina isn't repeating the "Lindsay is fine, she is concentrating on her work" mantra, something is definitely off.
In that same interview, Dina accused her ex husband, Michael Lohan, of ongoing abuse during their relationship and mentioned an incident in 1986 in which he blackened her eye. Michael, who was also quoted in the article, admitted slapping Dina back then, but claimed it was self defense. Dina also described allegedly being raped by Michael while they were estranged in 1990. He claims it was consensual and that Dina reported it as rape as payback because he was cheating on her. I believe Dina given the overwhelming evidence that Michael abuses his partners. End of story.
In conjunction with her NY Daily News article, Dina shared (sold) photos of herself with a black eye in 1986. ET has those pictures here. Dina is seen holding a baby, who is probably baby Lindsay considering that she was born in 1986.
Again, this isn't surprising and of course Dina was abused by Michael, he's a POS. Why is she telling this to the press now, though? I'm thinking this is her crackie way of trying to tell Lindsay that she's in deep trouble and needs help. This is the first time we've ever heard an admission from Dina that Lindsay is not ok, isn't it? Does this mean that Lindsay is so far gone at this point that even Dina is trying to tell her she has issues? Remember, Dina was in London partying with Lindsay for New Year's. My theory is that something went down and Dina is now actually worried about her daughter. For Dina to finally wise up, it had to be major. Or maybe Dina just got cut off by Lindsay and she needs the cash from selling her abuse photos. I don't know why I'm getting my hopes up.
Also, fingers crossed that Lindsay finally gets sent to jail for more than a week or two. A long stint inside might finally get her to sober up, but I doubt that either of those things are going to happen.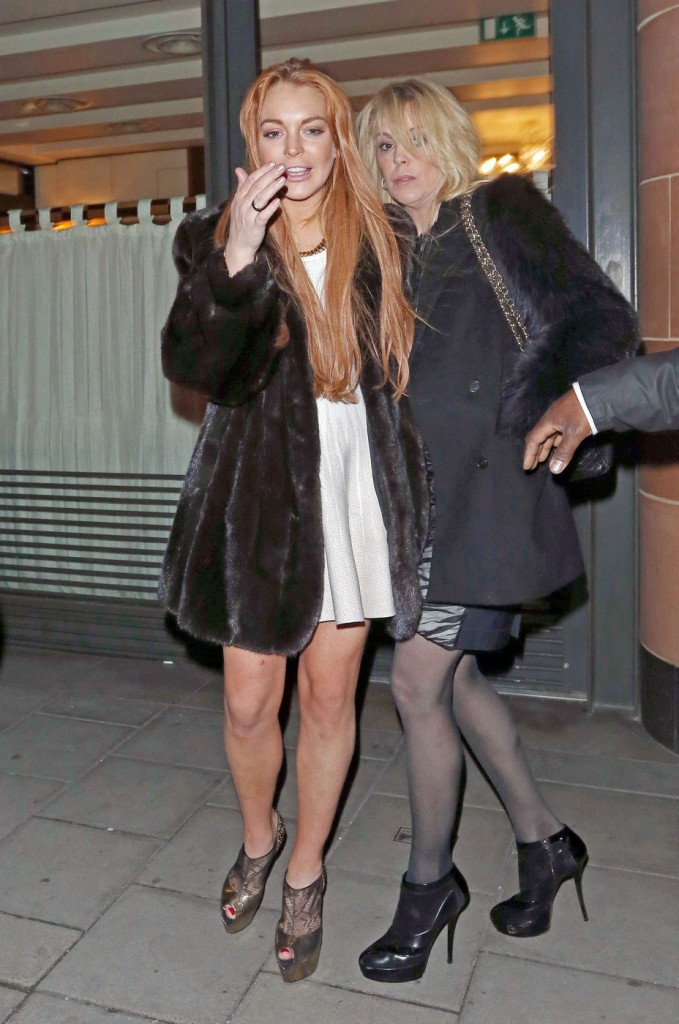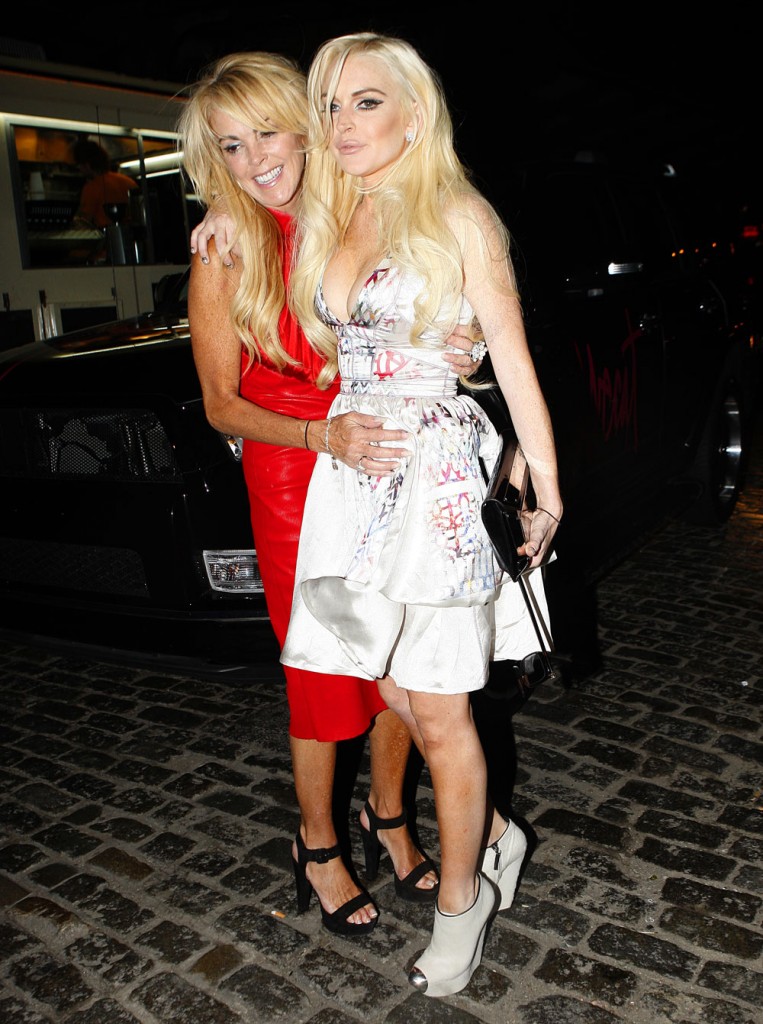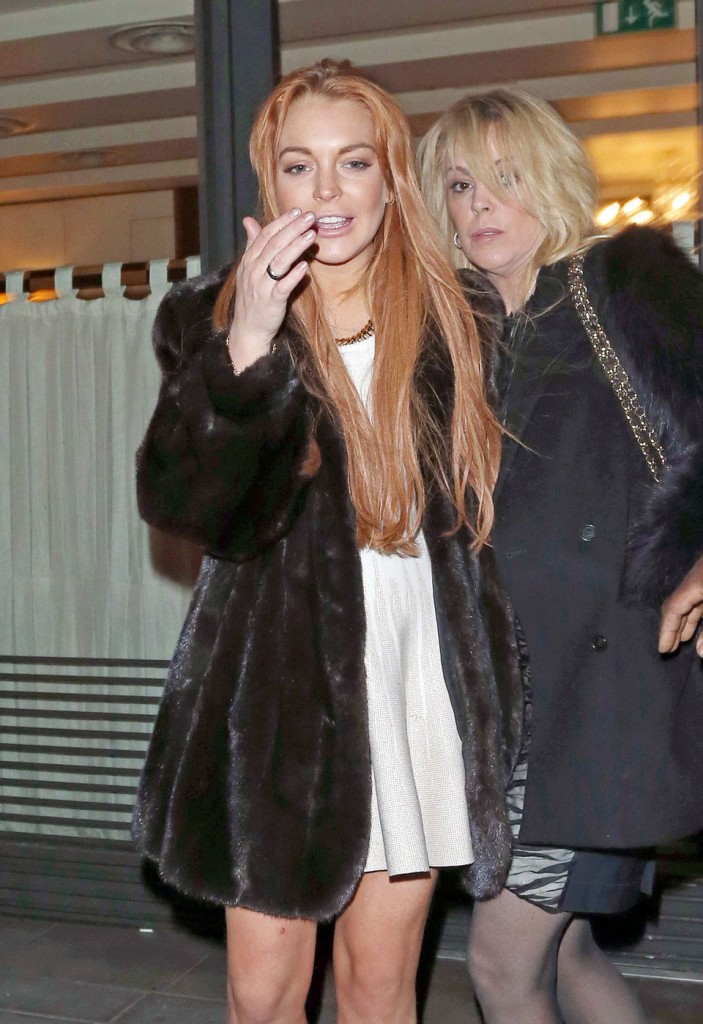 Dina and Lindsay are shown on 9-14-12 (cleavage dress, credit: FameFlynet) and 12-30-12 (fur coat, credit: Pacific Coast News)