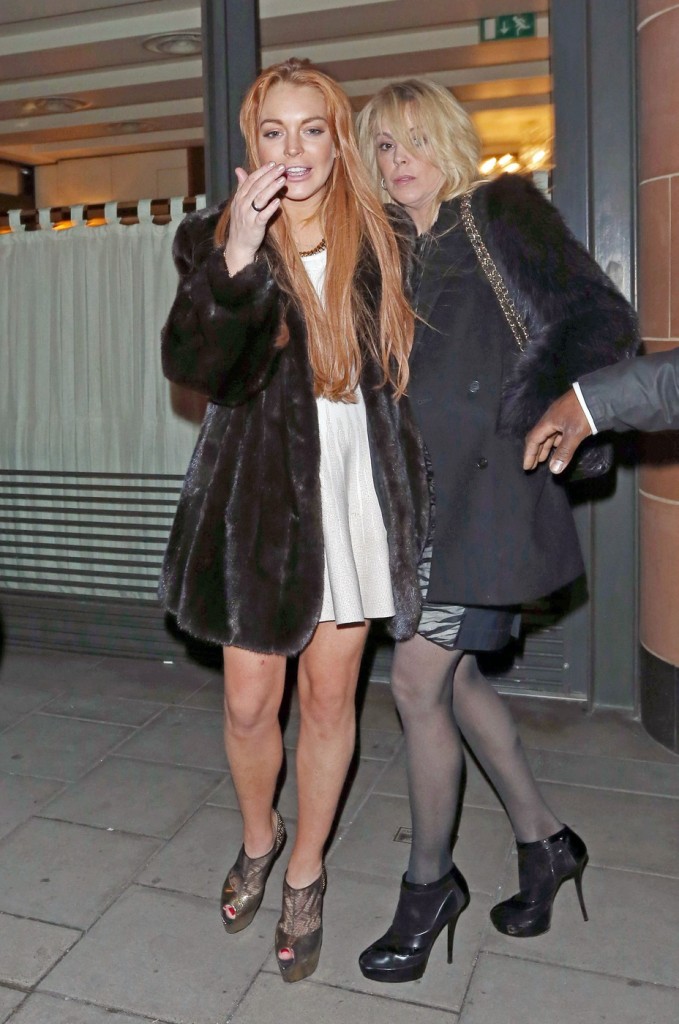 In the ongoing trainwreck that is Lindsay Lohan's life, is there any shadow of a doubt that her mother is her worst enabler? Her mother, the one who accompanied her to a "paid party" this New Year's sponsored by Prince Azim of Brunei. Her mother, the one who regularly gets wasted with her daughter, does interviews wasted, and denies that her daughter has any problems whatsoever. It's exhausting to try and recap the messiness in Lindsay Lohan's life, but her mother has been there, denying and blaming and lying the entire time. There's little doubt who taught Lindsay that a sense of entitlement, a total lack of personal responsibility, and a propensity to lie your ass off are completely acceptable coping skills.
So it's not surprising to hear Dina blame her ex husband for all of Lindsay's problems. What's surprising to me is that Dina is finally admitting that Lindsay has a problem. Did Lindsay and her mom have another big fight on New Year's and is this payback? Did Lindsay tell her mom not to cut in on her international profits?
In a new interview with the NY Daily News, Dina goes into details about a rape she claims she suffered from her ex, Micheal Lohan, when they were estranged in 1990; Michael claims it was consensual and that Dina accused him of rape as payback. (Dina's children did not witness the rape.) Michael also claims that Dina's allegations of physical abuse are inaccurate and that she hit him first. Given vagina-kicker Michael's history of abusing the women in his life, I believe Dina. She's delusional if she think that Lindsay's problems are entirely due to Michael, but this isn't new from her. Here are some excerpts from the interview. There's more at the source if you're interested.
"Michael beat the hell out of me," Dina said, of the 1986 incident memorialized in a family snapshot of the young mother holding her baby girl — Lindsay — while sporting a huge purple bruise under her right eye.

"When Lindsay saw the photo, she was furious," said Dina. "She said, 'Tell the world! Talk about it!' "

According to Dina, Lindsay was affected by all that she saw as a child — and she's not to blame for her faltering career or oddball antics.

"She saw a lot of crazy stuff. I want the world to know the root of her problems…"

"Lindsay saw all the beatings and all the abuse. She said, 'Stay, mommy, don't leave,' " said Dina.

Recently, Dina said, her adult daughter expressed regret for those words.

"She said, 'I'm so sorry for making you stay.' But I didn't stay for Lindsay — I wanted all my kids to be happy," said Dina.

"Like many victims of domestic violence and rape, I was embarrassed and afraid. I was very young . . . I thought I could keep fixing him," Dina said.
She said she came forward now to "set the record straight. I need to make the world aware that Lindsay is messed up because her father is messed up."

Michael said he believes Dina is seeking cover from criticism of her own parenting decisions.

"She's bringing this up now because she's drinking and partying with Lindsay. And she keeps robbing Lindsay," he said, claiming that his actress daughter is his ex-wife's main source of income. "She is the devil."

Lindsay, who has her share of legal problems, is expected to appear in Manhattan Criminal Court Monday to see if she'll face charges for a catfight she got into with a Florida palm reader in a Chelsea nightclub's VIP room in November.
I can't with these people, they're all awful, and I'm including their crackhead daughter in that mix. The Lohans are trashier than any reality television family going, and they don't even rate reality TV anymore.
In the ongoing, constant news about Lindsay's string of legal problems, there's an update from TMZ on her court case today. Wouldn't you know it, the crackhead skated again. Of course she did! After partying until 5am Saturday morning in London, she didn't bother to get her paid-for ass on a plane and back to New York City for her scheduled court appearance. She didn't need to make up an excuse about "losing" her passport this time, because the case was delayed. And here I was hoping that New York justice would be swifter than California justice. In case you forgot which crack-scuffle this case pertained to (I did!) it had to do with her punching that "psychic" in a nightclub in November.
You know what this reminds me about? Michael Lohan is still expecting a baby with Kate Major. That's going to be epic.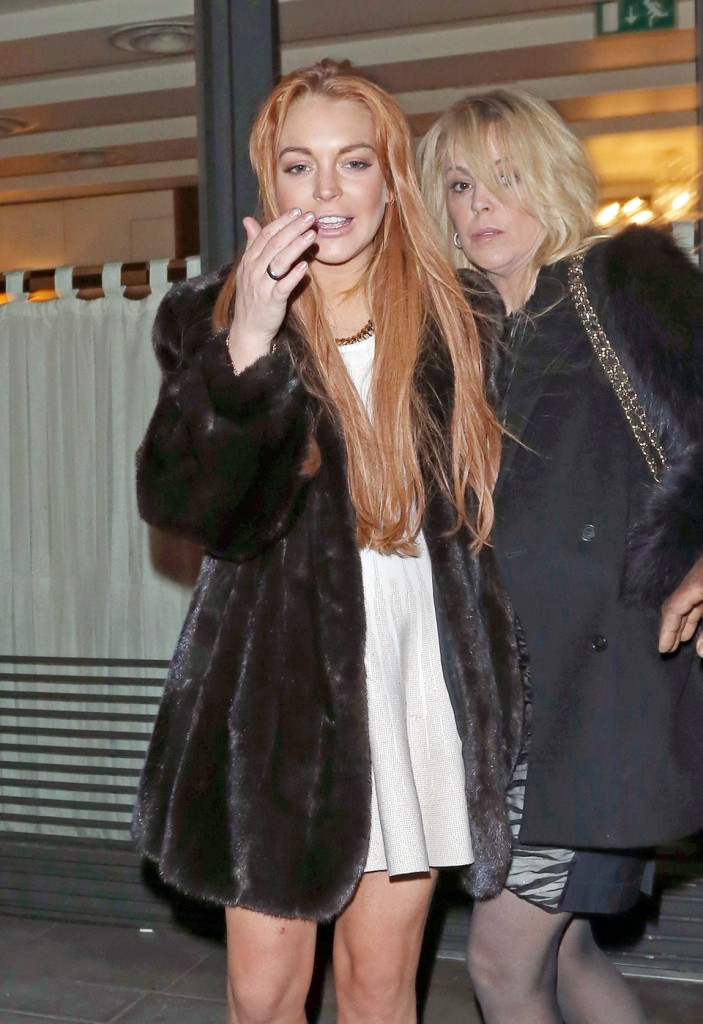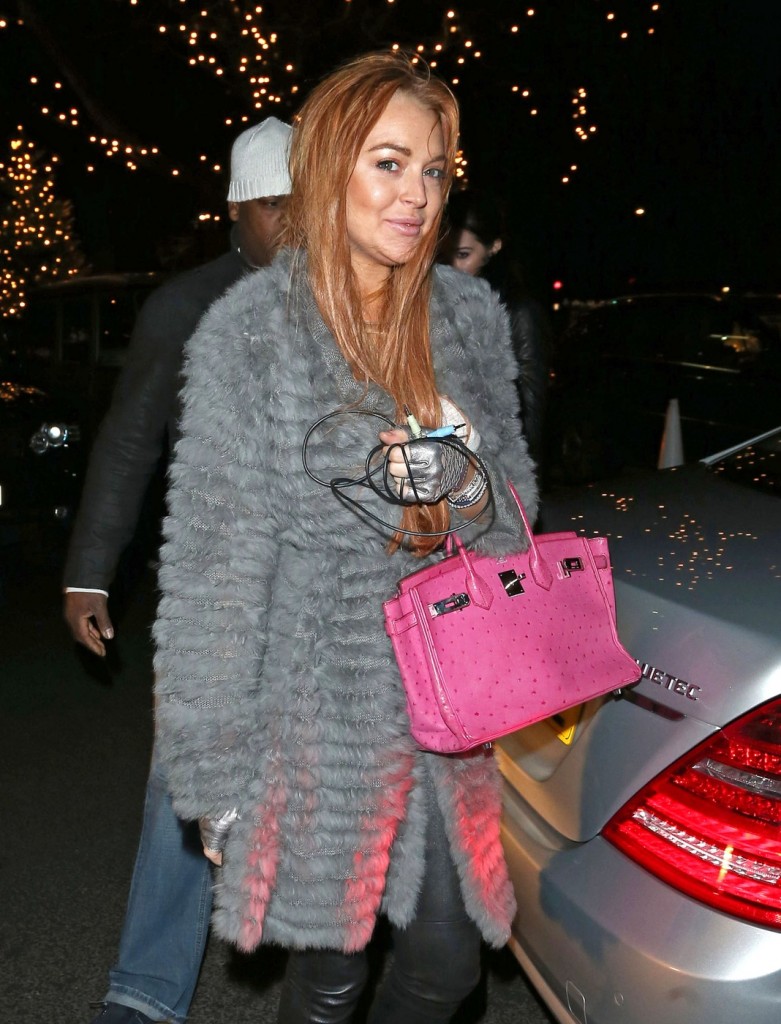 Dina Lohan and Lindsay are shown out in London on 12-30-12. Credit: Optic Photos, PacificCoastNews.com