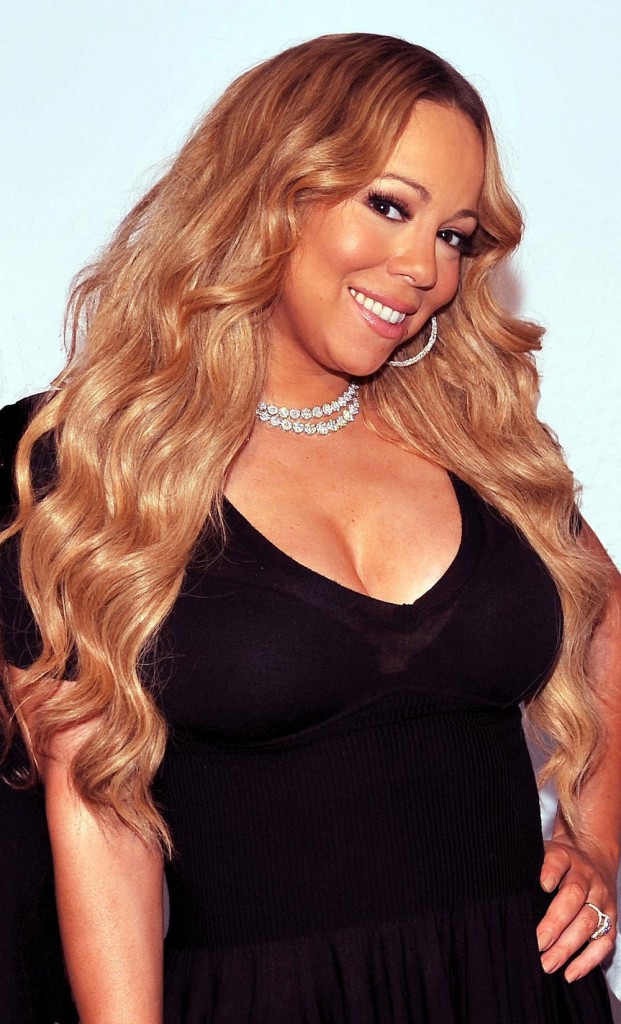 The new season of American Idol, with a new panel of judges (except Randy, dawg is still there!) comes out next week. As part of the ramp-up to that, we have to endure interviews with Mariah Carey discussing her feud with Nicki Minaj. It sounds like things are far from settled between these two, given what Mariah told ET Online and Barbara Walters recently. First, to recap, Mariah Carey and Nicki Minaj had an argument during their first week together on the judging panel, back in October. There was video (now unavailable) of Nicki bitching out Mariah for being a diva, basically, while Mariah groaned and tried to ignore her. Some accused American Idol of faking the argument for hype, but it seemed very real. Then Barbara Walters claimed, on The View, that she had spoken to Mariah and that Mariah told her that Nicki issued a half-assed (my words) death threat to Mariah by saying "If I had a gun I would shoot her." Idol producers denied this took place, and Nicki went off about it on Twitter. Mariah allegedly hired extra security at the time, because she was so threatened by Nicki's big mouth.
Well in this new ET interview, Mariah confirms that she hired extra security, and she sort-of confirmed her beef with Nicki, without directly addressing it. Mariah basically said that anyone who dares question her gets ignored, which sounds just about right. Mariah also did an interview with Barbara Walters, which aired on Nightline last night. AND there are new interviews with Nicki and Mariah from a press conference for the show. I'm putting those quotes from the different interviews together below, to give a better idea of how these two are handling the feud. Nicki is trying to take the high road in interviews, but she's still bitching and moaning on Twitter.
Mariah on how she deals with "messy moments" on Idol
"Here's what I meant by messy moments: You just have to adapt. And I think my thing is I have to be myself, and if that means that in that moment I don't hear you; I don't see you; you don't exist to me at this moment — that's what it is." – [ET]

Nicki plays nice
"I actually say nice things about Mariah all the time. She is one who really has shaped a generation of singers. … They aspire to be a Mariah Carey in terms of their talent and career and to be given a chance to sing in front of her." – [via People]

Mariah on hiring more security
"It felt like an unsafe work environment. Anytime anybody's reeling threats at somebody, it's not appropriate. I've got two babies, I'm not gonna take any chances. So, yeah, I did hire more security. I just felt it was the appropriate thing to do," Carey tells Walters. Sitting there on the road with two babies, I'm not going to take any chances." – [Nightline via Huffpo]

Mariah on her feud with Nicki
But when it came to talking about where things currently stand on a personal level for the two stars, Carey played a bit coy.

"The whole thing is convoluted," she said. "It's a distraction from the show. It's a distraction to the contestants. It should be about the contestants."

Carey, who added that "time heals all wounds," went on to tell Minaj that their dramatic saga "was sort of one-sided" – a claim Minaj denied on the spot.

But remaining upbeat, Carey replied with, "At least we can agree on my shoes." – [via People]

Mariah on her twins
Regarding Monroe, Carey says, "I call her Miss Monroe, and that kind of dictated her personality. "She's a total diva. She's into jewelry. She's fascinated by jewelry."

Moroccan, who goes by the nickname "Roc," is "more chill."

"He's my pal," Carey says. "He'll just watch movies with me. We've watched 'Shrek' I don't know how many times. We watch movies all the time together, relax." – [Nightline via Huffpo]
[From Huffington Post, People and ET Online]
Oh Mariah, she's never capable of not being a diva and that's got to annoy Nicki Minaj to no end. They seem to have reached a tentative truce for now though, and I'm sure producers don't mind how much press their feud continues to get. As far as ratings,o I bet that Idol will do just about as well as it did in the past couple of years. It gets a ton of viewers compared to other shows, but I think its days of astronomical ratings are over.
Also, Mariah recently posed in a bikini in Australia. I think she gave this photo to the press to use, but it's hard to tell where it originated. She looks great, but I'm just going to come out and say that I think this was photoshopped. I'm sure she looks fab without any digital manipulation, but I see some jagged lines along the left side of her torso. Enlarge the photo below and see what I mean.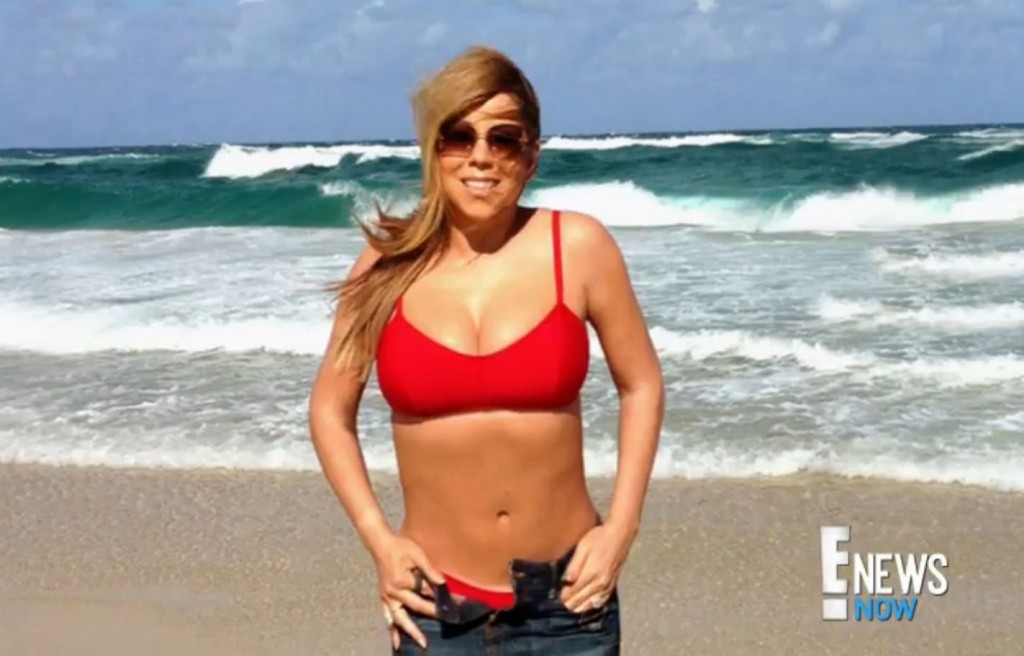 Here's Mariah on ET Online:

And clips from her on Nightline, from E! News: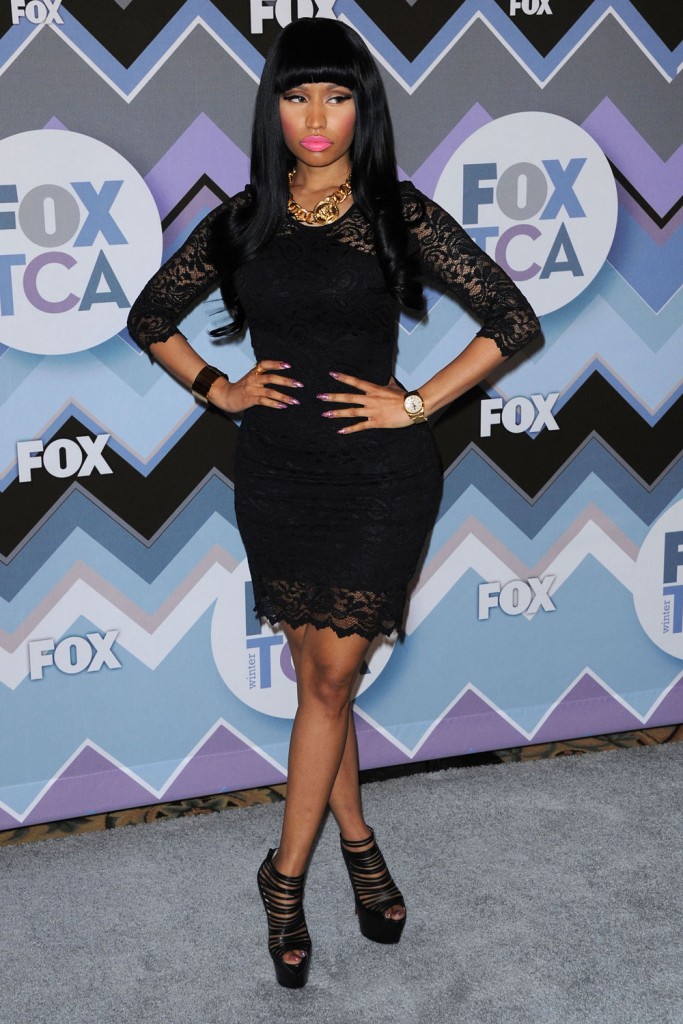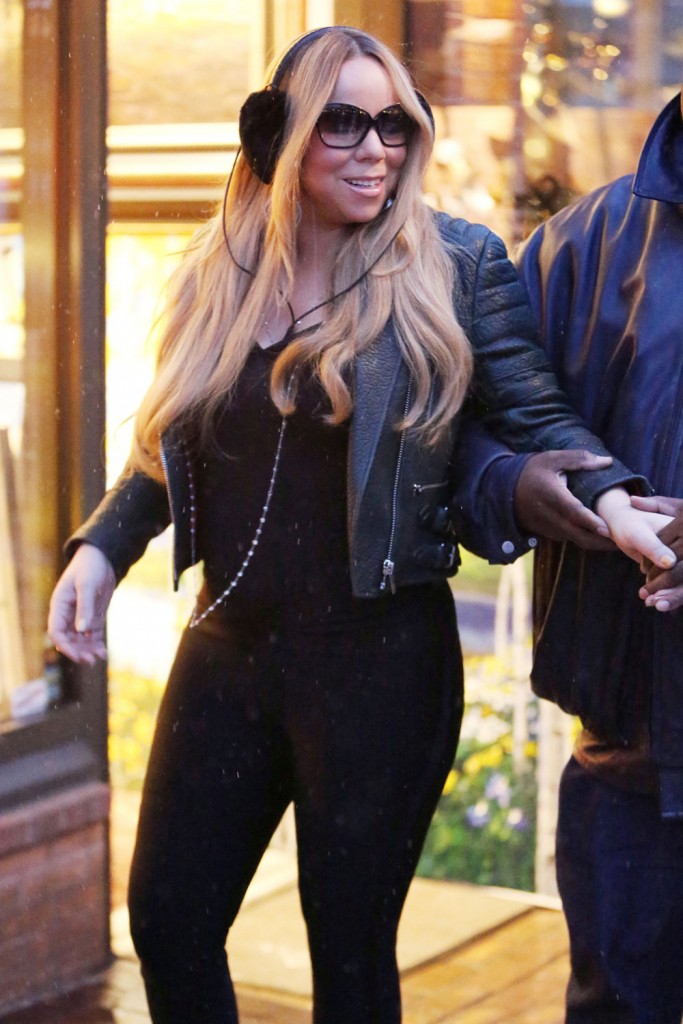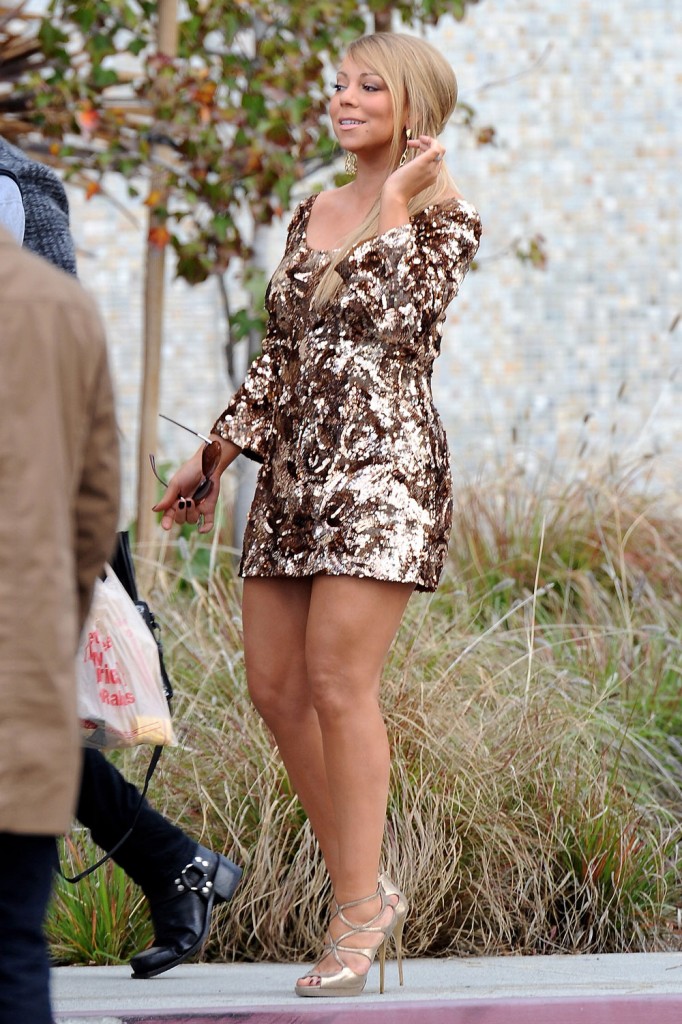 header image from 1-4-13, credit: WENN.com. Mariah Carey is also shown in Aspen on 12-24-12, credit: Pedro Andrade/KVS, PacificCoastNews.com, and outside Idol on 12-13-12, credit: Cousart-Rayne/JFXimages/WENN.com. Nicki Minaj is shown on 1-8-13, credit KM/FameFlynet Pictures