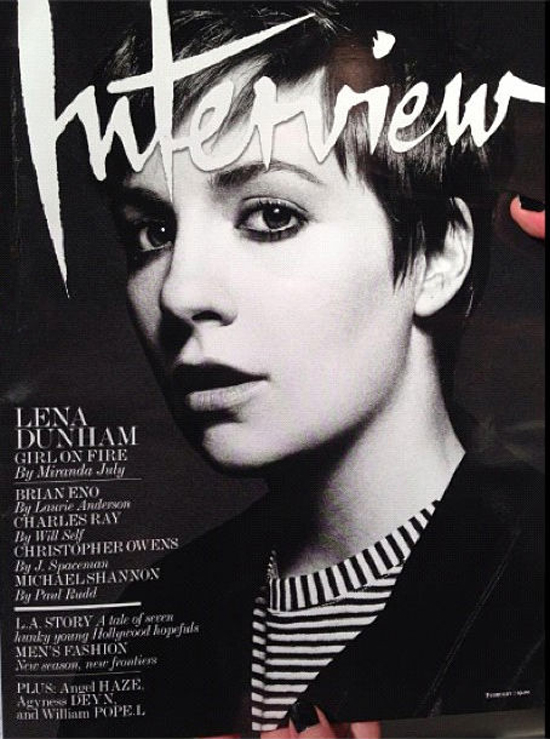 Lena Dunham covers the February issue of Interview magazine to promote the second season of "Girls." After Lena's awkward yet pretentious turn at the Globes on Sunday, I decided to watch some clips of the show in an effort to dislike her just a little bit less. Boy, did that plan fail, but at least I can't say that I dislike Lena any more after watching her go jogging, only to sit down in the middle of the street, pull off her Asics, and recline there while her "clever" boyfriend pontificates upon how much ice cream is really just "sweet mucus." Basically, I am guessing that she really is her own "Girls" character in much more than just a semi-autobiographical way. Mind you, Lena writes much of the material for the show itself, so she must really think she's something special.
Even though this Interview piece was just released, Lena couldn't resist posting the cover on her Twitter page last week. The photoshoot features Lena in a series of poses with her mouth hanging open in nearly every shot, but at least it's much more flattering than that recent awful Terry Richardson shoot with the toothpaste-laden "money shot." The feature article itself is surprisingly bland, and the interview is conducted by Miranda July, the ultra-twee, independent filmmaker who is apparently a close personal friend of Lena's (just like Zac Posen). Here are some excerpts: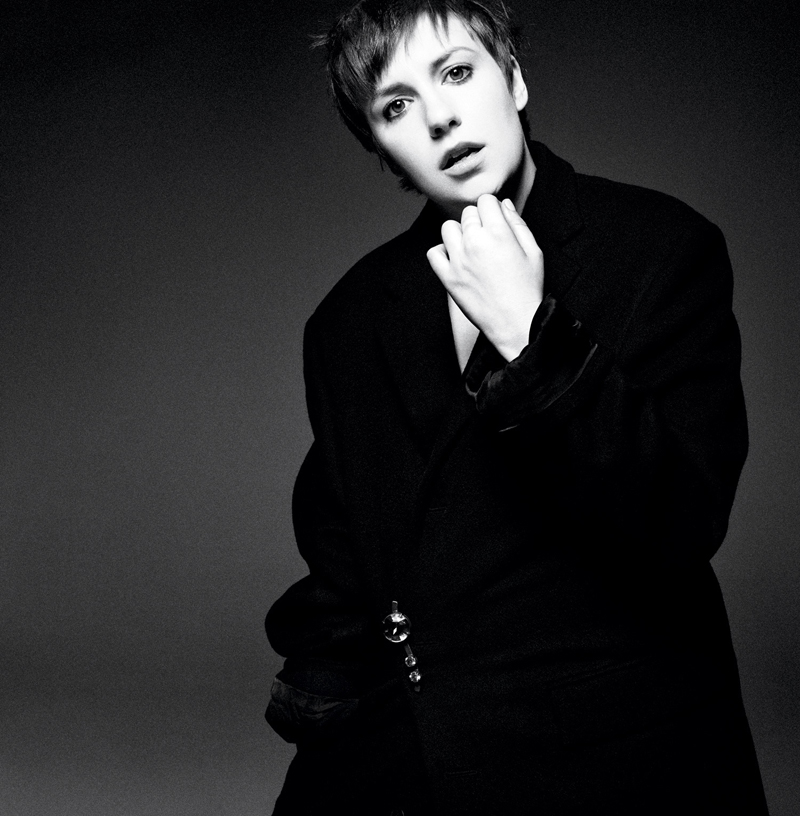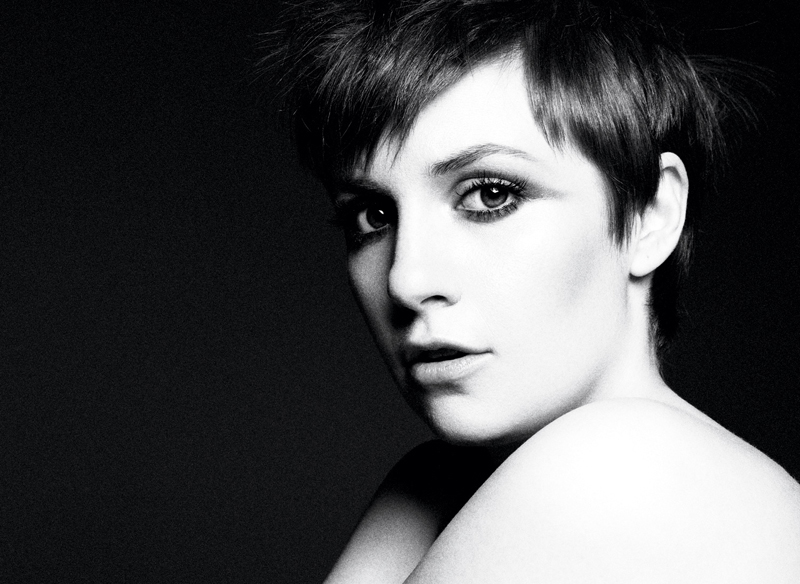 The weird side of fame: "Well, because of the show, I've started to get used to people feeling like they already know me when they meet me. I've obviously only experienced it within the past year of my life, but it's really interesting to have so many people who you're not familiar with act familiar with you. So you do have to come up with a strategy for how to handle that, and mine has been to try to match that familiarity by being familiar back. I've decided that instead of feeling like it's creepy, I can feel like it's really kind for people to go out on a limb like that and be familiar with someone they've never met. The only flip side to that has been that I've had this thing happen where I've been really familiar with someone and they will feel like we've started a close friendship, and then I'll feel like I've disappointed them in some way by having a boundary in my life. Then it also makes me self-conscious because I'm worried that the close friends that I do have will think, "Oh, we're not as close as I thought because she's–"

Why does she create? "I know that in my family–despite the massive amounts of acceptance–it was thought that in order to be a person who is really contributing something to the world, you had to be generating things creatively. So performing was only really interesting to my parents in the context of things that you create. I think if I'd wanted to be like a straight-up actress, then as much as they might love watching movies and respect the work of Cate Blanchett or Meryl Streep, they would have been flummoxed by the decision, because it would not have involved an appropriate amount of, to their minds, control and expression. In fact, it's only recently that I even realized that performing was a part of the process that I enjoy. I always behaved as though I was acting in my own work out of some sort of strange utility, and once I found an appropriate stand-in, then I would stop. I think I'd aligned the idea of liking it with having a horrible ego or something, and admitting that I liked it or that it was important to me–even to myself–just didn't feel okay. Then I always had these two things of feeling really respected and connected at home, and going to school and feeling like I just could not get it right. I didn't feel like the other kids got me, but then I was also sort of bored and annoyed by them, so I knew that a large part of it was my problem. I actually had to switch schools because I didn't have friends. I remember my parents saying, 'She is so victimized at her school, so she has to switch.' But I was like, 'I'm switching schools because I'm an a-hole.' So in answer to your question, I did feel seen by my parents, but I sometimes felt overly seen."

She never got decent parts in school plays: "Yeah, like I always wanted to be in the school play, and I was constantly preparing for auditions in a way that was crazy–reading the book that the play was based on, fantasizing, working on things in the bathtub–and then I'd literally get cast as, like, a bouncing ball or a fat man or security guard."

On her "artistic" upbringing: "That's an interesting question. Who knows if this is a good thing or a bad thing, but you read about a kid who grew up in the Playboy Mansion or somewhere really wild, and they're always like, 'I didn't know anything else. I just thought this was life.' But I never felt like that. I always felt like it was really special to have parents who were artists and to live the kind of life that we lived in a big loft–which wasn't actually that big, but felt big because I was small. But I thought there was a kind of romance to it. So I don't know if it's good to be engaged in that way with your own life, but I always sort of was. I've seen the other version of it, too, though."

On criticism of 'Girls' as self-obsessed: "Not like I listen to every piece of feedback, but there are definitely people who feel like the characters on 'Girls' are intolerably in their own heads and don't understand the purposeful part of that. I know that when I have moments like that, it occurs to me how much I've been viewing a situation through my own convenient lens, which is the most exciting kind of revelation to have–and the most distressing kind of one to have about yourself."
[From Interview Magazine]
What a bunch of naval gazing, right? Lena didn't even say anything that was obnoxious or offensive here, but she still comes off as grating because it's all about her. Sure, she is the one being interviewed, but I just get the feeling that she's been rehearsing answers to such questions in the mirror since she was a preteen. It must be nice to have the luxury to be so self involved in life.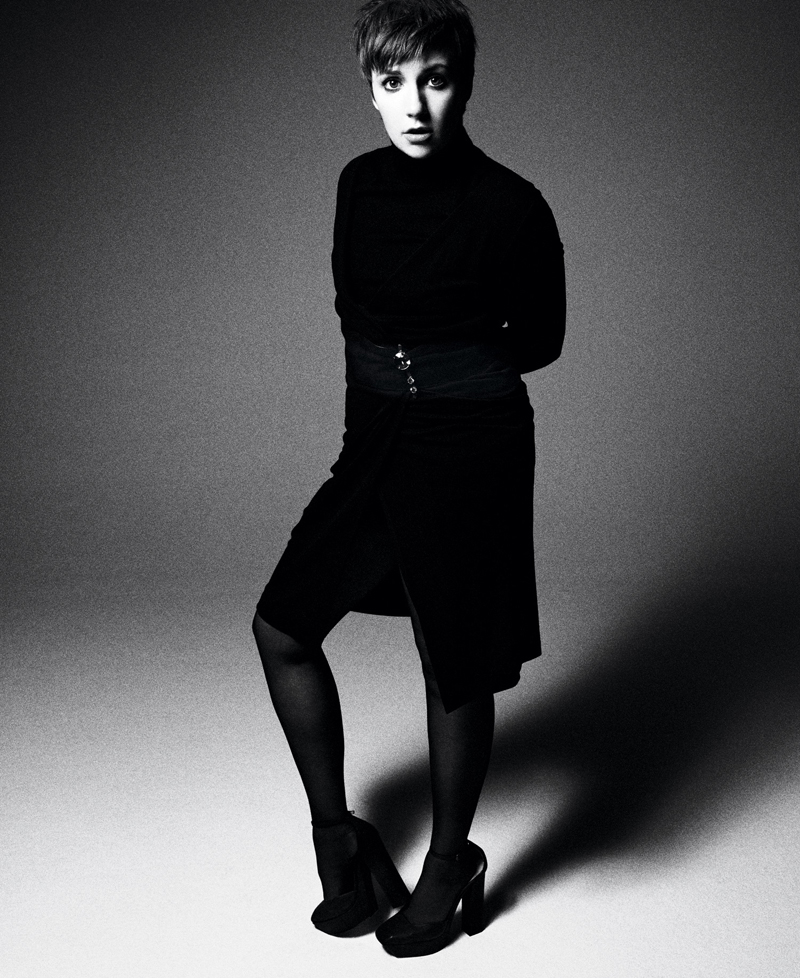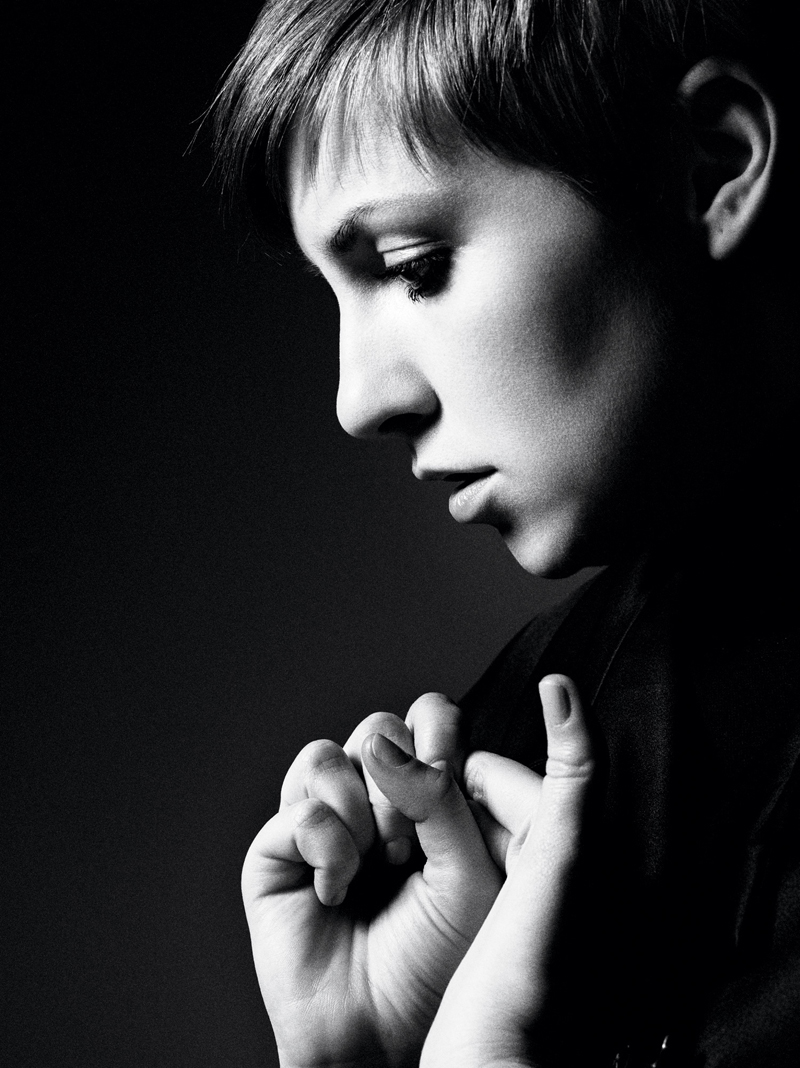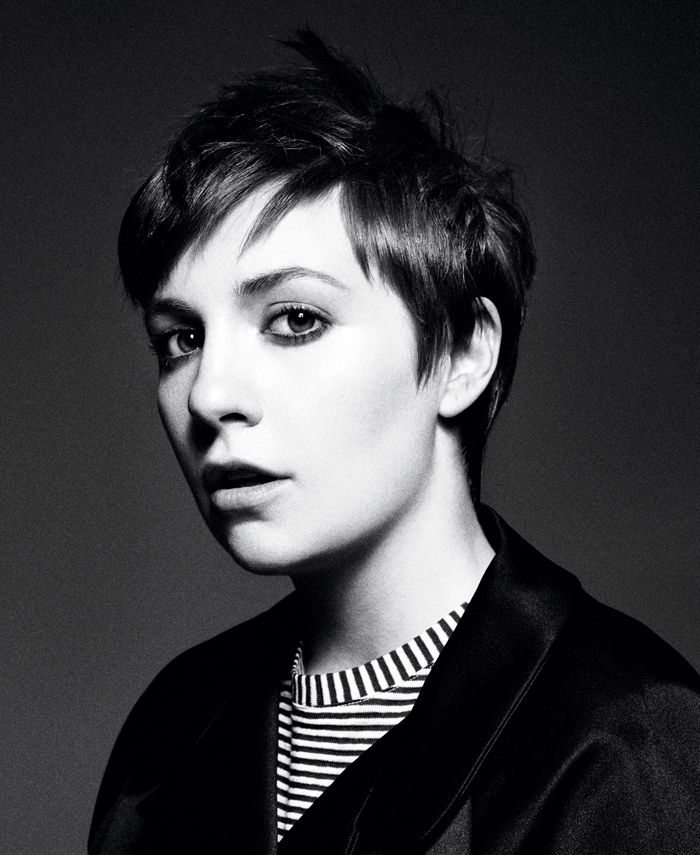 Photos courtesy of Interview Magazine