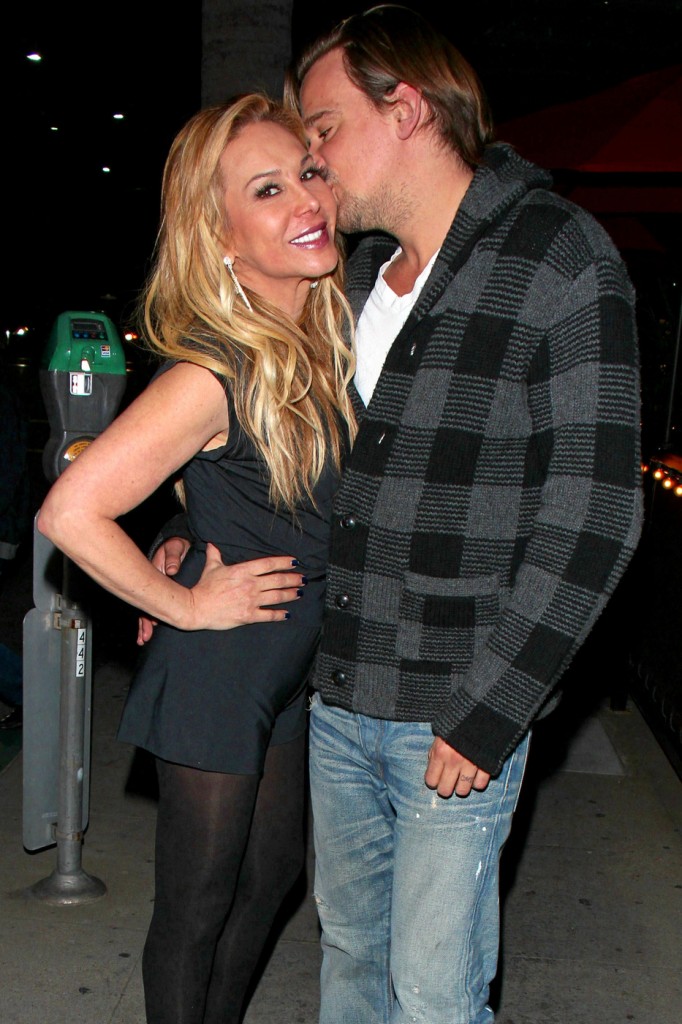 Of all the Real Housewives of Beverly Hills, Adrienne Maloof is the one I'd least expect to see with a much-younger guy, but that's not saying much. I could see Taylor, Brandi, Kim or even the still-married ones, Kyle and Lisa, getting with toy boys, but Adrienne seems too together and business-like to go for a young guy. In the wake of her divorce, from plastic surgeon Paul Nassif, I would expect Adrienne to drop a ton of cash on spa treatments, luxury shopping and vacations but I wouldn't expect her to date so openly, especially a guy 19 years younger than she is. It's happening, though, Adrienne, 51, was seen out on at least two dates with 32 year-old Sean Stewart, Rod Stewart's son. Several paparazzi agencies captured the new couple's photo op Saturday night, which includes pictures of Sean nuzzling Adrienne's hair. He was probably picking glitter out of his nose afterwards. Here's the story, thanks to Radar:
Adrienne Maloof and Sean Stewart are definitely a couple, and on Saturday were spotted cuddling and kissing as they left Crustacean restaurant in Beverly Hills, where they had dinner.

RadarOnline.com broke the news that The Real Housewives of Beverly Hills star, 51, and Rod Stewart's 32-year-old son are dating.

Stewart, whose mom is Alana Hamilton is a musician and occasional reality star whose credits include Celebrity Rehab with Dr. Drew.

Adrienne is in the process of divorcing plastic surgeon Paul Nassif. The once-warring pair has announced they've settled all their financial and custody issues, and assuming nothing changes, the divorce will be finalized at the end of February.

"She's enjoying being single," a source tells Radar.
My first instinct would be to guess that this was a publicity stunt. Wasn't Sean Stewart on a reality show too… Yes, yes he was. Sean was on "Sons of Hollywood" in 2007 and "Celebrity Rehab" in 2008, as Radar mentioned above. (He also has a long history of trouble with the law, see this article for more.) These two have the "new couple" look though, don't they? If it's a put-on they're great actors since they look goofy and excited to be out together. It looks like it's on!
I might mock Adrienne for dating a guy young enough to be her son, but at least her actual sons are still primary school age. Plus this guy is 32. The May-December romances are less creepy to me when the younger person is at least 30. Get it, Adrienne! I would say that Sean should steer clear of her though. All he has to do is DVR a couple of early episodes to see what a brow beater she is. She never had a kind word to say to her husband. It's not like Paul was a saint either, but Adrienne could be really nasty at times. Maybe her excuse is that she played it up for the cameras, although she was so careful about her image otherwise that I don't believe it. I don't know why I care, it's not like Sean is in it for the companionship.
Also, what the hell is Adrienne wearing? There's like reverse camel toe going on.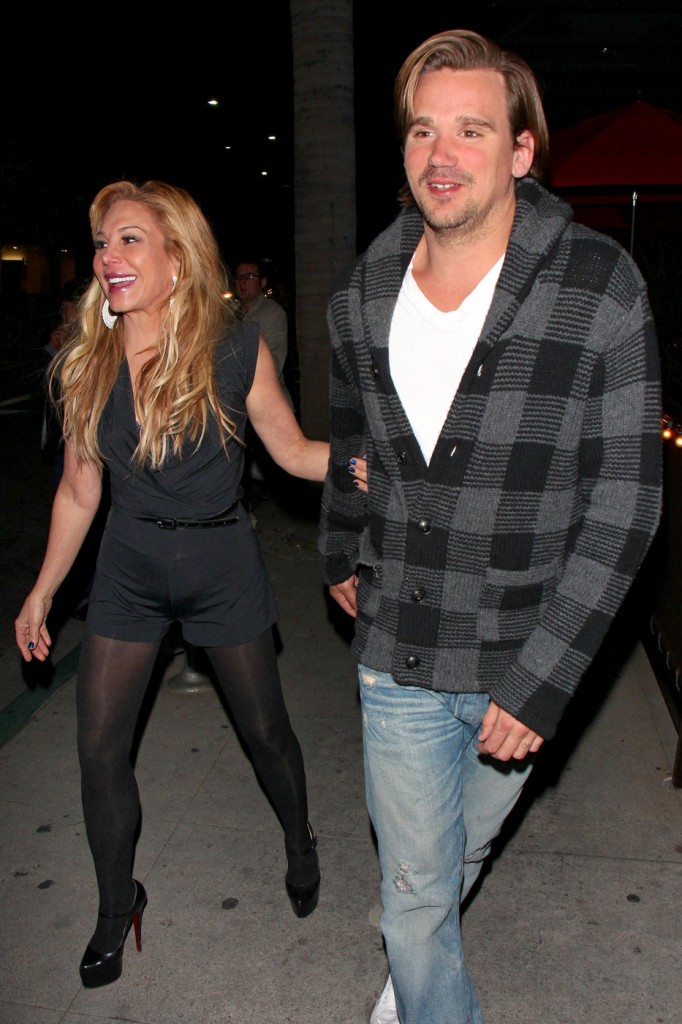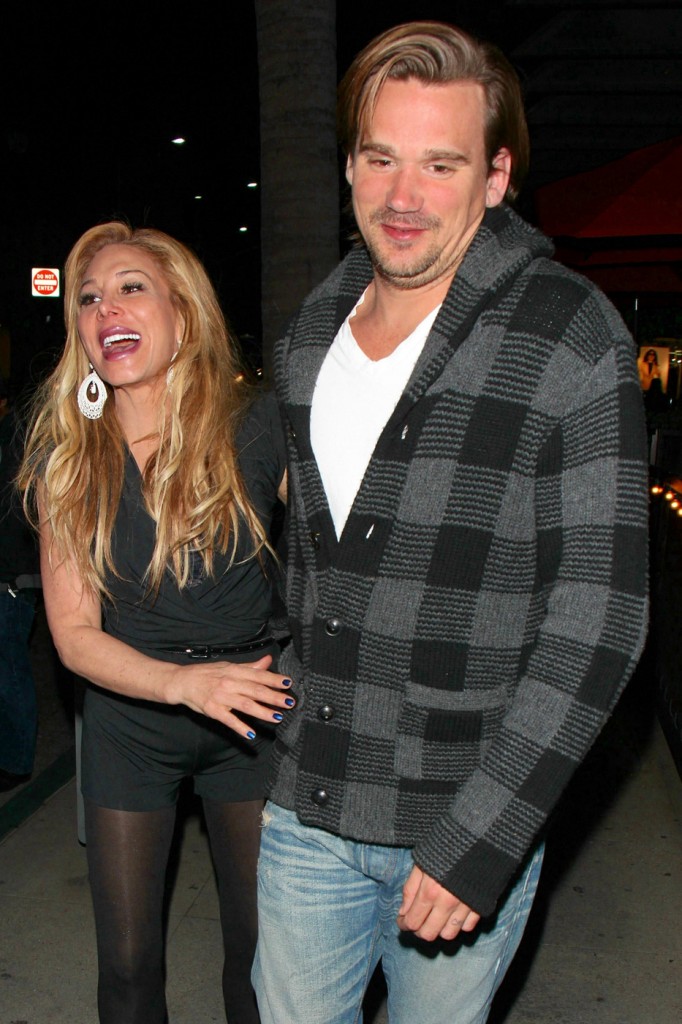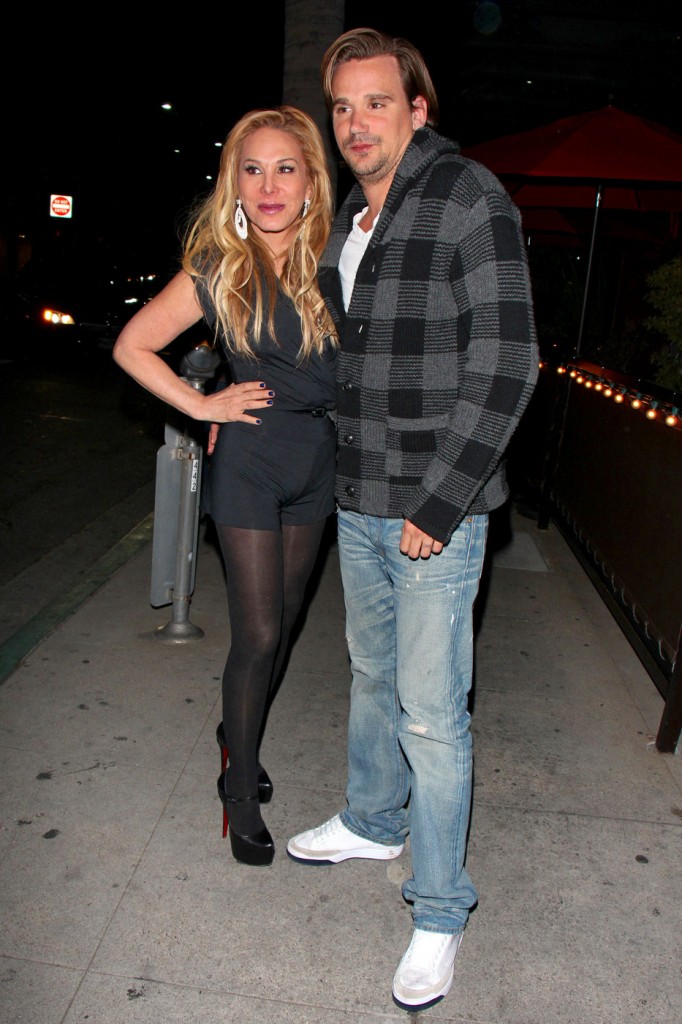 Photo credit: Josephine Santos, PacificCoastNews.com