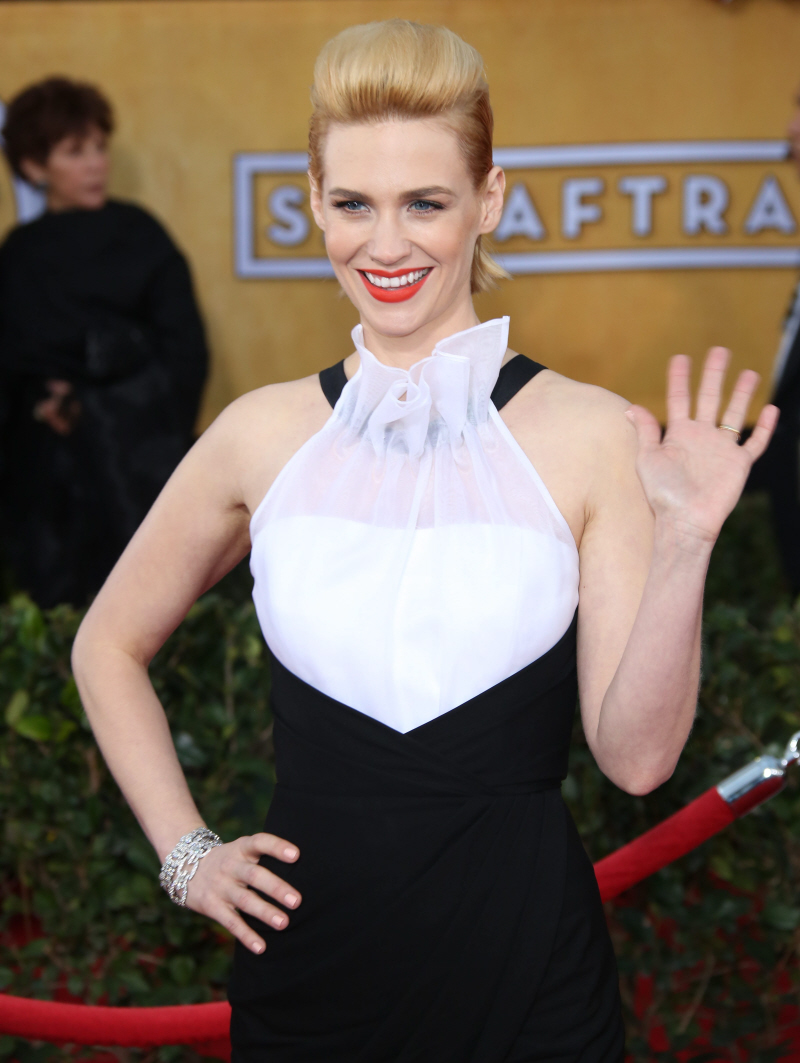 When I first read the headline about "January Jones says her hair is falling out in clumps" I thought it was going to be another one of those horrific childbirth and postpartum stories that new mothers tell about what REALLY happens to your body during and after a pregnancy. Selma Blair once discussed how her hair was "falling out in clumps" after she gave birth, something about vitamins and hormones or whatever. Well, this January story isn't like that. January's hair is falling out because it's overprocessed and she's used too many chemicals on it, so now she's going bald. Was her dystopian hairstyle at the SAGs her last hair hurrah?
January Jones' days as a hair chameleon may be over. Speaking to British magazine Grazia Daily during the Sundance Film Festival in Park City, Utah, the blonde-again actress talked about the side effects of her multiple hair makeovers while promoting the movie Sweetwater.

"I have been every color and now my hair is falling out in clumps," Jones said. "I've been blonde, red with extensions for this film, then blonde, then black, and now blonde again. I'm going to have to shave it off and wear a wig."

The 35-year-old actress said that while she likes experimenting with new hues, her 16-month-old son Xander likes her golden locks best. "I like it all colors," Jones told Grazia. "It makes you feel different according to what color it is, but I prefer to be blonde. My son recognizes me in photos when I am blonde. He says, 'Mama.'"

Jones — who has never publicly revealed her baby daddy's identity — is "so brave" when it comes to dyeing her hair new colors, according to her colorist Jennifer J. (of Juan Juan Salon in Beverly Hills).

"One time, seven or eight years ago, we made her whole head bubblegum pink!" the hair pro told Us Weekly in November. "It's fun to do color changes, especially with somebody who looks good in everything."
I almost always think that women look better with darker hair, but I'm making an exception for January. She only really looks good as a blonde, I think. Not that she looks terrible with red or brown hair, I just think the blonde suits her best of all. But it would be interesting if she had to go "Full Travolta" from hair loss. Poor January.
In other JJ news, while she was at Sundance, she was asked if she was going to return as Emma Frost in the sequel to the X-Men prequel, X-Men: Days of Future Past. Director Matthew Vaughn, who helmed First Class, is not returning as the director this time. So… there's that. Cough. Cough. Hegh-ack! Got it. Genius Bryan Singer will be directing Days of Future Past, and the cast is already getting firmed up – Michael Fassbender, James McAvoy, Ian McKellan, Patrick Stewart, Hugh Jackman and Jennifer Lawrence will all appear. As for January and Emma Frost… January says no one has spoken to her. Heh.
"I don't know that I'm in it, I don't think Emma's in this one. Well they haven't told me if I am (laughs). I wouldn't put it past them though, I got the script for the first one on the airplane on the way there. It's called Days of Future Past I think, and I think it's more about James [McAvoy] and Michael [Fassbender] and then Patrick [Stewart] and Ian [McKellan], and I think it's gonna go back and forth with those so I don't think Emma's in those bits. I don't know, I really don't know."
I mean… obviously, there was the (cough!) baby-daddy drama, but beyond that, everyone kind of hated January's Emma Frost. The X-Men fan-girls and fan-boys told me that Emma Frost was one of the most beloved mutants, and that January just didn't bring anything to the character. So… probably no Emma/January.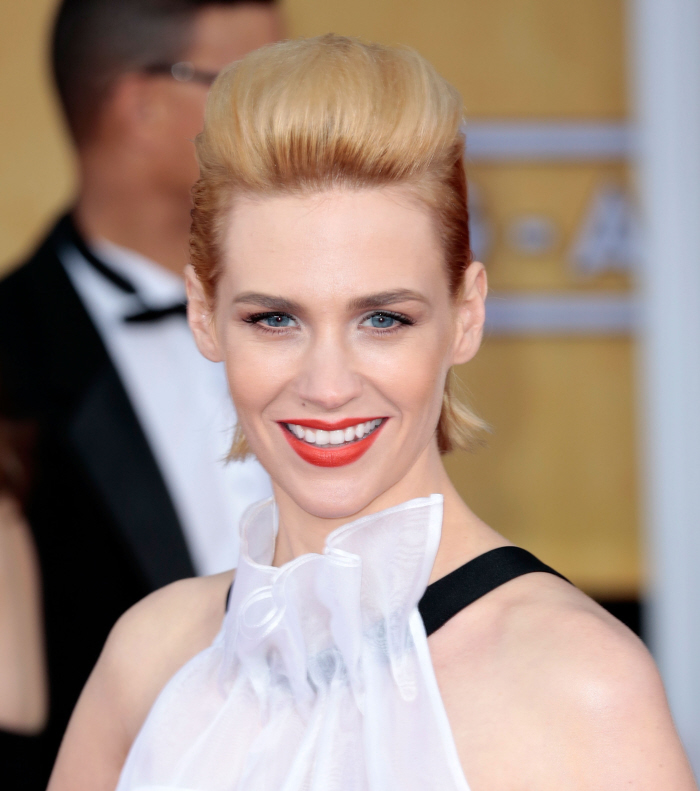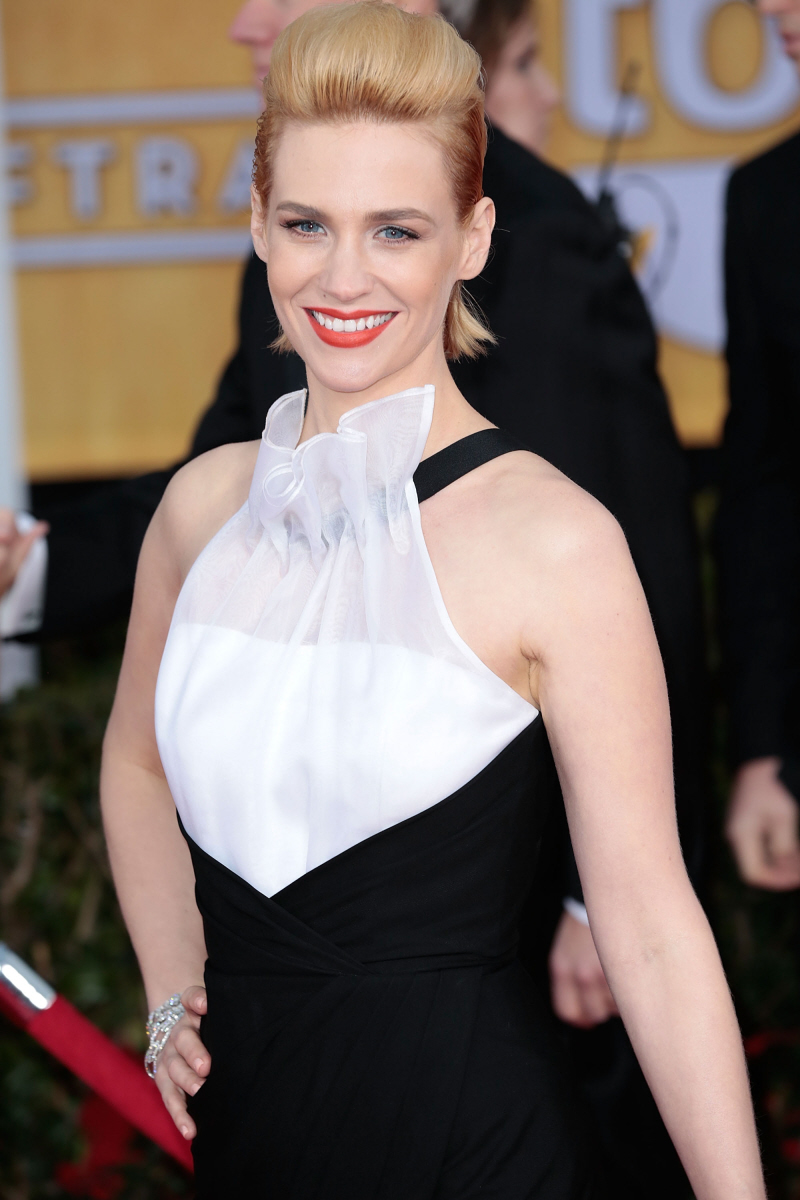 Photos courtesy of WENN.