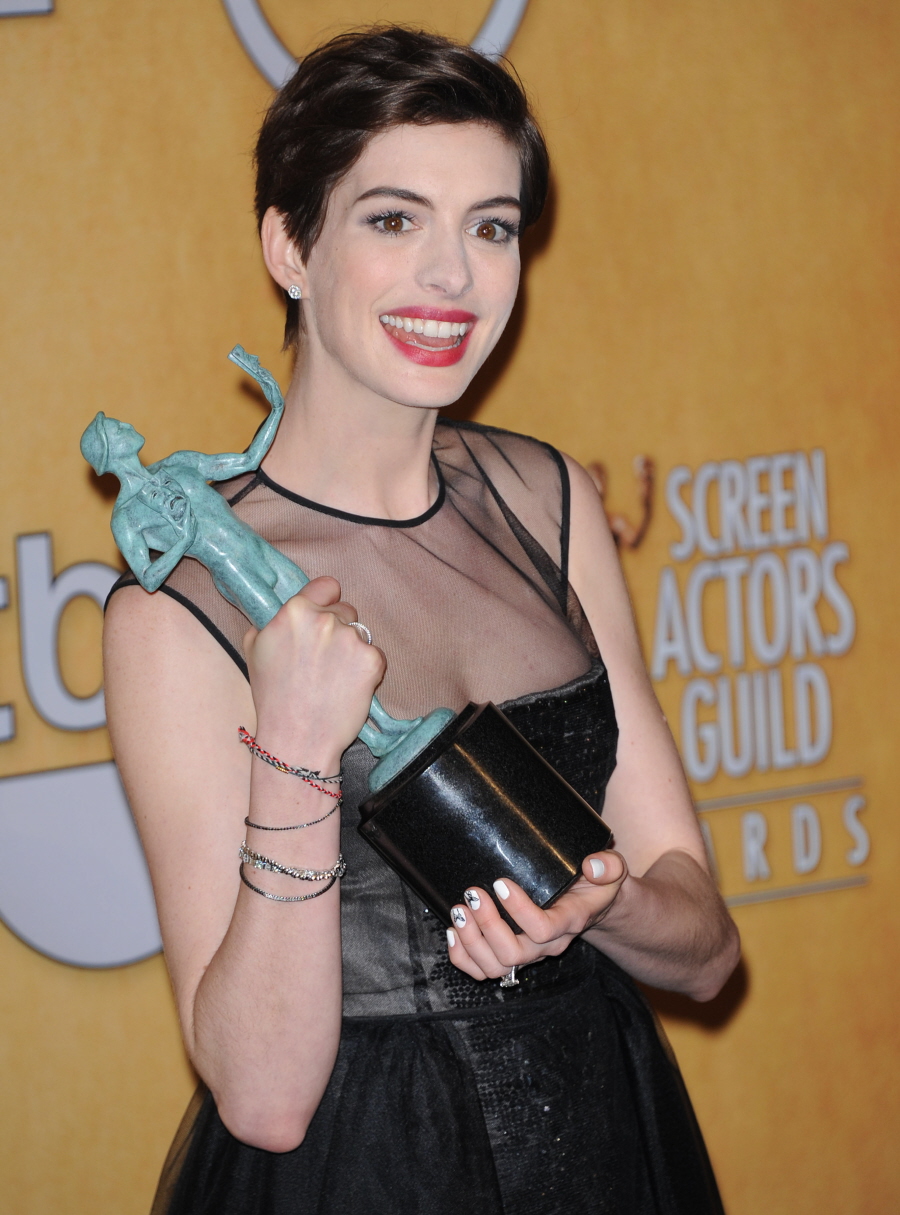 It's taken me this long to realize that Anne Hathaway walked the SAG red carpet alone! I guess she sort of did the same thing at the Globes too, although I think she posed with her husband for a few photos at the Globes. But Adam Shulman barely got near a camera at the SAGs, which makes me wonder… is that part of Annie's Oscar campaign? She's pulling the "my marriage is not for public consumption, we don't walk the red carpet together" thing? If she is doing that, than she probably should stop with the stage-gushing about her marriage, right? I mean, it's her business, etc, but I expect a more consistent message from her – either use your marriage as part of your Oscar campaign (as she's been doing in her acceptance speeches) or don't use your marriage at all (like not walking the carpet with your new husband). You can't have it both ways!
Or it could be a hidden option – like Adam wants Anne to walk the red carpet with her first love, herself. And he's fine staying in the background and she's the one who is all GUSH GUSH GUSH and it might make him uncomfortable? Because that's what these new interviews sound like:
Following the Screen Actors Guild Awards on Sunday, Anne Hathaway was feeling the love at an after party at the Four Seasons in Beverly Hills.

Hathaway – who won an Actor for her role in Les Misérables – was overheard saying, "I'm in a celebratory mood."

With a drink in her hand, Hathaway told friends that her engagement ring from husband Adam Shulman is her "prized possession" and that her wedding band "isn't bad either," an onlooker tells PEOPLE.

Hathaway – who, according to a source "was playing matchmaker all night" – was later overheard telling her friends that she "met a lot of bad ones" before meeting Shulman.
Girl, stop! Oh, God, I just got a horrible image of Anne in my head – she's your girlfriend who always dates losers, criminals and freaks and when she finally "settles down" with the last douche standing, suddenly she becomes an expert on love and relationships and she's condescending to tell you all of the things you need to do to get a man. That's totally Anne Hathaway. Poor Adam.
Let's see what else we've got… oh, right… Anne was talking about her marriage all over the place:
Anne Hathaway needs work! While walking the red carpet in a Giambattista Valli gown at the 19th Annual Screen Actors Guild Awards in L.A. Jan. 27, the Dark Knight Rises actress revealed she has no projects in the pipeline.

"I had a film lined up that we'd taken a breath on, so I'm unemployed. It's such a funny experience to sort of be here and be in some ways at the pinnacle of what you can achieve as an actor, but also know that you don't have a job," she said on Access Hollywood. "That is the life of an actor!"

As she searches for her next movie role, Hathaway will be spending extra time with her jewelry designer husband, Adam Shulman. "I'll be hosting lots of dinners at my house," she said. "We're nesting, playing with my dog — we're chilling."

Hathaway picked up her first-ever Screen Actors Guild award for Outstanding Performance by a Female Actor in a Supporting Role. In her acceptance speech, the Les Miserables star, 30, briefly mentioned her husband, 31. "I'll tell you why I love you later," she told Shulman.

Speaking to Extra later that evening, Hathaway explained that she was "running out of time" and could have "gone on about him" for hours.

"It's an amazing feeling to be seen by someone you respect so deeply and to be loved and cherished. I had never really been cherished in a relationship before this one and it's the best feeling in the world," Hathaway raved of her husband, whom she wed in September 2012. "I just love him so much. This is why I didn't want to mention it up there. I'm tearing up right now."
I mean… I'm happy for her. She's your condescending girlfriend who always dates douches and you have your fingers crossed that THIS ONE is going to turn out to be decent, but you still give him the side-eye because he's with Anne and she only attracts d-bags. Right? Of course, there's another option – Anne is pregnant and her early-pregnancy hormones are making her kind of crazy and emotional and "extra". I don't even know anymore.
Here are some pics of Anne and Adam out yesterday in LA – that's a really short romper. And a really big hat. Also: I just don't trust a man in white skinny jeans.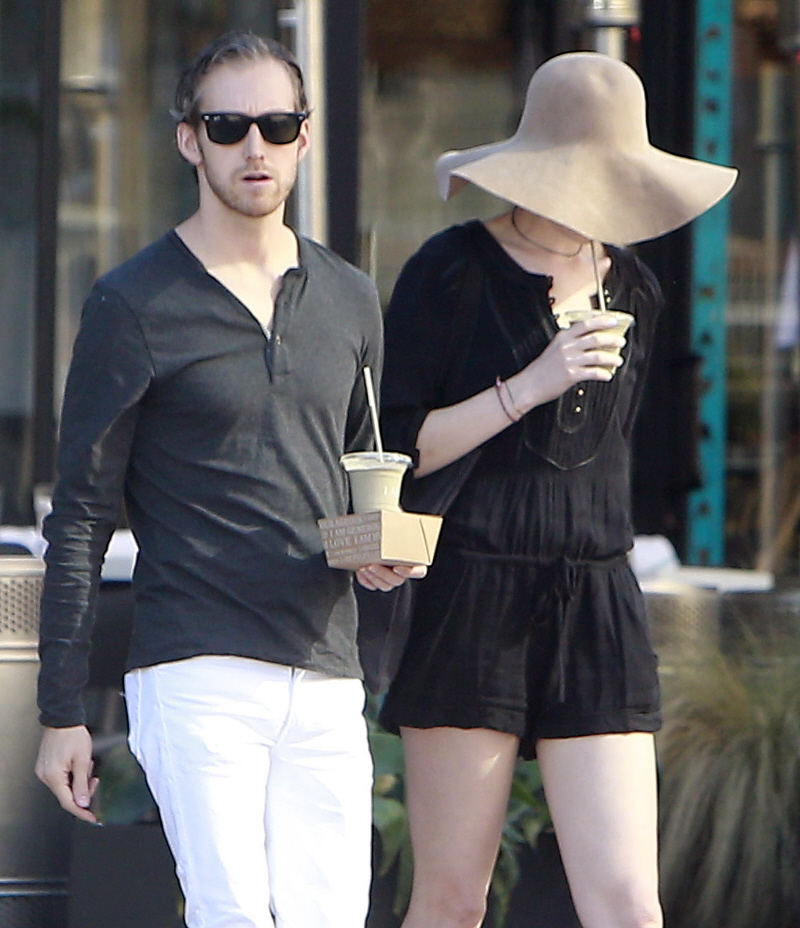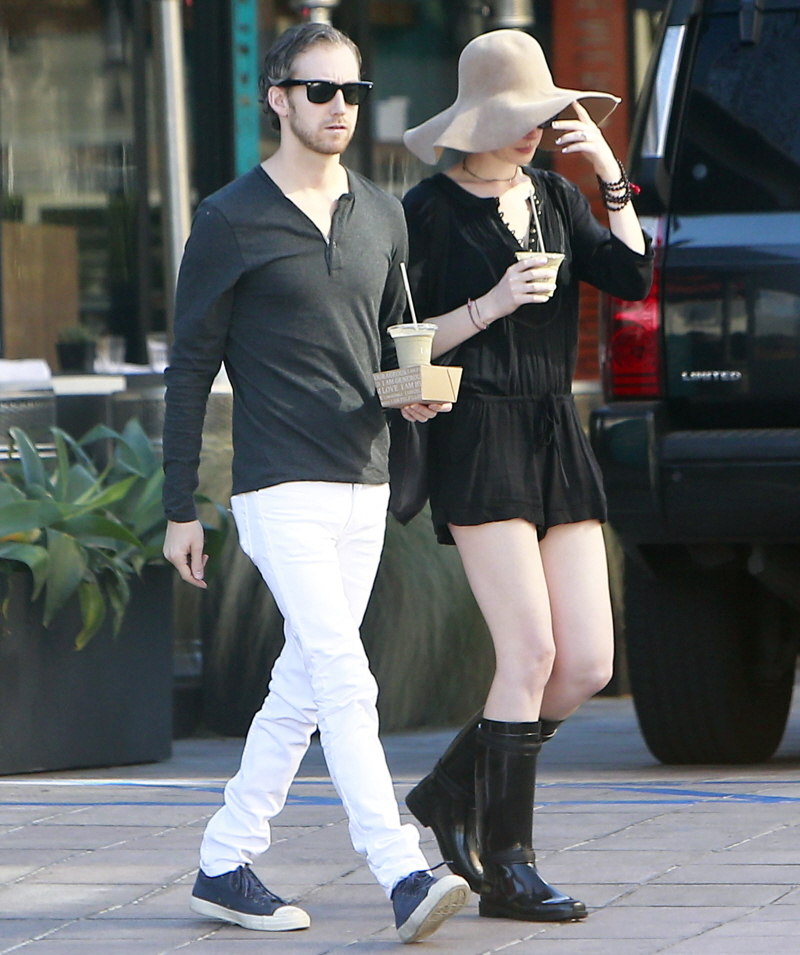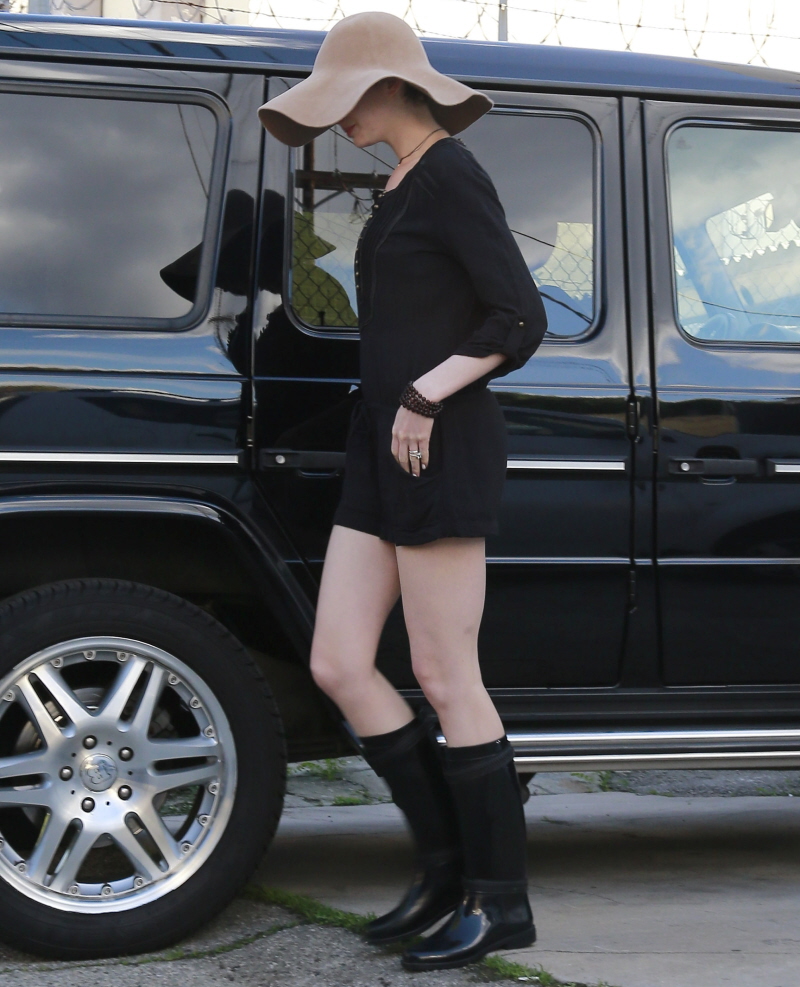 Photos courtesy of Fame/Flynet.