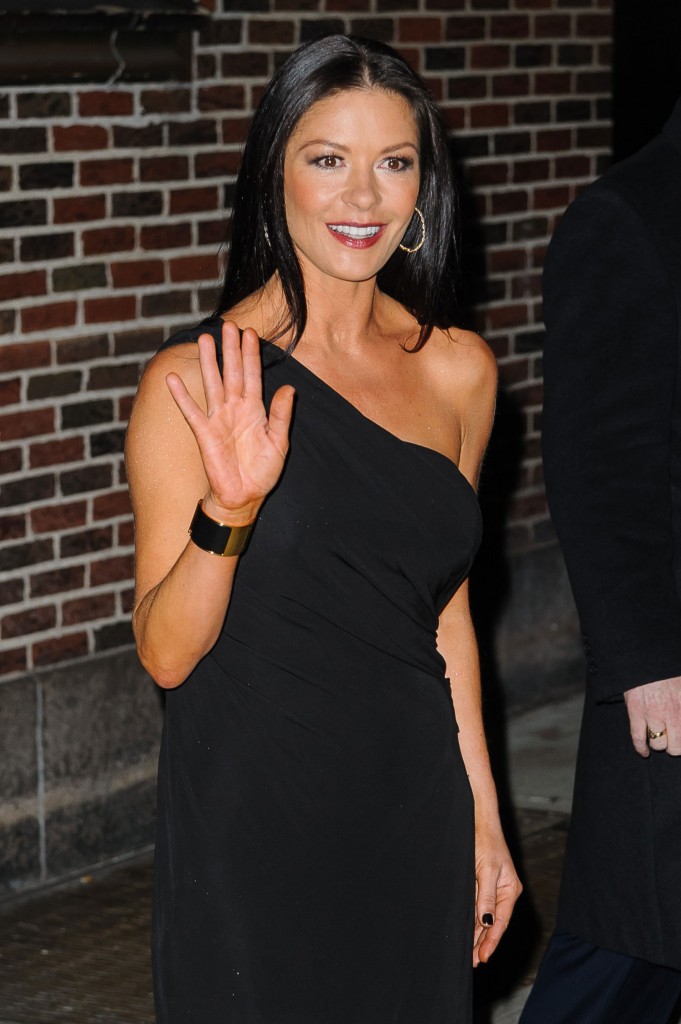 Catherine Zeta Jones is doing the publicity rounds for her new movie, Side Effects, which co-stars Jude Law, Channing Tatum and Rooney Mara. It's a thriller with a prescription drug premise and is out next week. I keep seeing promos for it and it actually looks pretty good. Anyway, it's nice to see Catherine out and about, and I especially enjoyed her seeing her at the Golden Globes. She looks fab as usual, although I question whether she's "43″ as she claims. (It's not just me! The suggested Google Searches for "Catherine Zeta Jones age" are "Catherine Zeta Jones age lie" and "Catherine Zeta Jones age 51.") So people are wondering about it, although I know that a lot of you claim that her early acting history proves she's as young as she says. She's a smoker and she goes in for some injectables like a lot of other Hollywood types, that could explain it. She doesn't look plastic and she looks amazing! Just not 43.
Anyway, Catherine gave some quotes on last night's Tonight Show which are sure to embarrass her 12 year-old son, Dylan Michael Douglas. She said he's becoming a teenager and that "everything is a phallic symbol, everything is a penis." I get that it's funny, but that's something you bitch about to your friends, not on national television! I feel sorry for that poor kid with his mom blabbing like that. Here's more:
Catherine: He's 12, how did that happen? He really is coming into his formative teenage years. Well everything, anything is a phallic symbol, everything looks like a penis. It's like 'oh gosh, how long is this going to go on?' Does it ever stop Jay?

Jay: It doesn't stop.

Catherine: I thought so, I'm not a guy, obviously.
Alright, so maybe that isn't as bad as I thought it was and she's just surprised by a universal guy thing. I don't know, my kid is young and farts are funny to him. See, I just embarrassed my kid publicly, it's hard not to do that when you're a parent. It's payback.
Catherine also said that Dylan was the last kid to get a cellphone in his class, at 11, and that "he's calling his girlfriend now… when we were kids we didn't have all these gadgets, we just played."
Extra also has a new interview with Zeta-Jones, in which she addresses her bipolar disorder and gives some nice quotes about her husband playing Liberace.
Catherine Zeta Jones plays a psychiatrist in her new movie, "Side Effects" and the star opened up to "Extra's" Jerry Penacoli about her own personal battle with bipolar disorder.

Jerry, "In terms of your own personal problems with this issue, will you talk to your children about it?" Catherine, "Sure I will, if they're even interested in it, personal issues I like to remain personal, but this is a disease that effects many many people…In America it's much more open, in Britain we have that kind of stiff upper lip, you know keep calm, carry on, get over it, what are you nuts?"

Both Catherine and Michael Douglas carrying on in spite of their health challenges, Catherine saying her husband is doing incredibly well.

As for her husband's role in "Behind the Candelabra" Catherine said, "It's fantastic, my husband is amazing and hey if he had to go to bed or kiss anybody, let it be Matt Damon rather than anybody else." Jerry, "You weren't jealous at
all?" Catherine, "Actually, I WAS jealous."

While director Steven Soderbergh who is behind both "Side Effects" and "Behind the Candelabra" is planning on retiring from movies, Catherine hinted that he will come back to direct her in a stage performance based on Cleopatra, "Cleo" which she says is in the early stages of development.
She handled the bipolar question really well. I like how she made it about raising awareness in general and deflected the personal aspect of it. She was quite brave to go public with her diagnosis.
Extra has a video clip of Zeta-Jones' interview here. She's so composed and yet humorous. I missed her!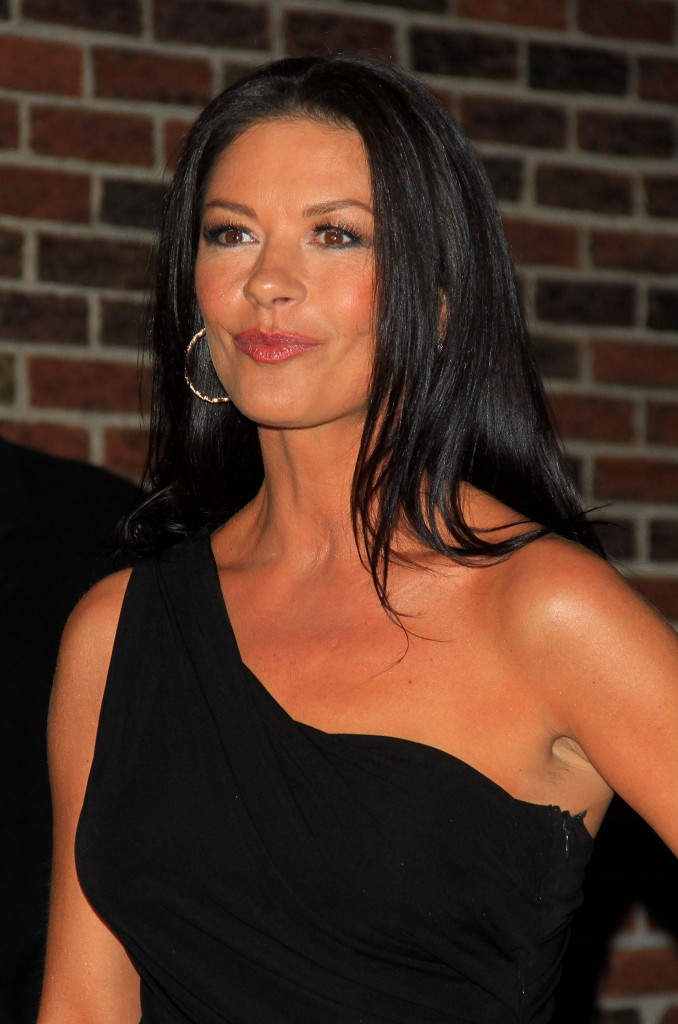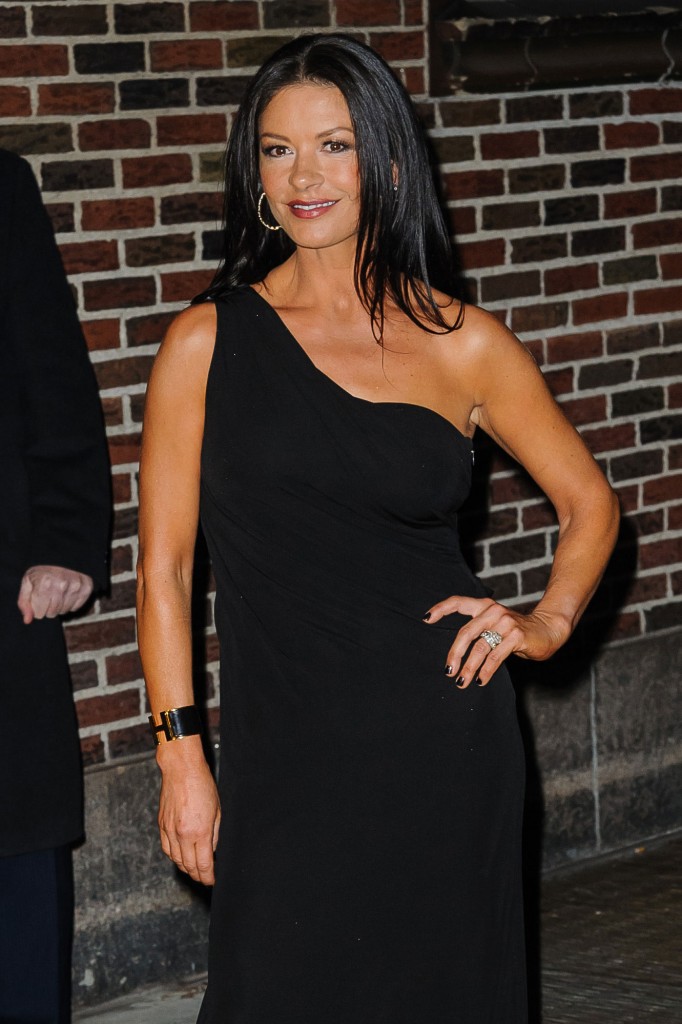 Catherine Zeta Jones is shown outside The Late Show on 1-10-13. Credit: WENN.com and FameFlynet