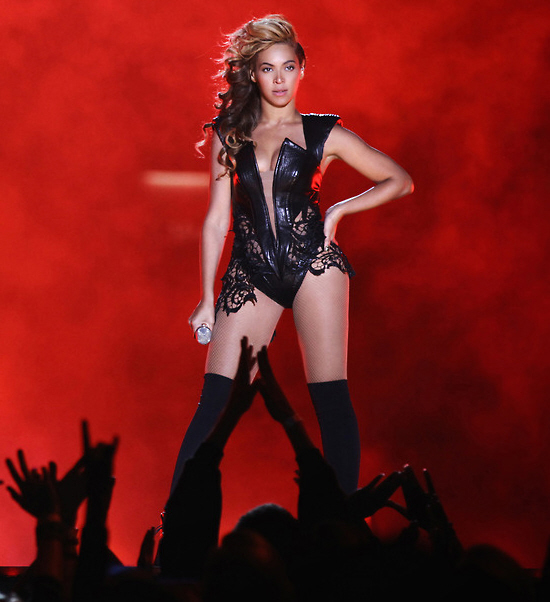 Shhh… are the Bey-stans gone? I hope so. They went a little bit crazy defending their girl's Halftime performance on Sunday night. While I didn't think Beyonce embarrassed herself or anything (far from it), I also thought there were some hilarious elements, like Beyonce practically shoving Michelle and Kelly off the stage and how Bey made sure their mics were turned down. It was Classic Beyonce in every sense – she didn't bring anything new or groundbreaking to the show, but I do appreciate that she put in a lot of work for it.
One of the most startling things that I noticed as I first watched the show was that Beyonce's bootiliciousness seemed… subdued. Sure, Beyonce still has curves and she's always had a really great athletic-strong-fit-curvy figure, but at the Half-time show she seemed particularly slender for her. Well, Bey's stylist told Entertainment Tonight that Bey was working so hard, she kept losing weight:
One of the most anticipated events at yesterday's Super Bowl was Beyonce's performance during the halftime show and ET spoke exclusively to the superstar's costume designer about her her rigorous rehearsals and how much work went into her outfits.

"When a performer is working so vigorously, they're shrinking constantly, and so she was losing weight every day," fashion designer Rubin Singer told ET. "So we had to keep taking it in and taking it in and taking it in and doing tweaks and changes."

Singer said he was based in New Orleans all last week preparing for Beyonce's Super Bowl performance and that a team of 14 people put about 200 man hours into producing and tweaking the costumes.

"When you have the dress rehearsals and you actually get to see the footage the next day, or that night, and you see all the little nuances that you need to change," he said.

In addition to Beyonce's costumes, Singer also created the outfits for former Destiny's Child band member Michelle Williams as well as the jackets for the show's 120 backup dancers.
LOL, "tweaking". I understand about how hard she was working and how that contributed to her weight loss – and quite honestly, her body looked amazing during the show! I'm not a Bey-stan or anything, but I would love to have her figure. She looked strong and fit. But I did laugh at the whole "a team of 14 people put about 200 man hours into producing and tweaking the costumes… for the show's 120 backup dancers." There were 120 backup dancers? LOL. Why does Beyonce need that many dancers when it's going to be ALL ABOUT BEYONCE all the time, forever? I seriously didn't pay any attention to the "backup dancers" at all – I was too busy paying attention to Bey whipping her weave around in the wind machine.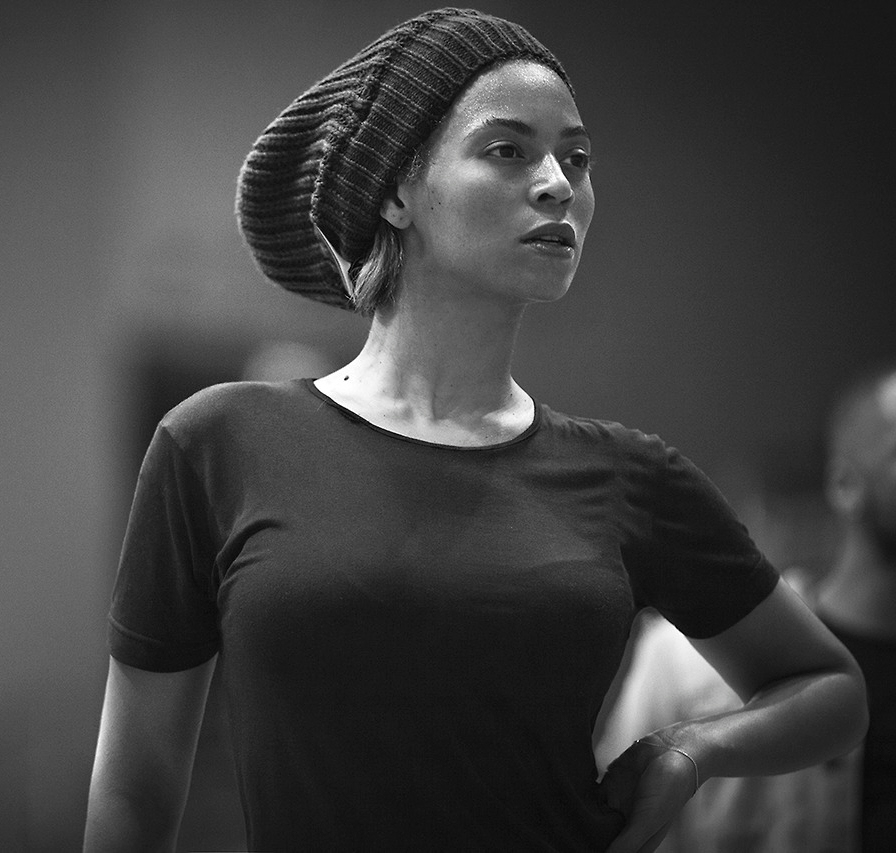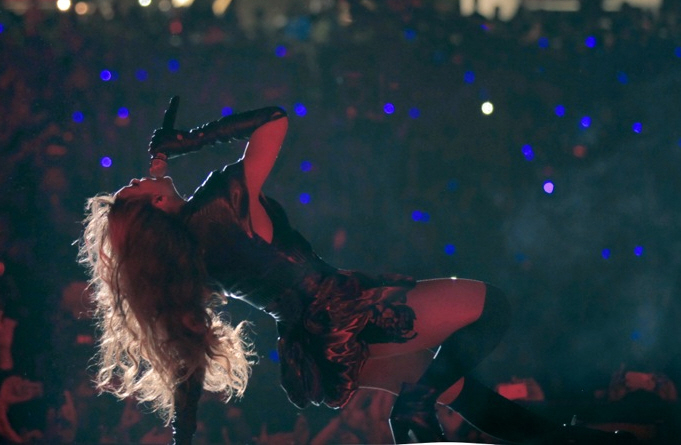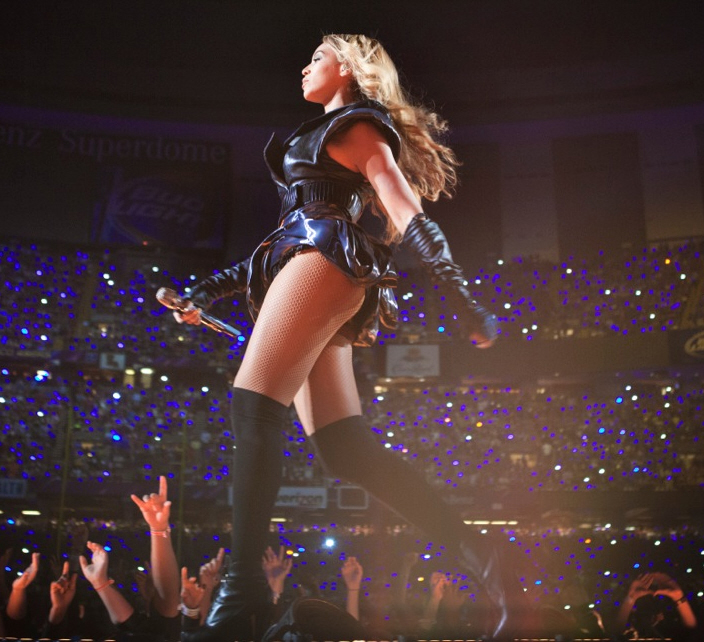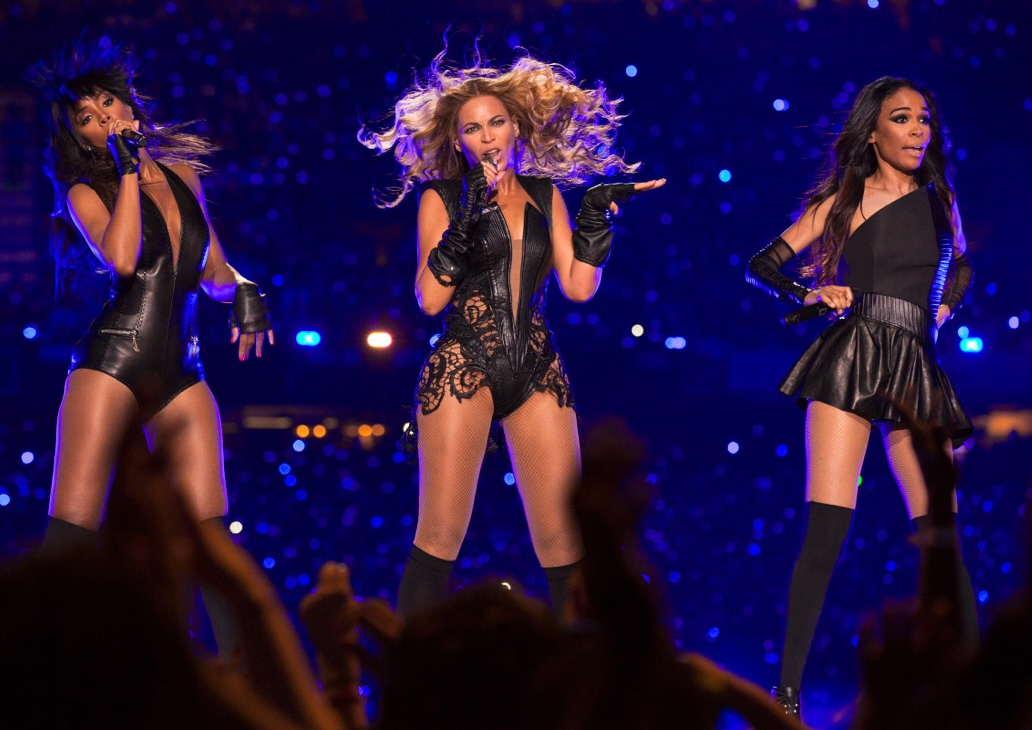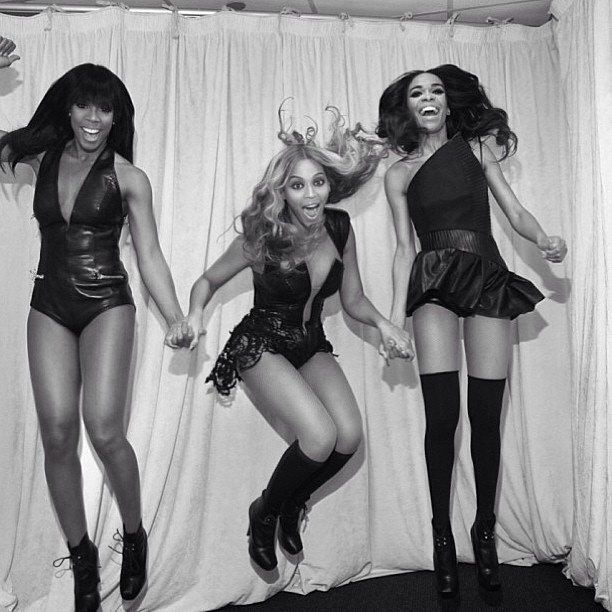 Photos courtesy of Beyonce's Tumblr, Jay's Instagram.