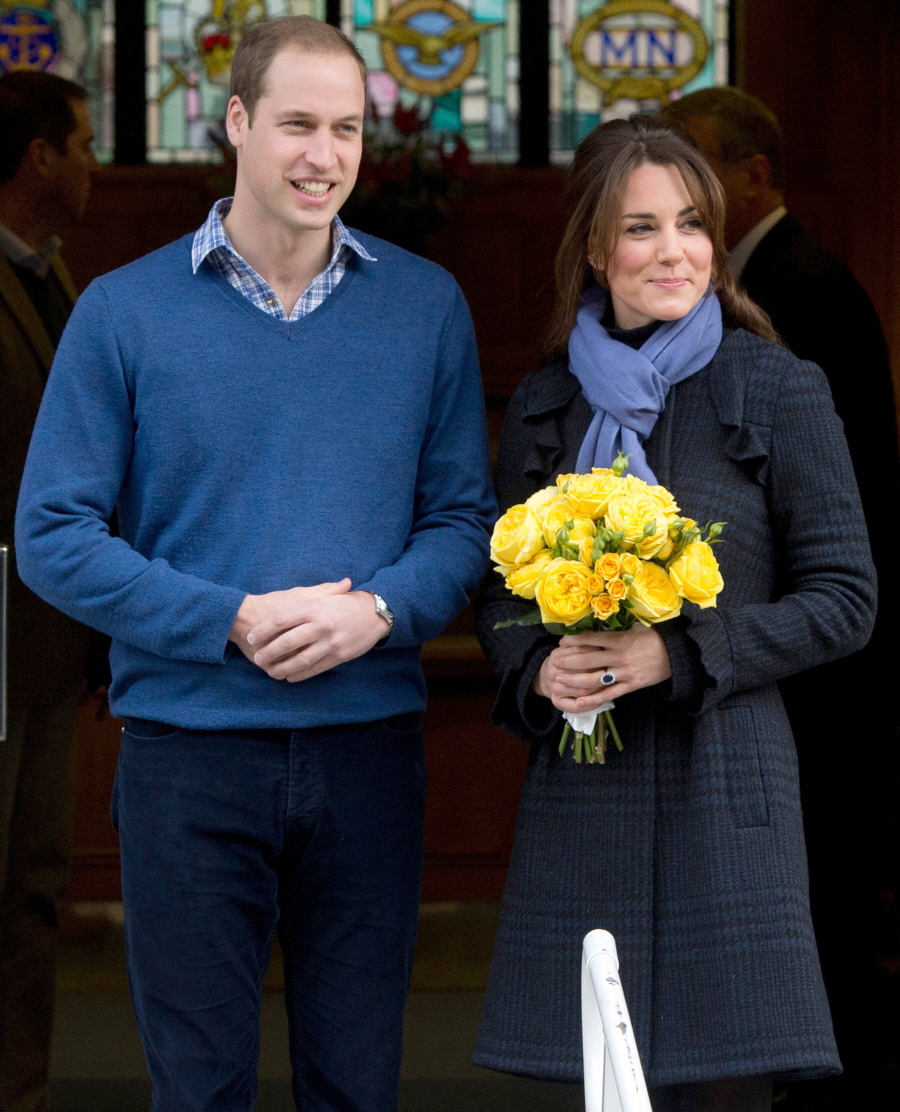 From what I can see, The Great Waity Bikini Photo Flap of 2013 was a complete mess for the royal family. Unlike last year's naked-photo scandal, people just didn't feel like taking Duchess Kate and Prince William's side in last week's controversy, mostly because people didn't see that big of a deal about seeing Kate in a bikini during one of her many vacations. I also think it's hilarious that so many media outlets are referring to their Mustique vacation as a "babymoon" – that's not coming from the St. James press office, by the way. The royals would never be so gauche as to call Kate and William's vacation a "babymoon". Besides that, I have serious concerns that this won't even be their last vacation before Kate gives birth! I'm sure they'll manage at least two more "babymoons" before the birth.
Anyway, the babymoon is over (ha) for now. Kate and William are back in England, and her press office is doing damage control from the photo flap. Guess how they're positioning her? Now brave, selfless Kate is going back to work and she's got such a packed schedule (two scheduled appearances within three weeks) and she's going to announce more charities! She's so brave.
Five months into her pregnancy and just back from a Caribbean "babymoon" in Mustique, the Duchess of Cambridge is stepping up her work as she returns to her royal duties.

Kate, 31, is set for a visit to the port of Grimsby, about 180 miles from London in north eastern England, where she will be shown the local work of one of her father-in-law Prince Charles's best known charities, the Prince's Trust.

On the March 5 "away day," she will also see a local school and take in a history lesson on the local fishing industry when she tours the town's museum.

With the fashion-conscious princess also thinking about her maternity wear, she's reportedly turned to friends Natasha Rufus Isaacs and Lavinia Brennan at Beulah London for some frocks, it was reported Monday – though the company did not wish to comment.
On Tuesday of this week, Kate will return to public work by visiting a treatment center run by one of her charities, Action on Addiction, a women's-only project in Clapham, London.

"These women would have chosen to have some time out of the company of men and they need to focus on themselves," charity chief executive Nick Barton tells PEOPLE. "This is more about the longer term, helping people sustain their recovery and think about the things that makes them vulnerable to relapse."

Royal aides tell PEOPLE that Kate is set to pick some new patronages in the coming weeks, to add to the several she adopted in January 2012.

As it is, the non-profit group 100 Women in Hedge Funds – already associated with Prince William – has announced it will partner with Action on Addiction for Kate's first year of her patronage.
Yes, People Magazine (and other outlets) managed to string together a decent-sized story out of the sparse commitments of: one event this week, one event in early March, and a plan to "announce" more work to come.
Incidentally, have you ever heard of the historical novelist Hilary Mantel? She's won the Booker Prize twice, and during a speech yesterday, Mantel had some fascinating things to say about Duchess Kate. Here's an excerpt of some of what Mantel said:
The pregnant Duchess is a bland, "machine-made" Princess, "designed by committee" who lacks Anne Boleyn's cleverness and Diana's ability to transform herself into an avenging wraith, the double Booker Prize-winning writer claimed. Delivering a London Review of Books lecture on Royal Bodies at the British Museum, the author of Wolf Hall and Bring Up The Bodies, the acclaimed novels which detail the failure of Henry VIII's wives to produce an heir, examines the prospects for the future queen consort.

On first impressions, Mantel believed Kate Middleton to be "a jointed doll on which certain rags are hung. In those days she was a shop-window mannequin, with no personality of her own, entirely defined by what she wore." Prince William's wife-to-be was as "painfully thin as anyone could wish, without quirks, without oddities, without the risk of the emergence of character… She appears precision-made, machine-made, so different from Diana whose human awkwardness and emotional incontinence showed in her every gesture."

The Duchess of Cambridge "appeared to have been designed by a committee and built by craftsmen, with a perfect plastic smile and the spindles of her limbs hand-turned and gloss-varnished."

Ms Mantel said: "Presumably Kate was designed to breed in some manners. She looks like a nicely brought up young lady, with 'please' and 'thank you' part of her vocabulary." But in her first official portrait since marrying William, painted by Paul Emsley and unveiled last month, "her eyes are dead."

Kate is quite unlike Anne Boleyn, who was "a power player, a clever and determined woman." Although the Duchess will probably escape a beheading, their fates will be similar. "In the end she (Anne) was valued for her body parts, not her intellect or her soul; it was her womb that was central to her story… a royal lady is a royal vagina."

Female Royals are "persons but they are supra-personal, carriers of a blood line: at the most basic, they are breeding stock, collections of organs."

Whilst St James's Palace fumes at pictures of the Duchess in a bikini showing a slight baby bump in a number of foreign magazines, taken during a break on the Caribbean island of Mustique, Mantel observes: "The royal body exists to be looked at."
Yikes. This is kind of amazing/scary/disturbing/thought-provoking. I'm kind of happy that a British writer had the balls to say some of this stuff out loud, and I can only imagine the pushback this woman is going to receive. But doesn't she have a very valid point of view, a POV that's been sorely missing from the discussion of Kate and the royal family?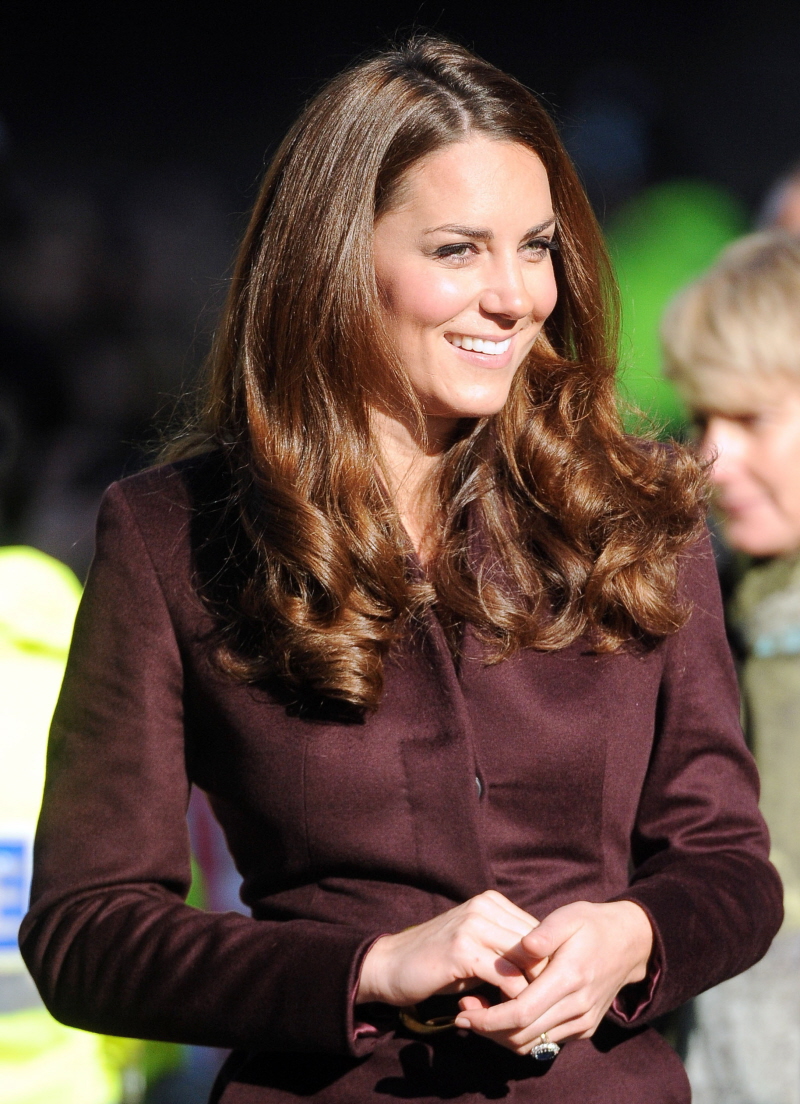 Photos courtesy of Fame/Flynet.