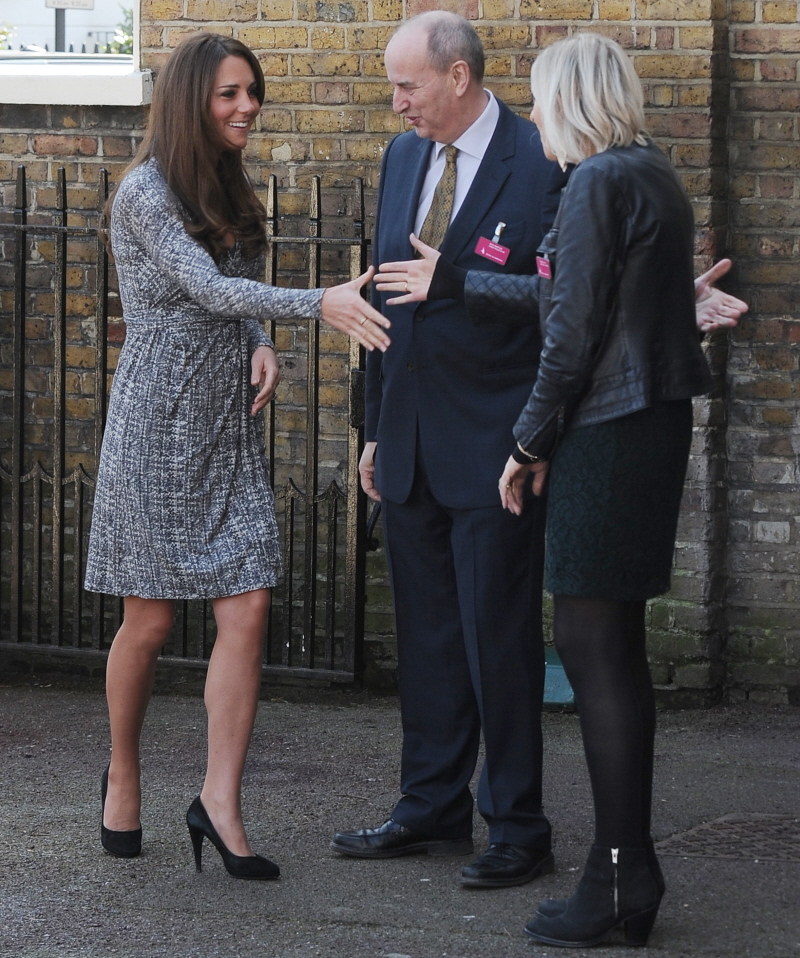 As promised, here is Duchess Kate in London today, making an appearance at Hope House, a residential facility which works with Action on Addiction (one of Kate's few patronages). This is Kate's third public appearance since announcing her pregnancy early in her first trimester. The first two appearances were an award presentation for the Sports Personality of the Year, and then she made an appearance at the unveiling of her first portrait. So… no charity work in MONTHS. And her next appearance won't be until March 5, so we have to savor what few appearances she deigns to make.
For today's appearance, Kate wore a Max Mara wrap dress, which is fine. It's not super-pretty or anything or groundbreaking maternity-wear. It looks a lot like the silk jersey Issa dresses Kate loved when she was waiting for William to propose. The only change? Kate seems to be more self-conscious of her larger pregnancy boobs, because she actually seems to be wearing some kind of tank underneath the dress. As for her bump… Kate is apparently about four and half months along. I think she seems to be carrying small, but I'm very pleased to see her "flaunting" her bump. The habit among royal women is to "hide" the bump under baggy clothes, so I was hoping that Kate would show everything off. Here's some stuff from The Mail (they sound shade-throwing to me):
The Duchess of Cambridge looked the picture of health this morning as she attended an official engagement in the London borough of Clapham this morning.

Appearing in public for the first time since her Mustique holiday last week, the Duchess, who sported a light tan, had dressed her blossoming bump in a flattering black and white wrap dress.

The Duchess, who was reported to be dismayed after photos of her on the beach in a bikini were publised in an Australian magazine earlier this month, looked happy and relaxed as she chatted to staff at Hope House, a residential centre set up to help recovering addicts.

At four and a half months pregnant, she is still remarkably slender apart from her tiny bump – clearly Kate hasn't been eating for two.

Kate spent the morning meeting clients and staff at Hope House, a 23-bed residential treatment centre in South West London that offers an Action on Addiction programme, providing a safe, comfortable place for women to recover from substance dependence and receive support for other compulsive disorders.
Usually, The Mail is firmly ensconced within Duchess Kate's duchess-y bum, so the "clearly Kate hasn't been eating for two" aside feels particularly harsh. I don't know… I guess I have to defend her. I think she looks small, for sure, but she looks healthy enough to me. As a matter of fact, I think she looks like she hasn't barfed in a while, so please don't even bring up the whole morning sickness thing.
Also: HER HAIR!!! You know what? I think her hair has gotten thicker with her pregnancy hormones and she's decided to go without her crazy duchess weave. And NO SAUSAGE CURLS!!!!!! Amazing.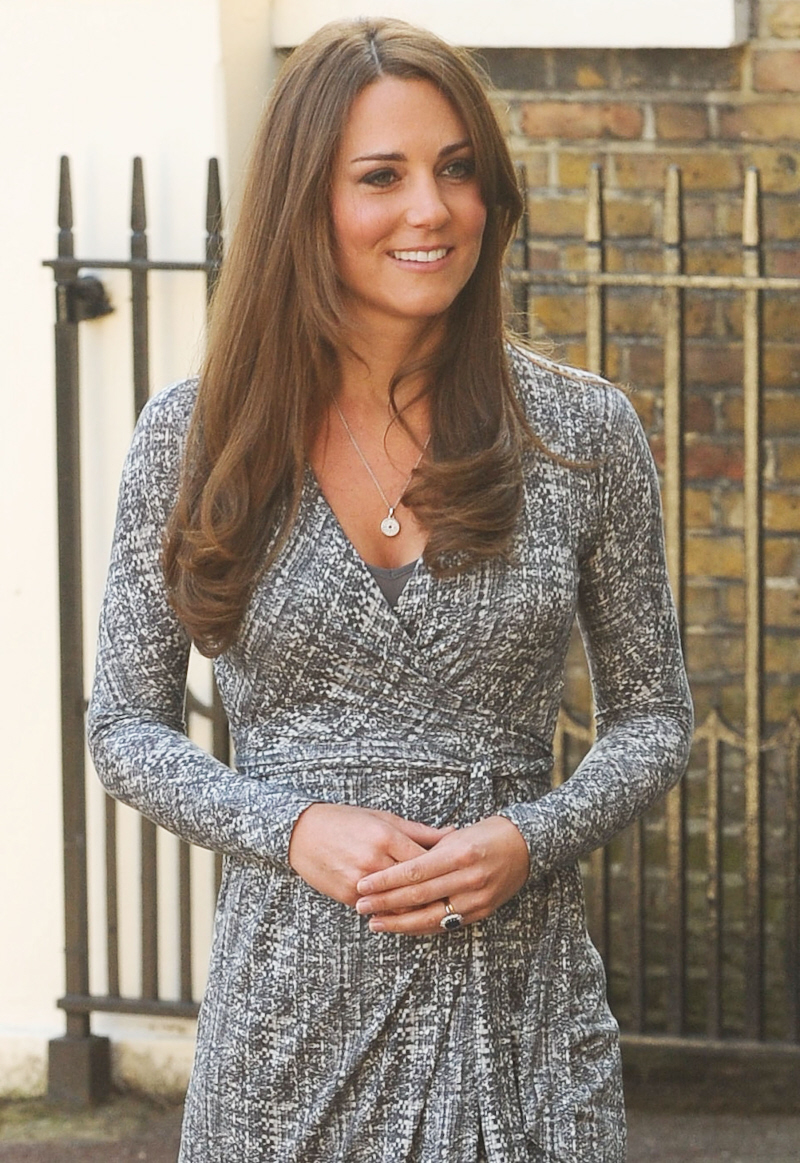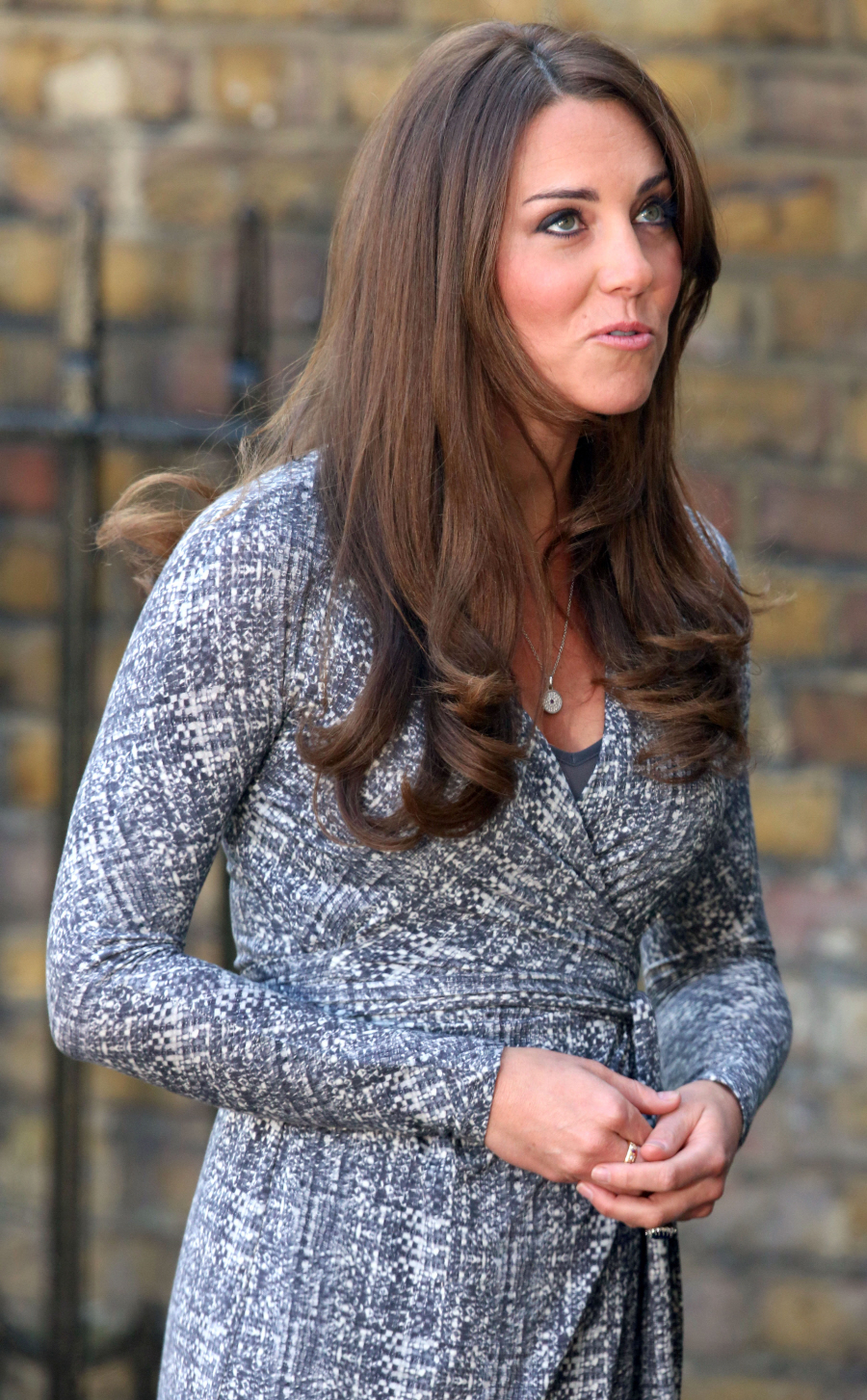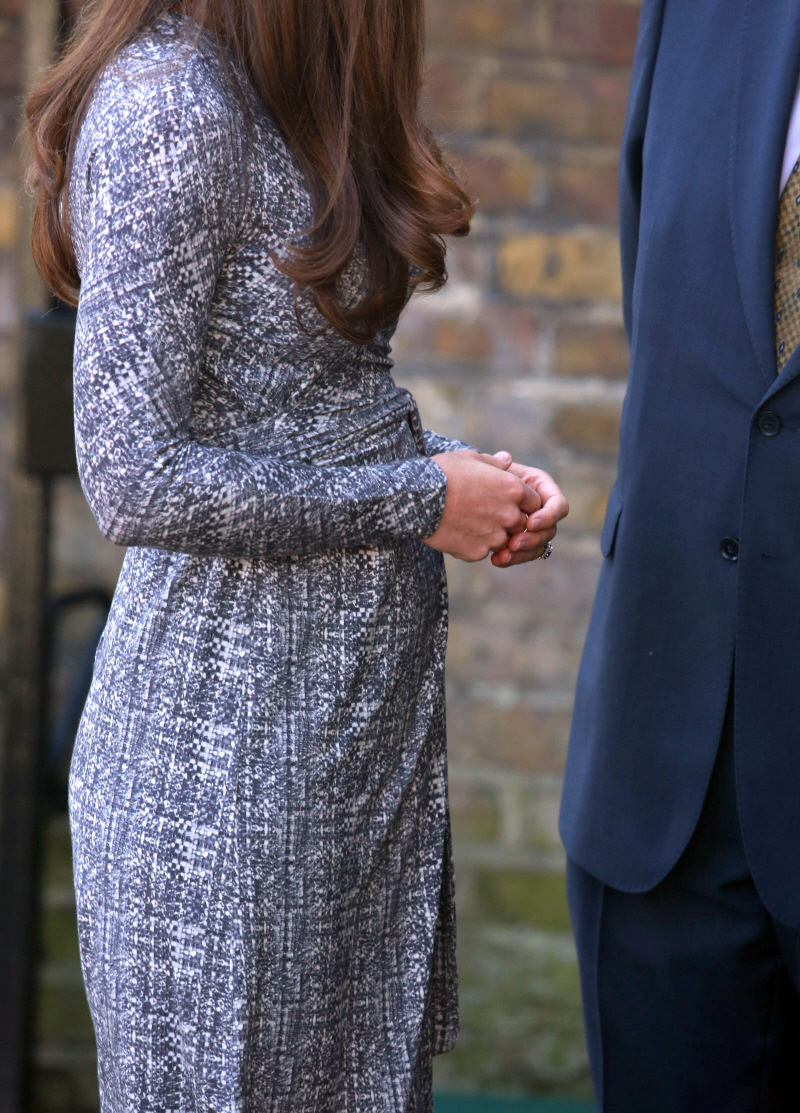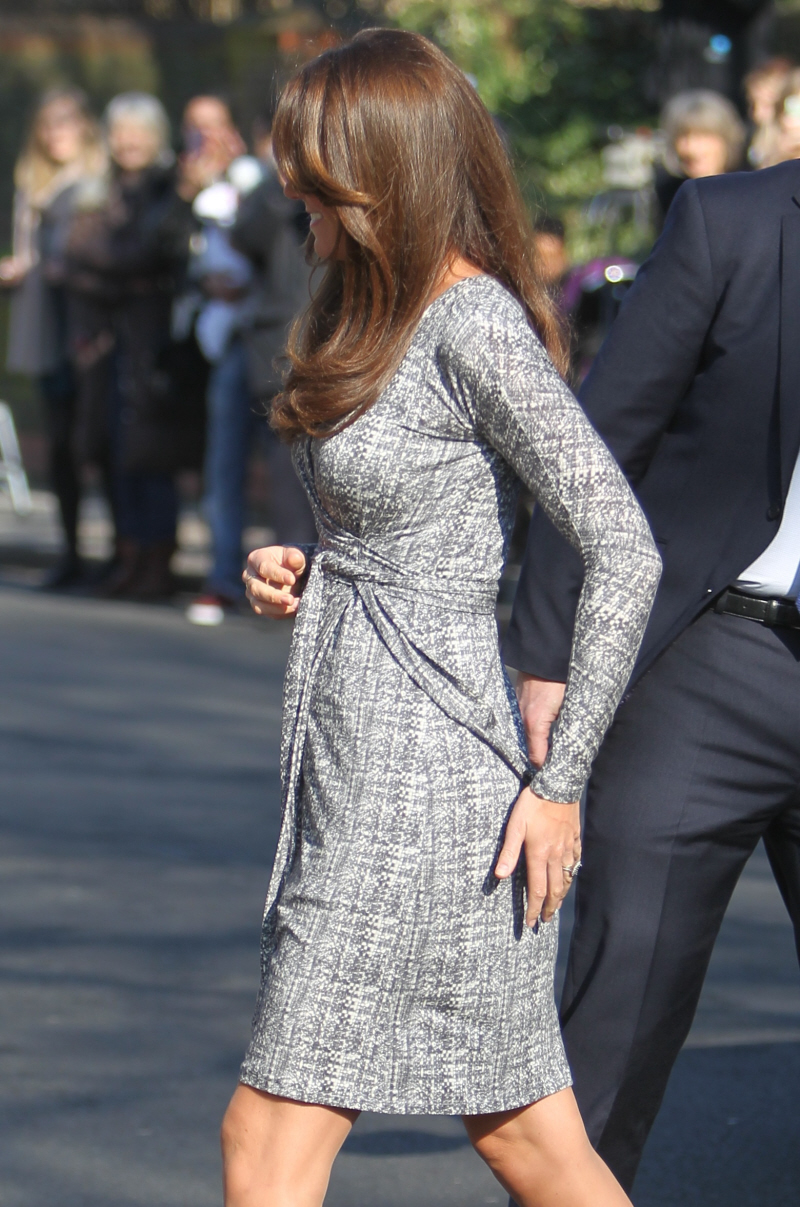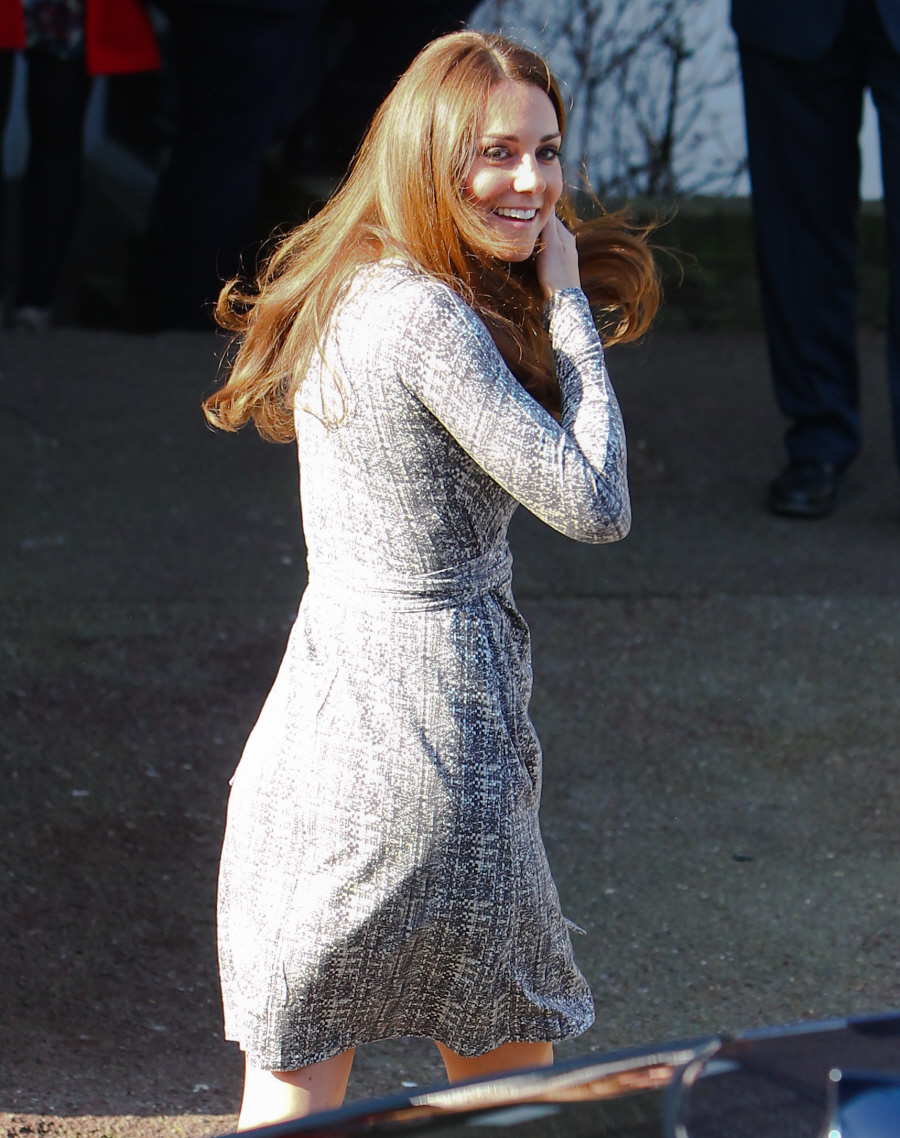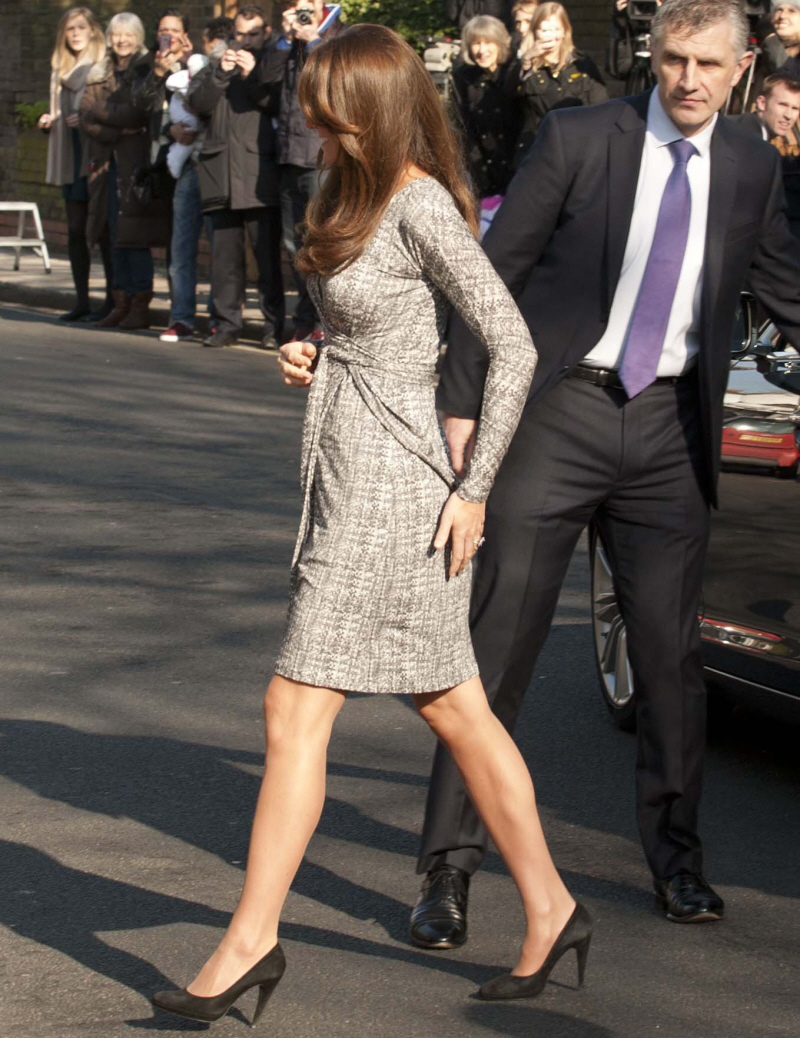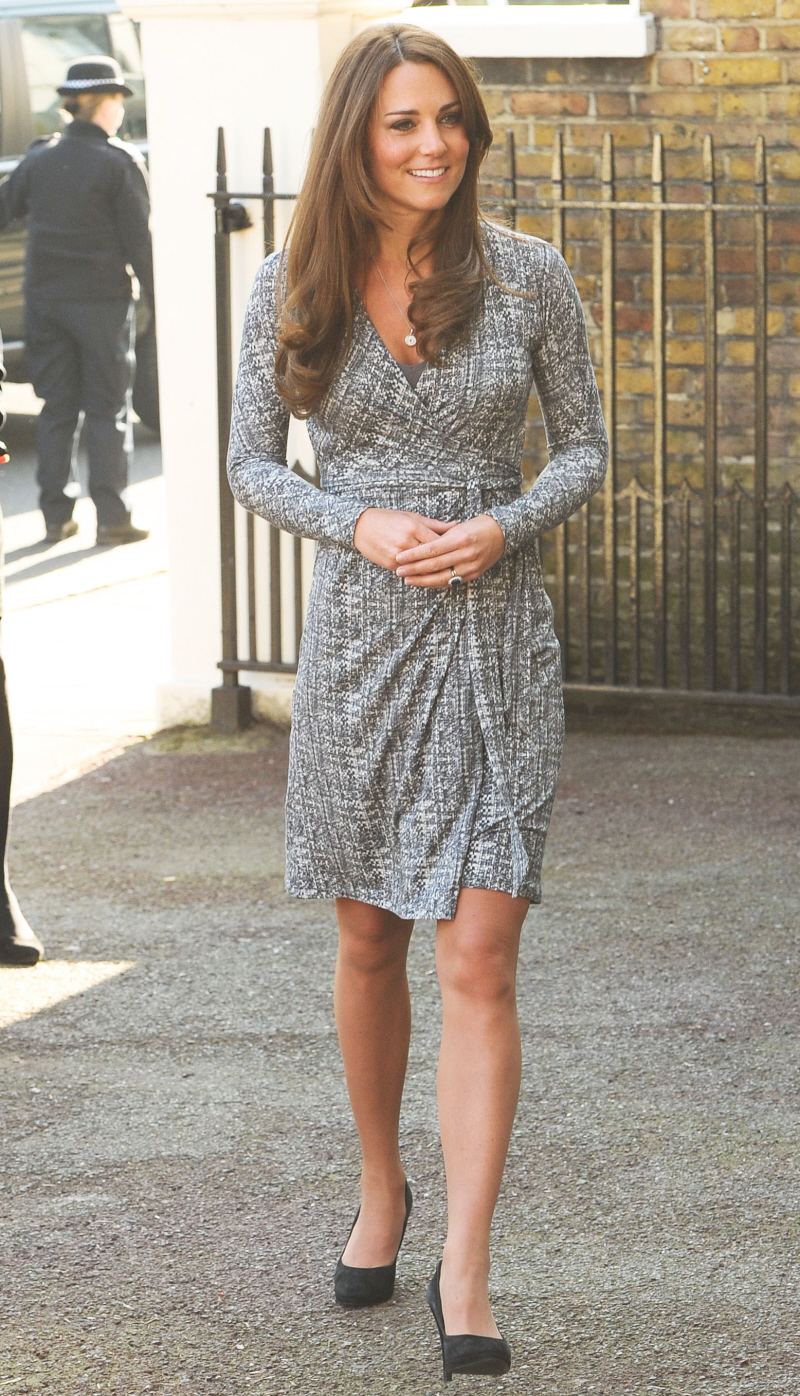 Photos courtesy of WENN, Fame/Flynet.