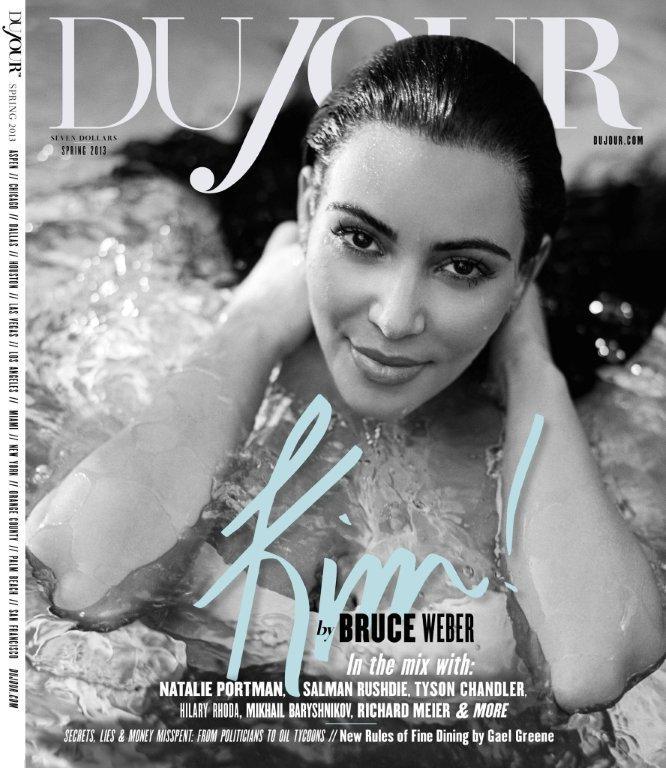 Kim Kardashian covers the new issue of DuJour Mag, with a nice photo shoot by Bruce Weber. The photos are kind of pretty, but I'm not crazy about the "first pregnant photo shoot" hype. It's Kim Kardashian – she does a million photo shoots a week! Anyway, you can read the full DuJour interview here – there's a lot of comparisons of Kim to Elizabeth Taylor, and there are lots of eye-roll-y quotes from Kim. Some highlights:
Living life in the spotlight: "When you live your life so publicly, like on a reality show, people assume that they know every side of you already. But they always want more. Doing a TV show with your family, it's really hard to hide or be guarded… Besides, we don't want to film a show if we can't be who we are, because that's just too much work."

Bruce Weber on Kim: "I didn't know Kim loved Elizabeth Taylor before we met, but I imagined she would," says Weber, who regarded Taylor as a close friend. "The great thing about Kim is that she's so strong and independent, but she also makes you want to take care of her. Working with her made me really miss Elizabeth."

On having big boobs: "I think because I have big boobs it could make me look heavier if I don't, like, show off my waist or something, so I just have kind of learned to dress one way only," she says. "Khloé can wear flowy, pretty things because she's really tall. Kourtney is, like, really little. I'm just kind of in between, so it doesn't really work."

Pregnancy cravings, etc: Now, since she's had to forgo her Diet Coke, her worst vice is the occasional iced tea. "I used to always say I can't wait to get pregnant because I will just eat whatever I want, but it's completely different," she says as she makes her way through an apple pastry. "I'm like, OK, I want to eat as healthy as possible. Though lately I've been watching shows like I'm Pregnant and Addicted to Meth. It definitely makes me feel better if I'm wanting one sip of Diet Coke or, you know, too much sugar. I'm like, This woman is on meth."

Kanye West and privacy: "My boyfriend has taught me a lot about privacy," she says. "I'm ready to be a little less open about some things, like my relationships. I'm realizing everyone doesn't need to know everything. I'm shifting my priorities." She's started to be more selective when fans ask for her photograph in airports or when out to dinner, especially when she's with West. "I just tell them, sorry, but my boyfriend won't let me," she says. West has not been interested in co-starring on any of his girlfriend's shows, though he made the occasional appearance on last season's Keeping Up With the Kardashians, in which he's seen giving Kardashian's closet a makeover, weeding out anything too bright, too tight or too shearling, and then selling it on eBay. Kardashian says that the upcoming season of KUWTK, which began filming last month, will not include any explicit "baby stuff," including doctor appointments, pre-baby shopping or giving birth, but she can't say for certain whether West will appear or not. "We haven't really gotten that far yet," she says.

This past year: "Going through a divorce for anybody is devastating and heartbreaking, and then to have to do it and feel like you have to explain what is happening is such an awkward thing," she says. "You have to explain your choice to millions of people, and then they're disappointed. I'm disappointed. Why are they disappointed?" (Khloé says, "Kim never had to endure any bullying in her younger years. I think to be thrown into a lion's den with everybody attacking her really hit her hard. It was very painful.")
Yeah. It's nothing groundbreaking, and it won't make any breaking-news headlines. I would call it a fluff piece… but mostly it just felt like DuJour was going out of their way to be nice to her. Like, for all of the bad stuff you can say about Kim, she doesn't strike me as the kind of celebrity who puts demands on journalists as to what questions they can and cannot ask her. She doesn't only do interviews with sympathetic outlets, and some magazines have gone out of their way to make her look like a ditz or like she's just some contrived p0rn star. At this point, I think journalists are just nice to Kim because they don't feel like being mean to her, not because they are contractually required to be nice to her, you know?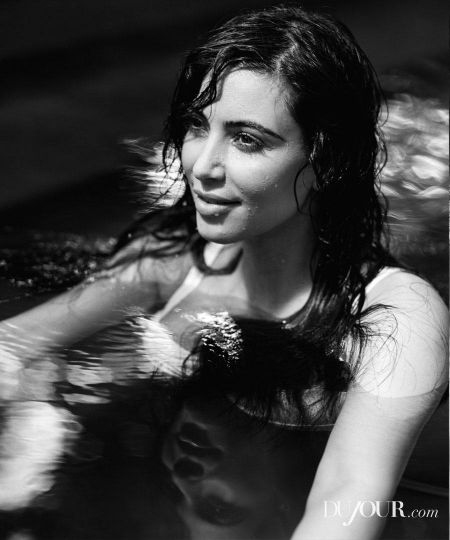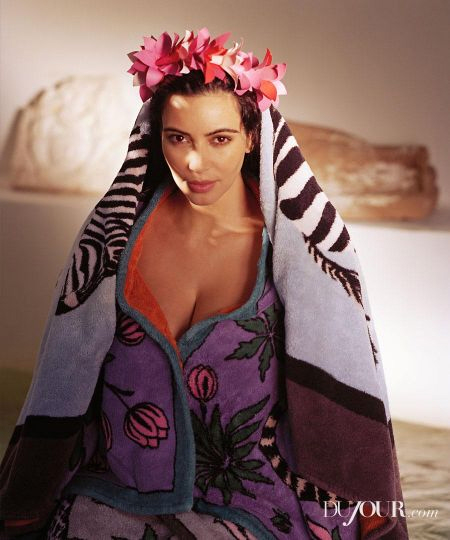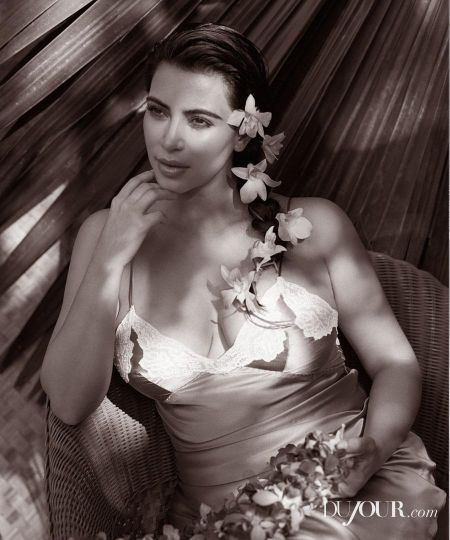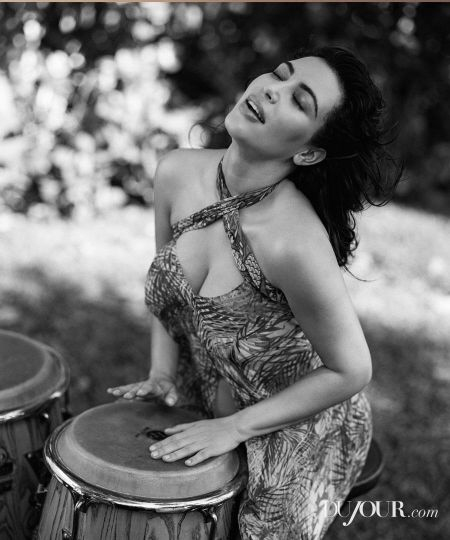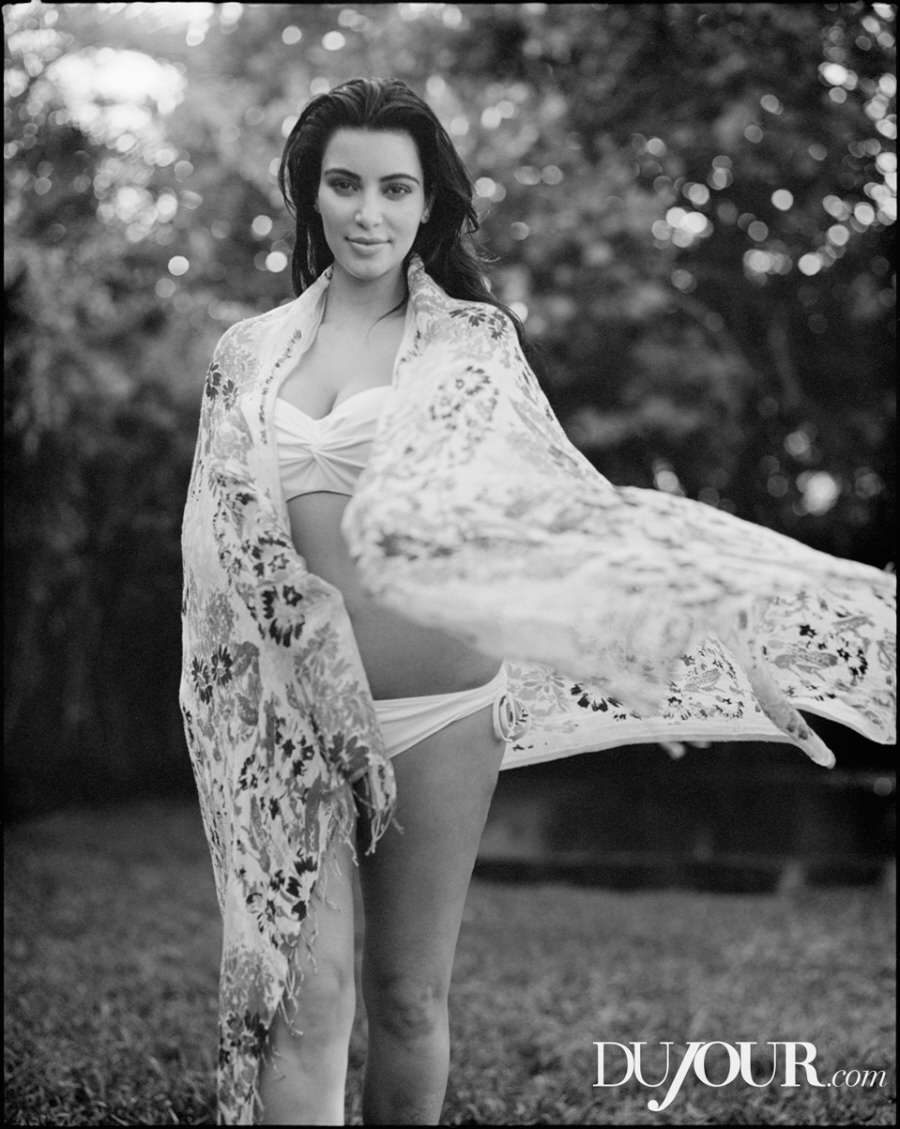 Photos courtesy of DuJour.