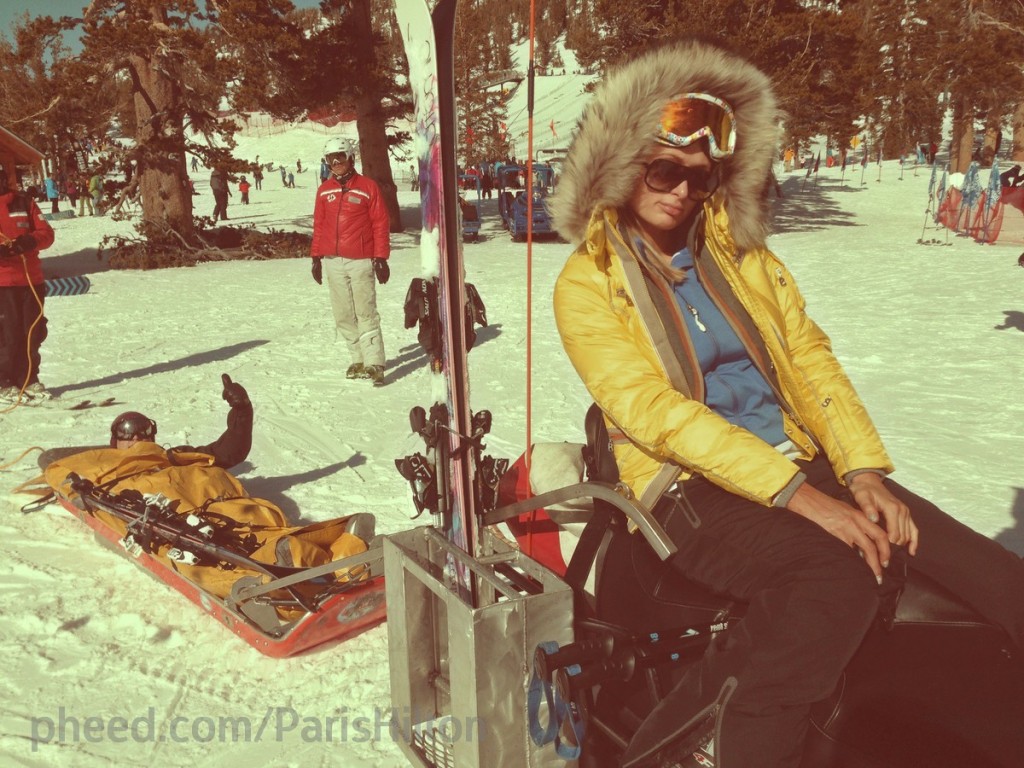 To start I wanted to talk about that picture of Paris Hilton above. I put this as the lead link in the "featured links" yesterday (at the bottom of every post) but I'm glad to have a chance to discuss it. Paris actually posted that photo, and at first you think it's just a picture of her posehard on the slopes, but do you notice the dude in the background on the stretcher? That's her boyfriend! She didn't just pose for this photo, she put it up on something called Pheed and told the story of how her boyfriend cut his leg while skiiing. How clueless is she to make it all about her?
Anyway Radar Online has a new story about Paris and her waning popularity. Apparently Paris' appearance fee has dropped from half a million or more to a "comparatively paltry" $250k an event. That's still an astronomical sum of money for one night! In comparison, Kim Kardashian now gets half a million or more to show up somewhere. Crazy.
Paris Hilton, who once commanded up to a whopping $750k for promotional club appearances, was paid a comparatively paltry $250k for her attendance at her 32nd birthday party at a nightclub in Lake Tahoe recently, RadarOnline.com is exclusively reporting.

"About five years ago, Paris easily commanded $500-750k for nightclub appearances, which often took place in Vegas, Atlantic City, or Miami," a source tells Radar. "However, that's dropped steeply over time, and she was paid the much lower fee of $250,000 to 'celebrate her birthday' on Saturday night.

The demand just isn't there anymore for promoters to pay the huge fees of yesteryear. Ever since Paris' arrest for cocaine possession outside the Wynn two years ago, she hasn't commanded the high six figures from any clubs on the Vegas strip, not to mention the fact her star has drastically faded. Can she still get a ridiculous amount of money purely for turning up and partying? Yes. Is it anywhere near as much as she used to get? No, and likely never will be again."

As we previously reported, the heiress was photographed celebrating her birthday over the weekend with her parents and her 21-year old model boy toy, River Viiperi.
Jeez. $250k for one night of showing up, having your picture taken and partying. I would do it just for the free food and booze. Did I pick the wrong career path just talking about these people? That said, I doubt Paris' "downgrade" to a "mere" quarter of a million a night is solely due to her stupid cocaine conviction. The public was getting tired of this vapid creature well before then and let's get real, she can't play the game as well as Kim K does. Paris is a one-note wonder and she doesn't bring much to the table beyond animal hoarding, horrible music and cheap products she slaps her name on. She's just not that interesting.
I'm surprised she gets that much appearance cash still. Compared to Kim Kardashian it might be "paltry" but it's still a small fortune to most anyone else. I would have guessed that Paris makes about $30k a night, still awesome but not well into the six figures.