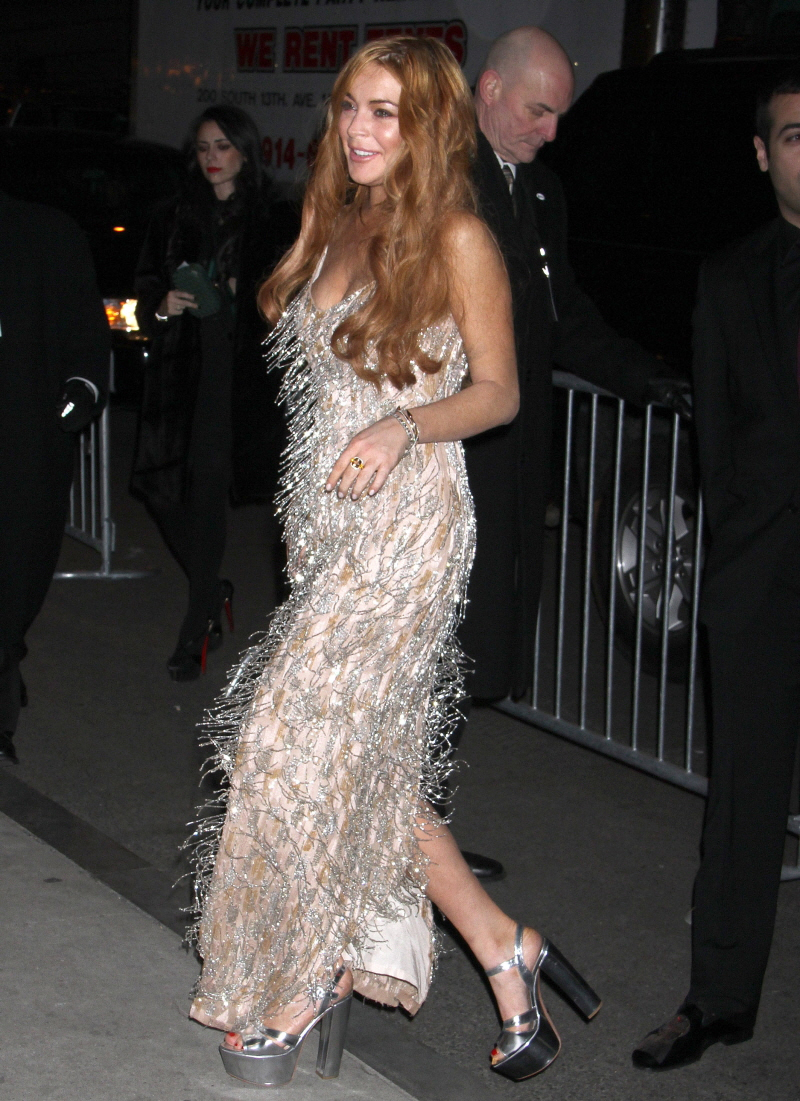 Remember this Theia gown Lindsay Lohan wore to the amfAR gala a few weeks ago? It looked like Roberto Cavalli and it was long and sparkly and it made Lindsay Lohan feel like a crack princess for one night only. Well, this gown has quite a torrid history already. Last week, Us Weekly claimed that Charlie Sheen (Captain Save-A-Ho) offered to go halfsies on the dress because he knows how much Lindsay Lohan loves to get dressed up in the finest clothes and prance around like she's still the center of the universe. Apparently, Charlie called Phillip Bloch (stylist to the stars) and offered to pay for half of the dress for his good friend, the Cracken. I thought that was the end of it. But no. Us Weekly claims that Lindsay did NOT purchase the dress, she only borrowed it. And when she returned it, not only did the dress smell like vodka, crack smoke and crack drama, Lindsay had cut the dress in HALF.
Shear madness? Lindsay Lohan wore a gorgeous, beaded, floor-sweeping gown by Theia to an amFAR event on Feb. 6 in NYC, but by the time she returned it, the dress was half its original length.

"She said that the dress had ripped [at a club after the fundraiser] — she couldn't possibly wear it like that — so her stylist friend went to the club bouncer and requested some scissors to repair the torn part of the dress," a source tells Us Weekly. "But what bouncer has scissors?"

"She turned it into a mullet! Only a fashiony person would do that! " the source continues. "She's out of control and behaving really badly."

The dress in question is actually the same one that fellow troubled star Charlie Sheen finagled for the 26-year-old actress. As revealed by Us Weekly, Sheen generously hooked up his Scary Movie 5 costar with the dress after personally putting in a call to celebrity stylist Phillip Bloch to outfit her for the glamorous AmFAR affair.

He even said he'd "go halfsies" with the actress to pay for the gown, an offer she did not accept: Lohan ended up borrowing the dress.

Last year, the actor offered to lend Lohan $100,000 to help cover her tax debt. The actress was said to have refused the money.
I don't understand that one quote – "She turned it into a mullet! Only a fashiony person would do that." WTF? No, a "fashiony person" would not chop off half of an expensive beaded gown just because there was a rip. You know who does that? A crackhead who doesn't give a crap about anyone or anything. Sounds like Charlie is going to have to buy that dress after all. Either that or the stylist is going to end up suing Lindsay (and then she'll countersue, and then she'll hit him in a car, and then she'll give someone a beej, and then she'll go to court, then we'll forget what we were talking about, rinse and repeat).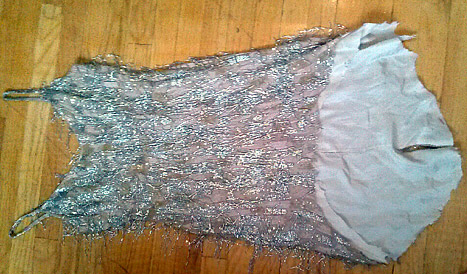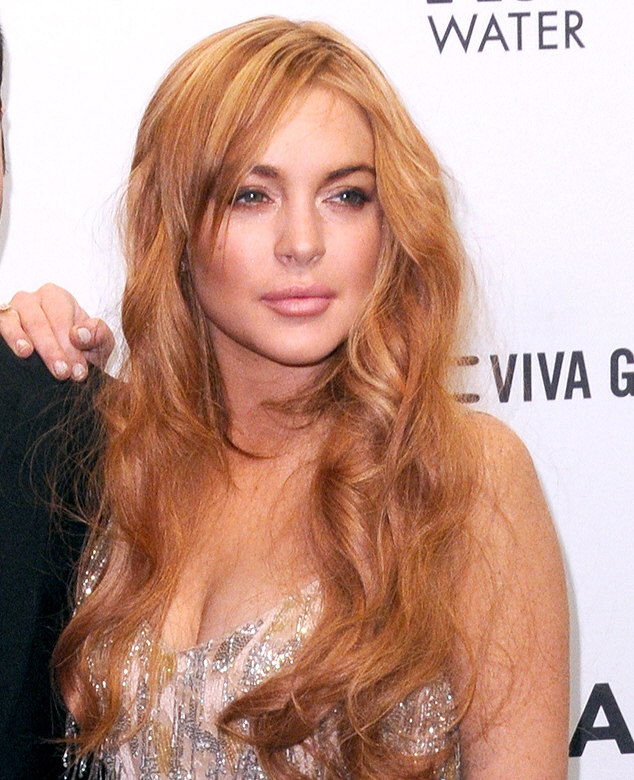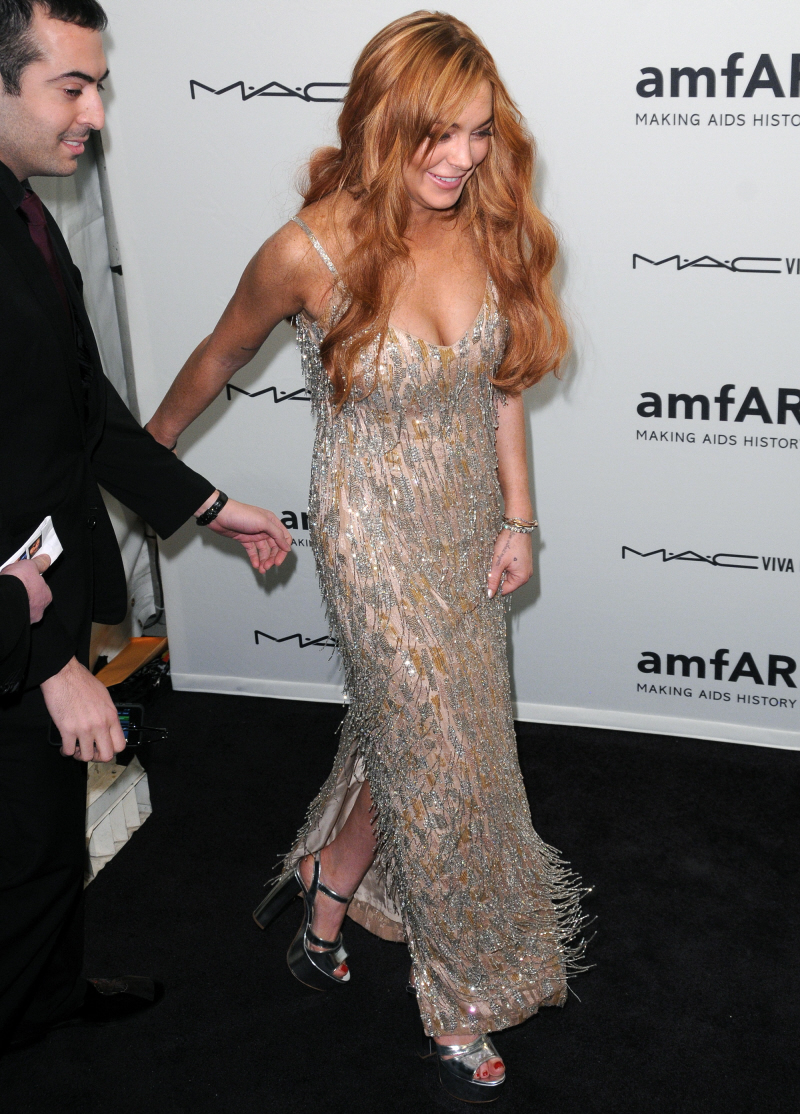 Photos courtesy of Us Weekly, WENN, Fame/Flynet.