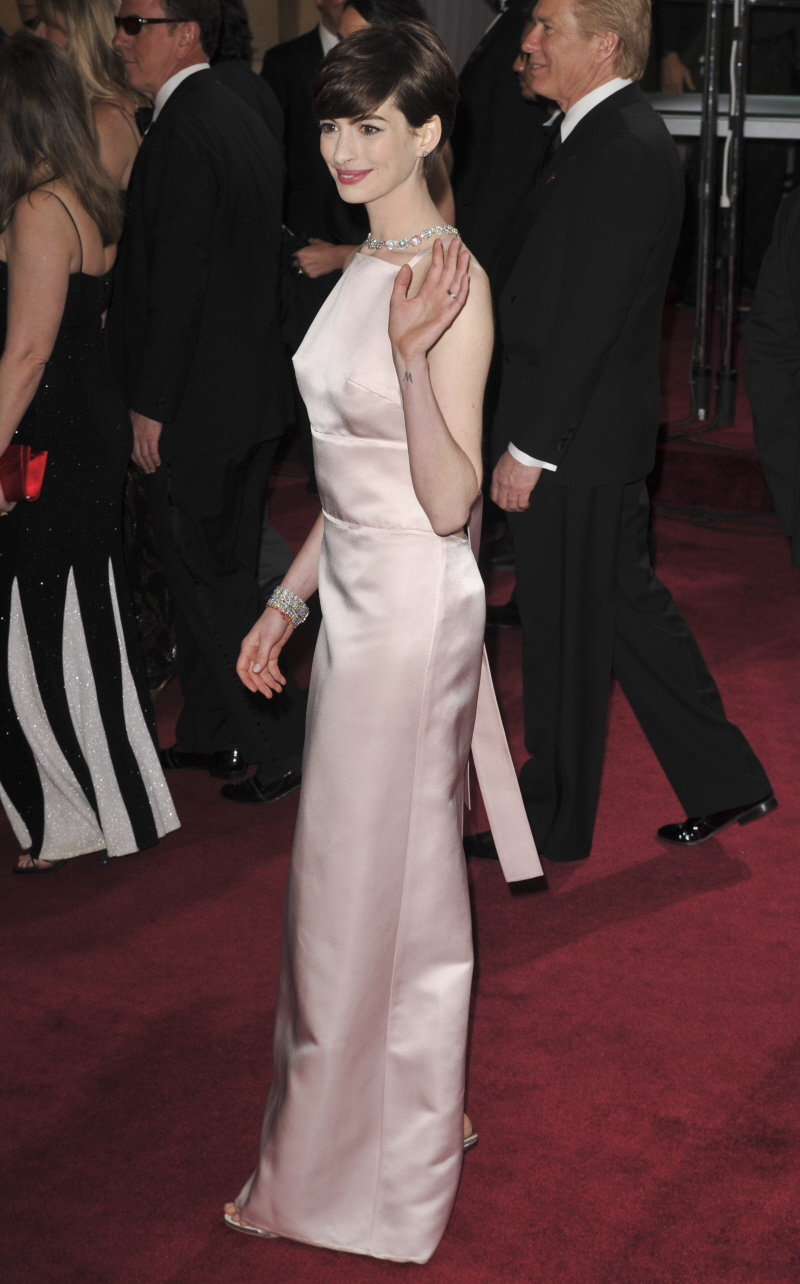 When Anne Hathaway's Nips of Doom stepped onto the Oscar red carpet, everyone was shocked to see that she was wearing a pale pink Prada (with sketchy darting). Annie was supposed to be wearing Valentino. Everybody said she would be wearing Valentino. Valentino's people had already sent out the press releases. So a million fashion conspiracies were born! Did Anne and Valentino have a falling out? Did the original dress rip? Did Anne just want the night to be about her Nips of Doom? Well, the answer has come – E! News says that Anne decided at the last minute to change out of the Valentino because she was worried Amanda Seyfried's McQueen gown was too similar!
When it comes to selecting the Oscar gown, it's no surprise that quite a bit of careful analysis goes into the strategic style selection. After all, an Oscar dress on a nominee, let alone a winner, will forever be remembered in history.

So upon seeing Anne Hathaway in a blush-pink Prada design on last night's red carpet, we couldn't help but wonder what happened to her trademark Valentino couture loyalty. After all, the star has consistently worn the designer on countless red carpets, and even had Mr. Valentino design her wedding dress months ago.

More peculiarly, Valentino even sent out a confirmation press release earlier in the afternoon declaring that the Les Misérables actress would be donning a design from the house, and shortly thereafter Fashion Police's George Kotsiopoulos predicted on-air during the E! Oscars preshow that she'd wear an ivory embellished gown with a high neckline by the designer.

So what happened?

A source close to the actress confirms to E! News that shortly before Hathaway stepped out on the red carpet she learned that Amanda Seyfried's Alexander McQueen Oscar gown was strikingly similar to her selected Valentino design, and opted for the Prada dress last minute.

A quick side-by-side comparison shows that both pale gowns were embellished with beautiful delicate floral embroidery—perhaps a little too close for comfort, in the opinion of the Oscar winner.

Hathaway explained to E!'s Ryan Seacrest on the red carpet that she "didn't know what I was wearing until about three hours ago," and said her work schedule was to blame. "This is the one that spoke to me in the end."
You can see the Valentino design at E! News – the look was strikingly similar to Amanda's McQueen. The biggest different was basically that Seyfried's dress had that little "cleavage window" and the Valentino didn't. As I think I said yesterday – this speaks more to how Sarah Burton is really screwing up the Alexander McQueen label. I seriously doubt that the late Alexander McQueen would have put a lacy, Valentino-looking gown out there… much less on Amanda Seyfried. Here's Seyfried's again: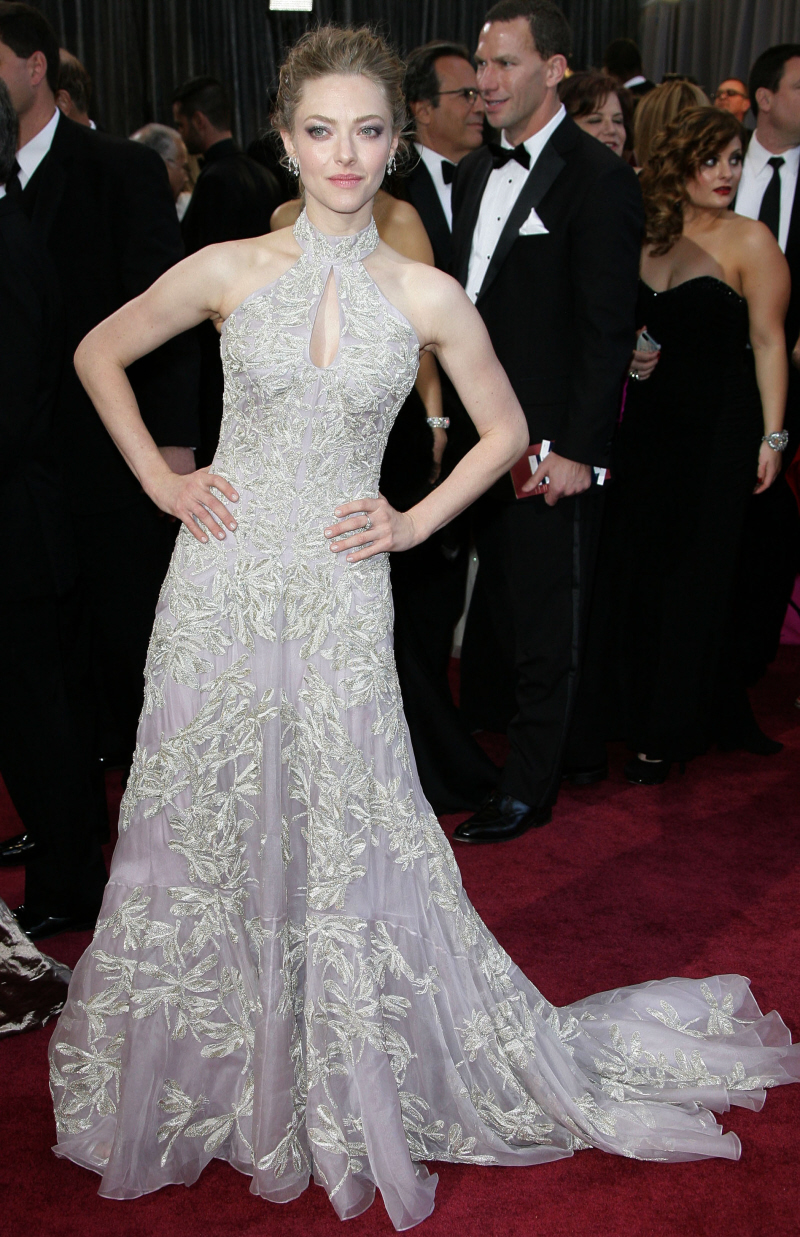 After the Prada disaster, Anne changed into the grey-blue Saint Laurent gown for the parties. She looked way more comfortable and much less cloying. Speaking of "cloying," when Anne spoke to reporters after the Oscars, she answered questions about the backlash against her "cloying" Oscar campaign:
Anne Hathaway is a world-famous movie star — and now an Oscar-winning actress — but that doesn't mean she's immune to insecurity. In fact, she may be more vulnerable than anyone. Though the 30-year-old star has been praised in recent months for her spectacular performance in the epic movie musical Les Miserables, she has also been criticized for what some believe is a false, cloying sense of earnestness in her awards show appearances.

Addressing the jokes about her emotional acceptance speeches after winning the Best Supporting Actress Academy Award on Feb. 24, Hathaway admitted to feeling hurt by the backlash. "It does get to me," she confessed. "But you have to remember in life that there's a positive to every negative and a negative to every positive. The miracle of the universe is that, as far as they know, there's 51 percent matter versus 49 percent anti-matter — things tip in the scale of the positive," she continued. "So that is what I focus on."

The star — who beat out fellow nominees Sally Field, Jacki Weaver, Helen Hunt, and Amy Adams — then went on to say that she tries not to let other people's criticism change the way she approaches her own relationships. "I live my life with love," she explained. "I live my life with compassion. I live my life hoping the best for absolutely everyone, no matter how they feel about me. And when you live that way, it's amazing how beautiful every day can be."
For the love of God, Anne. "The miracle of the universe is that, as far as they know, there's 51 percent matter versus 49 percent anti-matter — things tip in the scale of the positive." STFU!!! I love her and everything, but don't you want to see her tip her head back and yell, "Haters gonna hate, suck on my Oscar, bitches"? I don't know why she thinks that we'll only accept this cloying, too-sweet version – show some spunk, show some chutzpah. And for the love of God, stop talking in that gaspy little-girl voice.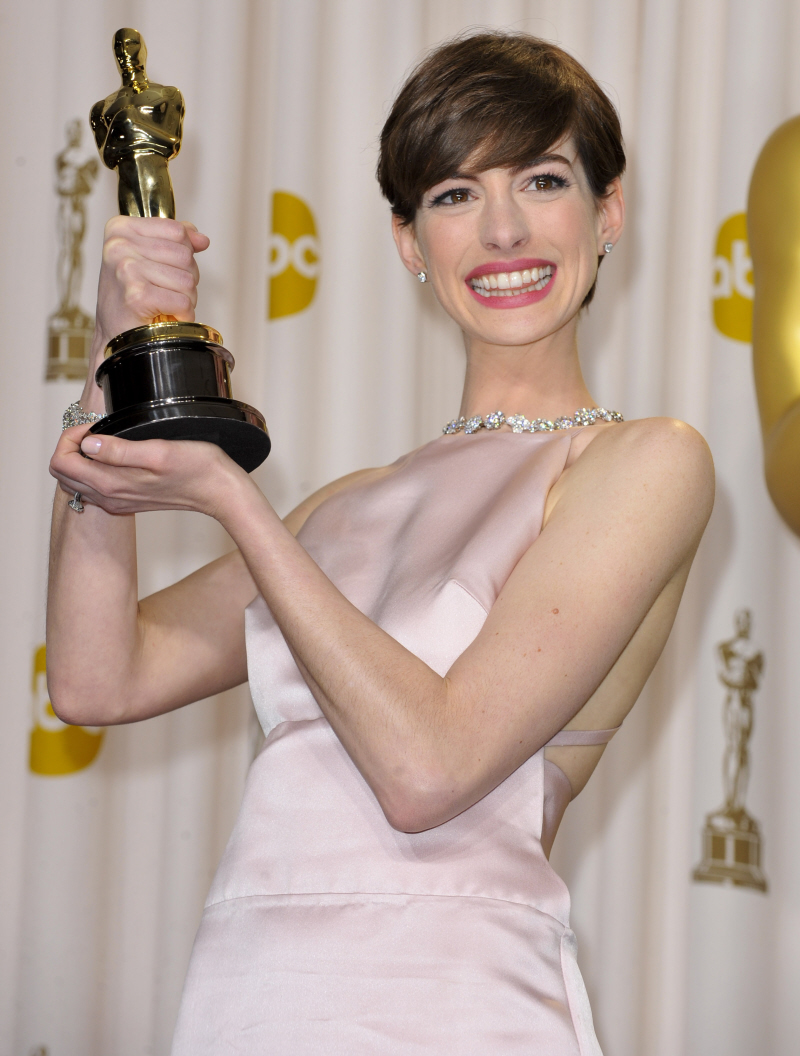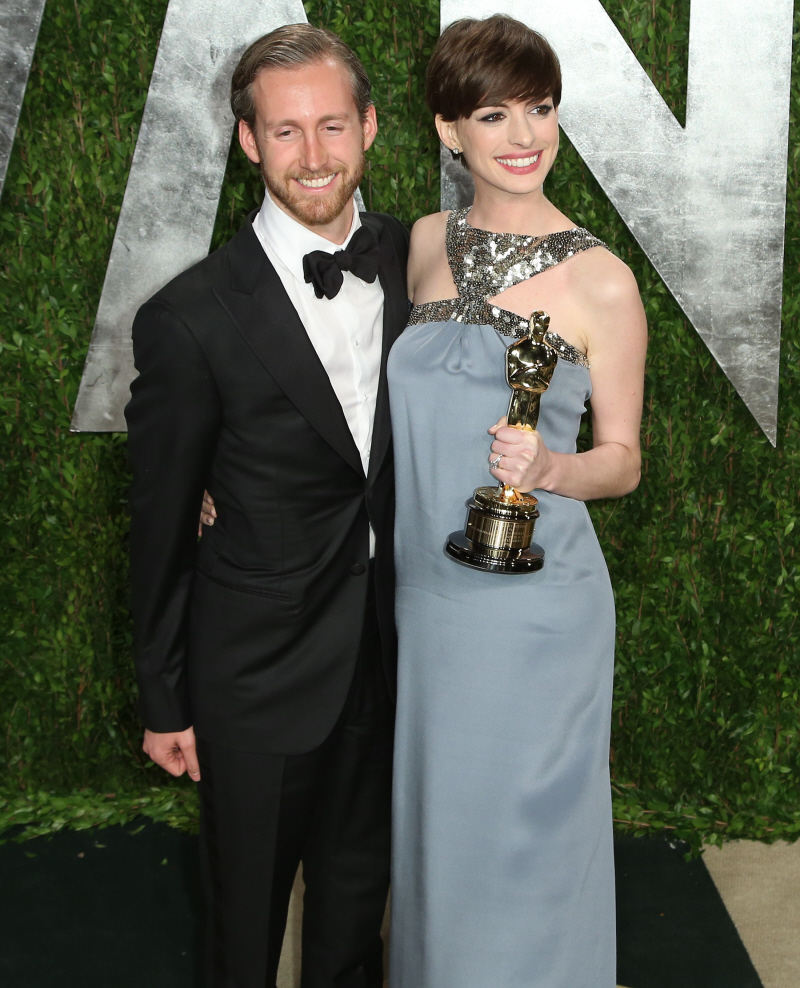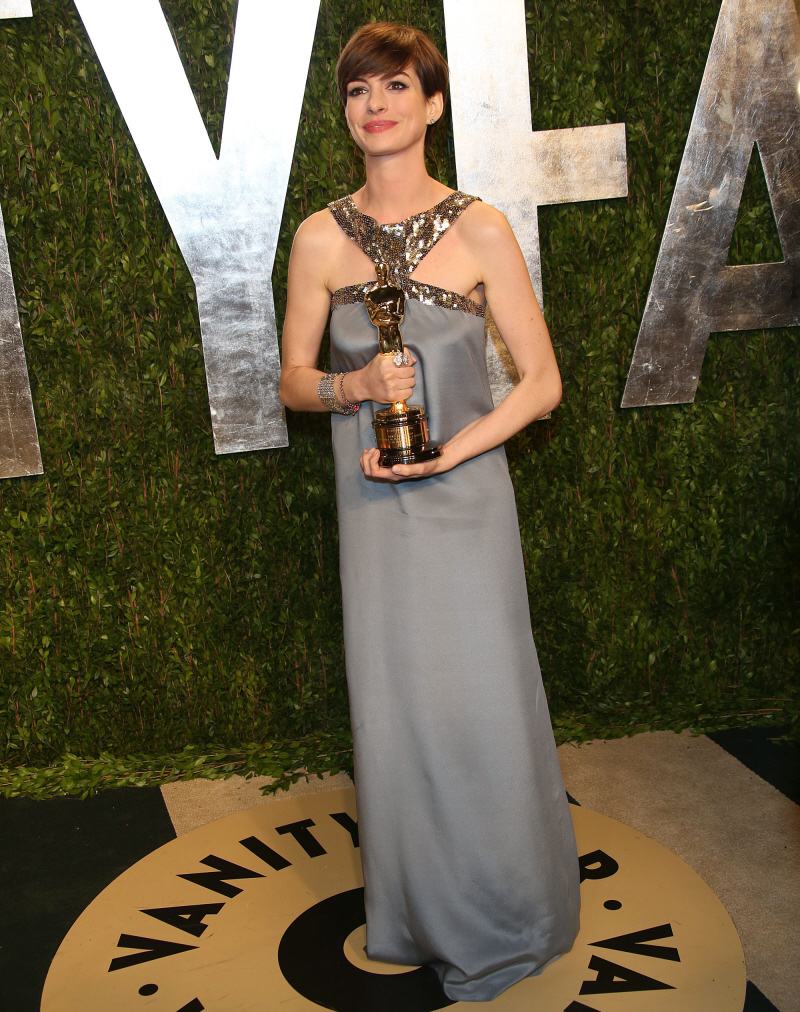 Photos courtesy of WENN.