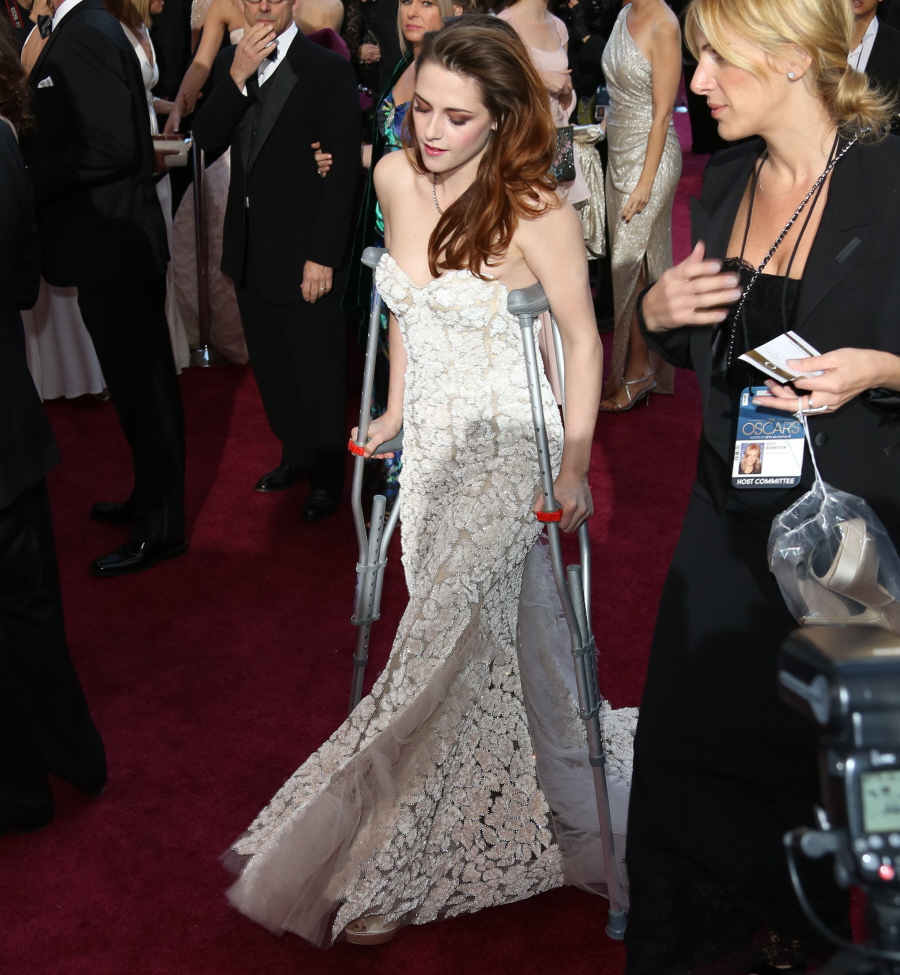 Everybody is still talking about Kristen Stewart's grumpy, greasy, grunty appearance at the Oscars. Everybody is still analyzing what went wrong, although I think they're asking the wrong questions. Like, people are too focused on the issue of her limp and this "stepped on glass" story when we should be asking: why didn't she just cancel her appearance? It's not like she was nominated, you know. She was just a presenter! Another questions we should be asking: why does she always look so greasy? Why didn't she wash her hair? Why did she look and act like she smoked a massive blunt before she came on stage? Hilariously, everyone who interacted with Kristen now has to comment about her. Daniel Radcliffe (who co-presented with Kristen) had some nice things to say:
Kristen Stewart didn't really need to limp onto the stage when she presented with Daniel Radcliffe last night at the Oscars.

"I felt so bad," Radcliffe said at the Governors Ball. "I just wanted to pick her up, put her in my arms and carry her onto the stage."

Or maybe not. "I probably would have dropped her and opened her wound again," Radcliffe added with a laugh, referring to K.Stew's reason for hobbling on crutches: cutting the bottom of her foot on glass!

Kidding aside, the Harry Potter star said it was about time he and Stewart met.

"I felt like this was a long time coming. I feel like we've been meant to meet," Radcliffe said. "This was the perfect way. And you know what? She is so nice—really, really nice."

Radcliffe also dished on dancing during the show. At one point in the night, he said, he was backstage with fellow Oscar dancers Channing Tatum and Joseph Gordon-Levitt.

"I looked at them and was like, 'Remember your first day of work on your first job? Could you believe we're doing this now?'" Radcliffe said. "They were actually thinking the same thing. The night has been surreal. I never thought I'd be doing any of this."
Kristen also met Anne Hathaway backstage, which would be an interesting pairing – Anne is so cloying and Kristen is so grumpy. It would be like Franco/Hathaway all over again.
According to the Associated Press, the blockbuster actress encountered another A-list actress backstage before that presentation– Anne Hathaway, immediately after her Best Supporting Actress victory — and finally dispelled the mystery behind her unexplained injury.

"Oh no!" the Prada-clad Les Miserables star, 31, exclaimed in sympathy, seeing Stewart's crutch.

"I know, I'm an idiot," Stewart (stunning in a Reem Acra gown, Jimmy Choo heels and Fred Leighton jewelry) replied. "But congratulations!" she said, eyeing Hathaway's hard-earned Oscar.
"Please tell me you're going on stage with those [crutches]," Hathaway said, the AP reports. "Nope," Stewart replied. "I'm gonna hobble."

Quipped the "I Dreamed a Dream" singer: "Well, break a leg . . . Oops!" Stewart then explained that she cut her foot recently after stepping on glass. "I just hope [the wound] doesn't open up right now."

Indeed, Stewart's glam squad told Us Weekly more about the young star's injury. "She had sliced her foot and everyone was worrying about would she wear heels or flats or one heel, crutches or no crutches," manicurist Ashlie Johnson told Us. "She tried so many options, she was really a trouper."

"Kristen was nervous about her crutches so having her friends around playing music was just what she needed," hairstylist Danilo said. "We all were trying to make her feel better and her friends were trying to tell her she'd be fine, she has insecurities about being in front of people so today was even tougher."
"Break a leg! Oops." Bitch move, Annie. I kind of love it. As for how Kristen was trying different options – crutches or no crutches, flats or no flats – seriously, why couldn't she just cancel? They had plenty of celebrities who were already scheduled to appear, and one of them could have easily filled in.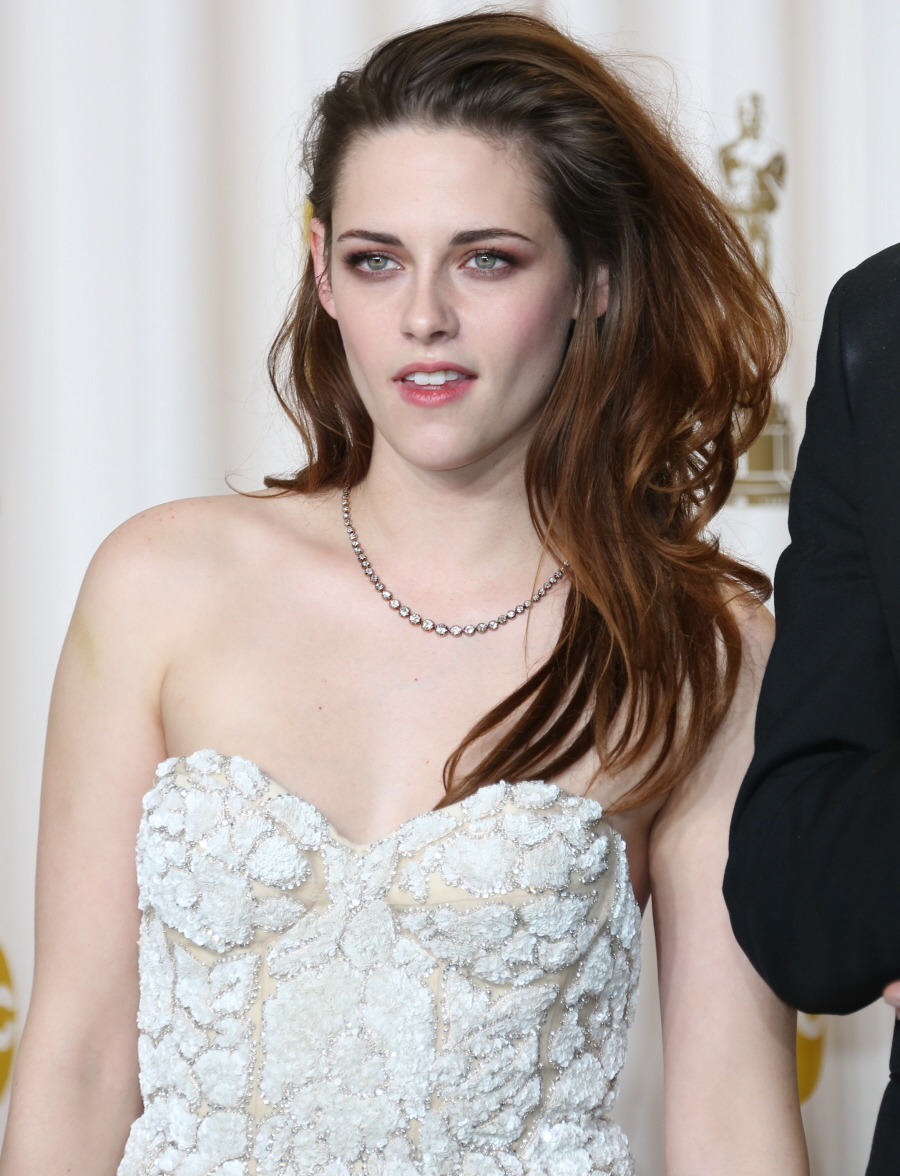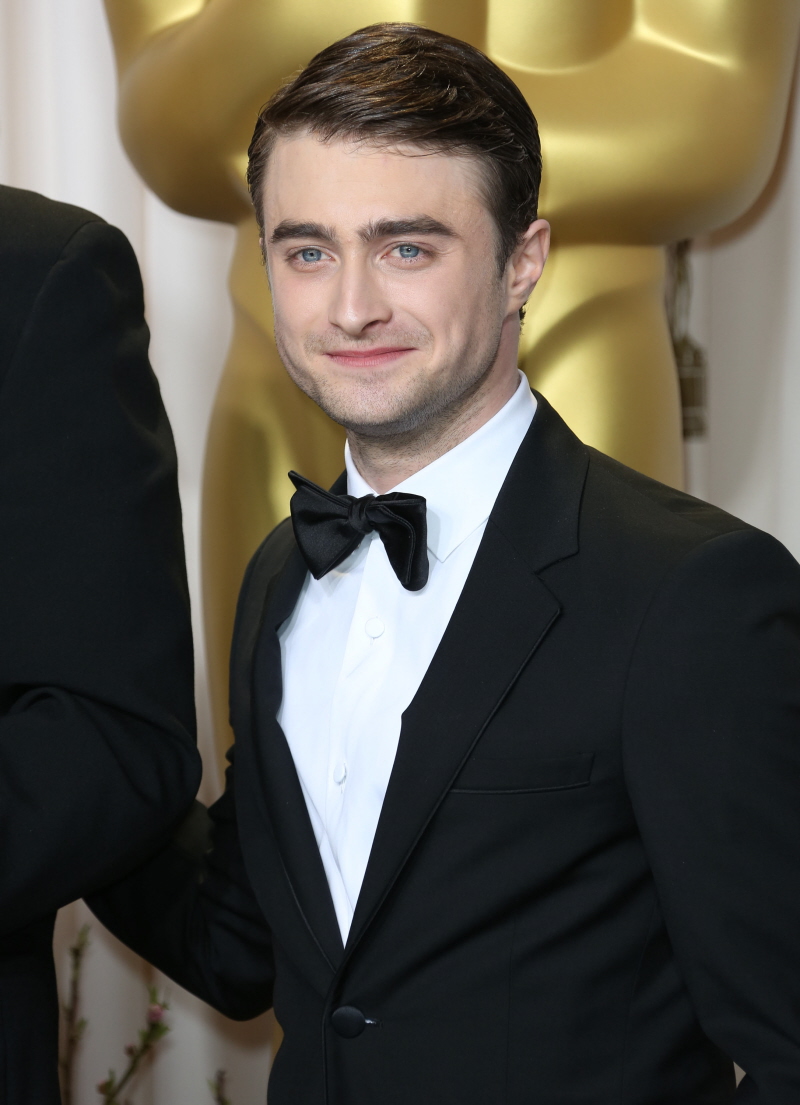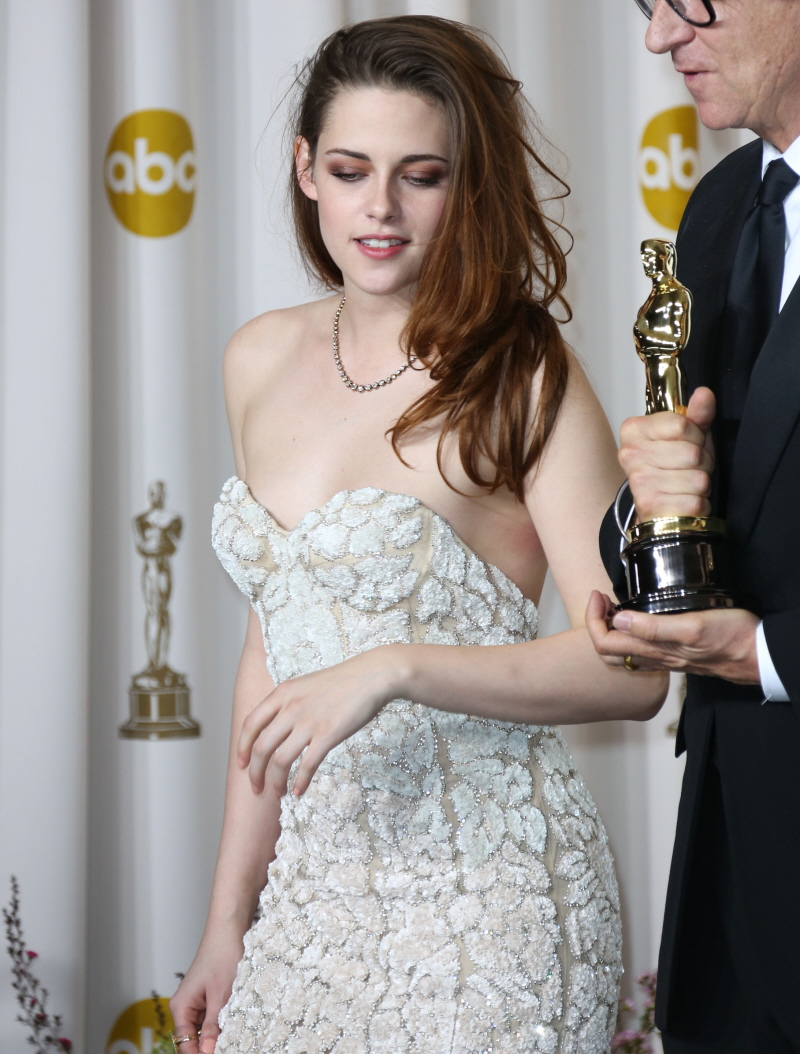 Photos courtesy of WENN, Fame/Flynet.