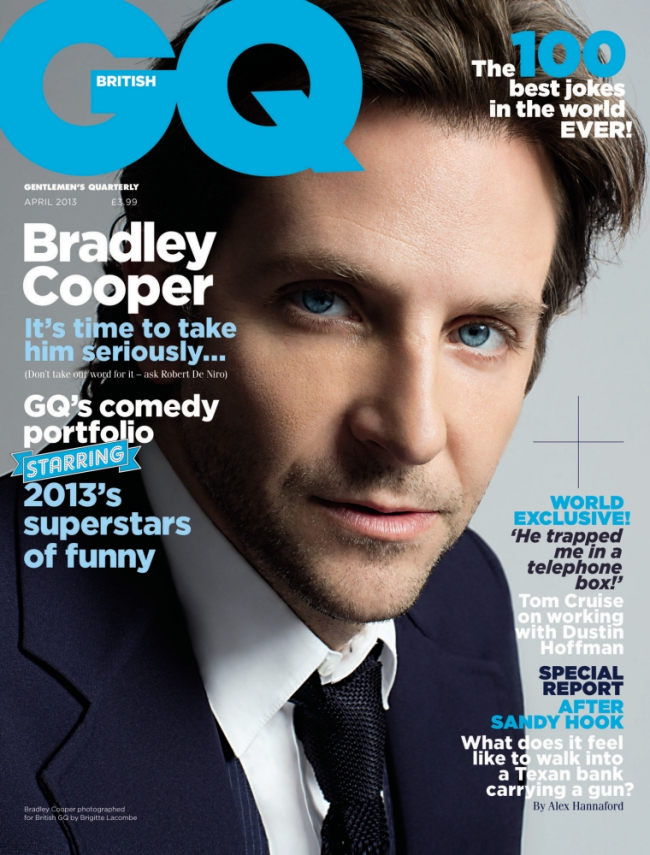 Bradley Cooper covers the April issue of GQ magazine to promote his role in The Place Beyond The Pines. On this cover, he looks slightly less serial killer-esque than usual, but there's no masquerading those piercing blue eyes that can see into your soul and dismantle it at the very same time. Speaking of soul-crushing entities, Bradley shows himself to be surprisingly revealing in this interview — moreso than I've ever witnessed in any of his interviews. He discusses many topics including his fellow actors, his sober status, and his feelings about his father's death (from cancer two years ago). On that last topic, he talks a lot, and it's very sad.
Oh, and Bradley's also using this interview to try and convince us that he never wanted to win that stinking Oscar in the first place. Kaiser is calling bullsh-t on that one, and I agree that Bradley probably wanted that Oscar very badly, which is probably why he chose to play a lead character in an Oscar-bait, Weinstein Co. film in the first place. However, I can say that Bradley probably knew with all certainty that it truly was an honor for him to be nominated because he had no chance in hell of winning against Daniel Day Lewis, et al. Oh, and I'm issuing a SPOILER ALERT for the third excerpt below, in which Bradley reveals a bit too much about his TPBTB character's actions, but he does appear to have a bit of a mancrush on Ryan Gosling. Here are some excerpts: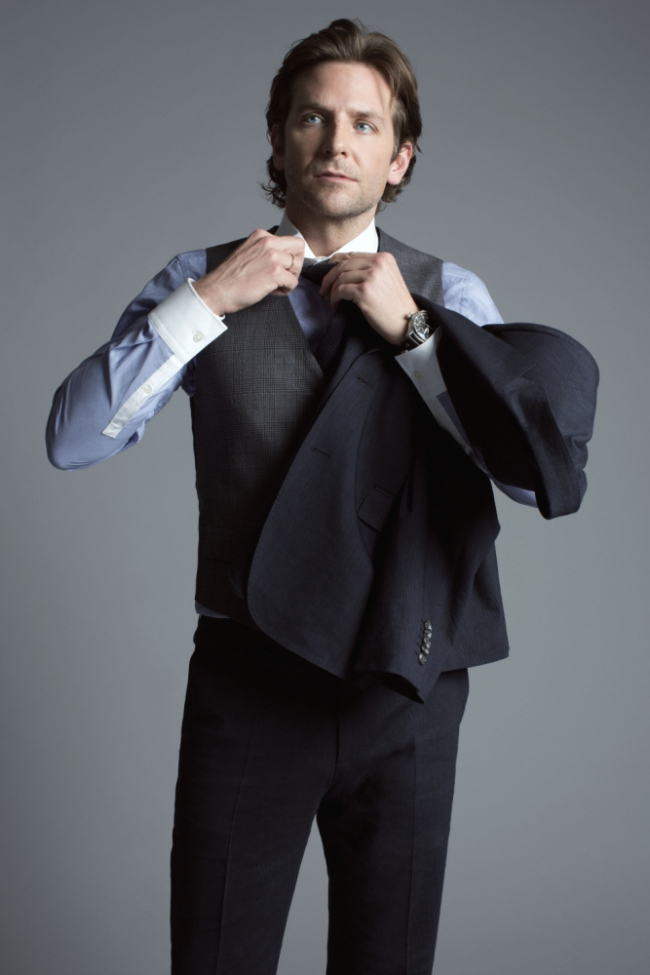 On actors & egos: "[L]et me tell you about actors. Back then, I had a couple of high-profile actor friends who were pretty successful and they were saying, 'Why are you doing that movie called The Hangover? I read the script and I passed.' And I'm like, 'Oh, OK. Well, I'm doing it.' Something I've learned: other successful actors love telling one another they've passed on a script. And then it turns out the script was sent to them but wasn't offered to them. Actors are a crazy breed. I feel honoured to be a part of this profession, but I also feel a lot of gratitude that I am not a typical actor. Not at all."

Why he quit alcohol: "I had my reasons and I don't like getting into it too much. I'm not going to say I'll never drink ever again. I mean, who knows what will happen in the future? I just consider… What I will say is that my life was going in one direction and that terrified me. It scared the sh-t out of me. I knew I had to make some changes if I ever wanted to fulfill whatever potential I had as a human being. I felt a huge sense of responsibility to my parents, especially to my father. When I took out a loan to go to grad school to act I could see that deep down he was f—ing terrified."

On The Place Beyond The Pines: "Who would ever want to be in a movie where you're the guy that kills Ryan Gosling? Ryan Gosling looks sexy as hell in this movie, too. He's all muscled out, tattooed up; a super-cool outlaw bank robber who gets to hold a baby for most of the movie. And me — my character, this cop who lies and rats on his buddies — is supposed to turn up 45 minutes into the movie and kill Ryan Gosling? I love Ryan."

On his father's death: "Death became very real. And very tangible. Because my father — someone who had been in my life for 36 years is just f—ing gone. I watched him dying and I was there by his bed watching him, breathing with him, and then I saw his last breath and he was gone. I experienced the whole thing. And that was a watershed moment that I was privileged to experience. And it changed everything."

On how he's changed since then: "Nothing has ever been the same since. You know William Blake's Songs Of Innocence? Well, right there, in that moment, the innocence was gone. Done. Never to return. The beauty is that I just don't sweat sh-t any more. My father gave me two gifts — having me and dying with me. I used to be the kid that got the shakes if I had to talk in public; now, I just don't get nervous about stuff. I can't control everything. I watched my father die and I realised that is the way we are all going to die. For me, it was a switch from knowing something intellectually to knowing it by tangibly experiencing it. It rewired my neurological system. It almost did the opposite of motivating me. It was about keeping the main thing the main thing."

He doesn't want to win an Oscar: "It would change nothing. Nothing. The things in my life that aren't fulfilled would not be fulfilled. Career-wise, right now, it's better that I don't win one. I don't want to win. I don't."
[From GQ]
Aww, poor Bradley. He's been hit really hard by his father's passing, and by all accounts, he's been taking care of his mom (even asking her to move in with him) quite well in the aftermath. I know he looks like a serial killer, but he does seem like a really nice guy. A really nice guy who still wants an Oscar.
Photos courtesy of GQ