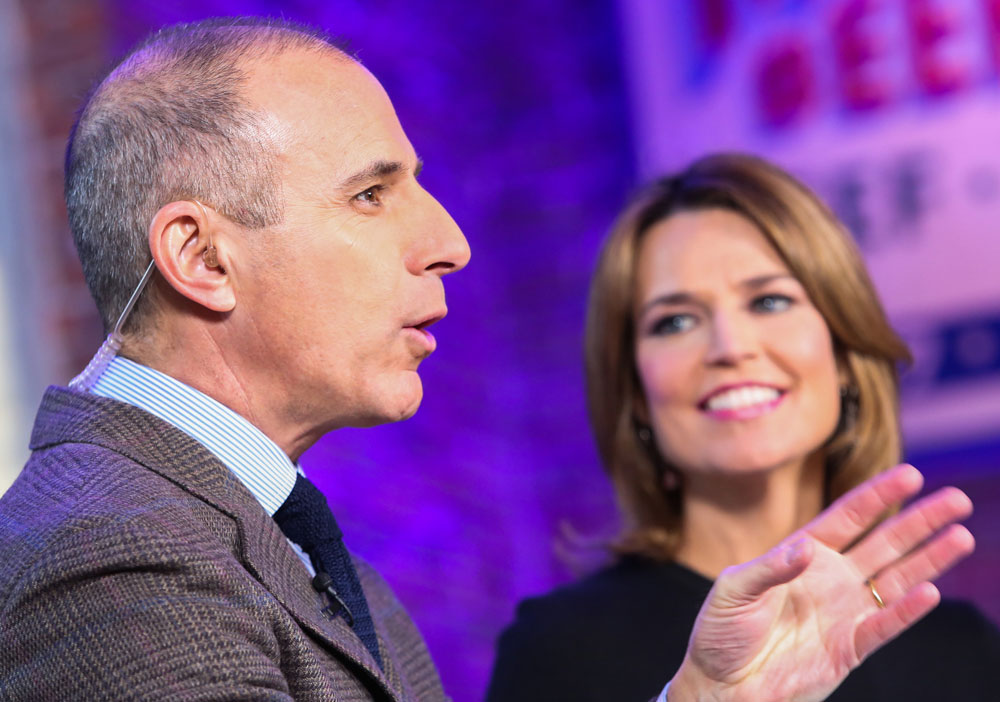 Earlier this week, The Daily Beast ran an interview with Matt Lauer on what happened at the Today Show nine months ago during Ann Curry's perfunctory firing. It was way too little, too late and it was clear that higher-ups at NBC didn't want Matt Lauer to take the fall for it. He took some modicum of responsibility, but the story went that Ann had to go and that it wasn't Lauer's doing. He said "I don't think the show and the network handled the transition well. You don't have to be Einstein to know that. It clearly did not help us. We were seen as a family, and we didn't handle a family matter well."
So Lauer wants us to know that he wasn't responsible for the way Ann was ushered out, but that weak gesture isn't going to do much for him. The Today Show has been way down in the ratings and now it's clear that Matt is the problem. He's about to get ousted too although he'll probably have to wait until his fat contract expires next year. I guess Ann didn't have that protection built into hers. The NY Times has a pretty juicy piece about the goings-on at NBC, and how everyone thinks Matt is the problem.
Staff members at NBC's "Today" show huddled for a performance review last month, 10 months after the longtime morning show leader first fell behind ABC's "Good Morning America" in the ratings. The mood was anxious, according to several attendees, as network executives discussed the findings from focus groups with hundreds of viewers.

The employees were reassured that "Today" viewers didn't want their show to turn into "Good Morning America," the ABC rival that has become Americans' No. 1 choice in the mornings. But then they were told this: "What matters most is the anchor connection to the audience; what we need to work on is the connection." As the word "connection" was repeated, some people in the room started to chuckle because of a name that went unspoken: Matt Lauer.

"What they meant was Matt. But no one would say it," said a senior staff member who, like the others, spoke on condition of anonymity.

Mr. Lauer was not there, but it is clear that the once-popular host's relationship with his audience is in peril. Last April, Mr. Lauer signed a contract said to be worth $25 million a year, the most lucrative deal in the 60-year history of morning television. And then the bottom fell out.

The following week, "Today" fell to second place in the morning ratings for the first time in 16 years. When his co-host, Ann Curry, was forced out over the summer, it was Mr. Lauer and not network executives who shouldered most of the blame.

Since then, his popularity among viewers has plummeted and NBC has been forced to deny what was unthinkable a year ago: the rumor that Mr. Lauer, 55, who first took over the co-host chair in 1997, could soon be replaced by a younger host like Willie Geist, 37, or David Gregory, 42…

The employees spoke on condition of anonymity because they feared retribution from Mr. Lauer and their bosses. They all agreed that his contract, thought to keep him at "Today" through at least 2014, would be his last.
Willie Geist, 37, is the lead contender to replace Lauer, and The NY Times reports that before that happens they'll probably bring in another anchor so that the audience isn't so focused on that a-hole Matt and how much of a smug jerk he is. I'm adding a bunch of adjectives in there, but that's the subtext. Maybe Lauer isn't totally to blame for the way Ann got shafted, and maybe other people were behind it too, but he just highlights how unfair the whole situation was. Plus it's not like he was advocating for her in any way, and you get the sense that if she would have dressed sexier and flirted with him, that would have happened. It's about time he got knocked off his high horse.