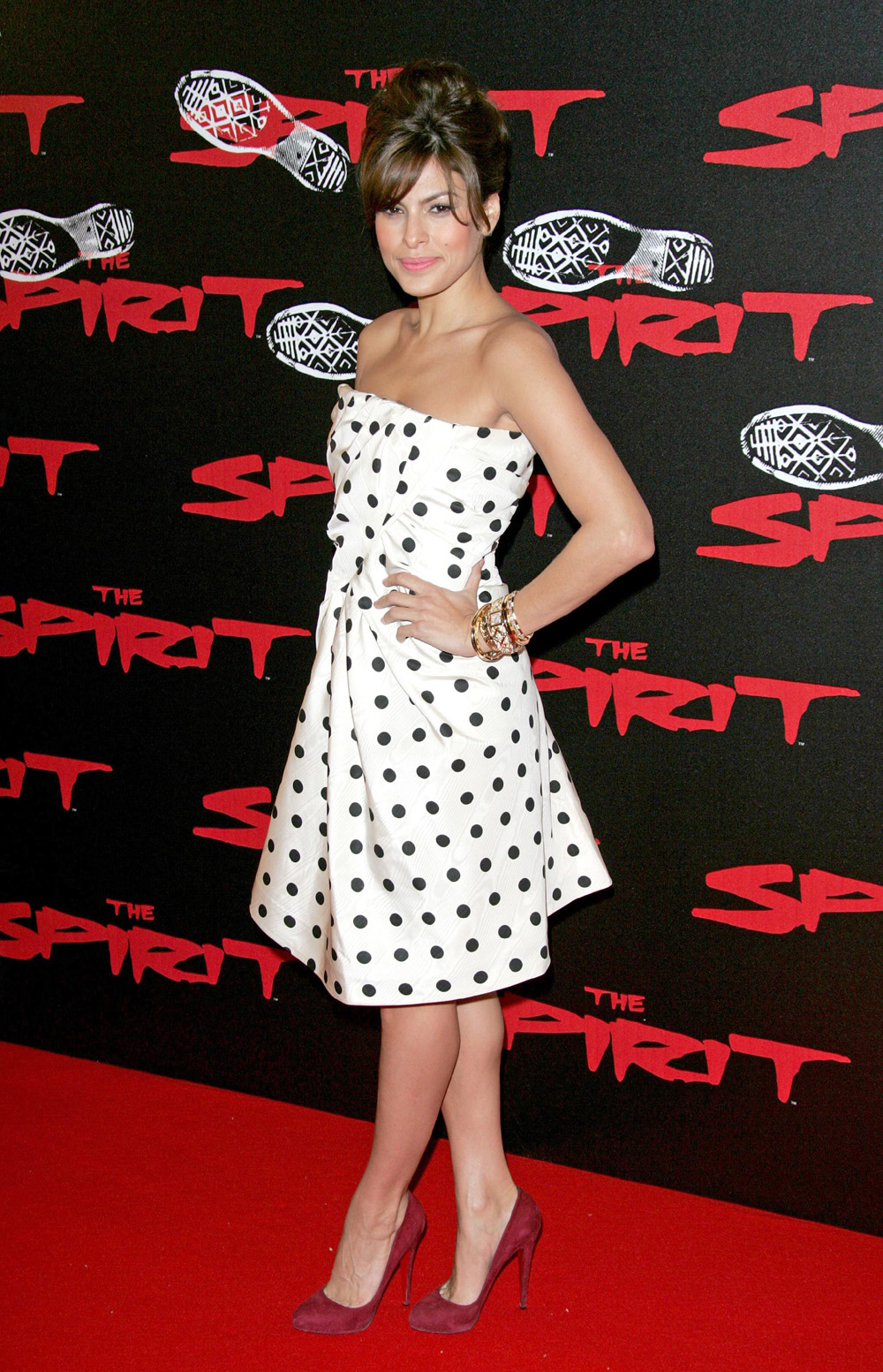 I did a little quick and likely highly inaccurate mental math, and Eva Mendes has spent approximately 78% of the last year completely naked. From baring her butt for PETA, to going topless in Italian Vogue, and making an ad for Calvin Klein that was so raunchy it was banned in the US – the woman has spent very, very little time covering her private parts.
Mendes obviously doesn't have a problem with nudity, and she recently told AOL's Moviefone that she thinks a bare, natural breast is much more beautiful and artsy than giant fake boobs that are covered by a bikini.
You made headlines this year for some very revealing shoots. First there was the Italian Vogue photos, then a banned Calvin Klein ad. Are you collecting proof that America is too sexually conservative?

You know what? I'm American, and I'm as proud as you get. But I think it's easier for us to portray violence, and then to be OK with it, than it is for some reason to portray nudity. And look: I don't like gratuitous nudity, and I believe that I've never been a part of gratuitous nudity, in a film or in a photo shoot. I feel like all my stuff has always been, if not artful, if not artsy, you know, tasteful. I think we're a bit conservative when it comes to nudity and sexuality. And it's so funny because I'd much rather see a beautiful nude of a woman than see these girls with these Triple-D fake boobs in a bikini. To me, that's more vulgar than seeing a beautiful nude of a natural body.

So it's a matter of taste?

Yeah. It's like, who cares if you actually see the nipple in the nude? It's a beautiful, natural nude. Versus, you know, women in these tiny, little, itsy bitsy bikinis with boobs that really don't belong on their body. And I'm not against fake breasts at all; I'm not against augmentation. But I think when you get to that point of vulgarity where it's not in proportion, that's more vulgar to me than a beautiful nude.

Is it true that you said something along the lines of "Actresses who don't want to do nude scenes should be nuns"?

That doesn't sound like anything I would say. But I think that a lot of actresses look down and frown upon other actresses doing nudity. And I think in a film, baring your soul is baring your soul, and sometimes it entails nudity, and that doesn't mean that you're not as mysterious or you're lesser than [others]. I think that can add to your performance, because it's a scary thing putting yourself out there. And if I'm going to be emotionally naked, sometimes a script will call for me to be physically naked as well. I would never frown upon it. And I think in Hollywood some actresses do frown upon it. They say it like an honor: "I would never do nudity!" And it's like, oh come on! I'm an actress, you know, I'll do what it takes to make my part as honest as it can be. So I probably said something like that.
[From Moviefone]
Well, at least Eva practices what she preaches. Not surprisingly, she's naked in her upcoming film "The Spirit." She's also gone nude in three other movies.
In the Moviefone interview Eva praises Jennifer Lopez for paving the way for Latina actresses, and said that when she was first starting out ten years ago there were no decent roles. However in a previous interview she also said she's more of a "serious actress" than J Lo.
I get where Eva is coming from in terms of the natural nudity. And she's careful to point out that she's not saying there's anything wrong with regular breast augmentation, she just thinks it's unattractive when women get those giant, bowling ball boobs. And I have to agree – for the life of me, I will never understand what would make a woman want to look so fake and pasticy. Eva's got an amazing body – I can't blame her for wanting to flaunt it. And if next year proves anywhere as successful as this one, we'll see it at least nine times.
Here's Eva (with Scarlett Johansson) at several of "The Spirit" premieres in early December. Images thanks to Bauer-Griffin.