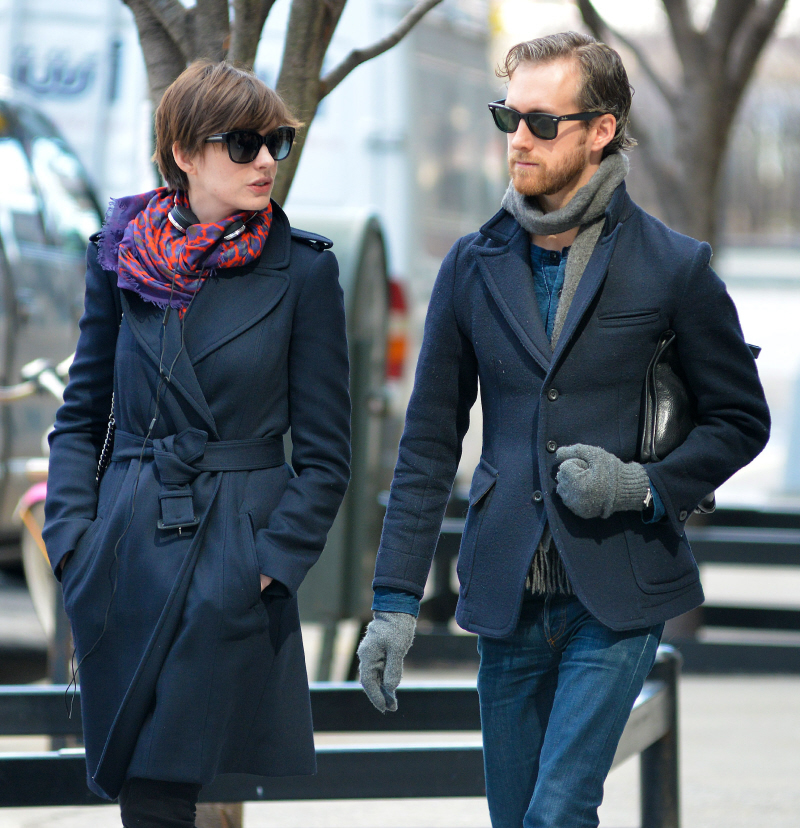 Here are some photos of Anne Hathaway and her husband in Brooklyn a few days ago. I'm not sure what Anne's current strategy is, but I think it's along the lines of "don't say anything directly, but give people some happy-couple photo-ops". If she announces a pregnancy this year, I really do think all will be "forgiven" for her, although I'm not sure that Annie has erred so badly that she needs to be "forgiven". She doesn't need to apologize for anything, you know? Her Oscar campaign and Oscar speech were JUST annoying, she didn't do anything "wrong".
As Bedhead covered earlier this week, James Franco was on Howard Stern's show and The Artist discussed Anne Hathaway. To be fair to Franco, Howard brought it up and Howard said some of the most insulting things about Anne, but to be fair to Howard, Franco didn't disagree with him. Franco talked about the fallout from his and Anne's horrible Oscar co-hosting duties, saying: "Anne and I made up, by the way. Let's just get that on the record. It was a really hard time after the Oscars. She wasn't mad at me, I don't think . . . she didn't say she was mad at me for what happened . . . The critics were so nasty." He also name-dropped the "Hatha-haters" too. It was… unpleasant. He didn't really throw her under the bus, but he didn't go out of his way to defend her or be a gentleman about it either (especially considering that more people hated HIM not her following the Oscars). So what does Anne think about Franco's recent comments? According to Radar, she's not pleased:
James Franco said Anne Hathaway wasn't going to be happy that he was discussing their strained relationship during his interview with Howard Stern on Monday – and he was right! RadarOnline.com has exclusively learned that the Spring Breakers actor's chat with the shock jock didn't go unnoticed by the Les Miserables star who is fuming that Franco has drudged up their past yet again in a radio interview.

Anne, 30, just can't understand why James, 34, couldn't just say "no comment." Worse still, she thinks Franco was using her name just to help promote his latest movie!

"Anne can't believe James has openly discussed the past and how they aren't really on talking terms anymore," a source tells Radar. "She thinks he did it purely to drum up publicity for Spring Breakers. But, as far as she's concerned, James pulled an unprofessional move by talking about her during the interview with Howard Stern.

"Stern did provoke Franco, but he didn't have to respond. And she couldn't believe that he said he understands why people dislike her. Anne would never air her dirty laundry in public and is intensely private. It's opened up old wounds, is totally unnecessary and she's fuming," the source reveals.
Again, this is just coming from "sources". I would assume that Anne probably is kind of pissed off at Franco, but she's smart enough to realize that many people think Franco is a total douche, and his comments were off-side, so she doesn't need to work to prove her point. I don't believe Anne would suddenly claim (incorrectly) to be "intensely private" when she was shilling everything about herself for the sake of that Oscar. So… a mixed bag. My recommendations for Annie (who I still like, thank you very much): keep doing what you're doing. Don't comment. Stay out of the spotlight for a few more months and whenever you give your next interview, don't cry or throw a tantrum. Own your nerdiness and theater-geekdom with humor and self-awareness. You'll be fine!
PS… Is Adam wearing a lady's coat?!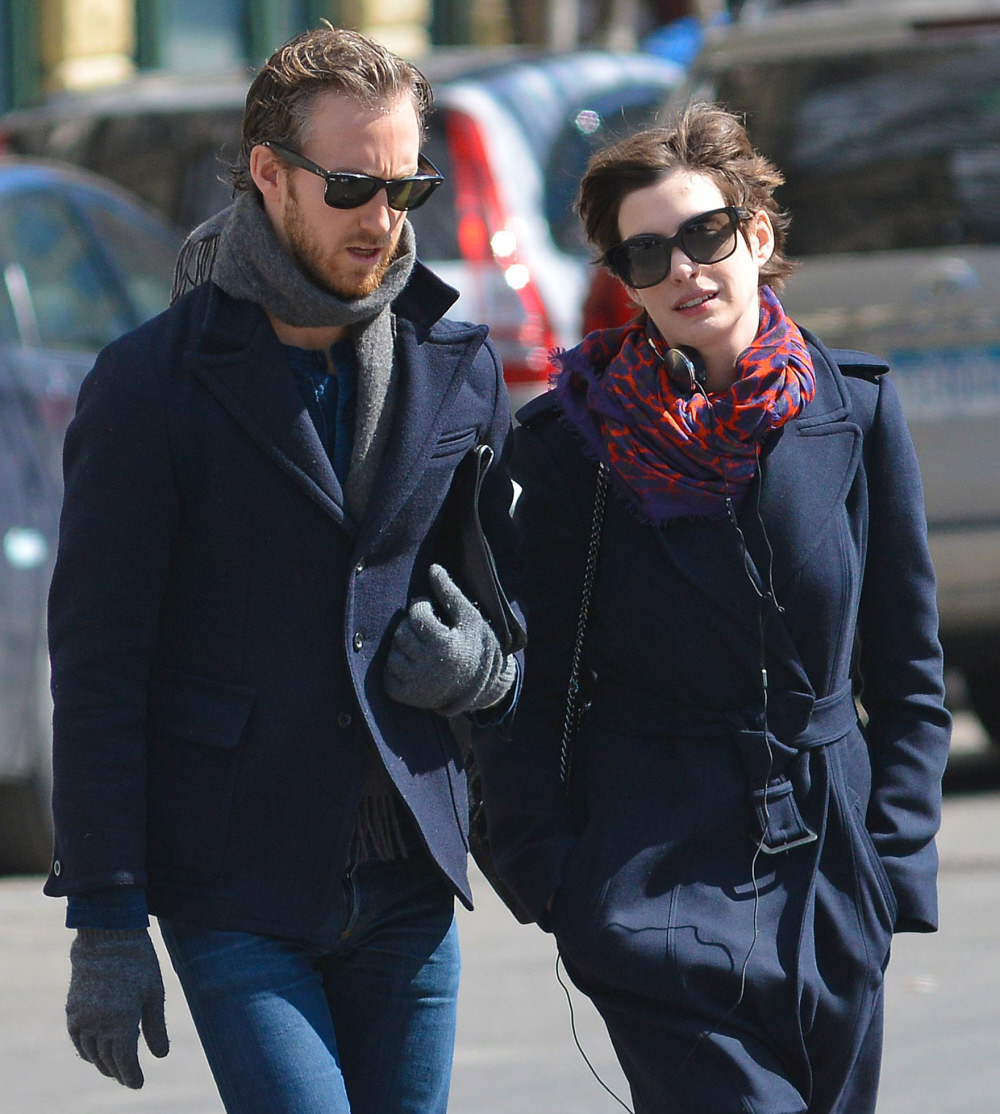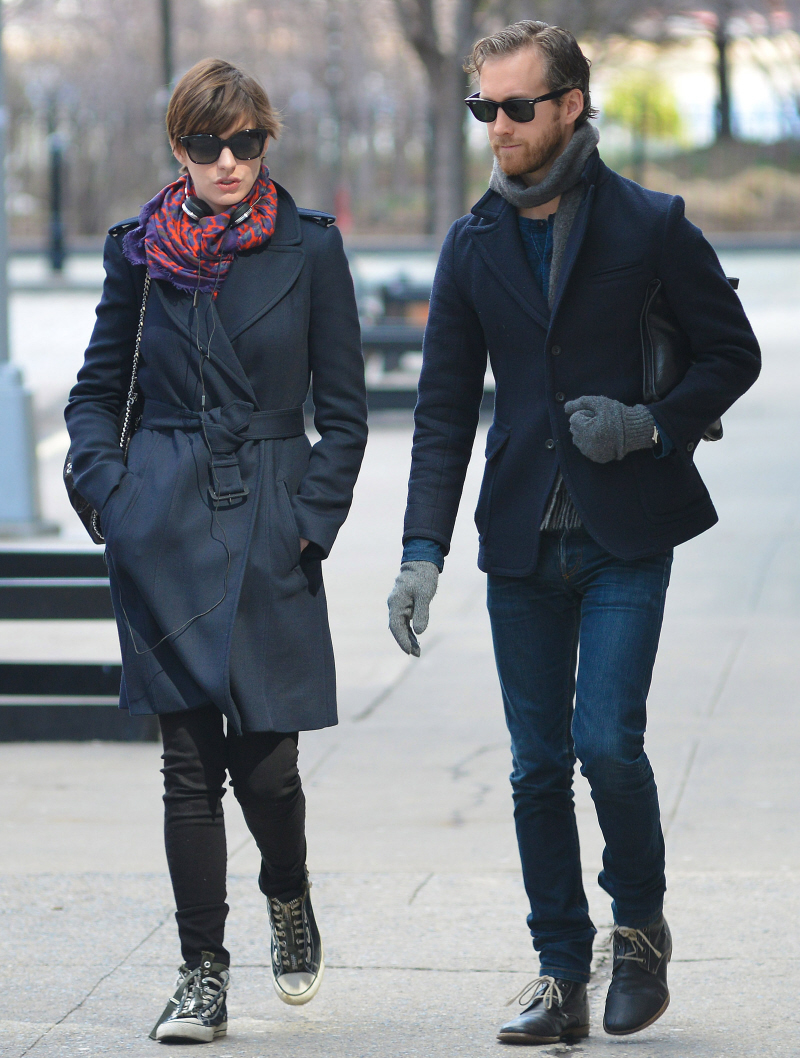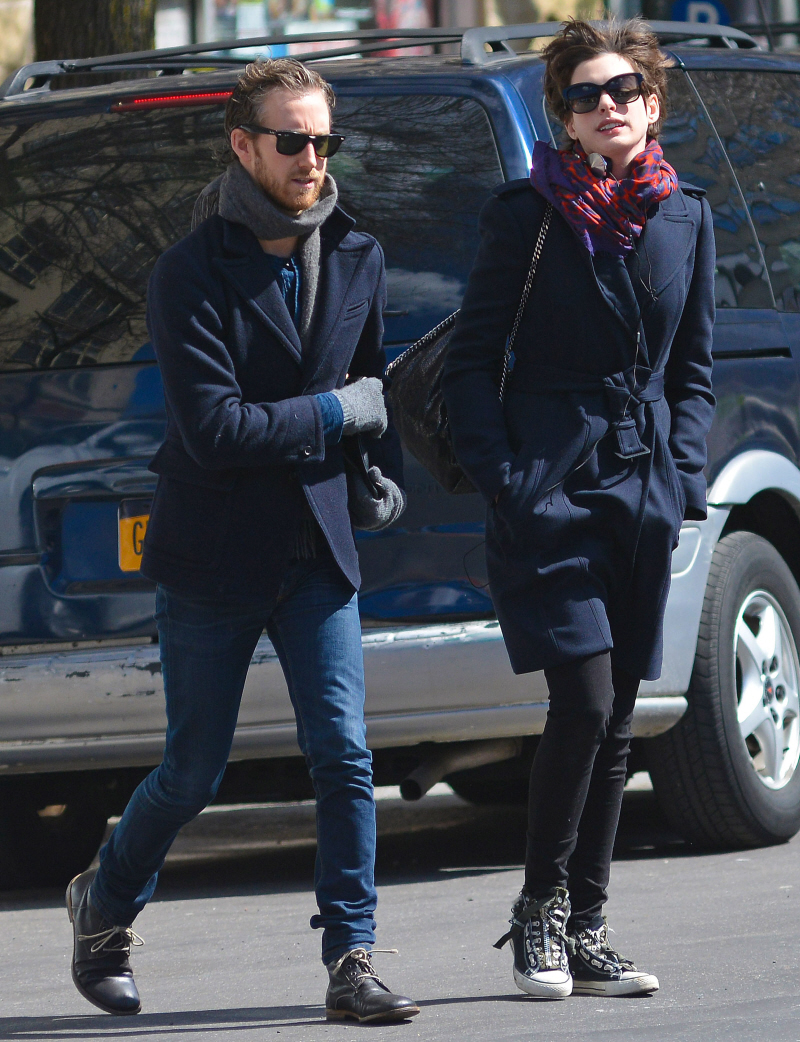 Photos courtesy of WENN.