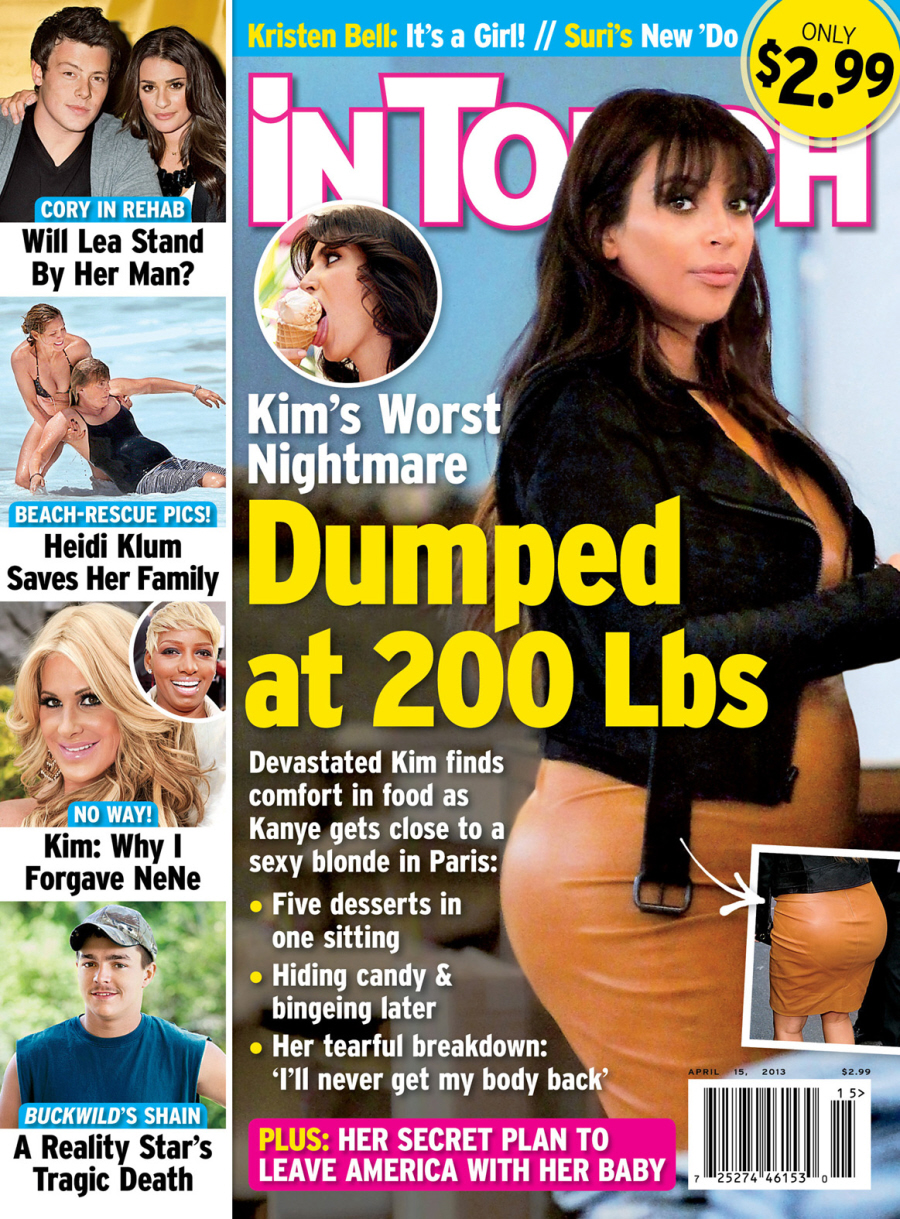 Both In Touch Weekly & Star Magazine put Kim Kardashian's pregnancy weight gain on their covers. In Touch did this two weeks ago, and The National Enquirer did it last week. It's like all of last week didn't happen, where Kim told everyone that she only weighs 140 pounds and she's only gained 20 pounds so far and all of us were like "Hahaha YOU LIE" and then Kim said we were bullying her. I guess the tabloids just have their story and they're sticking to it. So… let's see where we are… In Touch says that Kim totally ate everything in sight when she was in New York last week:
Pregnant Kim Kardashian has let her raging cravings take over!

In Touch has learned that in recent weeks, the expectant star has indulged in high-calorie, carbohydrate-heavy meals including creamy risotto, chicken and waffles, decadent desserts and more.

On March 17, she was spotted at South City Kitchen in Atlanta scarfing down greasy chicken and waffles, along with smashed bliss potatoes, collard greens, and mac and cheese. Back in Beverly Hills days later, she stopped — twice in one week — into one of her favorite Italian restaurants, Il Pastaio, for carb-heavy lunches.

"Kim ate the same dish both times — creamy mushroom risotto," a fellow diner tells In Touch. "She also ate bread with olive oil, and the second time she came in she also shared the arancini [fried rice balls] appetizer." The risotto alone has a whopping 1,300 calories. "She hasn't just gained 20 pounds like she claims," a pal tells In Touch. "She'd already gained 45 to 50 when she still had four months to go!"

But it's more than likely Kim is only eating her feelings. Her beau and father of her baby, Kanye West, 35, has deserted her during the time she needs him most, spending most of his time 6,000 miles away in Paris, far from his pregnant girlfriend. While Kim's worrying she'll end up a single mother, she has sweet treats to help her cope.

Thankfully, Kim welcomes her expanding tummy, recognizing the fact that her body is going through a transformation. "At the beginning it was tough for me when your body changes so much, but once you kind of grasp that and embrace it, it's amazing," she says.
Ew, I have to be in the mood for mushroom risotto, because if I'm not in the mood, I will totally hork when I smell it. As for the eating-shaming (I'm struggling to find a term that encompasses what this is)… pregnant women like to eat. Most non-pregnant women like to eat too. It's kind of gross to sit there and nit-pick everything a woman eats. Speaking of, that's exactly what Star Magazine did this week too – apparently when Kim and Kanye were in Atlanta a few weeks ago, Kim "ate like it was her last meal on earth, wolfing down fried chicken and waffles, buttermilk biscuits, mashed potatoes, mac 'n cheese, collard greens with bacon and fried green tomatoes with goat cheese." The nerve! As I've said many, many times – I don't care that she's gaining weight or that she's eating a lot. It doesn't bug me. What bugs me is that she's pouring her pregnant body into too-small clothes and she's lying about her size (she's always lying about her size, though). Maybe all of this really is a conspiracy to get Kim a weight loss contract. Ugh.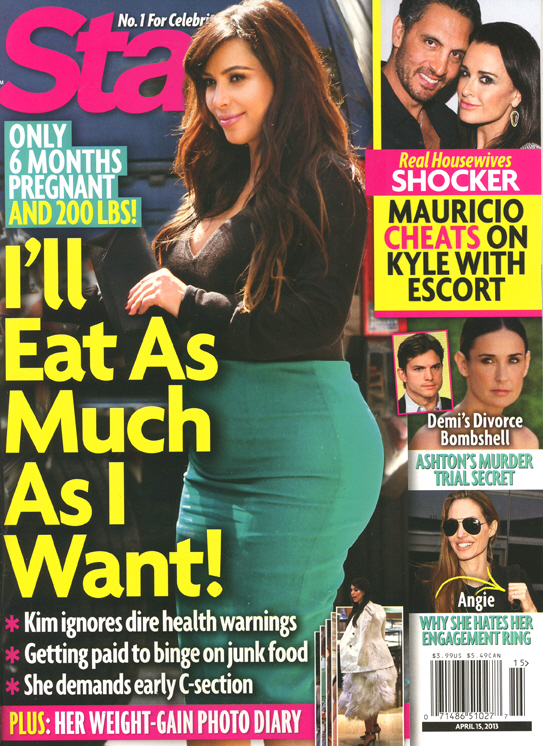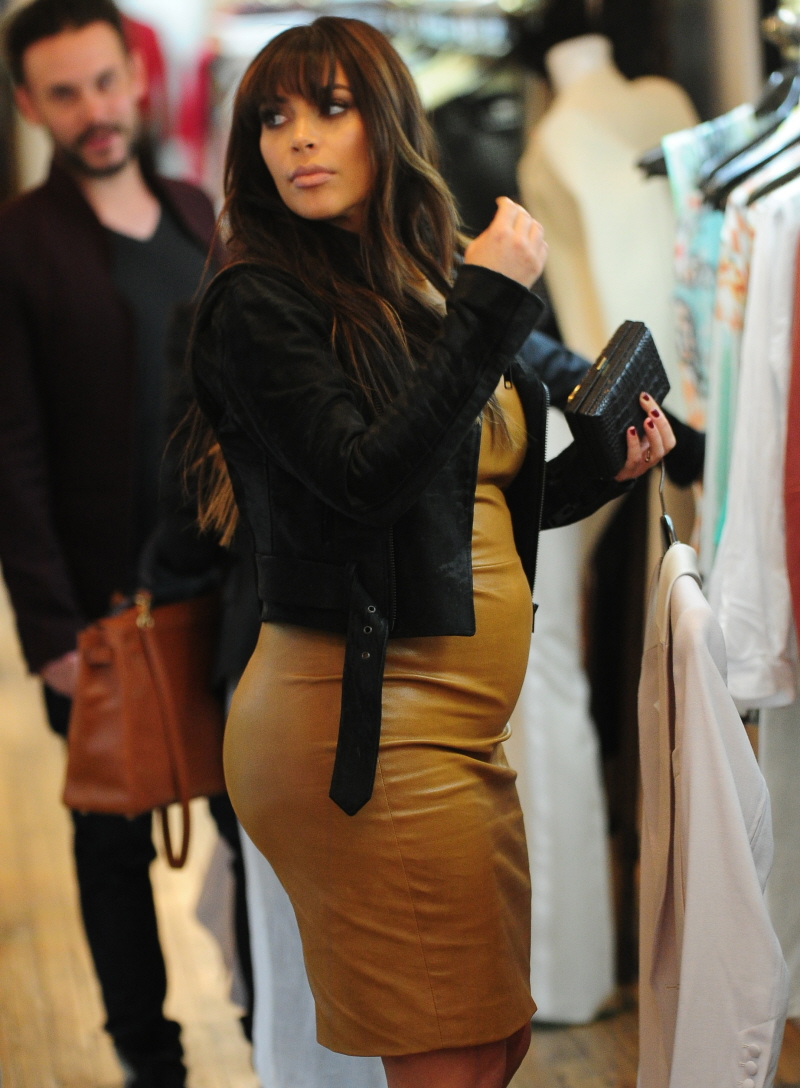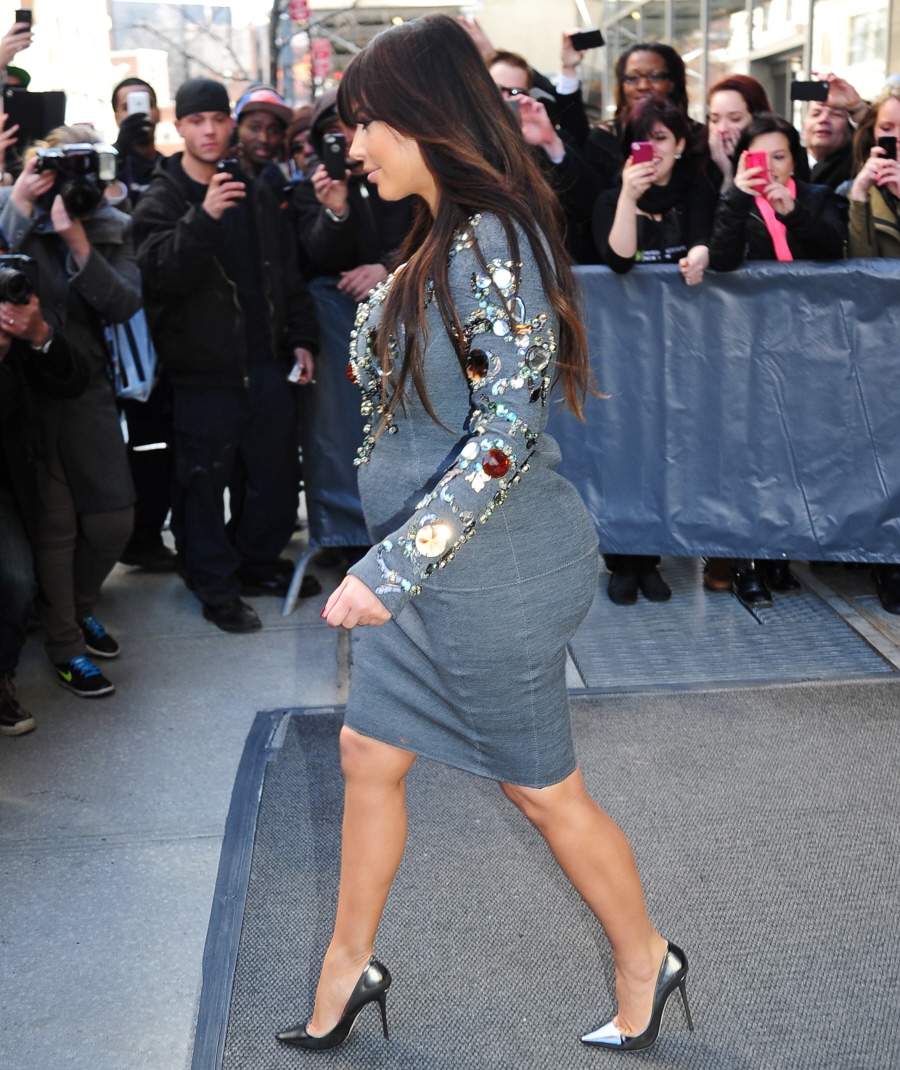 Photos courtesy of Fame/Flynet, covers courtesy of In Touch, Star.