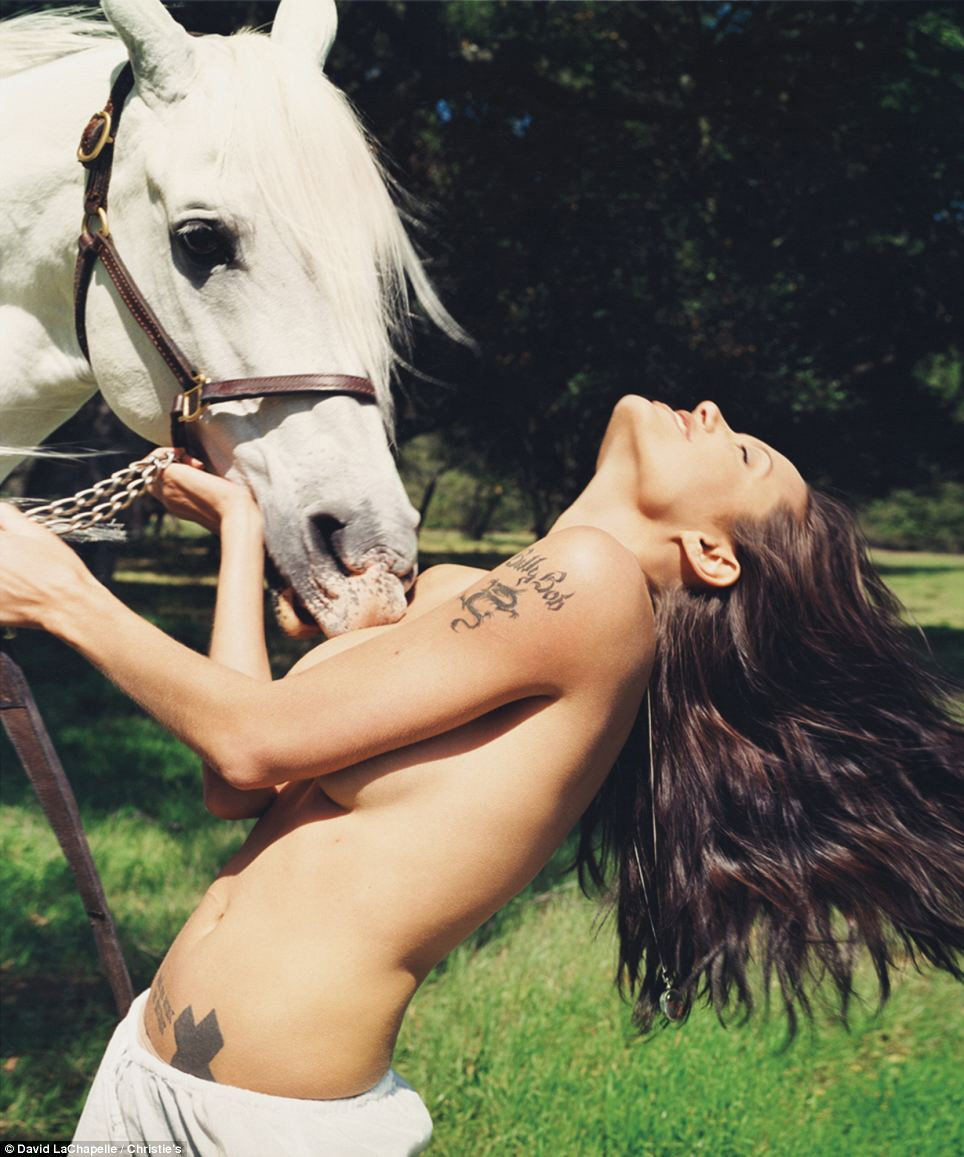 Remember when Angelina Jolie used to let horses motorboat her? Good times. We've seen another version of this particular David LaChapelle photo before – I believe it was for a shoot she did with Rolling Stone back in 2000 or 2001. I used some of the photos in a 2010 post about Angelina owning a horse-hair purse (go here to read that story). And now the Horse Photos have come up again! LaChapelle has given this never-before-seen image from the photo shoot for the "The Wild Side of Photography" Christie's auction in May. This isn't even the only Angelina Jolie photo being sold in the auction! Steven Klein also put up an image from his 2005 shoot with Angelina and Brad for W Magazine.
A beautiful picture of a carefree Angelina Jolie posing with a white horse will lead a sale of photographs at London auction house Christie's next month. The never-before-seen image by celebrated photographer David LaChapelle is expected to fetch between £25,000 and £35,000 when it goes under the hammer as part of The Wild Side of Photography sale.

The colour snap from 2001 features the actress as a 25-year-old throwing back a mane of brunette hair and showing off some of her many tattoos, including a 'Billy Bob' drawing on her arm, a homage to her then husband which has now been erased.

The photograph of the 37-year-old actress will go on sale alongside a black and white print of Angelina and Brad Pitt posing as husband and wife for Steven Klein in 2005. The black and white image was taken as part of a shoot that the couple appeared in for W magazine before they were officially an item and is expected to to fetch £8,000-12,000.

Both pictures are part of the Contemporary section of the sale that is highlighted by four works by controversial American photographer LaChapelle.

Christie's claim that this is 'an opportunity for discerning collectors around the world to acquire photographs with remarkable provenance.'
I love some Jolie (especially when she's old school and getting freaky with a horse), but I wouldn't pay that much for these photos. Maybe if it was one of the sexier images from that W Magazine shoot. But even then… yeah, well maybe as an investment piece. You know Brangeloonie stuff will probably increase in value. But if I'm going to spend thousands of dollars on a photograph, it's going to be a photo of Angelina Jolie getting crazy with a horse. Here's the Klein shot going up for auction (it's the most boring one).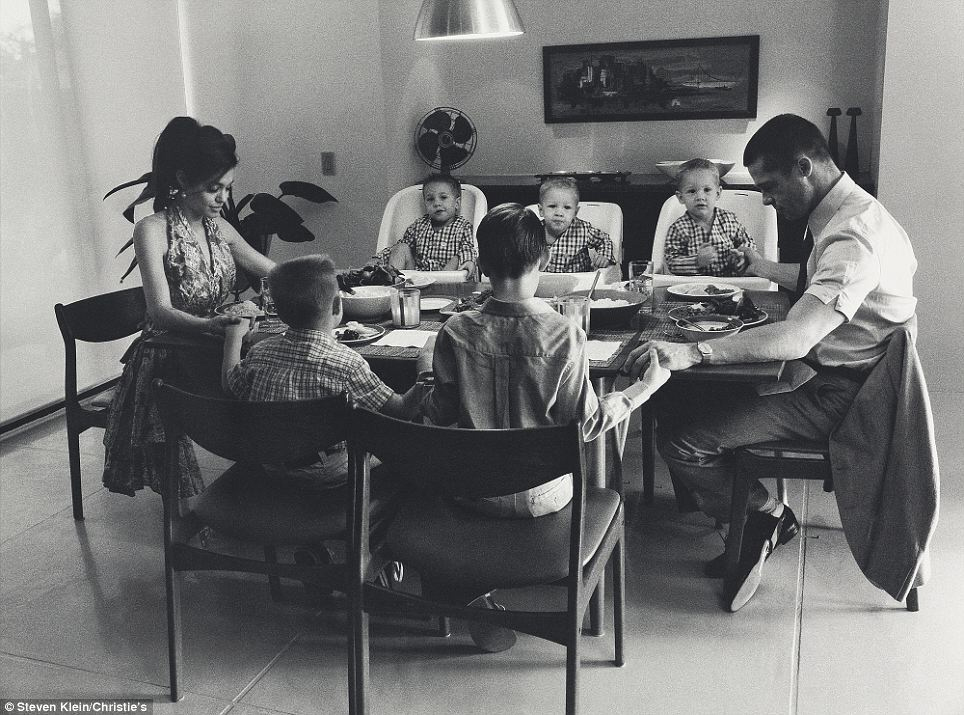 Here are some additional LaChapelle photos from the same shoot: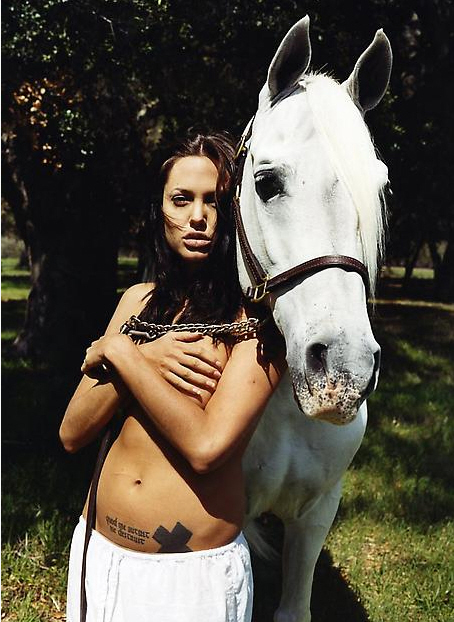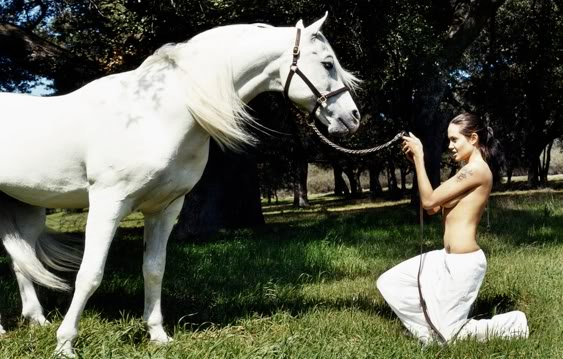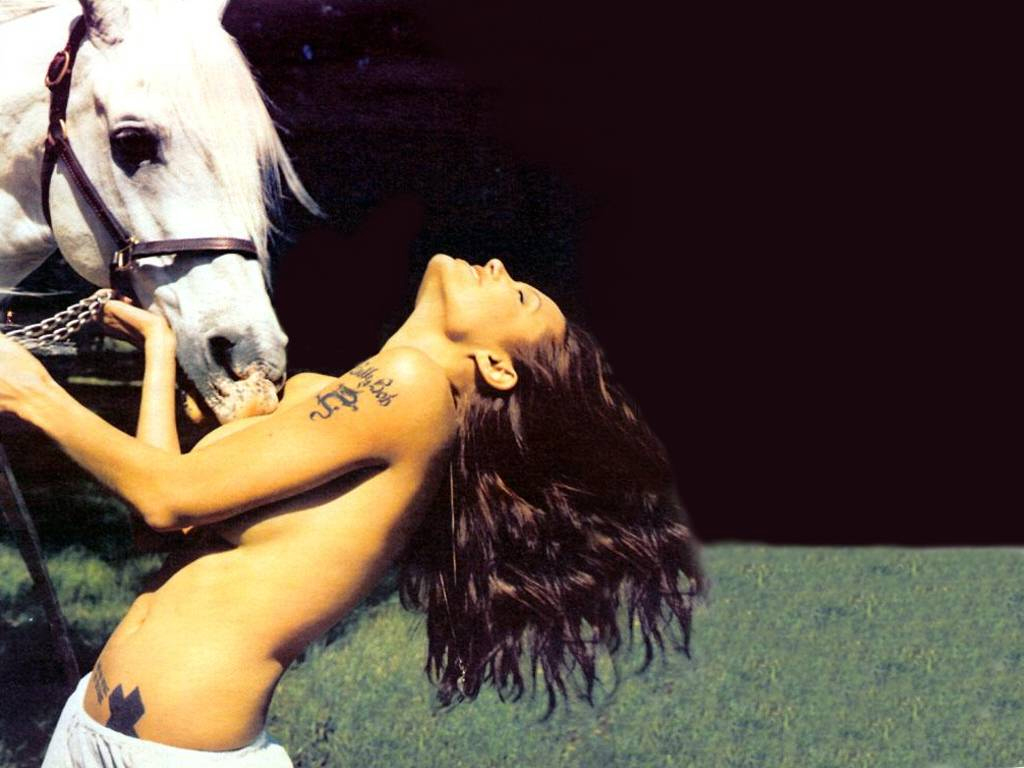 Photos courtesy of LaChapelle and Steven Klein.