Katherine Heigl has a new movie coming out this week, have you heard? It's not a good sign that I work as a gossip blogger and this is the first time I'm hearing about it. Or maybe I just tuned it out. The film is called The Big Wedding and (before seeing the trailer) it sounds like the typical romcom stuff she's known for, only her career has really taken a nosedive post-One for the Money. I was just browsing her IMDB and OFTM was the only film she did last year, and she had just one film, New Year's Eve, in 2011. In 2010 there were her forgettable films Life as We Know It and Killers (with Ashton Kutcher, lol). So it's safe to say she's on a downslide after she so publicly burned her bridges with her both her TV and film bosses.
Along with this wedding movie she has four other films in progress for this year and next, so maybe Heigl shut up long enough to make a comeback of sorts. I doubt her career trajectory would have been as stilted if she behaved like a professional throughout, though. (Update: I neglected to mention that she's adopted two daughters in the interim too! She adopted daughter Naleigh in 2009 and daugther Adalaide about a year ago. That may be why she's taking a break too.)
Anyway OK! Magazine has a new video interview with her, and the first thing that impressed me was how young she looks. Heigl hangs out with her mom a lot, and her styling often looks matronly and beyond her years. In her OK interview she is wearing minimal makeup and has wet, slicked back hair. She looks gorgeous and is prettier than I would have imagined. She's 34 and looks 10 years younger there. It's just a brief clip of an interview, in which Heigl is asked if she has any wedding planning advice. She tells brides-to-be that they should work to keep their wedding guests apart except for a couple of big events like the rehearsal dinner and wedding party. It's kind of funny:
Katherine Heigl's new movie is the epitome of family drama at weddings! The Big Wedding follows the journey of a couple who must pretend to be married for their son's wedding. "They do everything wrong in this movie in terms of avoiding drama and avoiding the family kind of dysfunction," Katherine said. She explained how many big weddings are full of pressure and the tension between family members can make be too much. "My advice would be to keep everybody apart as long as possible. One rehearsal dinner and then the wedding the next day. That's it." Check out The Big Wedding April 26 and let us know what you think of the star studded film!
Here's the trailer for The Big Wedding. I thought it might be a big flop, but Heigl isn't carrying this film by any means. It's got heavyweights Robert De Niro, Susan Sarandon, Diane Keaton, and Robin Williams in it! There's also Amanda Seyfried, Topher Grace and Ben Barnes. It's an ensemble film and Heigl is going to be overshadowed by these veterans, which is a good thing. It could do well at the box office and it actually looks funny. I would watch it.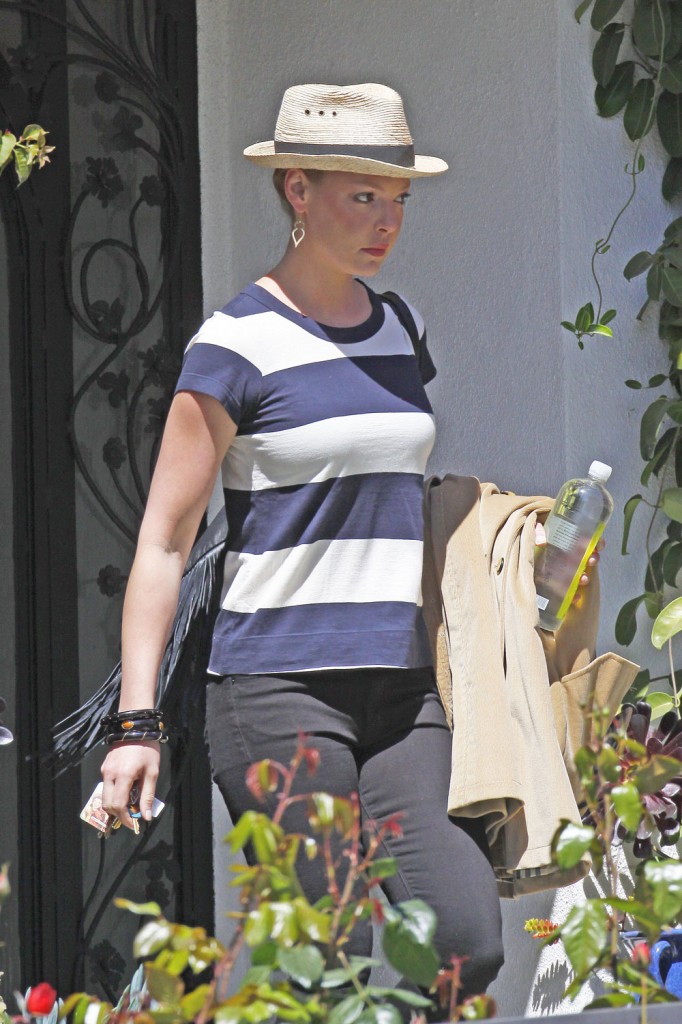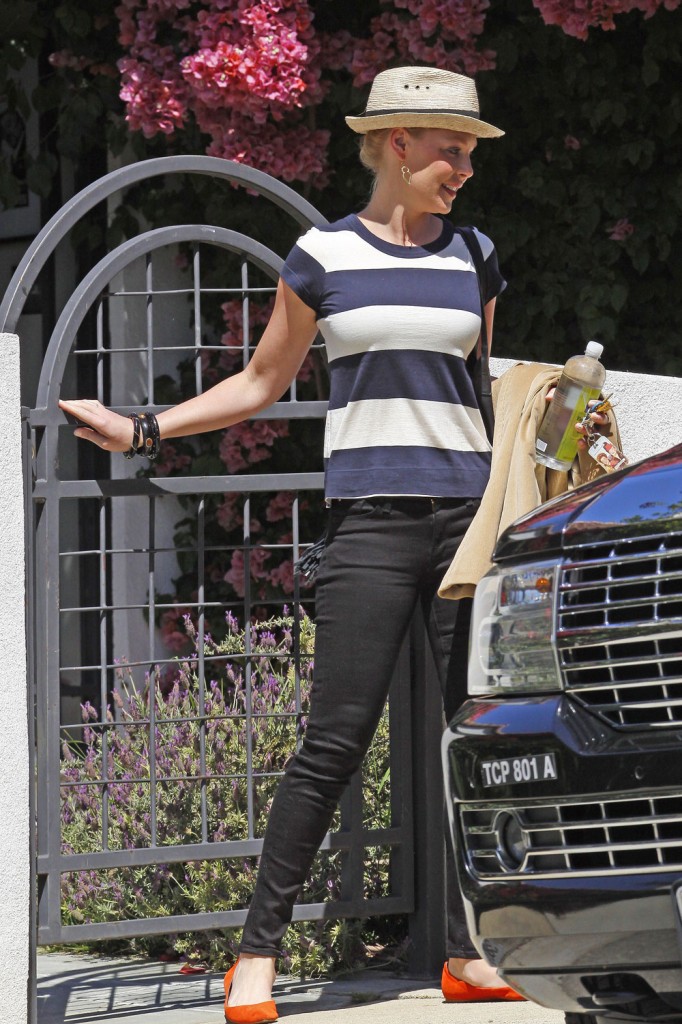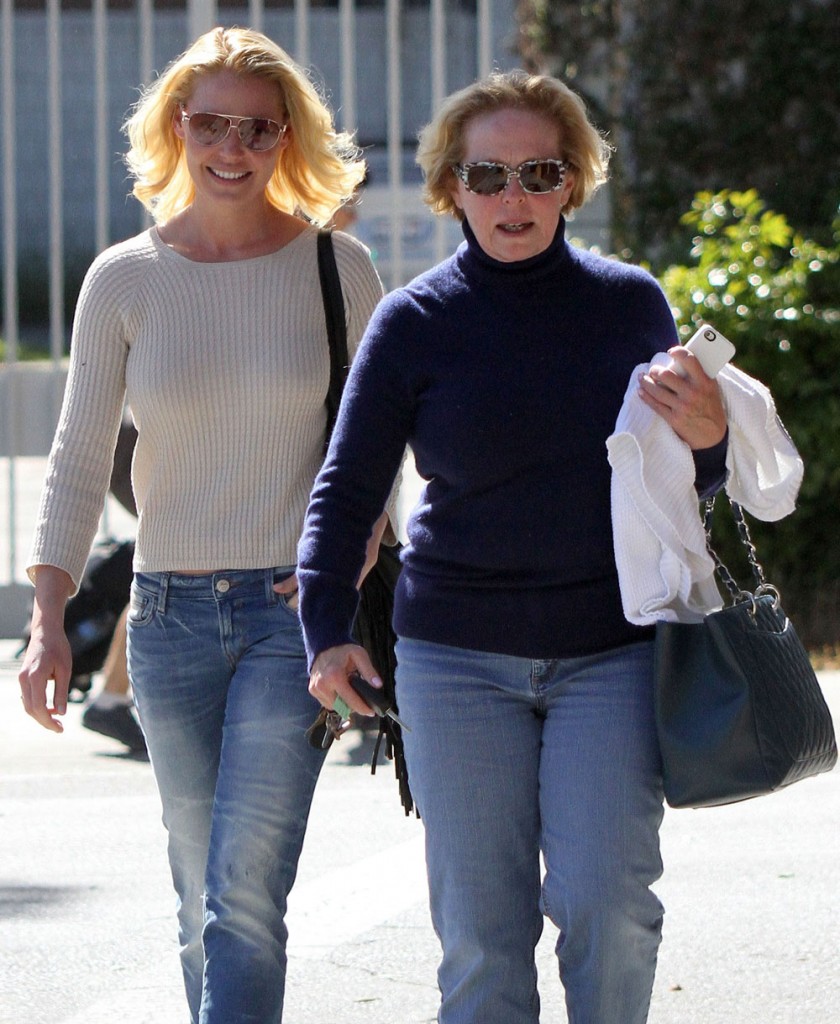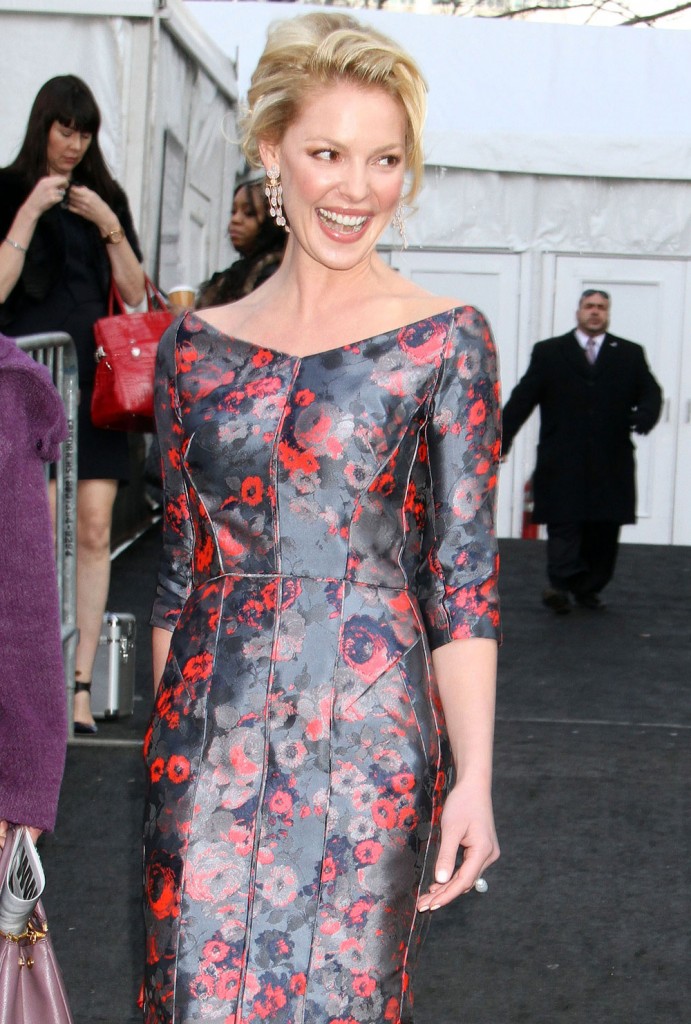 Heigl is shown out on 4-16 and 4-18-13. She's also shown at Fashion Week in February. Credit: WENN.com and FameFlynet