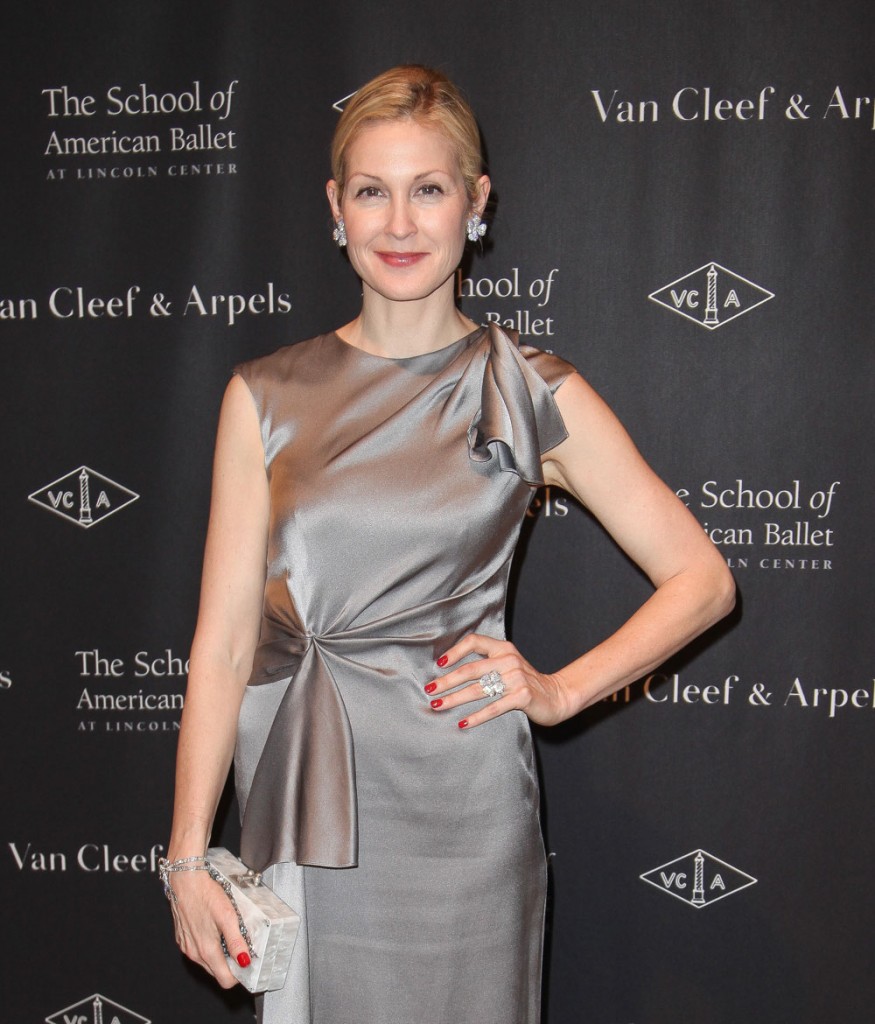 As you may remember, Gossip Girl's Kelly Rutherford sort-of lost custody of her two children, son Hermes, 5, and daughter Helena, 3, to her ex husband last September. She didn't technically lose custody, she was granted 50/50 custody, but the judge ruled that the children should live in Monaco with their father, a German businessman named Daniel Giersch. (Giersch's parents own a home there are are helping care for the children.) Giersh's visa to the US was revoked for unknown reasons, although Kelly is thought to have had a hand in it, and the judge ruled that the children should reside with him overseas. Kelly has been travelling to Monaco to visit the children and says they will live with her in the US over the summer. She tells E! News that she's nearly bankrupt and has been living with a friend after exhausting her savings on legal bills trying to bring the children back to America.
Kelly Rutherford says she is on the "brink of bankruptcy"—and her legal bills are still piling up.

The divorced mother of two, who says she's living at a friend's apartment out of necessity, said in an exclusive sit-down with E! News that she has "spent every penny. Every penny from Gossip Girl, my pension, my stocks has been spent fighting for my children."

Rutherford's two kids, 6-year-old son Hermes and 3-year-old daughter Helena, live in Monaco with their father, German businessman Daniel Giersch—and their mom, who has joint legal custody, has been exhausting her options to try and get them relocated back to the U.S. A judge ruled last August that they should live primarily with their dad and Giersch no longer has a visa allowing him to reside in the States.

Rutherford compared going to visit her kids in Europe and then coming home without them to "being in a park full of laughing happy children, and then the next day you walk by the park and it's empty."

She was pregnant with Helena when she and Giersch started divorce proceedings. "I said, 'I don't want any money, I don't want anything, let's figure out a great plan for the kids,'" she recalled.

"The relationship was obviously not working."

"And four years later," Rutherford said, "this is where I am."

Giersch's attorney, meanwhile, told E! News that his client would continue to not comment on the case, in order to protect his children's privacy. He said last summer, however, that Giersch was "focused on co-parenting."

Asked how much she has spent on the ongoing custody battle, she replied with a question: "How do you end up in court pregnant, getting ready to get divorced?"

"I went in with very high hopes, I was madly in love," Rutherford said wistfully. "I'm thankful to him for our beautiful children, but I think I didn't realize you could litigate against someone like this."

The really "hurtful part" of the whole thing, she said, is seeing the effect it has on their kids.

"Having to peel my son off my body, screaming, 'Mama, save me!' when I had to give him to his father—not because he doesn't love his dad, but because he's too young and it was like a forced thing," Rutherford said.
I feel for her, but I also think we're only hearing one side of the story. Some of you have said that Kelly must have done something to warrant such a harsh ruling, while others have noted that sometimes custody cases turn out unfairly. There was a comment on our earlier story claiming that the judge in this particular custody case was known for outrageous, unfair rulings. Another reader shared a very sad personal story about losing custody when it was not warranted at all.
On the other hand, People Magazine reported that Kelly worked to get her ex's visa to the US revoked, and the insinuation is that this custody arrangement is due to her own actions. Some reports claim that she worked hard to distance the children from their father, and that she fought to keep his name off the birth certificate for their daughter. (Who was born after they split up in 2009.) Whatever is going on, it's very sad to hear that she's separated from her children and has spent millions on legal bills. That seems outrageous.
Kelly with her ex, Daniel Giersch, and their son, Hermes, in 2008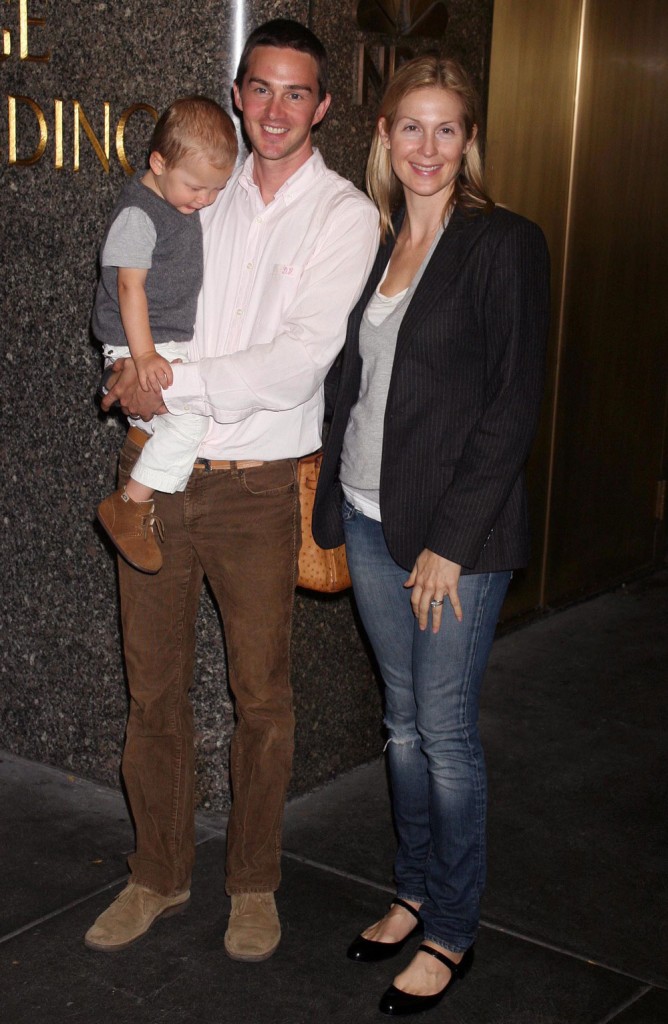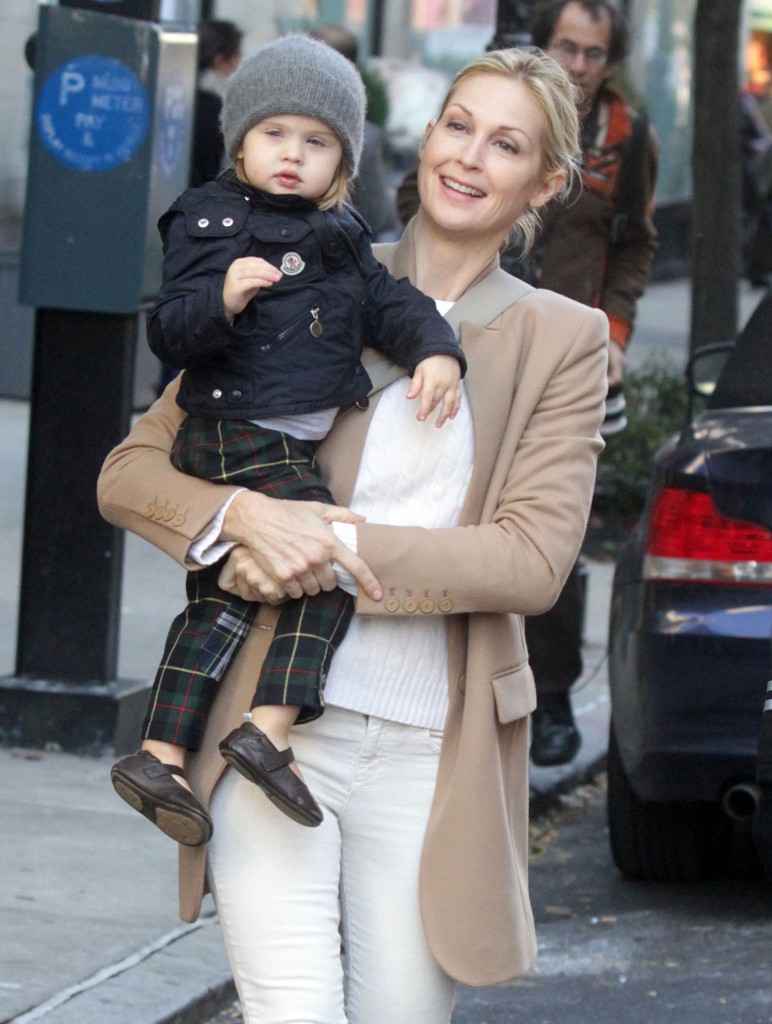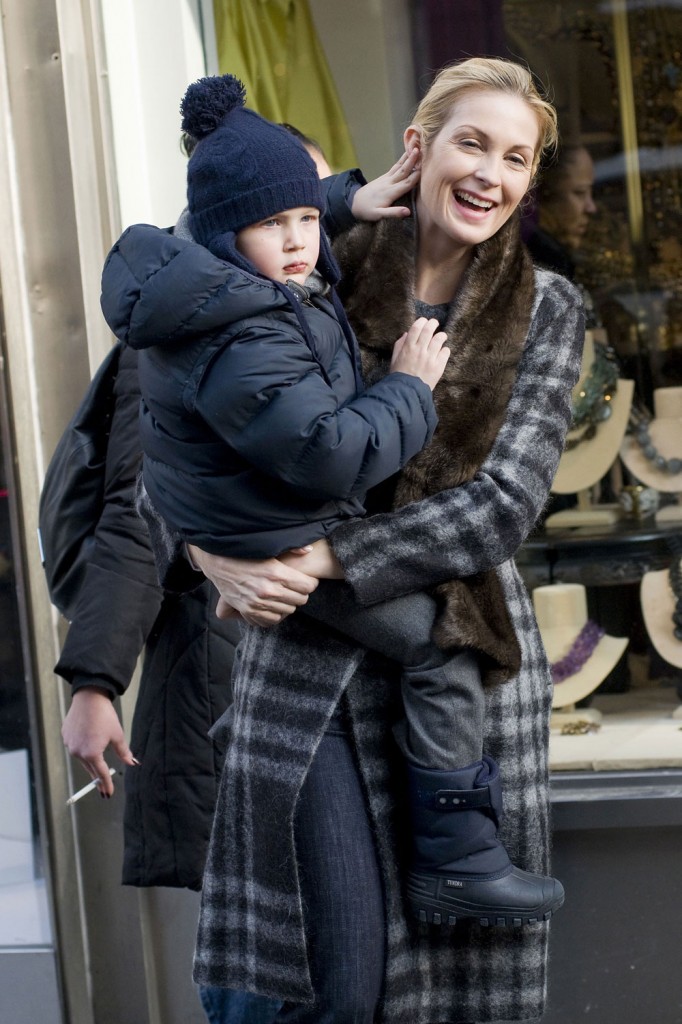 photo credit: Fame/Flynet and WENN.com