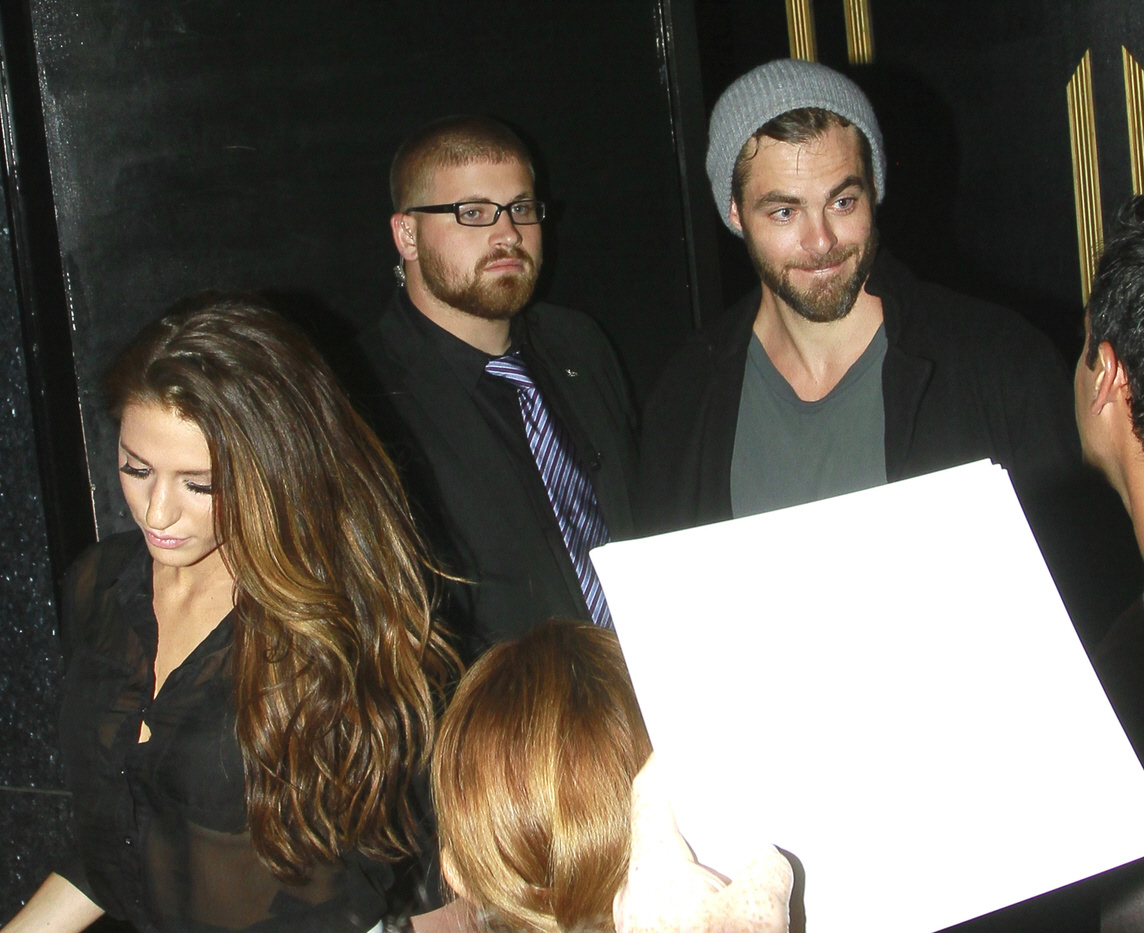 Here are some new photos of Chris Pine leaving Bootsy Bellows on Friday night in LA. You have to look closely at the photos to see that Chris was actually holding hands with that brunette girl. Just before Chris geared up to promote Star Trek Into Darkness, "someone" managed to confirm that Chris and Dominique Piek had split after about a year together. So Chris was "single" for the promotional tour – and he got to talk about what he was looking for in a woman, which included "intelligence". Well, it's time to lower your expectations back down to Audrina Patridge-level, because the girl he was with on Friday is a "swimsuit model" named Amanda Frances. You can see her Twitter here. She seems to be some kind of "glamour model" who does only semi-naked photoshoots.
Chris Pine clearly has a thing for buxom brunettes. After splitting with love Dominique Piek earlier this year, the Star Trek Into Darkness actor was spotted enjoying the company of swimsuit model Amanda Frances at Bootsy Bellows in West Hollywood May 24. The casually-dressed duo held hands as they exited the trendy nightclub and waited for their ride.

"He is very attracted to her," a source tells Us Weekly of Pine and Frances. "They are having a good time. He's very excited about his career right now, too."

During a May 16 appearance on The Ellen DeGeneres Show, Pine confirmed he was "single" and said he hoped to find a girl with "intelligence, beauty and a sense of humor. . . You have to be able to carry a conversation after the initial attraction kind of dies down."

Hopefully Pine can overlook Frances' attraction to another A-list star. In the March issue of Maxim Espana, the New Orleans native named Magic Mike hunk Channing Tatum as her celebrity crush. "Yum!" the 5-foot-10 beauty said of the star, who's expecting his first child with wife Jenna Dewan-Tatum.

Pine is currently in talks to appear in director Rob Marshall's movie musical Into the Woods. The 32-year-old would join previously announced cast members Meryl Streep, Johnny Depp and James Corden. Pine's next film, the action-thriller Jack Ryan, is slated for a Dec. 25 release.
Yeah, beard or no beard, I can't really get on board with Chris's taste in women. Several years ago, his people told the tabloids that Chris prefers the C-list famewhore and glamour model types, and it looks like that's still his type. Is this disappointing? Kind of. But I guess you can't change what kind of girl you like.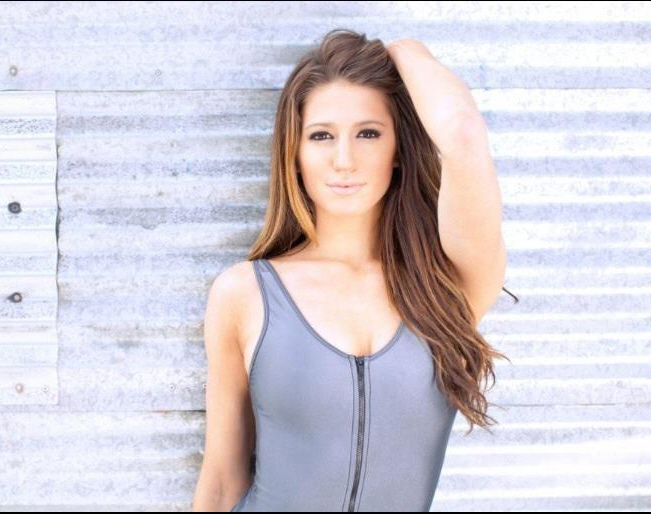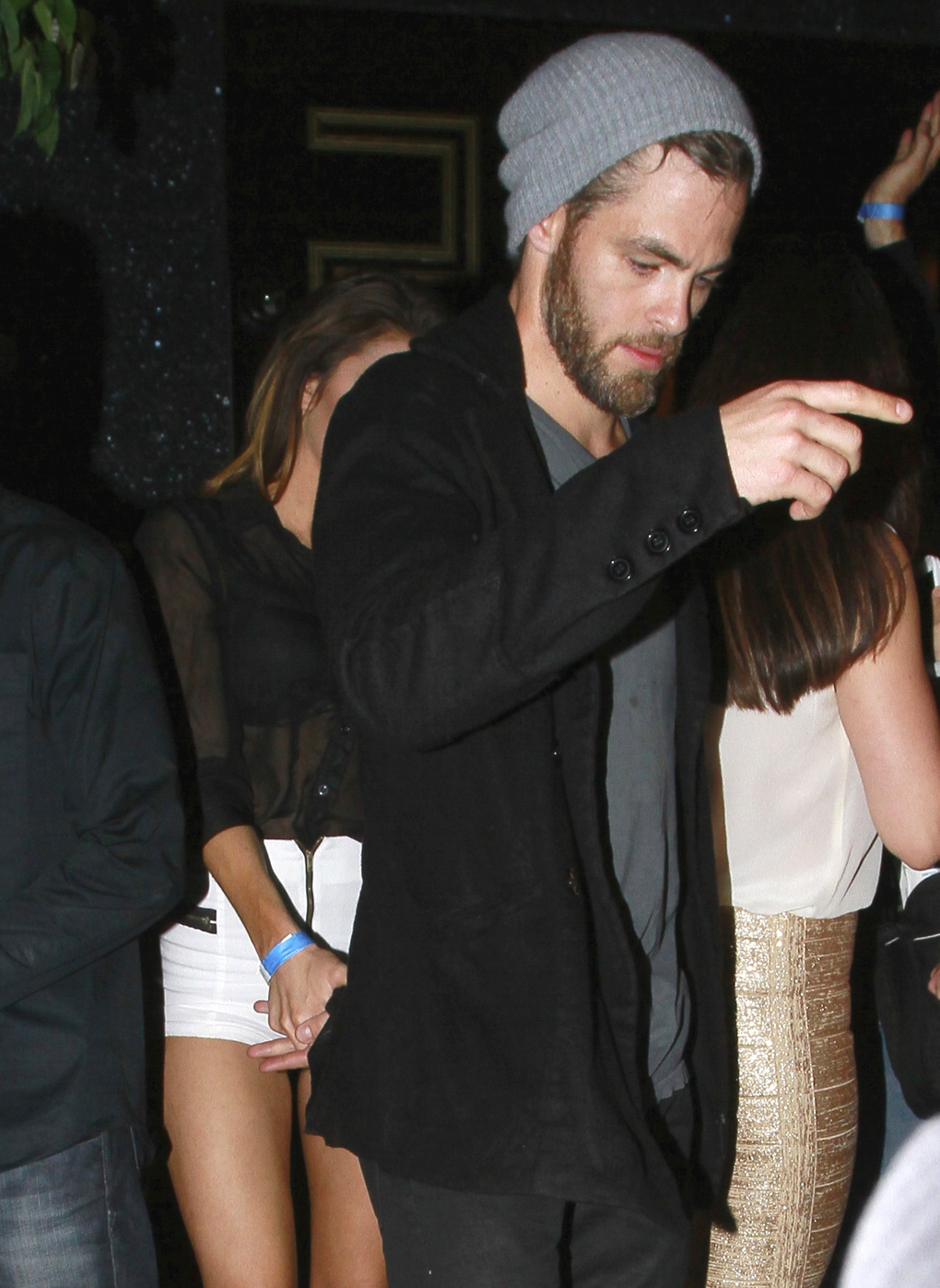 Photos courtesy of Pacific Coast News.