Is anyone else more excited to read the John Galliano interview? You know that's going to be good/crazy. But Channing Tatum covers the new issue of Vanity Fair, and he's usually a good interview too. It's cracking me up that VF did this beefcake-y photoshoot with Channing – the photo with the white tank and sweatpants is really… um… rednecky. There, I said it. I don't have a problem with rednecks or anything (I live in the South), but good God. Maybe those are his wife's sweatpants?! Anyway, here are VF's cover story highlights:
"I don't think you can prepare. It's a bit of a freestyle," Channing Tatum tells Vanity Fair contributing editor Rich Cohen about raising children with his wife, Jenna Dewan. His parents, Tatum says, set a good example "for better and worse. They weren't perfect. I don't know anyone who did have perfect parents. It's provided me with lessons I'll try to improve upon when I'm up to bat. I'm just going to be a good friend to my kid. One thing I definitely want to change is that whole 'I don't want you to make the same mistakes' mentality. My dad didn't have much money growing up; he didn't have much of an education. He forced that on me, and I didn't want it."

In Vanity Fair's July issue, Tatum tells Cohen that his father worked as a roofer right up to the day he fell through a roof and broke his back. Though he recovered, he could never again do heavy labor and consequently became a salesman. Tatum's father channeled his dreams into his son, stressing education, but Tatum struggled.

"I read so slow," he tells Cohen. "If I have a script I'm going to read it five times slower than any other actor, but I'll be able to tell you everything in it. It kills me that there are standardized tests geared towards just one kind of child."

Another important difference between him and his father, Tatum tells Cohen, is that, as a result of his negative experience with study drugs, he'll never medicate his child for learning disabilities.

"I truly believe some people need medication," he says. "I did not. I did better at school when I was on it, but it made me a zombie. You become obsessive. Dexedrine, Adderall. It's like any other drug. It's like coke, or crystal meth. The more you do, the less it works. For a time, it would work well. Then it worked less and my pain was more. I would go through wild bouts of depression, horrible comedowns. I understand why kids kill themselves. I absolutely do. You feel terrible. You feel soul-less. I'd never do it to my child."

Tatum thought the baby was going to be a girl. When initially asked about the gender, he told Cohen, "My wife thinks boy. I think girl."

Reflecting on the nature of celebrity, Tatum tells Cohen, "I don't remember who said it, but I do believe that whatever age you become famous, you end up staying that age. Because from that point you're not asked to be a normal citizen. I broke through at 24 or 25. I had lived a pretty diverse life. When I was finally making money, I knew exactly what I needed … $5.67. I'd have one meal a day. I would go to Checkers and get the No. 1 with everything."

Tatum thinks people who attain fame earlier in life have it much harder. "I worry about Bieber, man. That kid's wildly talented. I hope he doesn't fall down into the usual ways of young kids because it's so hard for someone to be responsible when they're not asked to be. We're not asked to do things ourselves. You have someone there with a coffee. 'You want food? I'll get you food.' I put my bag in the trunk yesterday—I can't drive here—so my driver, great guy, Terry, amazing, I call him T-Bone, I drop my bag in and left the trunk open. And I get around to my door, and I'm like, 'What the f–k am I doing? That's not my behavior.' "
I like everything he says. Okay, I chuckle a little at "I read so slow" because obviously. I should say that I don't think Channing is dumb at all – his success in Hollywood proves that. He might not be the fastest reader or the most educated guy, but he's got great instincts, he works hard and he's got more in the way of "street smarts" and emotional intelligence than most actors. I have mixed feelings about medicating children with learning disabilities, and I think Channing's point about overmedication and feeling like a zombie are valid points. And he's right to worry about Justin Bieber. That kid's NOT RIGHT.
You can see the VF video of Channing's shoot here – he plays with animals! What's better: Channing kissing a puppy or Channing looking BOSS on a horse? I can't decide.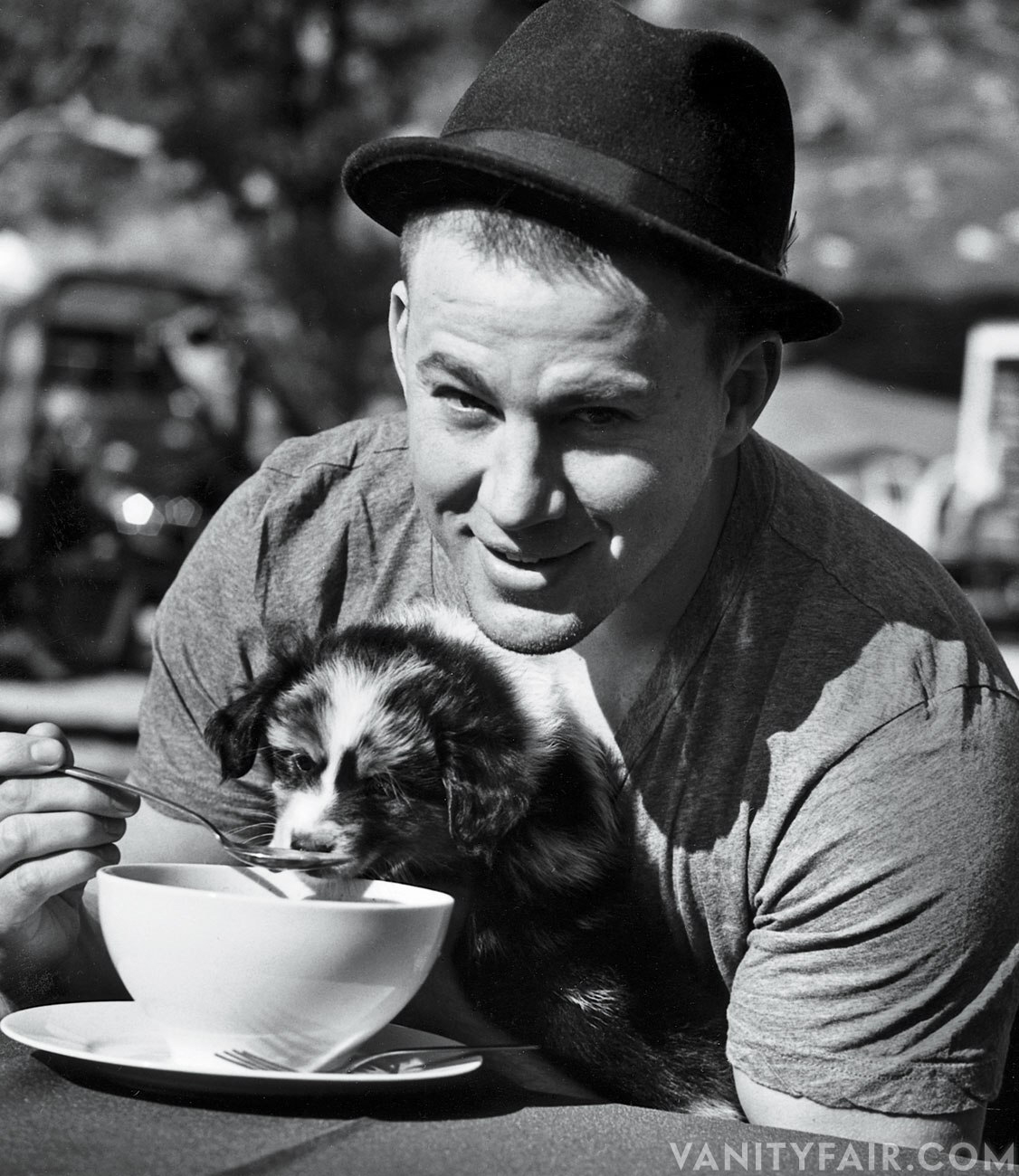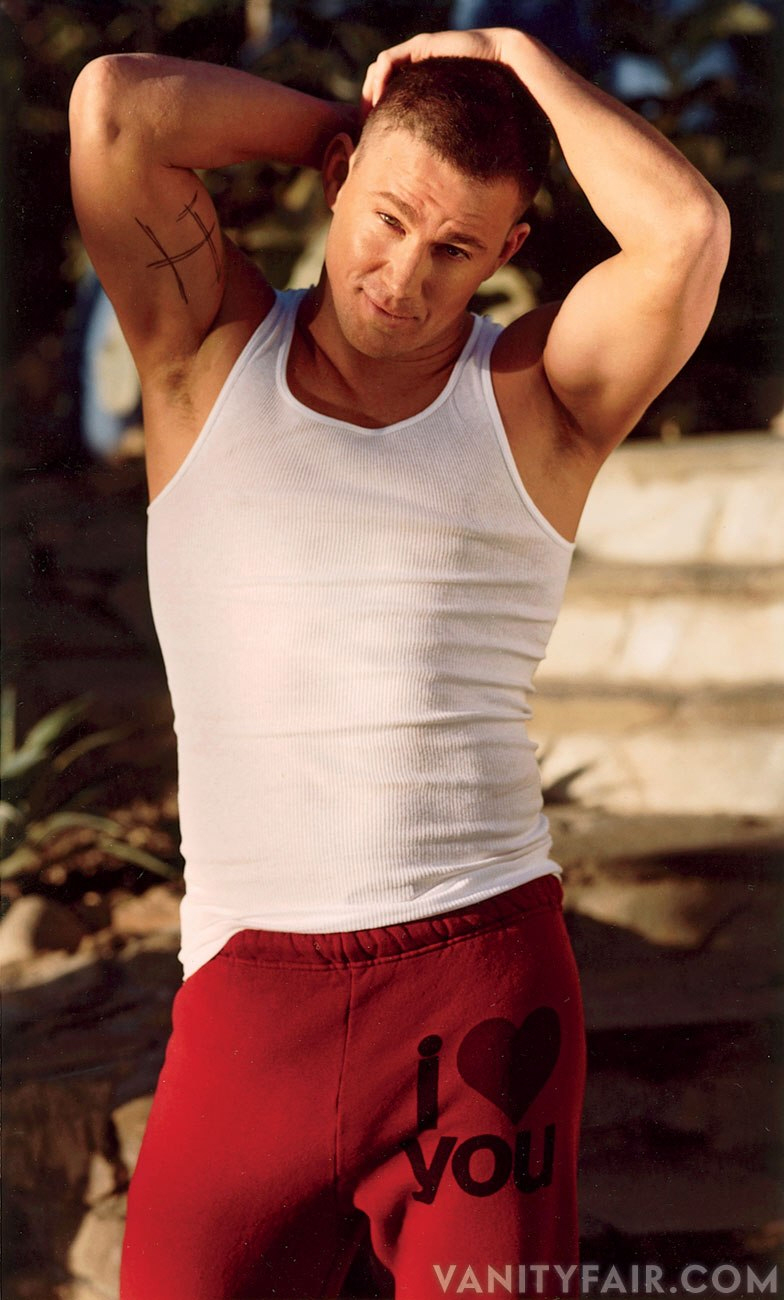 Photos courtesy of VF.