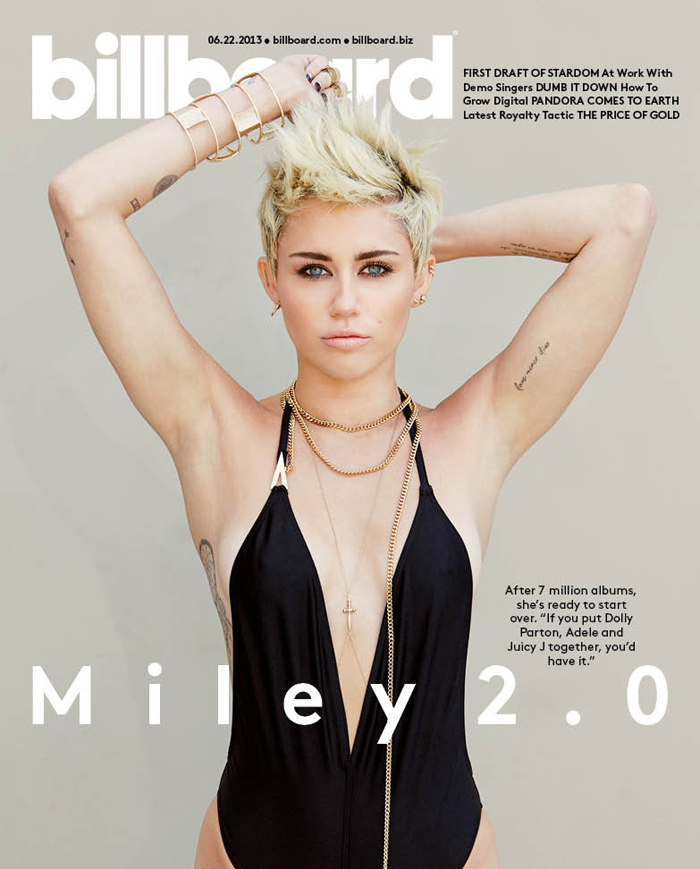 Miley Cyrus covers the June 22 issue of Billboard Magazine with the caption "Miley 2.0." I suppose monokinis are part of her new look to promote the monotonous and underwhelming "We Can't Stop" single, and at this point, we should just feel grateful that she's no longer wearing the Borat-style monokini that showed off everything but the nips. I know that as a 20-year-old woman, Miley should receive certain allowances for doing odd things while maturing into her eventual true persona — god only knows I did terribly embarrassing things at age 20 and dated all the wrong dudes — but I just wish that Miley was self aware enough to realize that she's been making fun of pop stars who sell sex instead of music while simultaneously promoting her new single with her Instagrammed rack and bizarre new gold tooth.
Anyway, I will hold out hope that for Miley's next record, she will return to country, but Billboard claims that Miley's current release is "mixing hip-hop edge with country twang," which sounds slightly interesting if true. Mixing genres is always eventful if nothing else and sometimes meets with playworthy results, such as Gangstagrass. Yet I remain skeptical in Miley's case because she seems like she's really trying to be scandalous by singing about dancing with Molly and doing lines in "We Can't Stop." This Billboard interview is more of the same talk that we've already heard, but there are some new tidbits. Get ready though because Miley drops the term "hood music," which she claims is not her goal because her "talent is as a singer." Poor girl, I like her so much and wish I possessed her enthusiasm and lust for life, but she has no range as a singer at all. Also, is her "hood" mention offensive at all? I can't tell.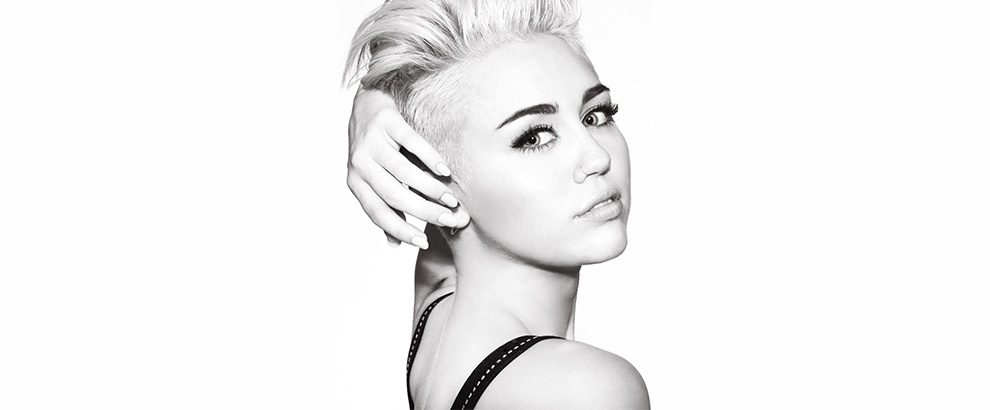 To the photographer: "This is the worst spot to stand. Look, I'm not fat or anorexic-I just know my angles," Cyrus instructs the cameraman. She then goes over the scripts, which are a little too cutesy for her taste-the copy riffs on the title of her new single, "We Can't Stop," released just the day before. "I hate it when people make puns out of my song titles," she says, before adding with a slight smile, "Should I do a Christian Bale and start freaking out?" She's kidding, of course.

On her past: "Right now, when people go to iTunes and listen to my old music, it's so irritating to me because I can't just erase that stuff and start over. My last record [2009's EDM-inflected Can't Be Tamed] I feel so disconnected from-I was 16 or 17 when I made it. When you're in your 20s, you just don't really know that person anymore. I want to start as a new artist. I consider my upcoming album my first, really."

On "We Can't Stop": "I didn't make this song for the critics, but for the people living it," she says, dragging on a cigarette between shoots. "I'm 20 years old and I want to talk to the people that are up all night with their friends. It's based on a true story of a crazy night I had: When I heard the song for the first time, it captured exactly what I was living."

She's not jumping on a bandwagon: "I've always wanted country-rock influences, but now I'm moving over to a more urban side. It's not a hip-hop album, though-it's a pop album. I'm not coming in trying to rap. It's more like, 'I don't see any girls out there doing what Miguel and Frank Ocean are doing.' We've been calling it 'count-step,' because it's like country, dubstep and a little trap. I love the Lumineers, but I also love French Montana, Juicy J, Wiz Khalifa and Dolly Parton. If you could put Dolly, some Adele and Juicy J together, you'd have that weird balance."

She's bucking the trends: "A lot of people wanted to try to make me the white Nicki Minaj. That's not what I'm trying to do. I love 'hood' music, but my talent is as a singer. We were inspired by One­Republic, and the way Timbaland used to do those big ballads."

Her outstanding work ethic: "I never stop working, ever-I put my track list together this morning. I want my record to be the biggest record in the world, and I've given everything to get here, even down to friends and family and relationships-I've just put this music first. That's been kind of a trip: It's not like I'm losing who I am-I actually found out more about who I am by making this music. I'm going on a journey, and that's more than a lot of 20-year-olds can say. And I'm still going to change so much. Because I'm not the same person I was six months ago-I'm not even the same person I was two weeks ago."
[From Billboard]
You know, I get it. Miley really wants to make a name for herself outside her Disney "Hannah Montana" alter ego. I fully understand that she wants to leave the glitter and hair extensions of that persona behind her, but it still kind of grates that she seems to resent the job that made her millions and guaranteed her the financial freedom and peace of mind that is now allowing her to go out and try and forge a new path. She has no idea how lucky she really is, but I guess all troubles are relative.
Since Miley name-dropped Juicy J in this interview, I guess it's as good a time as any to stop ignoring these photos of her twerking onstage at a Juicy J concert about a week ago. You know how Miley loves to twerk.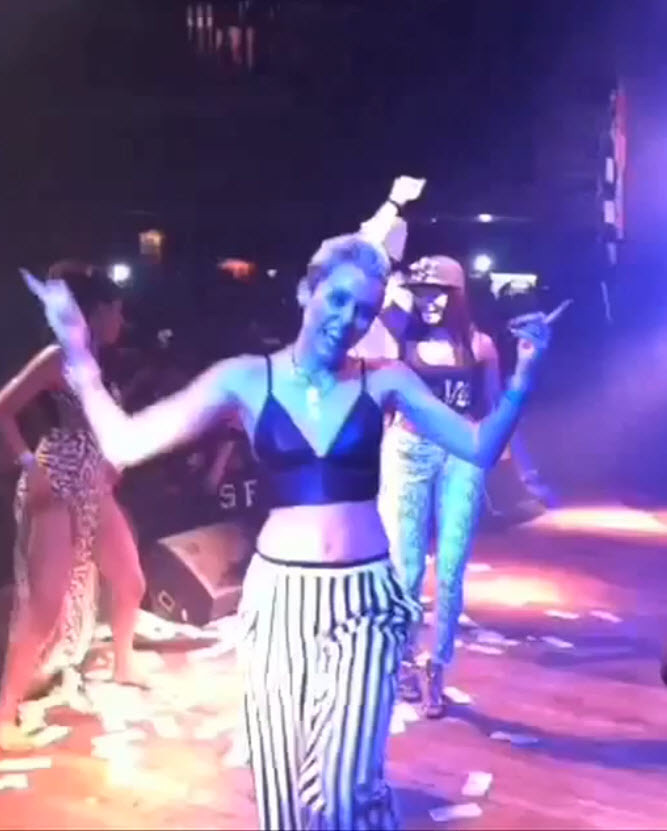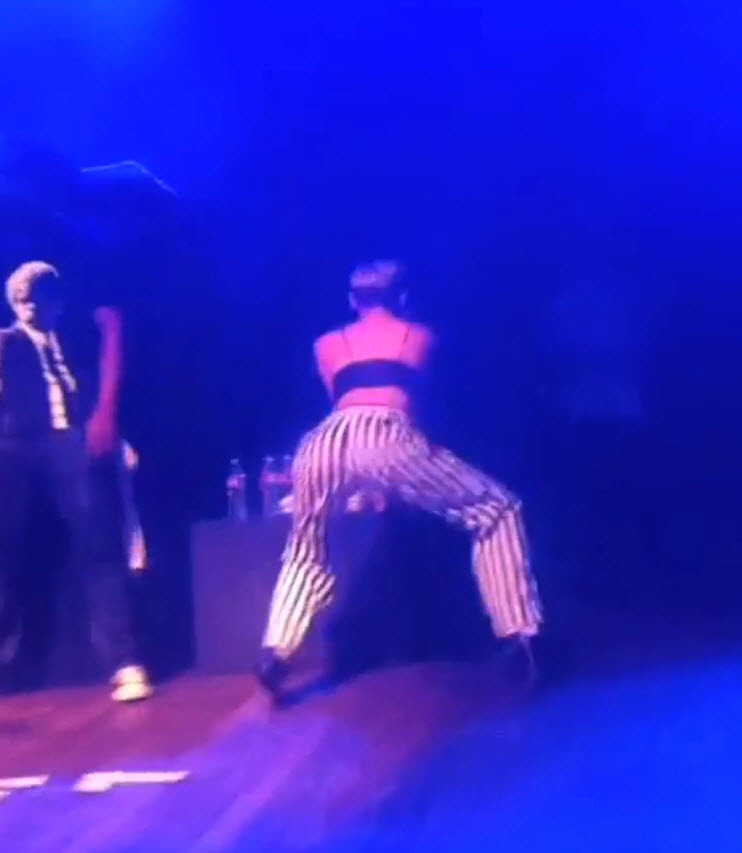 And here's a back view of the half-sweats/half-jeans that Miley wore to that MySpace event a few evenings ago. The black vinyl jacket looked a lot better from the front.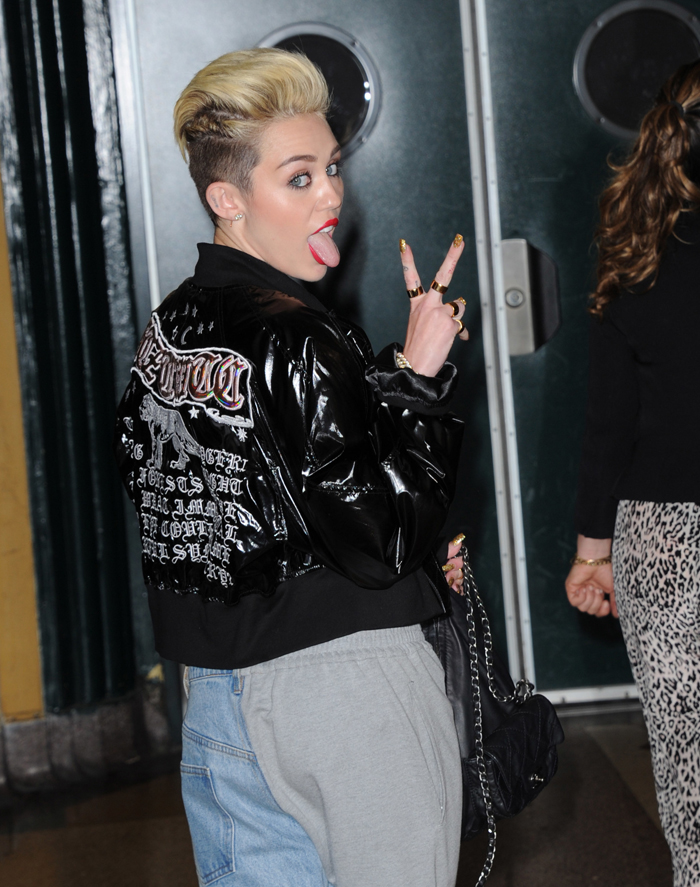 Photos courtesy of Billboard and WENN