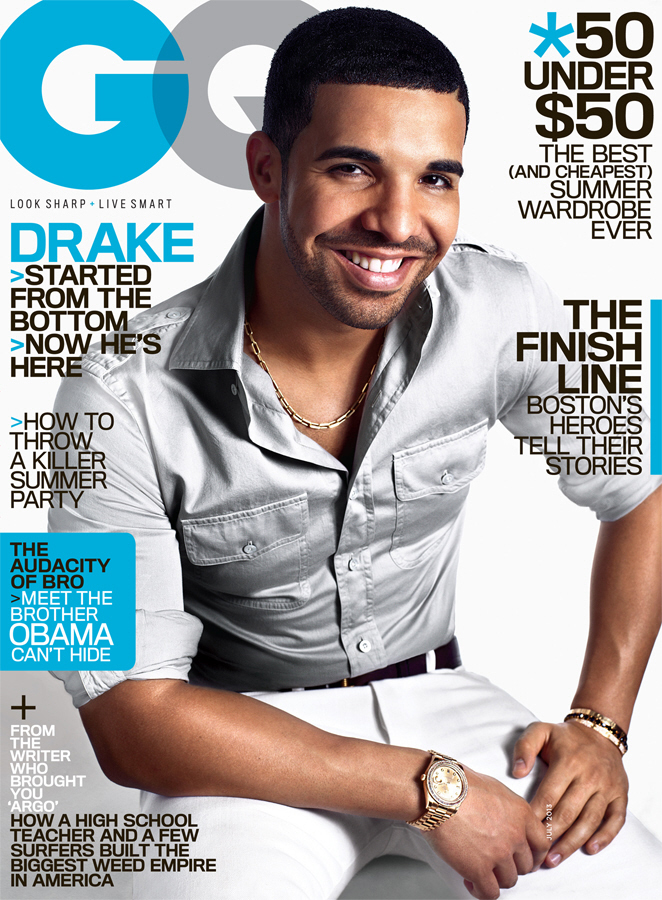 I'll admit that I kind of like Drake. I like him as an artist and as a celebrity. As an artist, he's already spent the past three years skyrocketing through the music industry and making some decent music. As a celebrity, he's gone out of his way to piss off Chris Brown, which earns him bonus points in my book. Drake's history with Chris is convoluted. Here's what I think happened: Chris and Rihanna were doing the on-and-off thing for a few years, and at some point Rihanna also started hooking up with Drake. Drake really liked Rihanna and wanted her to be his for-real girlfriend. She still had drama (she thrives on drama) with Chris, so she ended up not being Drake's girlfriend but they still hooked up sometimes and they're friends. Drake then throws his history with Rihanna in Chris's face. Fights ensue. Again, that's just my theory of how everything went down. I bring this up because Drake talks about his feud with Chris in his Esquire interview, which you can read here. Some highlights:
Drake on his feud with Chris Brown:
"I don't want my name to be synonymous with that guy's name. I really don't. I wish we could sit down, just like you and me are right now, and talk it out man-to-man. But that's not going to happen. I'm not confrontational, but if someone challenges, I'm not going to back down. …It's embarrassing, the amount of media coverage. Two rappers fighting over the woman. He's not even a rapper, but still, it's the last way you want your name out there. It distracts from the music. But he's made me the enemy, and that's the way it's gonna stay, I guess. …If I think about it too much, I feel it wrapping around my foot, like I get a feeling it could end really badly."

…on his pursuit of love, and the advice he received from Will Smith:
"I had lunch the other day with someone I extremely look up to. Okay—I had lunch with Will Smith, and listening to him talk, it made me think I don't know what love is. He said something profound. He said love is when you become one and you need that person. It's not about wanting anymore, you need that person. Hearing that, I don't know if I've ever felt that way. I've held women in very high regard almost to the point where I felt like I needed them for a very long time, but I don't know if I comprehend it yet, and I'm okay with that. I've made a lot of music about love being the only thing I'm missing. I think this is the first album I've made saying, I'm okay. I'm enjoying it right now. Maybe this is my time to grind it out, make a run for it and add some memories with my boys."

…on focusing on his album rather than sex:
"You know the way fighters don't f–k before the fight? Sometimes I feel like I'm so focused on training my body and getting my mind right to create this album that sex isn't one of my main priorities. If someone is around that I know and trust, I'm down. But I'm not going to end up with some stranger at this party."

…on future ambitions, including his goal of making $250 million by the time he's 29:
"I feel this great responsibility to see how far can we take it, how out of reach can I set that bar for whoever comes after. While I'm here, I'm gonna keep pushing that bar higher and higher up and make you really work for it."

…on becoming #1, and re-creating the excitement of his early career:
"You constantly ask yourself: Will I ever be able to excite people the way I did when the Internet was going crazy, back when you first felt like you had a piece of Drake that no one else had, and you wanted to share it with your friends? Is there an album or song we can make now that's good enough to get people that excited again? I ain't gonna lie: I want to be the one you listen to this summer."
I think Drake sounds very interesting here. His comments on Breezy alone are worth a good analysis. What does Drake mean when he says "If I think about it too much, I feel it wrapping around my foot, like I get a feeling it could end really badly"? Is he saying that his sixth sense is telling him that Chris Brown would, like, pull a gun on him and "end" it? Or is Drake issuing a warning to Chris, saying that if Chris doesn't let up, it will end badly? And I feel him about not wanting his name to be synonymous with Chris's name. Drake shouldn't only be known for his beef with Breezy. Don't let that define Drake (although his willingness to confront Chris makes me like Drake more).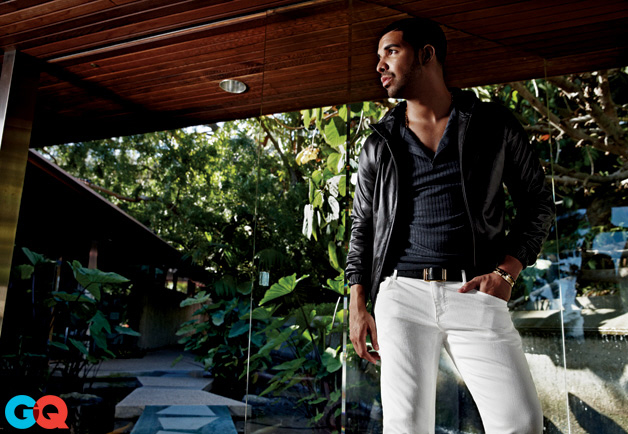 Photos courtesy of Mario Sorrenti/GQ.