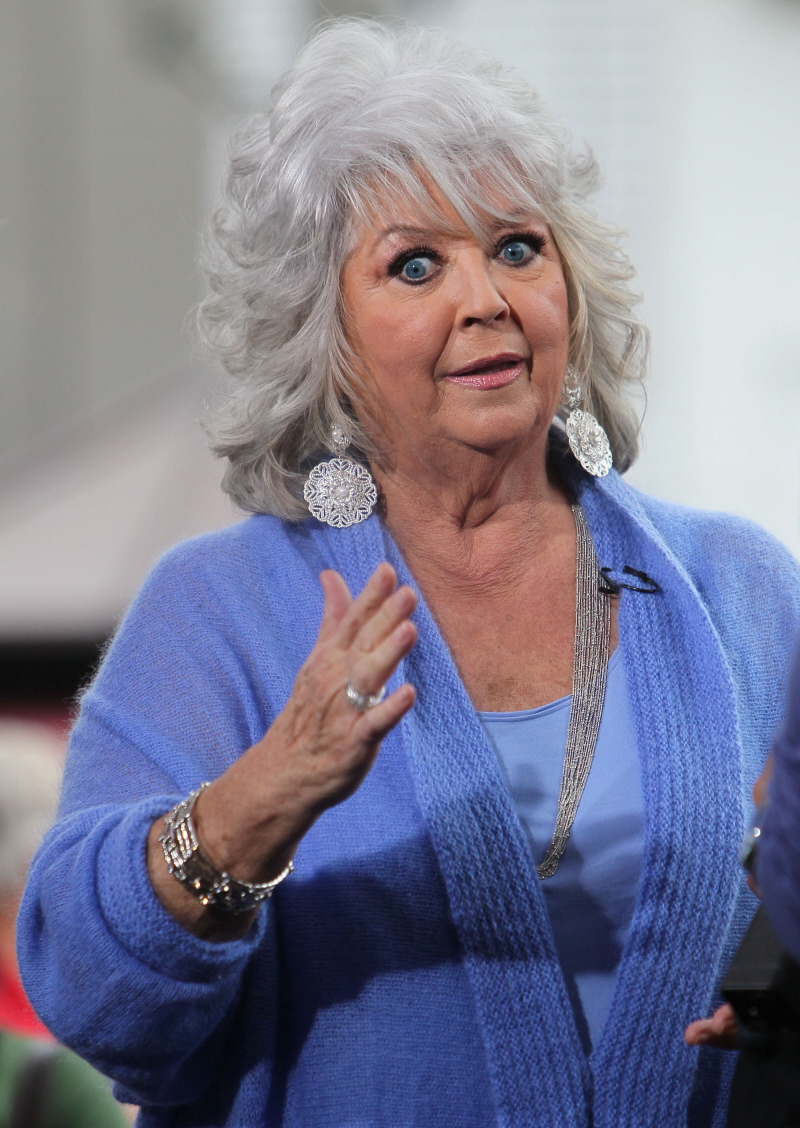 I'm not calling anyone out in particular, I'm just going to say this as a general word of warning: let's try to keep the comments less racially-charged and less name-cally. I'm not mad, I just don't think this Paula Deen issue should divide everyone. Even I'm not immune – CB and I were discussing it yesterday and we disagreed on some aspects of the situation too. But no name-calling, mmkay? So, let's get to the latest stuff. As we discussed yesterday, Paula has been fired from The Food Network after she admitted a slew of racist acts in a deposition in a civil case. Following the news of the deposition, Paula's crisis management was extremely lacking, and she abruptly canceled a Today Show appearance and she couldn't even get her act together enough to release one good apology video. So, the Food Network fired her and now, just like I said, the rest of her empire is crumbling. A QVC spokesperson is now saying that Paula's QVC deals are in danger too:
Another serving of drama may be coming for Paula Deen, who could lose more deals on the heels of her firing from the Food Network.

A representative for the shopping network QVC, which sells her cookware, released a statement Sunday to PEOPLE that expressed "concerns [over] the unfortunate Paula Deen situation," adding, "QVC does not tolerate discriminatory behavior."

Following the celebrity chef's admission that she used a racial slur in the past, the network is "closely monitoring these events and the ongoing litigation," continues the representative's statement, which was first reported by TMZ. "We are reviewing our business relationship with Ms. Deen, and in the meantime, we have no immediate plans to have her appear on QVC."

Deen, 66, issued a statement less than 24 hours after the Food Network announced on Friday it was dropping the longtime star.

"I have had the pleasure of being allowed into so many homes across the country and meeting people who have shared with me the most touching and personal stories," she said. "This would not have been possible without the Food Network. Thank you again. Love and best dishes to all of y'all."

Deen also has a book, titled Paula Deen's New Testament: 250 Favorite Recipes, All Lightened Up, due to arrive in stores this October. Her publisher, Random House, Inc., has not cancelled her contract. However, a spokesman for Random House, whose imprints include Ballantine Books, tells PEOPLE, "We are monitoring the situation closely."

Deen's cookware is also sold at Target, Sears, Walmart, J. C. Penney, and Kmart. Last January, she announced a partnership with Novo Nordisk when she revealed she has type 2 diabetes. The drug maker is standing by her.

"Paula Deen's still a product spokesperson for the Victoza brand. We recognize the seriousness of these allegations and will follow the legal proceedings closely, staying in contact with her. As a company committed to improving the lives of people with diabetes, Novo Nordisk engaged Deen as a spokeswoman because of Paula's commitment to increasing awareness about diabetes to millions of people in this country."

And they aren't the only ones watching the situation. Sears Holdings told PEOPLE late Sunday that "the company is currently exploring next steps as they pertain to Ms. Deen's products."
If I take this situation out of its racially-charged packaging, it's still just a clusterwhoops of bad management. I will give Paula some free advice: start scheduling interviews now. Sit down with Gayle King, with Oprah, with Al Roker, with Piers Morgan and Diane Sawyer. Do a full-on apology tour. Explain yourself, apologize profusely and be honest. Then, settle the civil case. If you don't settle, the litigation is going to drip out for the next year and there will be more and more revelations and it will just get worse. Next, triage and save what you can of your empire. The Food Network shows are gone, for sure, but that's not rock-bottom. Ugh, I can't believe I'm advising her, but I literally believe that NO ONE is telling her this stuff.
Also – there's a "Support Paula Deen" Facebook page and it's already gotten more than 220,000 likes. Which is impressive, but… I hope Paula doesn't think that's going to save her butter, you know?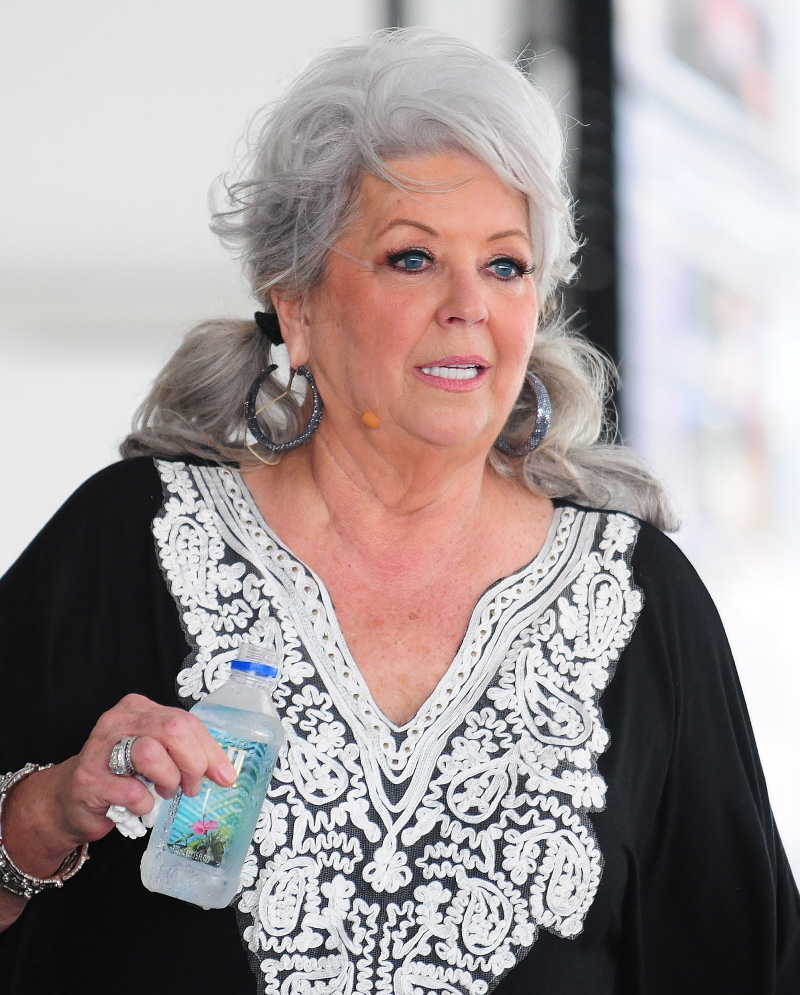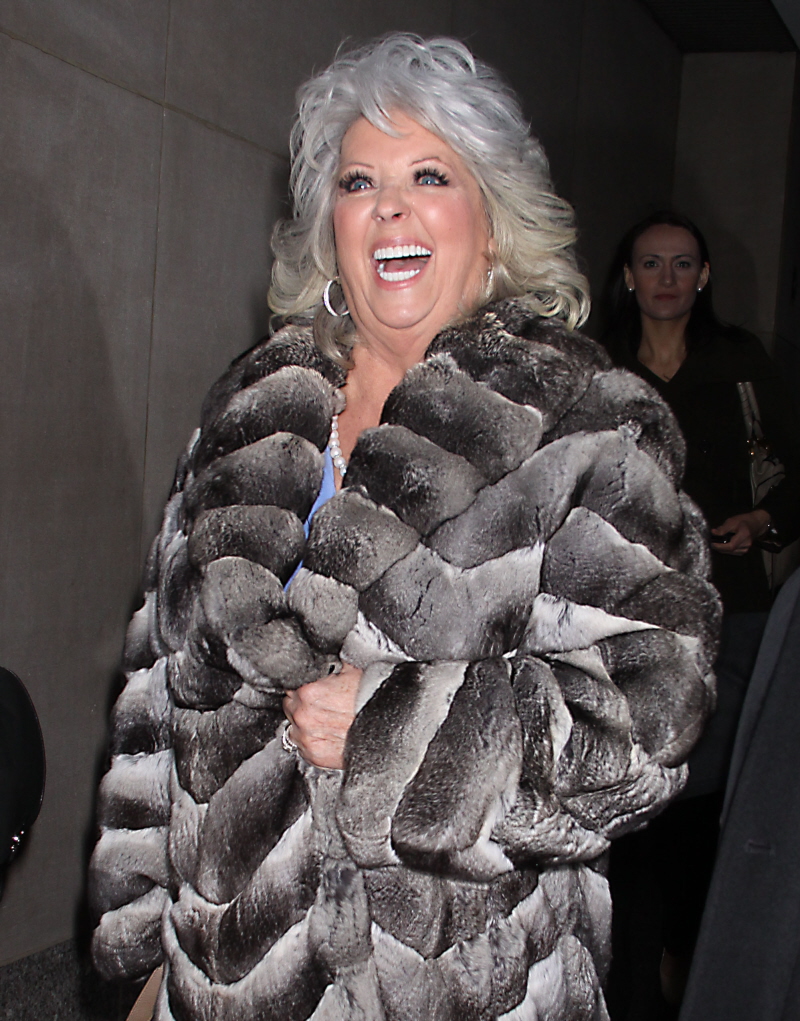 Photos courtesy of WENN.