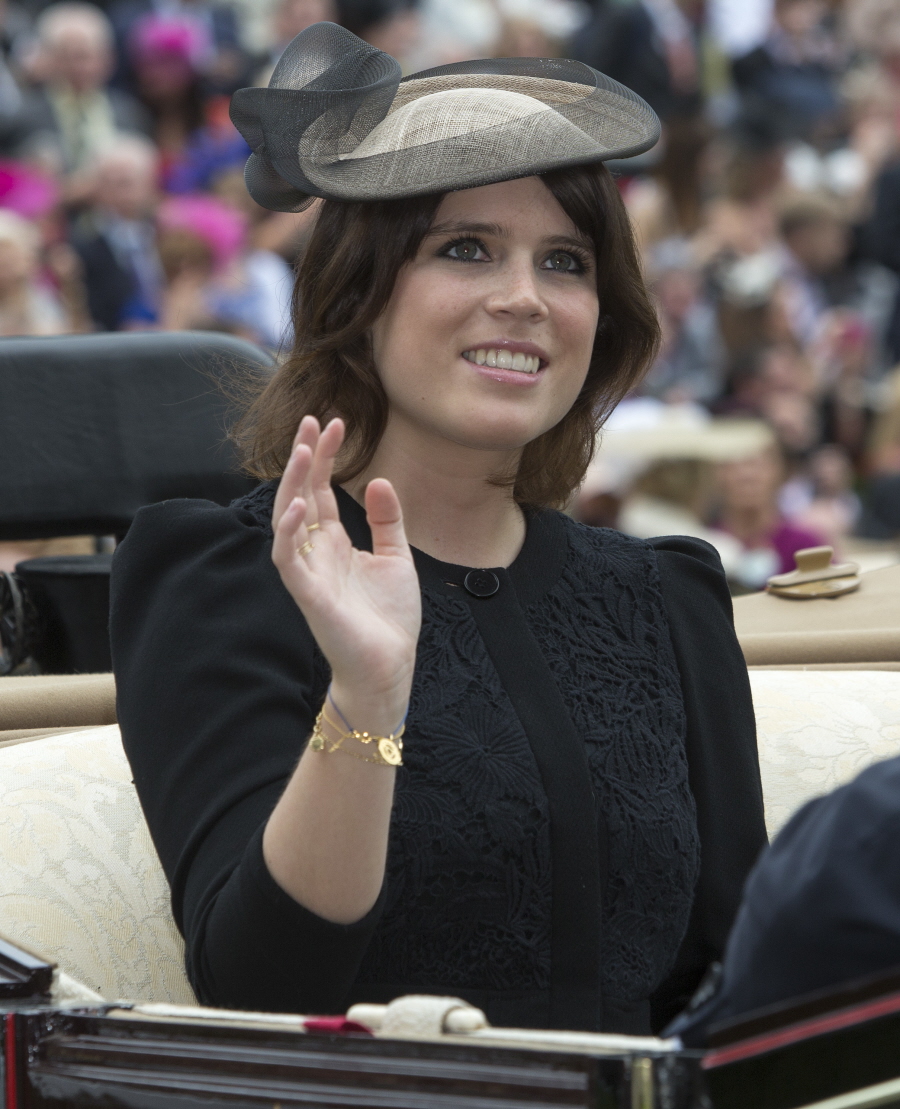 I should cover the York princesses more often, I know. Many of you royal-watchers enjoy them, and enjoy discussing and analyzing their moves. Eugenie and Beatrice have been cast (in the UK press) as the "also-rans" to Duchess Kate, unfortunately. Part of that is simply their rankings in the royal family, and their parents. While the Queen is said to be very fond of her son, the Duke of York, Sarah Ferguson is something of a pariah, and I think Bea and Eugenie were always going to be the secondary princesses to whomever William and Harry married. Although in a hilarious turn of events, the Queen made sure that the public knows that "blood princesses" will always out-rank work-shy duchesses that merely marry into the family.
Anyway, this is interesting – Princess Eugenie, 23, has decided to move to New York! FOR WORK. Can you believe it? Not only is she going to move to a city which will not really give a crap about her title, she's actually going to have a real job.
Only two years ago she seemed destined for a life of royal duty — that at least was the plan Princess Eugenie's father had for her. But Eugenie has not just inherited Prince Andrew's sense of obligation, there's also about her a touch of her free-spirited mother Fergie. And later this year the Queen's second youngest granddaughter will step out of the world of royal privilege for a new life — and a proper job — in America.

For I can reveal that Eugenie, 23, has secured a full-time post at fashionable U.S. auction house Paddle8, based in New York.

It means, however, she will have to leave behind her Stowe-educated boyfriend Jack Brooksbank, who works in the gastro-pub trade, although the two plan to commute whenever possible.

'Since leaving university Eugenie has been committed to working in the arts world and has done some internships but is now set to take on a permanent role at graduate level,' a friend of the Duchess of York tells me. 'From October she is going to work and live in New York, before returning to London where the company is setting up a new office.'

The move is significant for it comes in the wake of plans inspired by Prince Charles to slim down the number of front-rank working royals, which would almost certainly exclude Eugenie and her sister Princess Beatrice. After the birth of the Duchess of Cambridge's baby she will slip down the line of succession from six to seven.

Status-driven Andrew has always insisted that as the only two 'blood' princesses, his daughters should be a central part of a working Royal Family. But while devoted to the Queen, Eugenie is a modern young woman who wants to make her way in the world.

Paddle8 was co-founded by Alexander Gilkes, Old Etonian brother of nightclub figure and friend of the royals, Charlie Gilkes. Backers include art world luminaries such as Damien Hirst and Jay Jopling.

Eugenie acquired a degree in Art History and English Literature at Newcastle. She has already done a stint at auction house Christie's, where her cousin Viscount Linley is chairman. She has also worked at the Royal Collection in Buckingham Palace, where she won praise after queuing and joining fellow workers in the canteen there.

'She is determined to be a working woman with a full-time job,' says the friend.'
Page Six reports this morning that the "details" of this job are still being "hashed out" and her duties are still being "sketched out". Which means that the job hasn't been completely nailed down, but she will likely be in New York for some unspecified time at some point. I think this is a smart move for Eugenie – her father might want his daughters to play a bigger role in the royal family, but Charles is already taking more and more of his mother's responsibilities, and whenever Charles becomes King, those girls really will have to take full-time jobs to support themselves.
Here are some more photos of Eugenie and Cressida Bonas at the society wedding over the weekend: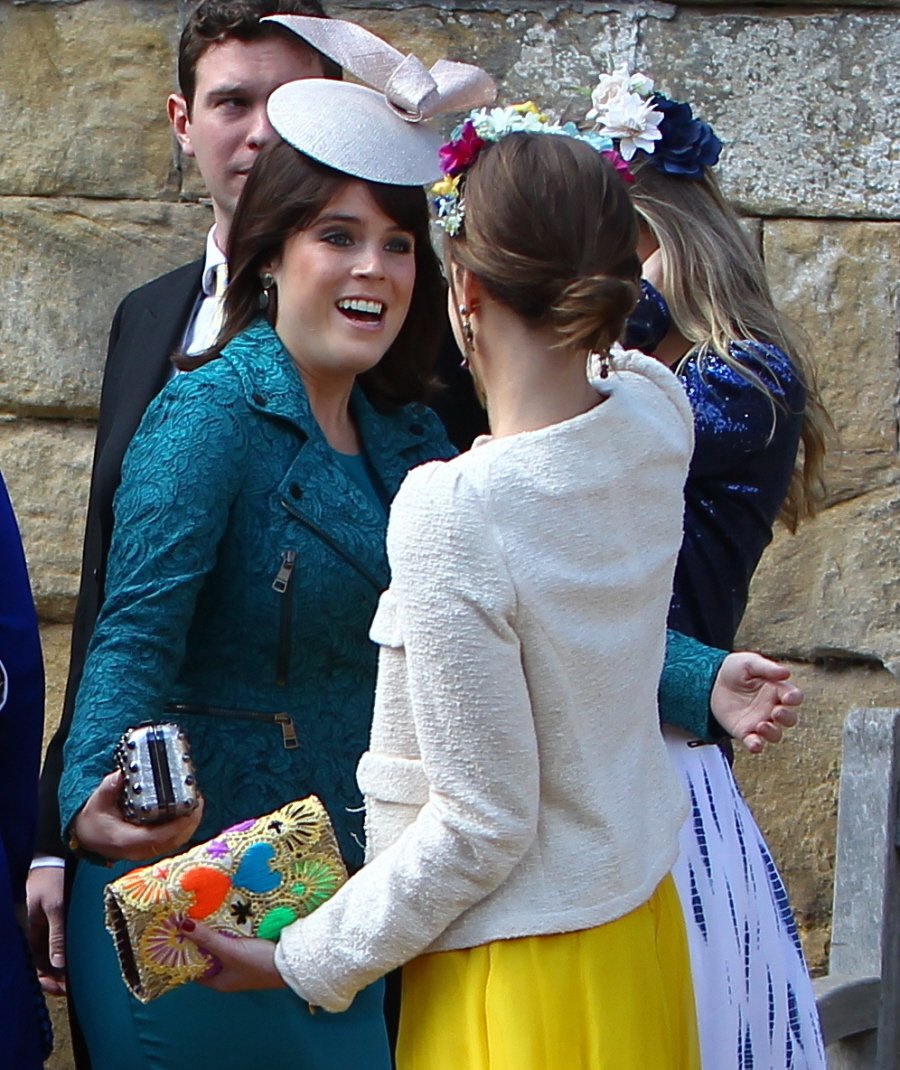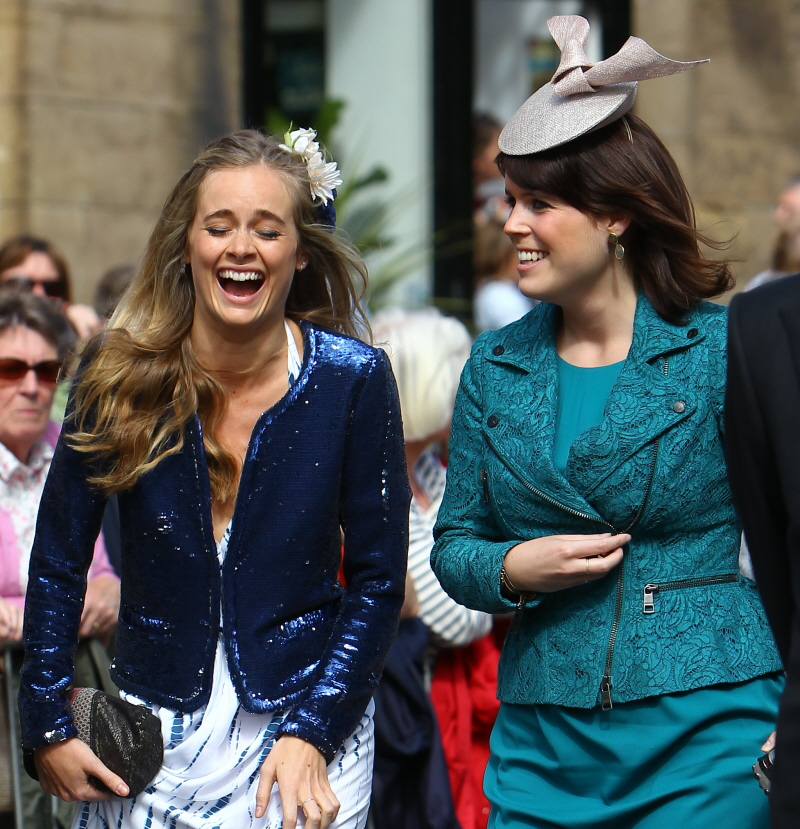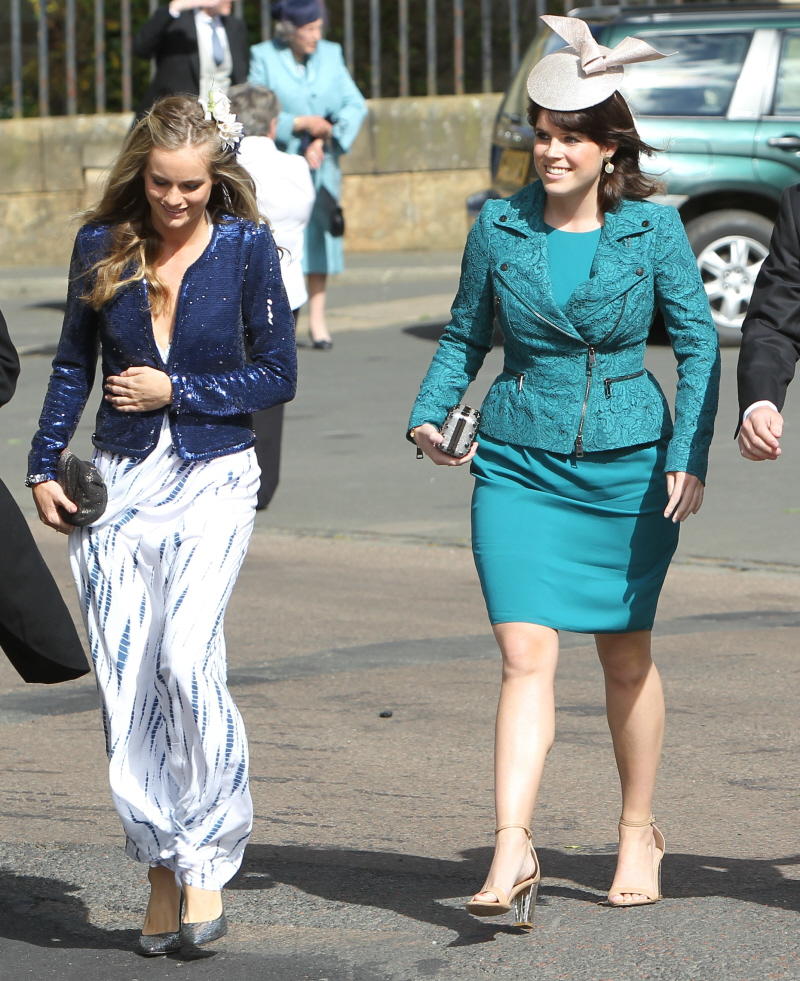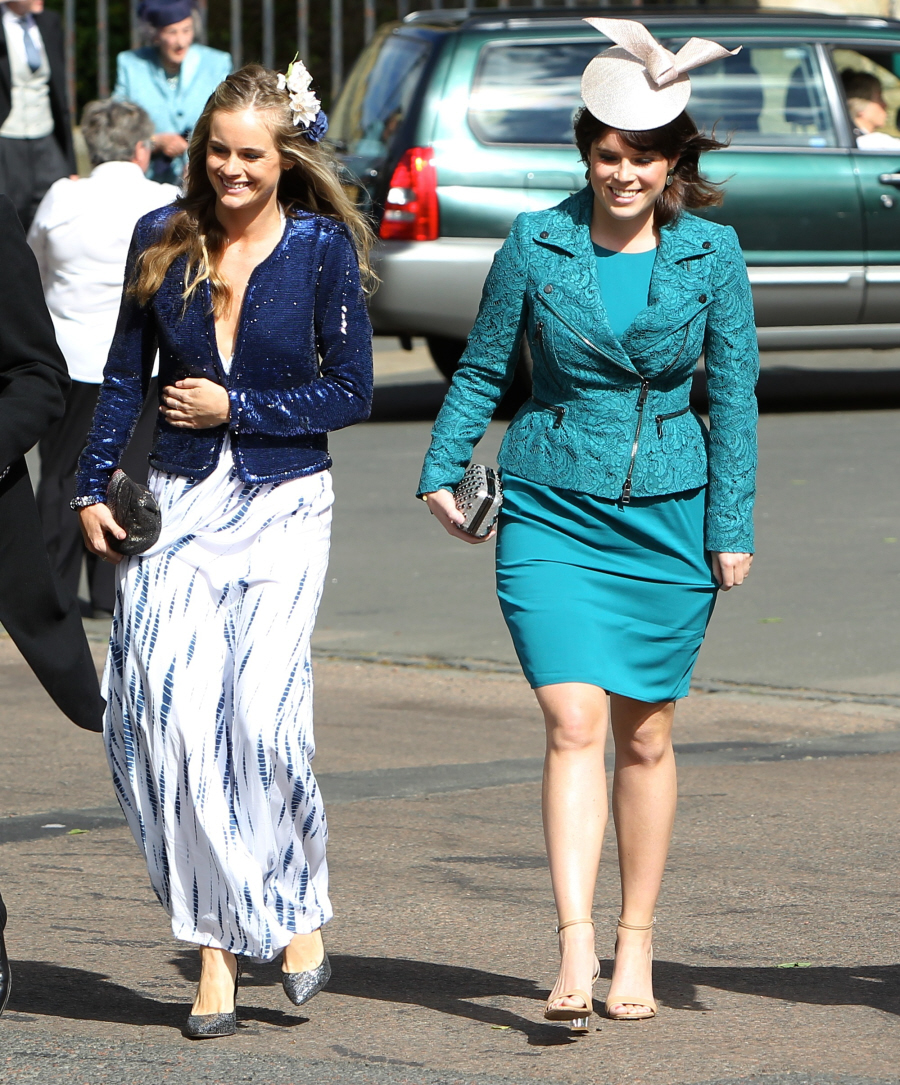 Photos courtesy of WENN.