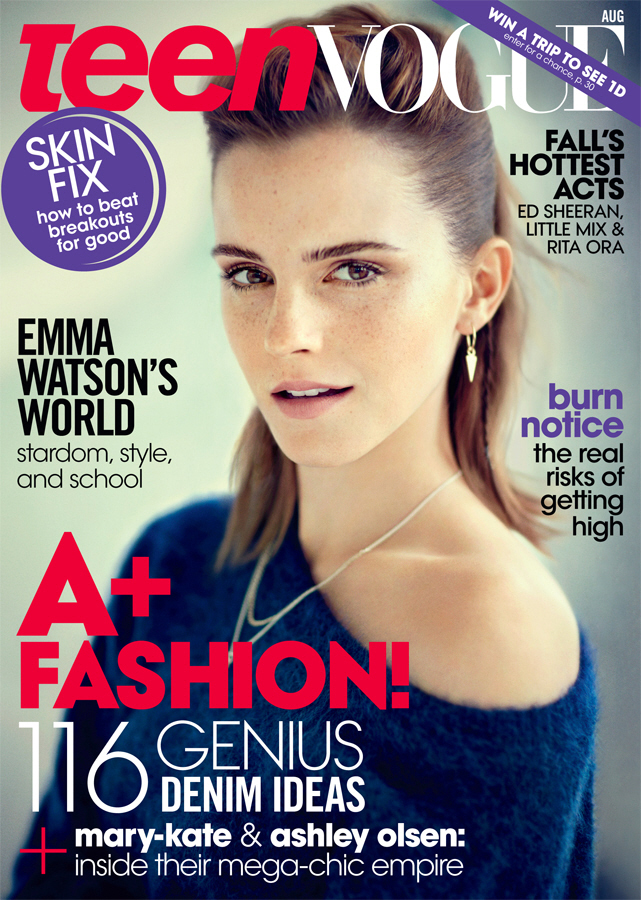 Emma Watson covers the new issue of Teen Vogue, and she was styled in kind of punk-rock (-ish) way. Her styling actually reminds me a lot of Kristen Stewart's styling when K-Stew was doing The Runaways. Sort of Joan Jett, but with some couture elements. I especially like Emma's freckles on the cover – very cute! I'm glad the mag didn't airbrush them out. I'm assuming Emma covers Teen Vogue because she's promoting The Bling Ring. Emma had a new interview with The Radio Times where she talks about the consumerism at the heart of the film:
After starring in the Harry Potter films as the very sensible Hermione, she has progressed to playing a teenager who steals designer clothes in her latest film. But it seems Emma Watson is still Hermione at heart after she revealed she has only eight pairs of shoes. And despite amassing a fortune of more than £26million, she condemned extravagant celebrity lifestyles as 'consumerism as a form of kleptomania'.

The 23-year-old stars in The Bling Ring which opens in the UK next week. It is based on the true story of a gang of teenagers who stole £2million of luxury goods from the homes of celebrities in the Hollywood Hills.

Their biggest haul came from the home of heiress Paris Hilton. The 32-year-old socialite whose great-grandfather founded the Hilton Hotels chain, gave permission to film at her home.

For Miss Watson, stepping into Miss Hilton's vast walk-in wardrobes was like walking into a department store.

Miss Watson said: 'It's almost like consumerism as a form of kleptomania. She could never wear all of those clothes and half of them were brand new and still had the price tag on. But I suppose she just bought them to have them. We've all bought things on impulse but that's an entirely different thing.'

However, Miss Watson appears to be much more down-to-earth.

She claimed: 'I've got about eight pairs of shoes and that's it.'

She went on to say she would not describe herself as a celebrity.

She told Radio Times: 'There's a whole new definition to celebrity now. And I think that's why you see a lot of actors blanching at being associated with that word "celebrity" because it's become something that isn't really associated with having a craft… But it's easy for me to sound like a total hypocrite because, of course, I'm dressed in designer clothes right now.'

Following the last Harry Potter film, 2011's Deathly Hallows: Part 2, Miss Watson has been taking an English literature degree at Brown University in the US.

Commenting on her studies, she said: 'I've always juggled my education with working and I've always liked the balance of that. I've always liked being able to go and do a film and then take a break and use my brain and do something different. I hope one day to do a Masters. But I'm just going to keep gently moving towards it and I'm not in any particular rush.'
She only has eight pairs of shoes? I could see that, but only because these celebrities get to borrow so many clothes (and then return them). So Emma can borrow unlimited pairs of Louboutins and Jimmy Choos but yes, she doesn't "own" them. That being said, I kind of agree with her. But I have the luxury of working from home and I don't have to dress up at all for my job or anything else. Which means that I have an addiction to flip-flops and slippers. I think I have more than a dozen pairs of flip-flops and slippers. Emma judges me.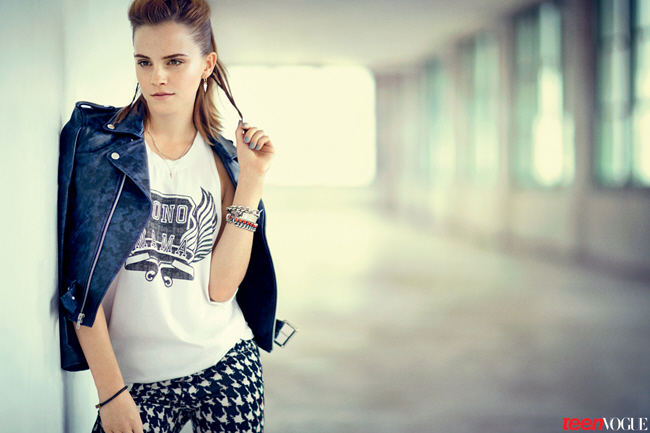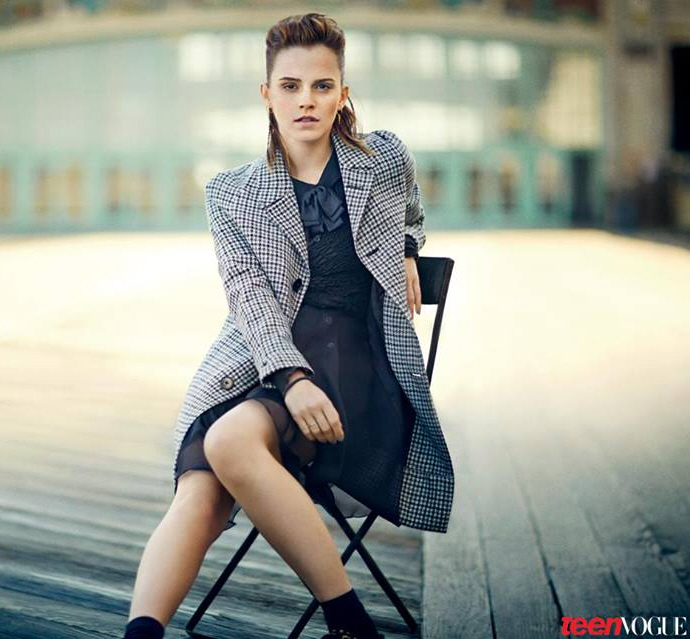 Photos courtesy of Teen Vogue.