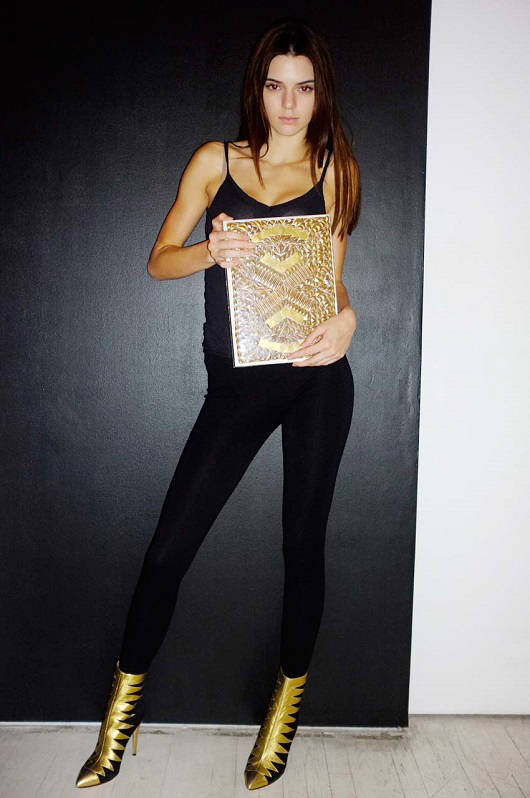 Kendall Jenner received a profile in the July issue of V magazine. The shoot is absolutely terrible even though it's not Kendall's fault at all. I'm assuming that the poor quality of these photographs was intentional because the non-existent lighting and red-eye effect are inexcusable. I guess that the stylist and crew thought they were being avant garde by leaving everything (even Kendall's make-up job) looking very unfinished.
Sadly, the interview isn't much better. Kendall and the journo discuss her young age (17) and how she wanted to be a model since age 13. They also discuss how she got involved with the Marilyn Agency, which represents her "journey" thus far. Kendall expresses a desire to be taken more seriously and to move into high fashion one day. I realize that a lot of you might jump all over her for that perceived delusion, but she's a surprisingly good model with the right styling and clothes. Since she's a Kardashian, Anna Wintour will never, ever allow Kendall in Vogue, but I think the kid nevertheless shows some promise. Here are some unpromising interview excerpts: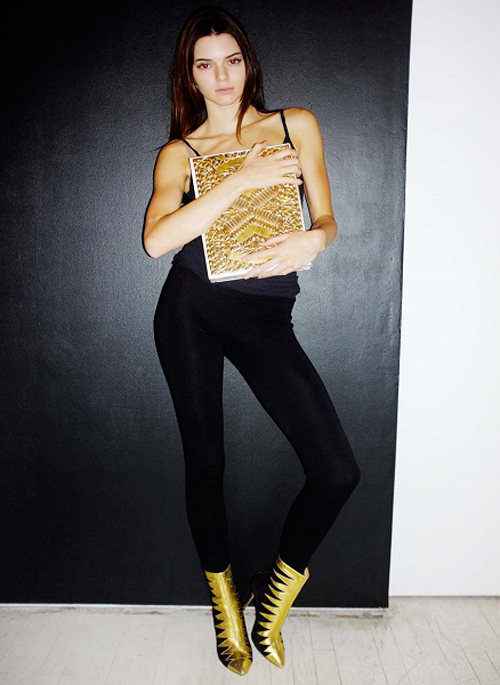 On going incognito in NYC: "I've been trying to keep it low key when I have been here, I haven't been recognized much. Taking a lot of taxi cabs, wearing sunglasses… but yeah, when I'm here with my family, everybody knows which hotel we're staying at. It's a little bit crazier. It gets claustrophobic. I like having space."

Does she want to build modeling cred? "One hundred percent. I don't think some people take me very seriously. When I started off, I was way more of a personality in modeling and it wasn't like, what I wanted to be exactly. I want to be more high fashion; I want to be more editorial, but hopefully I'll just prove myself. Chanel and Dolce & Gabbana. All those big ones are my ultimate dream."

If her agent wanted her to quit reality tv, would she? "I've never gotten that question before… Um, yeah. Probably."

She's never taken the subway: "Is it gross and hot down there?"

Is she okay? "I'm fine."
[From V magazine]
Okay, Kendall's a young girl who has grown up in a very sheltered environment, and it sounds like she'd love to eventually break free of her family's overbearing thumb, but she has no idea where to start. Give her time, and preferably, give her a journalist who knows how to ask better questions.
Here are some more flattering photos of Kendall about a week ago at the grand opening of the Sugar Factory. Well, she looks good in the last two. The one with the lollipop (which was probably Kris' idea) is wayyy too suggestive for a 17 year old.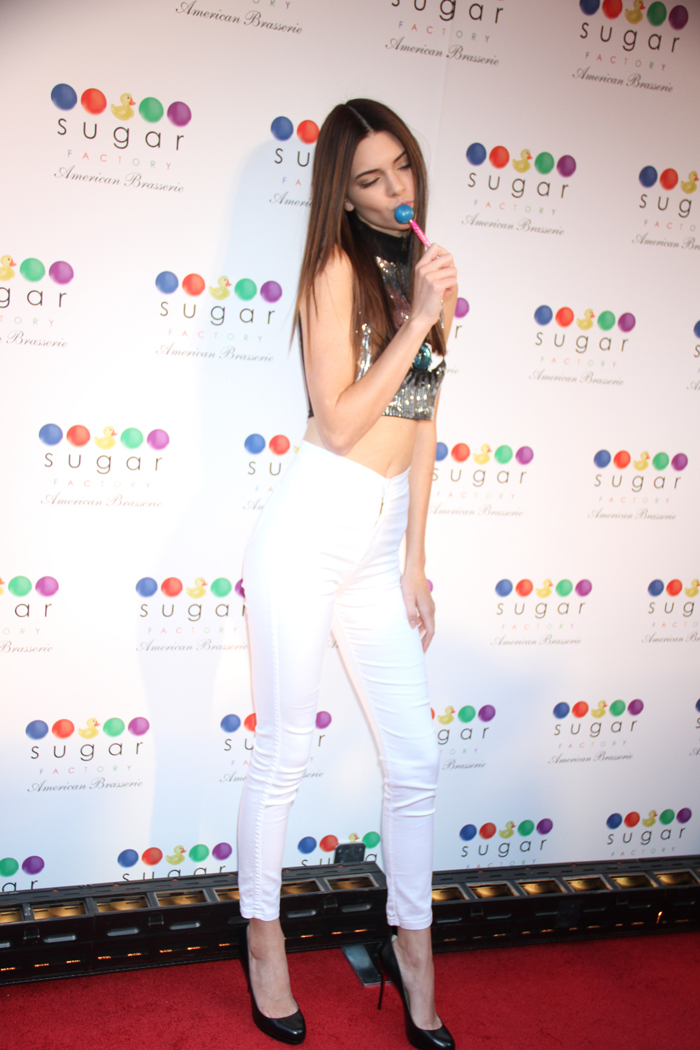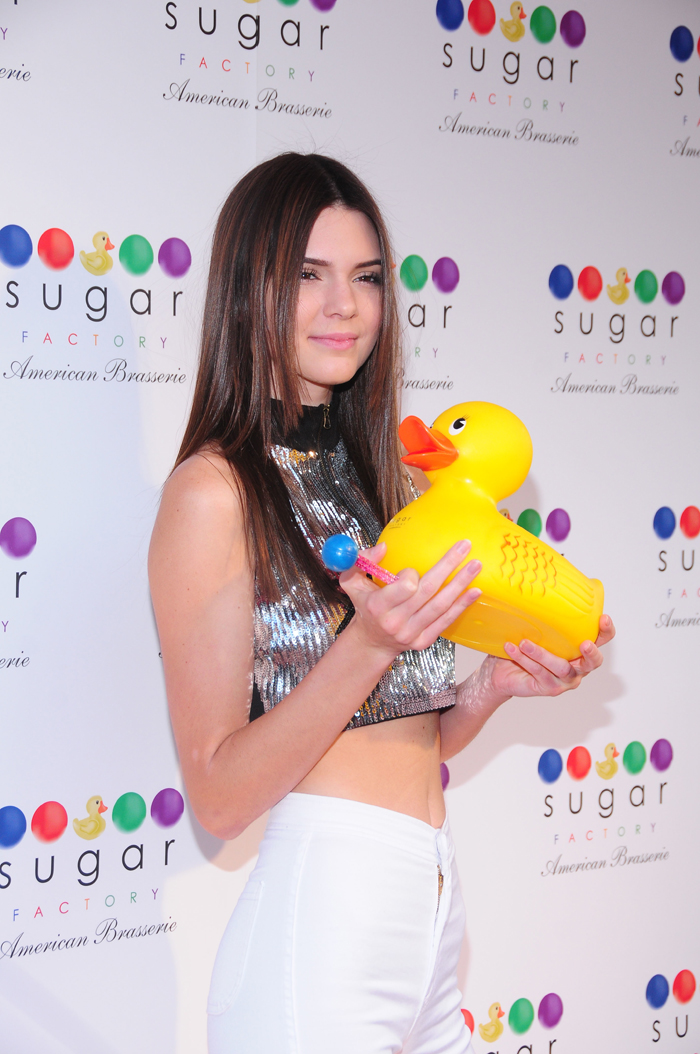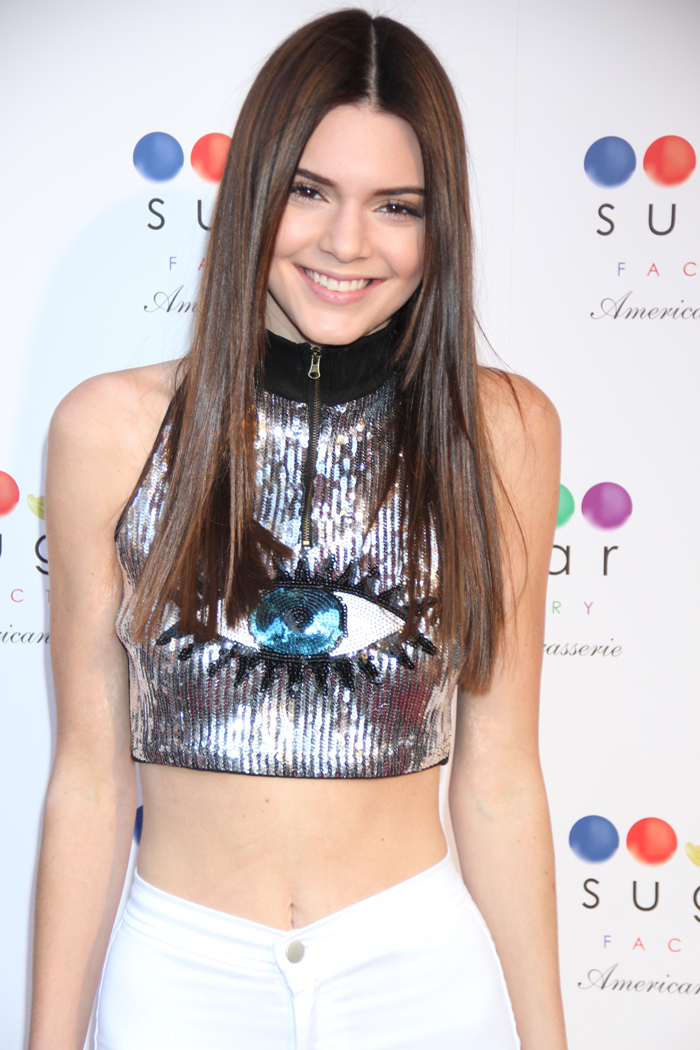 Photos courtesy of V magazine and WENN