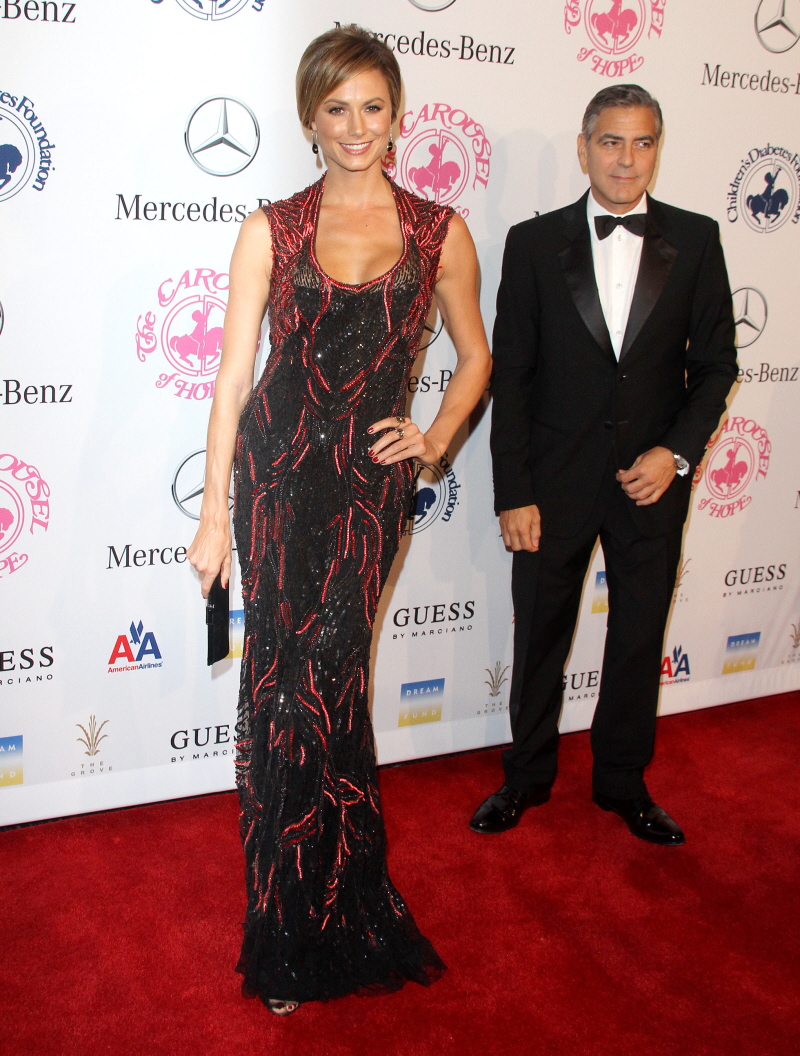 Yesterday, I started out covering some random UK tabloid story in which "sources" claimed that George Clooney was slowly backing away from baby-hungry Stacy Keibler. Then, just a few hours after I wrote the lines "What bugs me, however, is that George hasn't confirmed anything. Usually he's pretty good at getting the word out either way, and it just seems like Stacy is clinging and he's letting her cling to this idea that they're still sort of together," George and Stacy confirmed that they had in fact broken up. The official line is that Stacy wanted babies and George did not and that SHE dumped HIM. Which no one really believes, but sure, let's play along. Us Weekly's sources go even further and claim that the decision to breakup up was mutual and mature. Sure.
George Clooney and Stacy Keibler's relationship had been on the rocks for months, multiple sources tell Us Weekly. "It's been slowly falling apart for awhile," one insider explains. "Stacy knew George was not the man to settle down with."

According to another source, the decision to call it quits wasn't an easy one. "Stacy and George have been having ongoing discussions in the last few weeks. It wasn't a one-sided decision. No one got dumped," the source says. "They both discussed it and realized it was better that they split."

The pair's biggest issue, the insider says, was that "they haven't been in the same country for a long time. They are both working and haven't seen each other. You can't have a relationship with someone that you don't see." Neither stars have any regrets about the breakup, the insider adds: "They know this is for the best."

The Gravity star, 52, and the Supermarket Superstar host, 33, were first linked in July 2011. The pair became inseparable in the following months, making their red carpet debut at the Toronto Film Festival and attending high-profile events like the Golden Globes and the Academy Awards.

After spending the summer of 2012 at Clooney's famed Lake Como compound in Italy, the pair were rumored to have split in September. Clooney's rep denied such reports, telling Us at the time rumors of a breakup were "not true."

Though Keibler joined Clooney during the recent awards season circuit (he co-produced Argo with Ben Affleck and Grant Heslov), sources said the two were drifting apart. "They have little in common," one source told Us in March. "She likes to go out and have fun. She's been feeling the age difference." Another source predicted the split was inevitable: "The end is near. It's a matter of time."
Stacy didn't make it two years. Which is pretty much in the standard range for George's Girls. They usually last one to two years, rarely longer than that. They got together in late July/early August of 2011 when George invited her to Lake Como, and then came the Toronto Film Festival and a parade of cocktail waitress styles and some really, really bad hair. So, when will Clooney arrange for another girl? Does anyone want to place bets on what her job description will be? George loves 'em when they're really trashy and D-list. I'm saying the new girl's job description is going to be "part-time lingerie model and bartender". I'm also getting a feeling that the next girl won't be American. He's going to go for… maybe another English girl? That should be interesting.
Let's play a new game! Let's name all of the stuff we think Stacy managed to get out of George. I believe the reports from several months ago that George bought her a condo, and she gets to keep all of the jewelry he gave her. She got a new agent and she's got a reality show. I bet she got to keep all of the clothes he bought her throughout the course of the relationship too, plus lots of purses and shoes. But… did he give her a cash payout, (which is what I believe he did for Elisabetta Canalis)?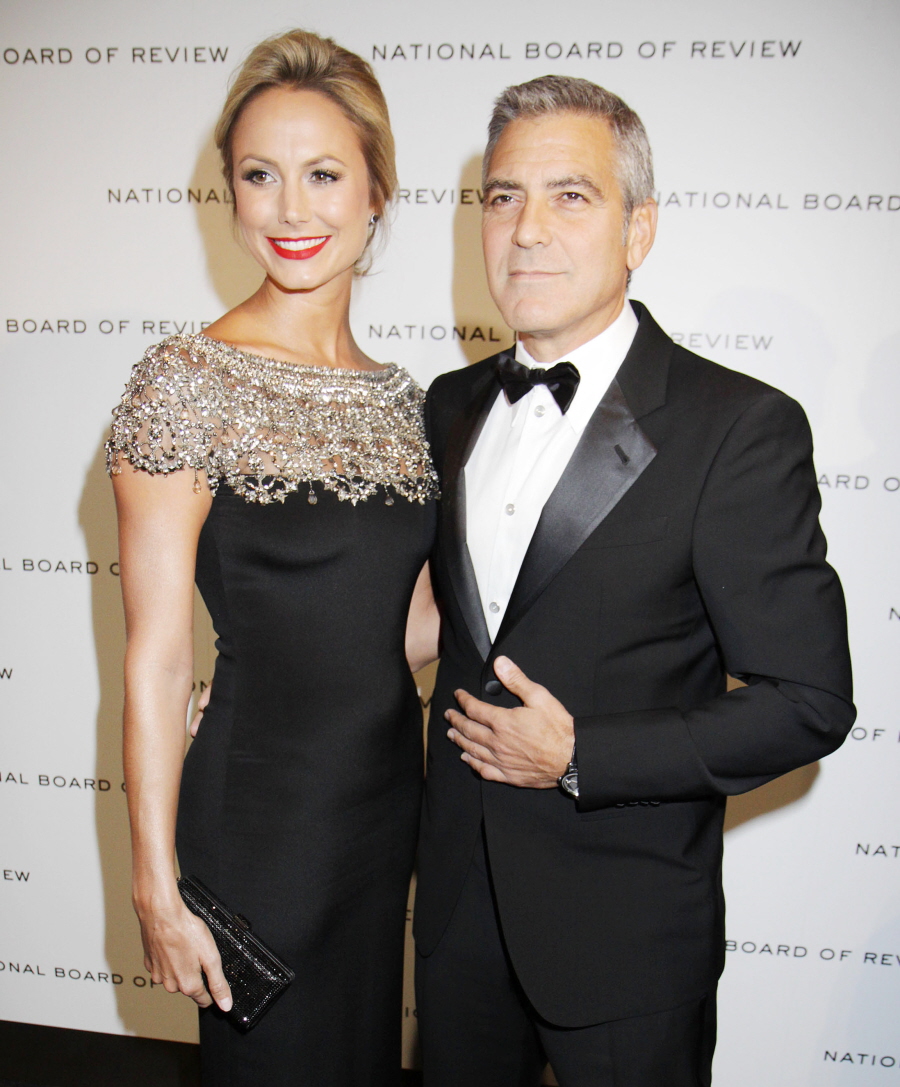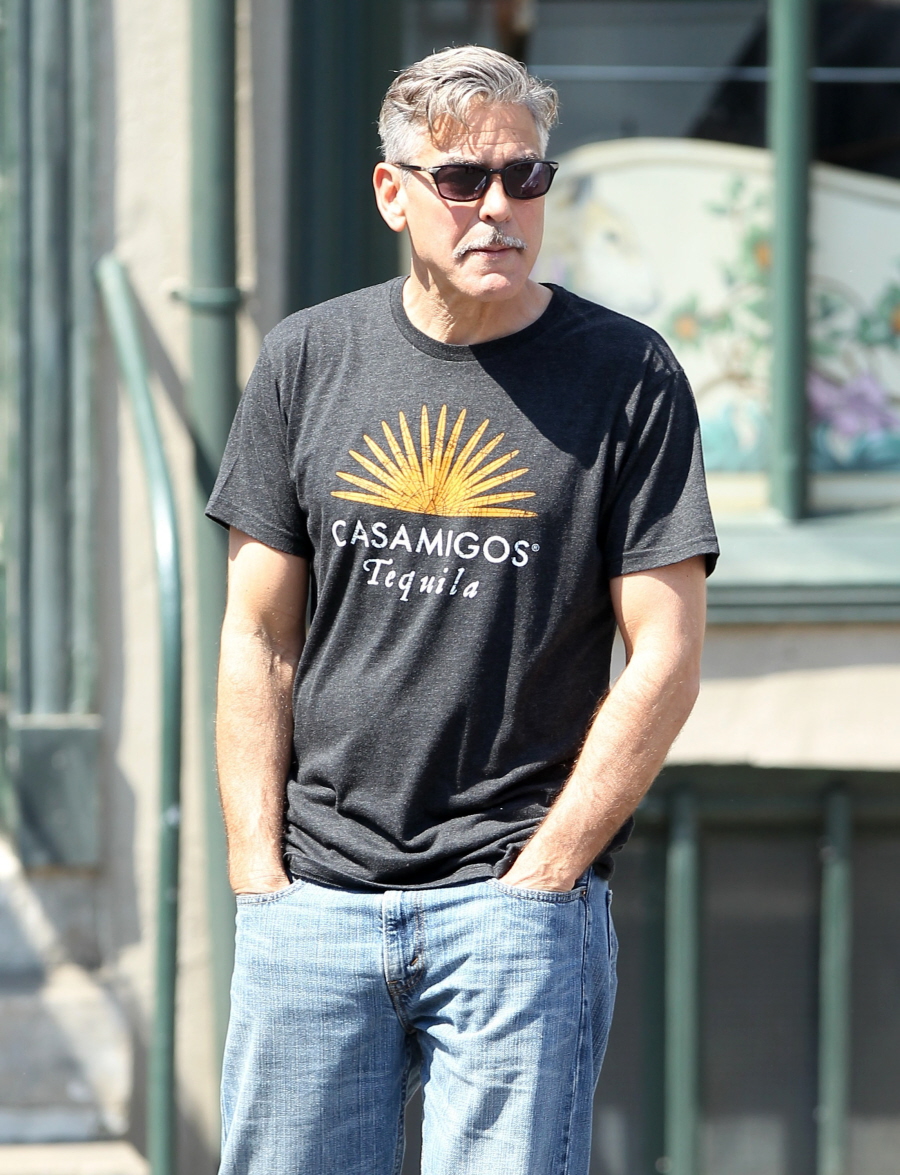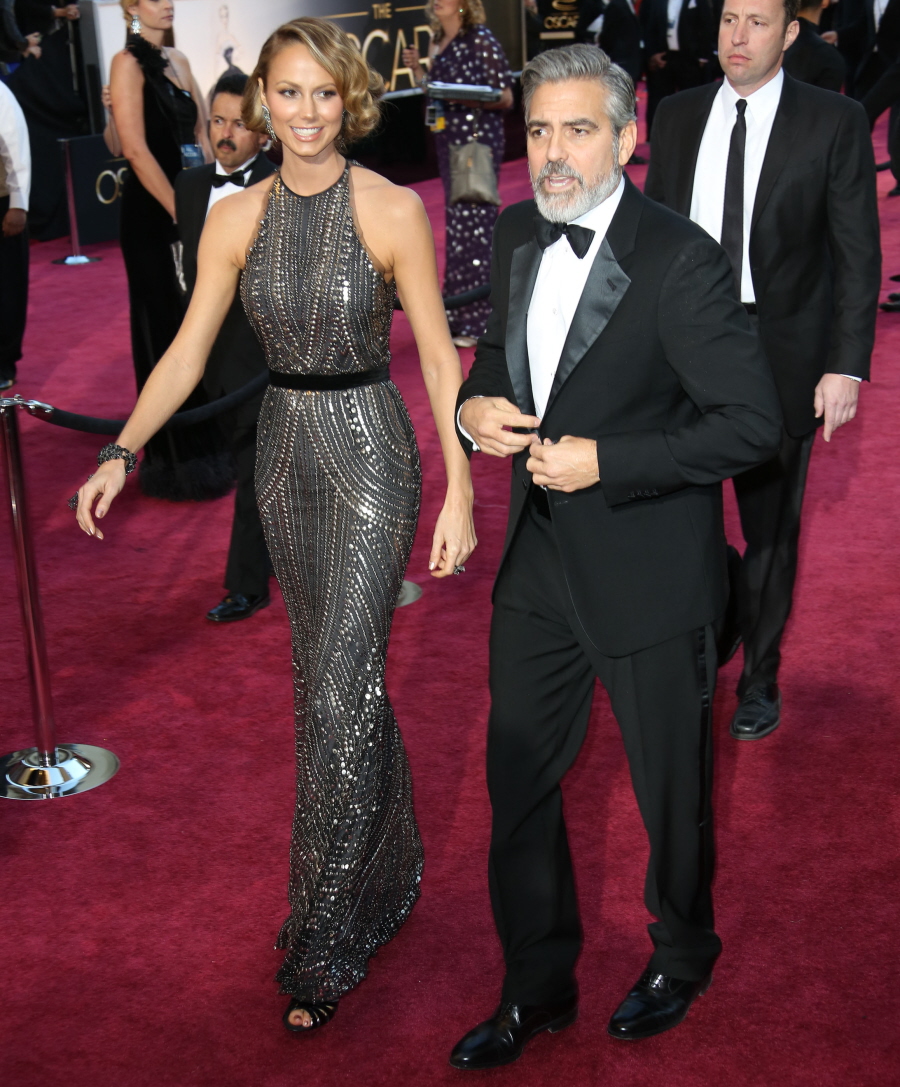 Photos courtesy of Fame/Flynet.