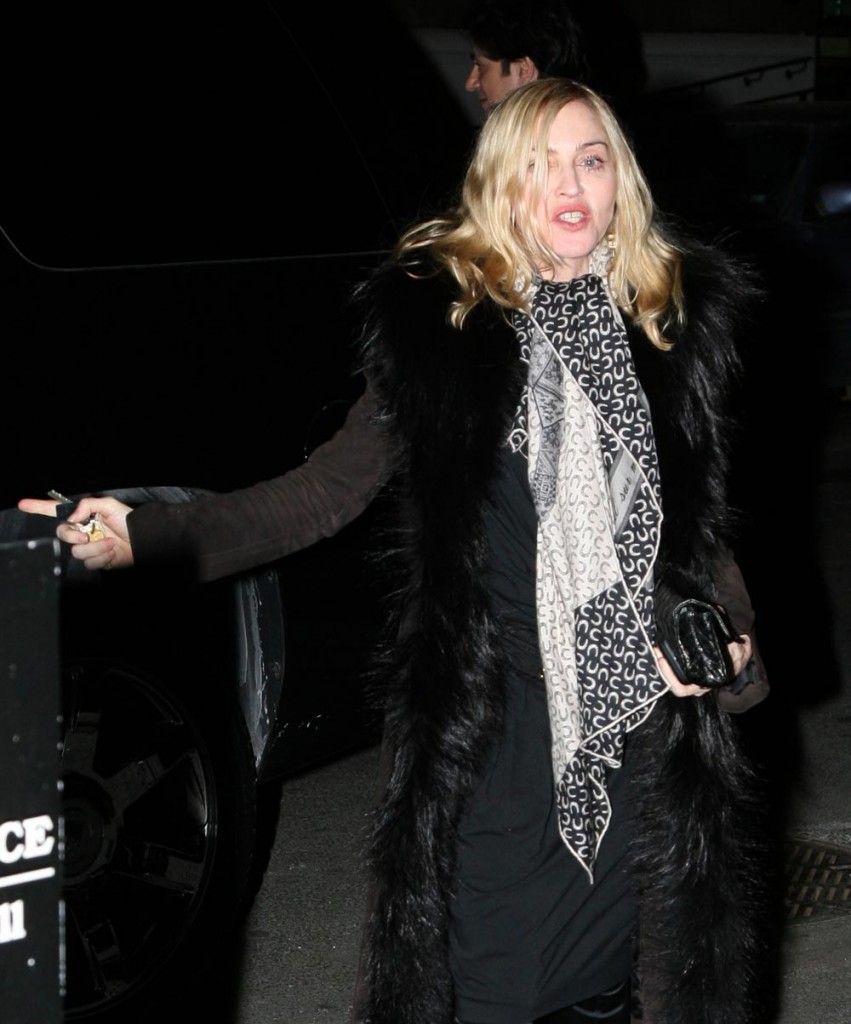 Even after her large alimony settlement, Madonna still has more much money than she knows what to do with. Daisy Trayford, a British horse trainer, sold two horses to Madonna last year and began a professional and personal relationship with the pop superstar. She says that as well as teaching Madonna, she has also gone for drinks and to parties with her.
Now, in true rich diva fashion, Madonna has put Daisy on a 24-hour notice to fly out to Florida and coach her for the FTI Winter Equestrian Festival. I guess Madonna finding solace in riding horses competitively now that her marriage and latest relationship have dissolved.
"She had the horses on trial and asked if I would go down and help get her going on them," said Daisy. "The first year it was really busy. Last year was more difficult because she was on tour, but I was there most weekends, fitting it around my eventing."

Madonna flew one of the horses, all-rounder Boris, out to America six months ago and last week he was joined by the second one, young eventer Sportsfield Silver Lining.

"As soon as he's there and settled in she wants me to go out," said Daisy, who says she will probably get 24hr notice to fly out on Thursday or Friday.

Madonna has also bought two other horses from Daisy and Richard, who are at livery at Exmoor Eventing.

Daisy describes teaching Madonna as "really good fun".

"She's a dream pupil," she said. "She's very driven, listens to what you say and just wants to do it and improve. You can always get somewhere with someone like that.

"When I started teaching her she hadn't jumped at all and now she can jump a course of 1.05m. Jumping and hacking are her two favourite things."

Daisy says she wasn't starstruck when she started coaching the star, taking it as "just another chore".
[from Horse and Hound]
One has to wonder, though, whether or not Daisy is as fond of Madonna as the article lets on. As well as a "driven" woman, Madonna also seems like the kind of woman who would quickly fire anyone who spoke of her in anything other than glowing terms. And if she's not starstruck, why give an interview about a celebrity pupil? Using Madonna's star power to generate publicity, perhaps?
Madonna really is a piece of work. Daisy not only had to work around Madonna's tour schedule to coach her, but she's now effectively on call. Let's hope her salary makes it worth it. On the other hand, Madonna sounds like a stellar student, which isn't surprising at all. She's the kind of woman who gets what she wants, and when she sets her mind to something, she's going to make it happen – including those pesky meter-high jumps.
Picture note by Celebitchy: Madonna is shown leaving the Waverly Inn in NY on 1/15/08, where she had dinner with Gwyneth Paltrow, and Jerry and Jessica Seinfeld along with an unknown man. Why is it that the a**hole celebrities always stick together? Credit: Splash News