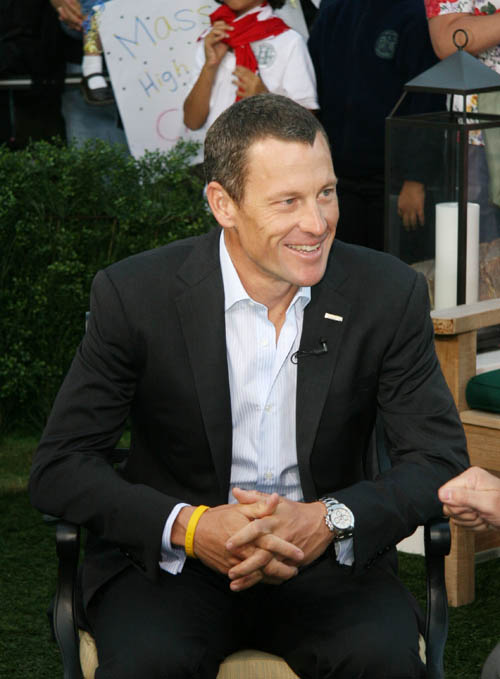 Lance Armstrong, 37, has proposed to his pregnant girlfriend, Anna Hansen. It will be the athlete's third engagement and his second marriage. Armstrong has three children with his ex wife, Kristin Richards: Luke, nine, and twins Isabelle and Grace, eight. All of Lance's children were conceived through artificial insemination using sperm he banked before undergoing treatment for testicular cancer in 1996. His latest child was conceived naturally after it was thought that he was infertile, suggesting that it was an accidental pregnancy.
According to the upcoming issue of In Touch, Armstrong staged a romantic proposal on the beach:
Cyclist Lance Armstrong is going to make an honest woman out of his pregnant girlfriend, Anna Hansen, according to In Touch Weekly.

The magazine sources one of his pals, who claims Armstrong asked Hansen to marry him during a recent trip to Hawaii.

"Lance proposed on the beach," the friend told the mag. "Although he has a reputation as a ladies' man, he's also very traditional, and just feels more comfortable being married before having a baby."
[From MSNBC's The Scoop]
Armstrong retired from professional cycling in 2005 after a record breaking seven Tour de France wins, but it's not over for him yet. He announced his comeback last fall and will compete in the Tour de France this year. Armstrong spent the last three years focusing on his philanthropic and cancer advocacy work, but also kept up his physical fitness by competing in the marathons in NY and Boston in 2006, 2007, and 2008. He'll soon have even more responsibility in his life as he welcomes his fourth child with a new wife.
Lance Armstrong is shown on 9/24/08 on CBS' Early Show. Credit: WENN