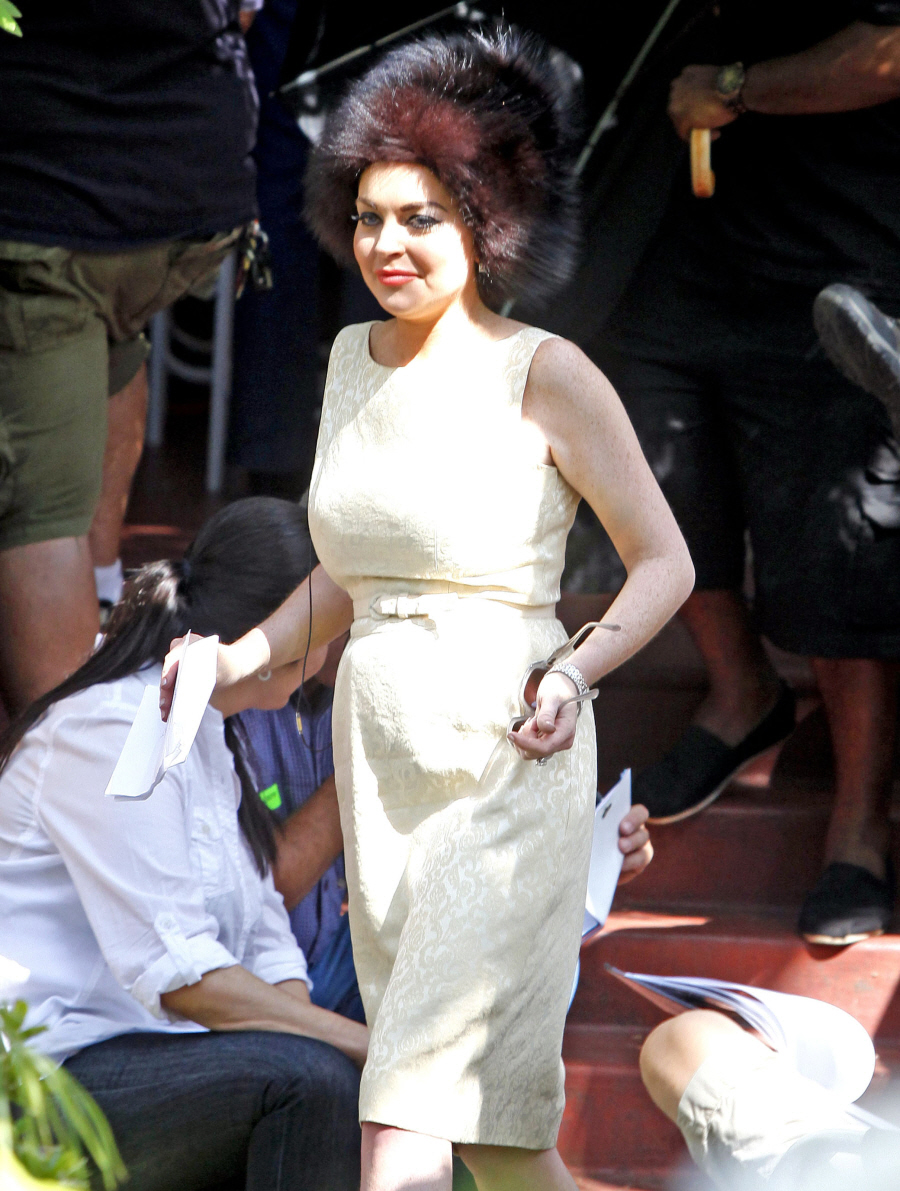 The countdown has already started. I'm giving Lindsay Lohan two whole weeks before she does something incredibly crackie, like fall out of a club covered in cocaine or something like that. Place your bets. After pushing all of these "Lindsay is taking her sobriety so seriously, she's going to stay in rehab extra days!" stories, Lindsay left rehab late Tuesday and she made sure to get pap'd in a "cute" outfit of course. Apparently, she's all legit now. Except for therapy. She's going to need a lot of therapy:
The rehab facility that Lindsay Lohan has called home for weeks sent a letter to the judge in her probation case … saying LiLo will lapse back into drug and alcohol abuse if she doesn't get more court-ordered therapy … and guess what, the judge agreed.

TMZ obtained a copy of the letter from Cliffside Malibu, in which CEO and founder Richard Taite tells the judge, Lindsay needs 3, 50-minute sessions a week for the next 15 months (18 months from last May). Then Taite gives an ominous warning: "If these sessions are not required by the court and attendance verified once a month to ensure accountability, it is a set up for almost certain failure."

The judge agreed in open court this morning, and ordered that Lindsay stay in therapy and prove a year from November that she's complied. Meanwhile in court, Lindsay's lawyer Shawn Holley showed up with proof Lindsay successfully completed her 90 days of rehab.
Three 50-minute sessions a week… I don't think I could talk about myself that much every week. I would probably fill that time with gossip. Gossip about Lindsay Lohan. Obviously, I would need a therapist who liked talking about celebrities. Anyway, Lindsay so isn't going to take the therapy part seriously at all. She'll find some hack who will agree to meet Lindsay at a bar and their "therapy sessions" will involve tequila shots. Either that or Lindsay will counter-offer one beej a month for glowing therapy reports.
Yesterday, I discussed the rumor/report that Lindsay was up for a role in Ben Affleck's new movie Live By Night. The rumor was started by Roger Friedman, a respected film/gossip reporter/columnist, although the rumor did have the whiff of boozy Dina Lohan. Well, Ben Affleck's people are shutting it down hard:
Well, that didn't take long. Within hours of her release from a 90-day, court-mandated stint in rehab, Lindsay Lohan has already made a return to the rumor mill — in the form of erroneous casting stories.

According to reports, the troubled starlet has already been in talks to take on a role as a waitress with a heart of gold in Ben Affleck's upcoming project, Live by Night. But, a source close to the movie tells Us Weekly, the rumors couldn't be further from the truth.

"It's not true," the source said. "First off, no one has been cast. [Lohan] will not be cast in any role in the movie. She is not being considered for any role in the movie. She won't be in the movie."

Lohan, 27, made plenty of headlines in the lead-up to, filming of, and aftermath of her last movie, The Canyons, but is in no rush to jump into the next project, having even reportedly booked a one-way ticket to Europe, according to TMZ.

In an interview with Piers Morgan prior to her stint in rehab, Lohan admitted that she thought traveling would benefit her more than being confined to a building.

"I think there are other things I could do instead of going to a rehab center that would benefit me more," she said at the time. "The best thing they could do for me would be to make me go abroad to different countries and work with children."

She will next take part in an eight-episode docu-series on Oprah Winfrey's OWN network, as well as guest-host with outspoken Chelsea Handler on her show, Chelsea Lately.

"Lindsay seems totally fine, her inner circle really do think that this time she is legit getting her act together," a source close to the actress told Us. "In all honesty, yeah, she has had her bad moments and made some bad choices, but when you get to know Lindsay, she is really a powerful and captivating woman when you hear what she has to say."

"I wish more people were able to see that side of her, but it looks like she's on her way!" the source added.
That source sounded like boozy Dina to me again! As for the Affleck stuff… obviously. Obviously the guy who just won a Best Director Picture Oscar is not going to cast Lindsay Lohan in his next movie. What's funny is that Affleck (or the "source") feels the need to be SO extreme with shutting it down. It's not just "this rumor isn't true." It's "This rumor is not true and it will never be true because Ben Affleck would never, ever, EVER consider hiring Lindsay Lohan." You have to shut it down like that with her. If you hedge and leave some room for interpretation, she'll leech her way into more stories, more drama, more crack foolery.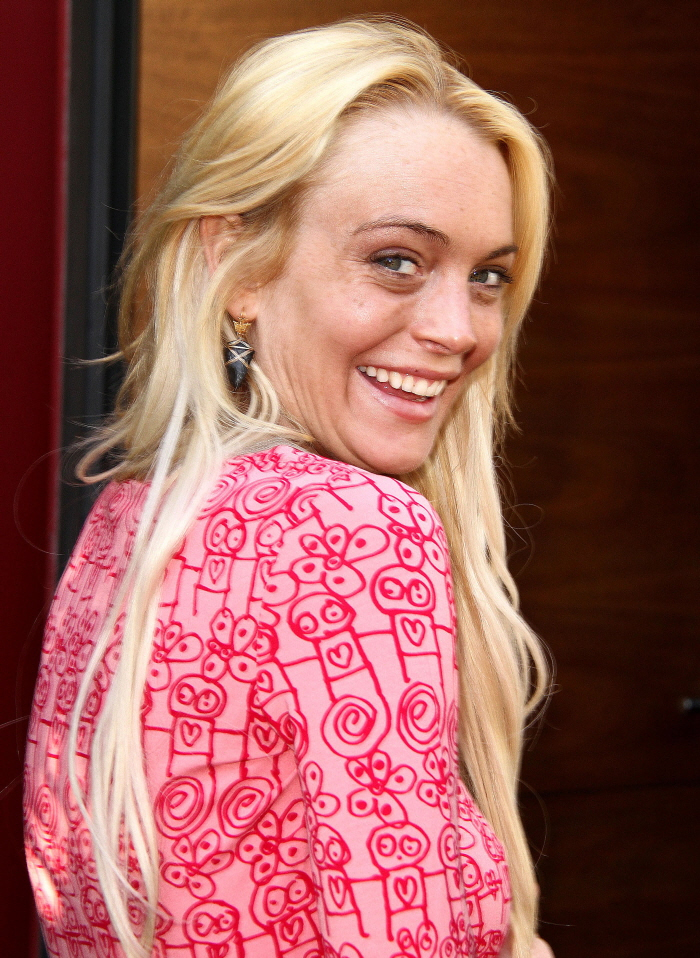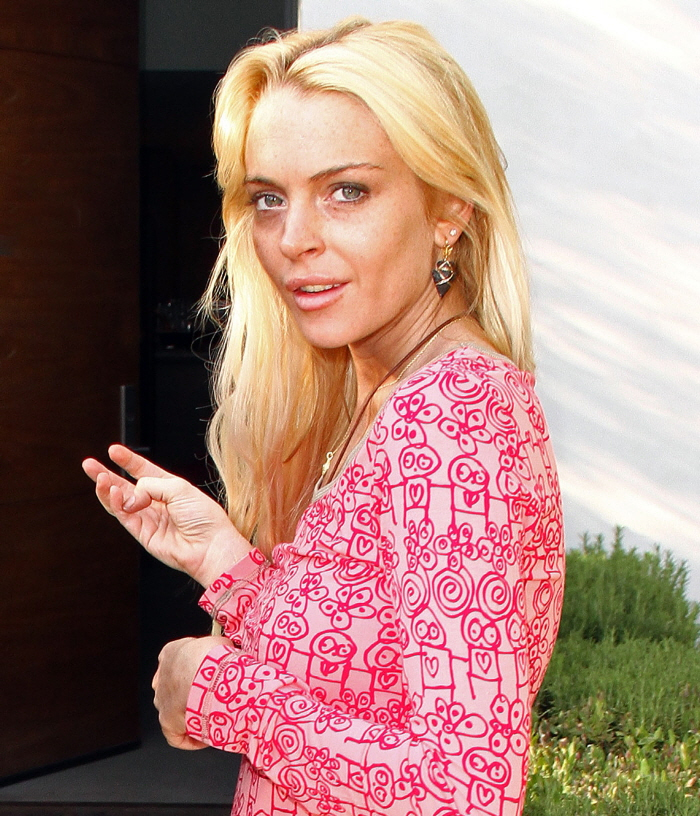 Photos courtesy of Fame/Flynet.