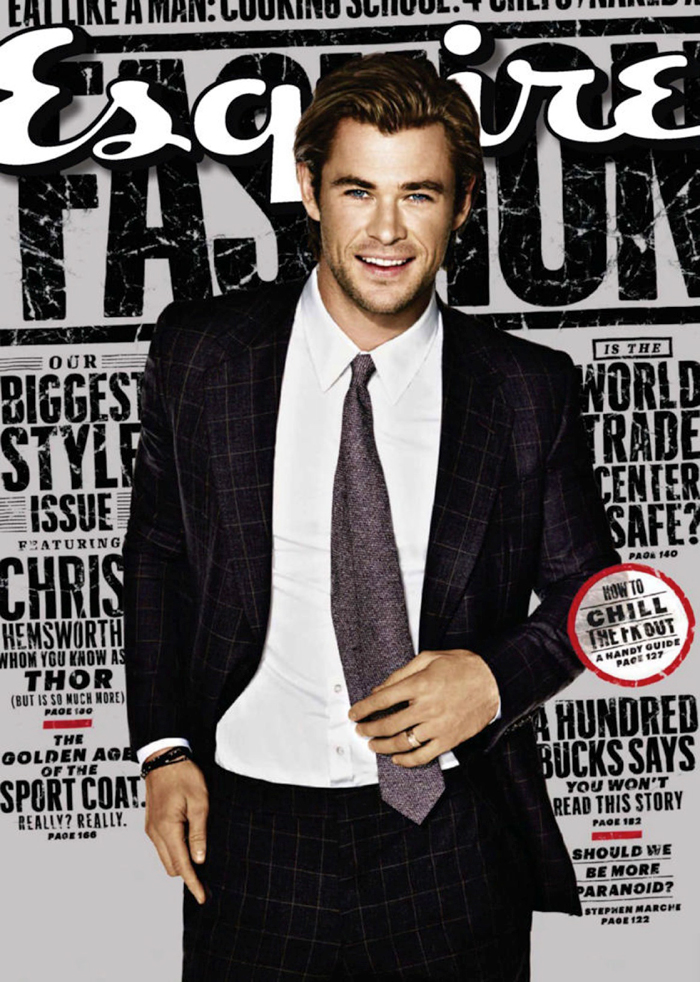 Chris Hemworth covers the September issue of Esquire to promote his role in Ron Howard's Formula One film, Rush. Since this is Esquire, Chris looks all metrosexualed up instead of at his scruffy best, but he does clean up pretty well. His rather lanky form is probably a symptom of the weight loss required to properly fit into a race car for the movie. To be certain, I prefer Chris' bulkier Thor physique, but I certainly wouldn't turn him away in any form. Elsa Pataky is one lucky woman. Grabbing a Hemsworth these days is like scoring a mid 1990s Baldwin brother. Hopefully, the Hemsworths will age in a much less ragey manner than their predecessors.
Speaking of Elsa, she sort of hijacks this interview, but it's actually a funny story. To be absolutely fair, Chris and this journo were not vibing well together. The journo keeps hinting for Chris to take him for a Saturday joyride while the poor guy just seems exhausted from his long workweek (and chronically packed schedule) while he, Elsa, and little baby India are recharging their batteries at a borrowed beach house. So in a roundabout way, Elsa is taking some of the pressure off of Chris to deliver. In fact, if Elsa hadn't decided to muscle in, this would have been a total snoozefest, and now we at least have something to talk about with this photoshoot. What did Elsa do, exactly? She presented the journo with an autographed cover of her Women's Health "Great Butt" issue. Then she fishes for compliments, which is just an awe-inspiring move:
On his version of Thor: "You talk to the comic-book fans, people who've been there since the beginning — you know, since the sixties — and you realize the religious significance of this thing. And there is a kind of work that follows. You do your research. You listen and learn what you can. But then you let go. Eventually you're down to it. You gotta make this guy your own. The challenge in the first installment was this fish-out-of-water quality, this naivete about everything that makes up earth. That was a familiar dynamic to me. A Crocodile Dundee thing, really. A stranger arrives at your shore. He's in foreign territory, out of his element, with his own set of tools. Very powerful in one world, stripped of that power in the next."

On slimming down for Rush: "Thor is large. For that I had to add some muscle, which hasn't been all that hard so far. I like training just fine, thanks. But to play a Formula One driver, I had to drop quite a bit of that. You know, slim down. First time I looked at a Formula One car in person, I just stared at the cockpit, figuring I'd never get in there. The drivers wear the whole car like a tight-fitting suit. So I just started training differently, shedding all that Thor. I've come to see size as just a kind of prop."

Elsa gets interviewed too: Pataky sits at the table and tells tales about The Fast and the Furious. Just now she's on the cover of Women's Health, turned at her hips, with the words "Great Butt!" and a giant red arrow pointing to that very butt. She signs one for me, slides it across the table, and asks, "What do you think?" The autograph? The butt? The cover shot? Who wants to answer that? Hemsworth, his hands folded behind his head, seems to understand. "It's great," he says, gracious and aware. "It's a great butt, honey." She is pleased to hear it, particularly from him. "Good," she says. "Very good answer."
[From Esquire]
Elsa really has Chris where she wants him, and it sure sounds like he wants to be there too, right? She certainly is gorgeous (with an admittedly enviable booty), and Chris seems like he's perfectly content to share some of his spotlight. Really, I'm not trying to throw too much shade at her because, obviously, she turned this pretty uneventful discussion into something amusing. Chris really isn't a good interview at all, and Elsa felt hungry enough to speak up here in his absence. That seems like a good match to me.
Cover photos courtesy of Esquire