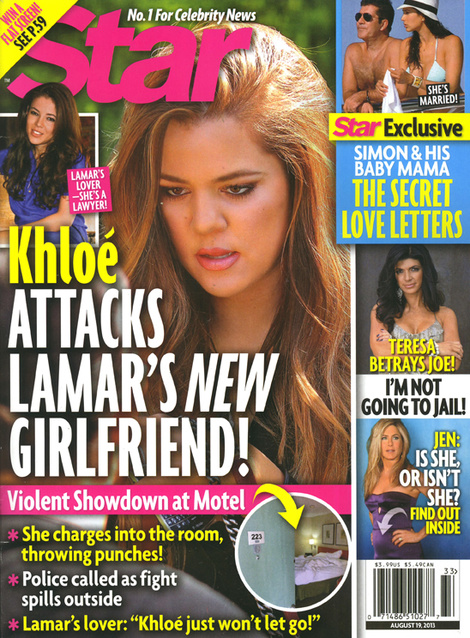 About a month ago, multiple tabloids reported that Lamar Odom had a nearly year-long affair with a woman named Jennifer Richardson, who sold her story to Star Magazine. Jennifer had plane tickets, game tickets and other receipts as evidence of the affair. It was even reported that Lamar's wife of four years, Khloe Kardashian, confronted Jennifer courtside at one of his basketball games and told her to stay away from Lamar. For his part, Lamar tried to claim that Jennifer was just a groupie and that they had nothing going on.
That alleged relationship was said to have ended in February, which may explain why the woman went public with the story. Well now there's another woman who claims to have had a more recent affair with Lamar. She has a wild story of Khloe and her mom, Kris, confronting her at two hotels where she was holed up with Lamar, and at her own apartment.
A lawyer named Polina Polonsky claimed that she was with Lamar for about six weeks, which coincided with the time that he was staying at the Roosevelt hotel. (When Khloe kicked him out after she learned about the affair with Jennifer.) She also said that Khloe and Kris conspired to harass and intimidate her. I'm quoting two stories from Radar here as they give a more complete timeline.
Gorgeous brunette lawyer Polina Polonsky tells [Star Magazine], on newsstands Wednesday, that she had a six-week affair with Lamar, 33, earlier this summer.

What's more, RadarOnline.com has learned she even passed a polygraph test regarding the claims!

Polina alleges that she and Lamar first met on June 2 at L.A.'s Roosevelt Hotel and according to her, the NBA star had been living at the plush hotel for a week, at that point, as his marriage struggled.

"I was under the impression that he had left Khloe, and that's why he was living at the Roosevelt," she explains. "He acted completely available and we definitely had a mutual attraction."

Their flirtation escalated during meetups at the Roosevelt over the next week, and by June 9, they had their first kiss.

On June 13, they consummated their relationship at Polina's apartment, she claimed.

"After we had sex, Lamar stayed the night with me," Polina told Star. "The next day we went back to the Roosevelt. I stayed there with him for the next couple of nights."

It wasn't long, Polina says, until Khloe found out. And she was not happy.

On June 21, while Polina was at her apartment, Khloe and her momager Kris Jenner allegedly stormed the Roosevelt to confront Lamar and his lover!

According to Polina, Lamar told her that, while looking for him, Khloe and Kris banged on the door of the wrong room. When there was no answer, she claims, outraged Khloe even broke the door in!

Lamar, disgusted by Khloe's behavior, went to stay with Polina on June 22, she says, and stayed there almost every night until July 8.

But even that hideaway offered no respite from Khloe's rage, claims Polina.

On June 25, Polina says, Khloe and Kris showed up yet again. "I couldn't believe they found where I lived and came to my apartment!" Polina explains. "They were knocking on the door, but Lamar refused to answer …

---

Criminal defense attorney Polina Polonsky spoke to Star magazine about her alleged six-week affair with Lamar — and passed a polygraph test — telling the tabloid that Khloe showed up to the room she was sharing with Lamar at the Vagabond Inn on July 13.

Polina claims, "She's investigated my loved ones, and she personally tried to attack me. I can't even go home, because I'm scared that something bad will happen.

"I want my story to be made public."

After spending the night together on July 12, Polina says Khloe showed up at the Downtown LA motel at 5:30 a.m. the next morning screaming, "Open the door now, or I am calling the police!"

"I told her to leave, but she refused. I called the front desk and asked them to call the police because I was so scared, but no one ever came," she said.

"While Khloe was screaming outside the door, Lamar was calling people to come and get her," Polina claims.

"She was out of control. The whole scene was so frightening — and I couldn't understand why we were hiding, because he made it clear that he didn't want to be with her!"

Eventually Polina says Lamar opened the door for Khloe.

"Khloe charged into the room and began swinging at me…she tried to attack me! Lamar had to grab her by the hoodie and pull her back. She is way bigger than me. It was terrifying," Polina said.

"Lamar took her into the hallway, and I shut the door for my own safety. I could hear them screaming at each other, and I kept banging on the door telling them to leave before they got arrested. As soon as they left, I left — I couldn't stay there after all the craziness."
[From two articles on Radar Online]
What I want to know is, why fight for a marriage after realizing that the other party has been cheating with multiple people? Khloe probably hired a private detective so she must have a ton of evidence that Lamar is cheating. I get maybe wanting to work it out with the guy and assuming that it was a onetime thing, but at some point the wife has to realize that her husband is a cheater and that it's not the other woman's fault. It sounds like when these incidents happened that Khloe was still deep in denial and so angry that she took it out on the mistress. I understand that it's painful and that she thought she was going to be with Lamar forever, but at some point she will have to face reality.
That may be happening for her. Radar quotes a source who says that Khloe "has been crying hysterically. Kris has been trying to calm her down, but Khloe seems to know in her heart that Lamar has been indeed cheating on her. Lamar is Khloe's entire world, and she can't understand why he would cheat on her. It's really, really sad, because she loves him so much." It sounds like she's a little further in the stages of grief. It's just sad all around, and Lamar is the one who deserves the blame for being a sneak and a cheat.
Khloe on 7-12-13. This was right before she attacked the other woman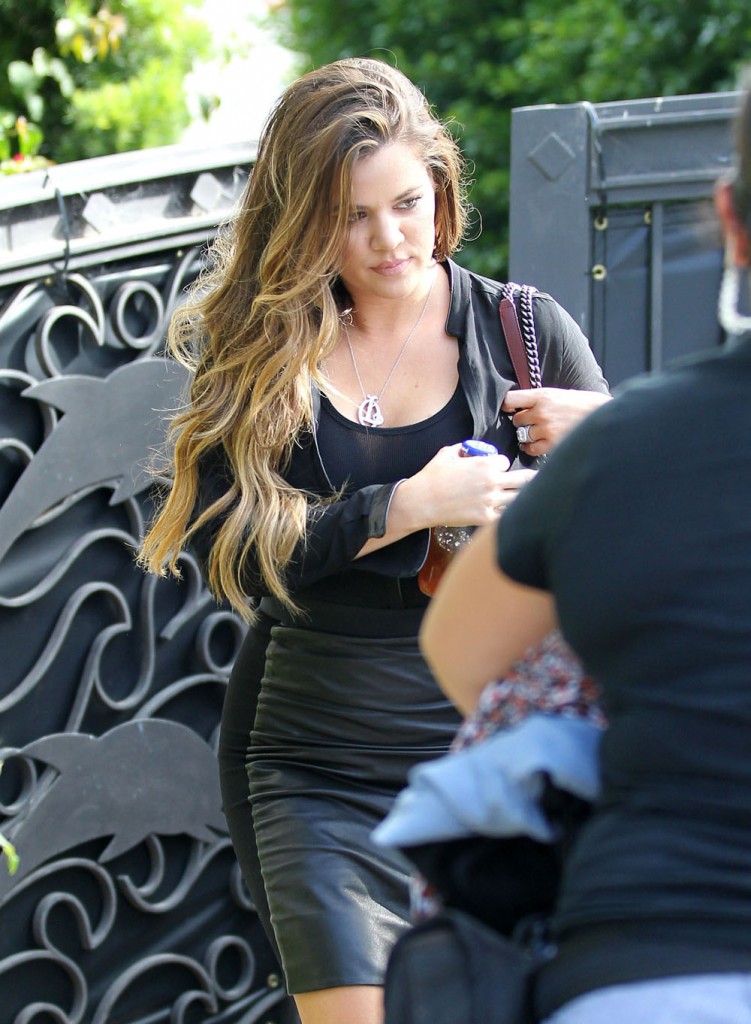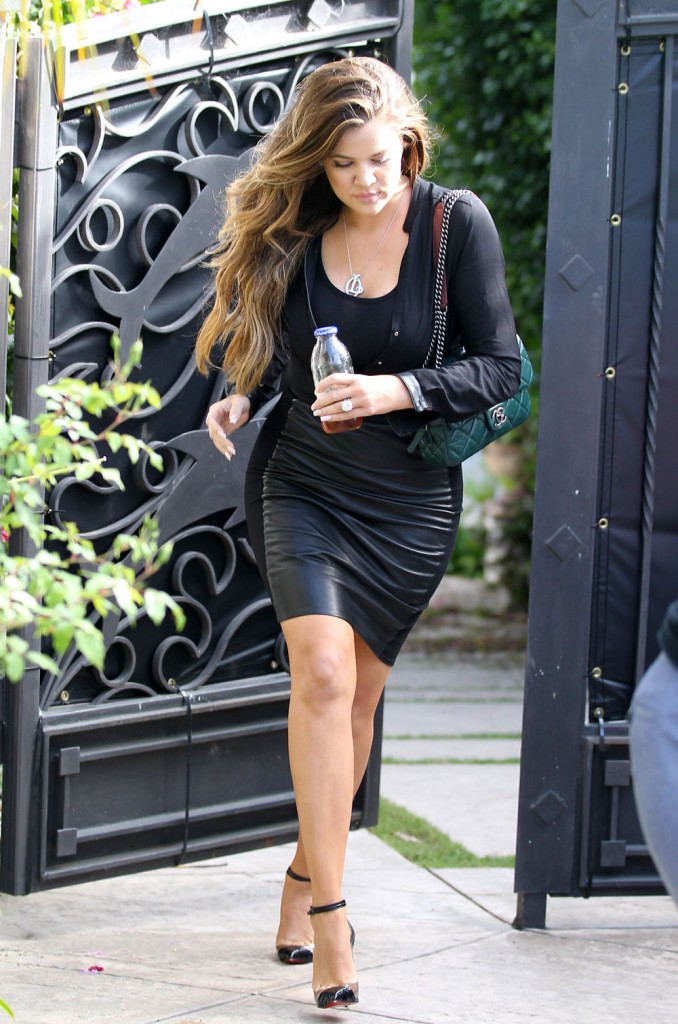 Lamar and Khloe in May, 2012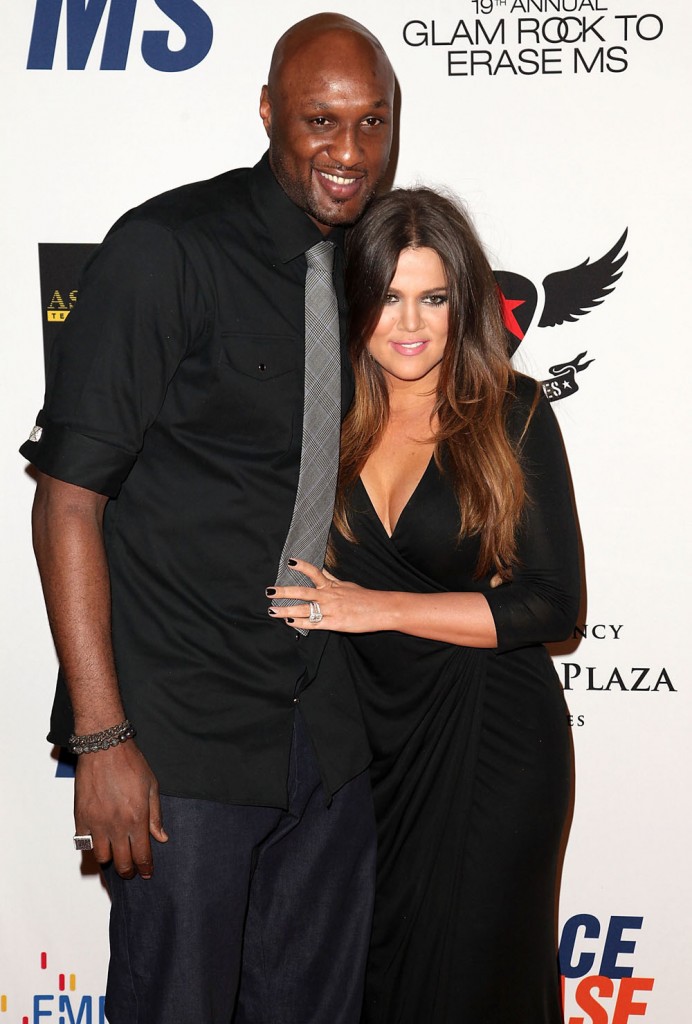 Photo credit: WENN.com and FameFlynet