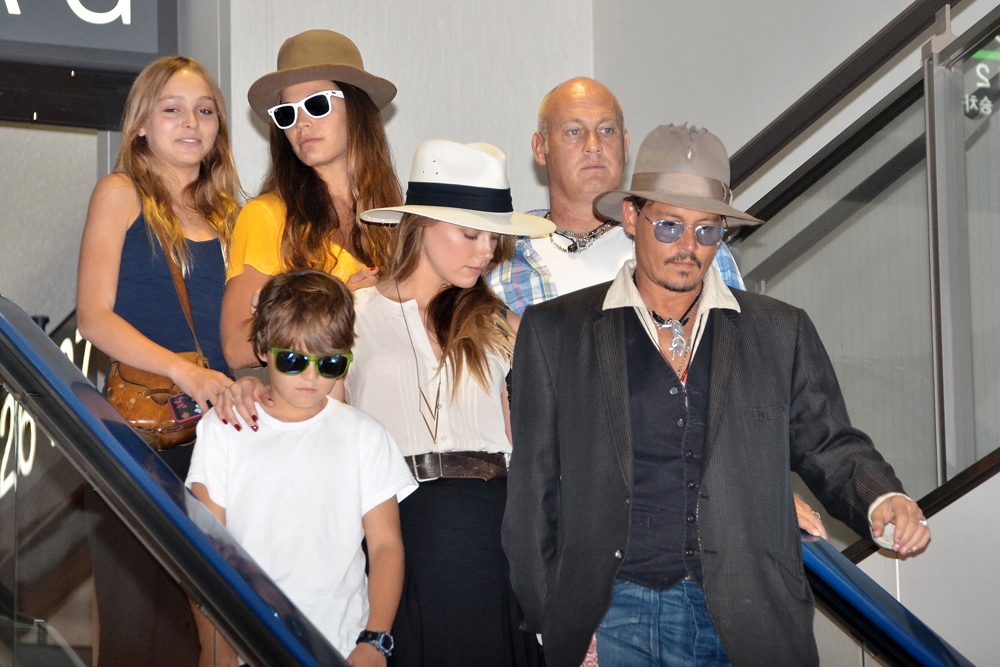 Last month when Johnny Depp toured Japan to promote The Lone Ranger, I knew something was weird about these photos of Johnny and his kids. Amber Heard is present as well, and she looks utterly disinterested, doesn't she? Possibly irritated as well. That could have also been because the paps were snapping pictures.
Still, this makes me wonder whether or not Amber is disillusioned with her position as girlfriend of a top-of-the-A-list actor. Just as with Katie Holmes, a young actress should never hook up with a decades-older boyfriend in the hopes that he will boost her career. That's just not how it works. In fact, show me an example of success with this tactic. Not even in the case of Tom Cruise, one of the (admittedly) most powerful movie stars in the entire world, has this ever happened. The poor girl ends up doing the walk of broken dreams. Even with Johnny's latest box-office slipups, he is still just as famous and influential in Hollywood as ever. Yet he can't make his girlfriend into something that she isn't, and since Amber talks about how she's such an artist, it's pretty sad if she got with Johnny while secretly hoping that he'd boost her profile. Of course, Ambers profile has been boosted, but probably not in the way that she wanted.
In that regard, a new story in this week's Enquirer sounds believable on many fronts, but it's particularly interesting because Amber just told Elle that she fancies herself an action star. If this tale is correct, then Amber and Johnny fought in Japan because she is bored as sh-t being the byproduct of a midlife crisis and is hanging onto the hope that Johnny's promises will come true: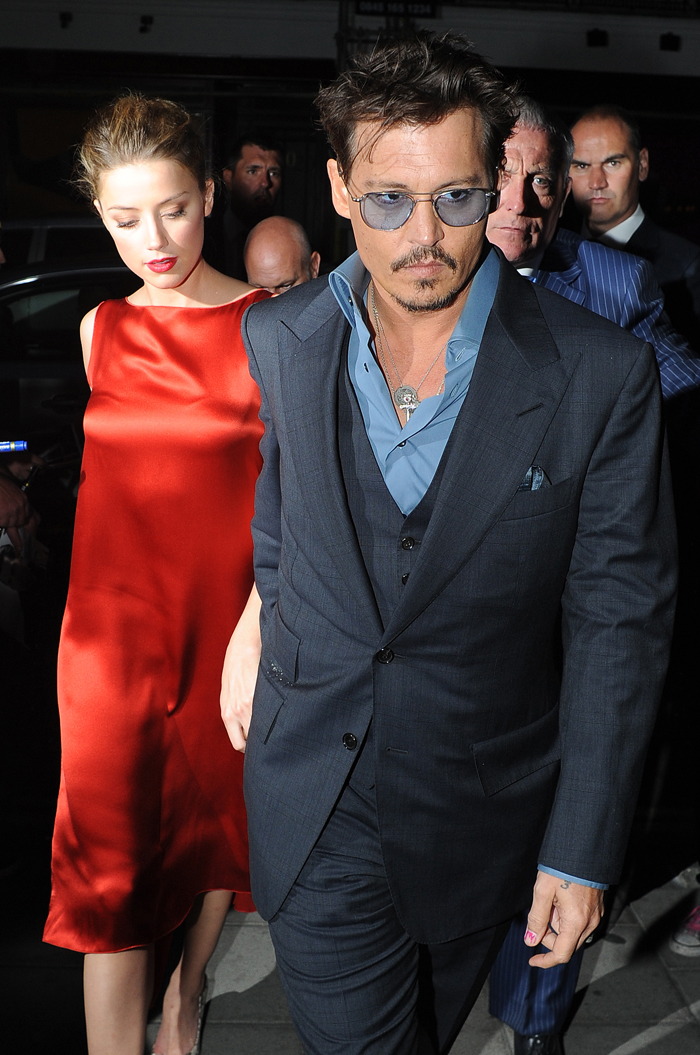 Johnny Depp's romance with bisexual beauty Amber Heard is already on the rocks! Sources say Amber, 27, resents the 50-year-old actor's controlling nature, and she's finding life with the Lone Ranger star to be boring.

Depp is so desperate to keep her, a source says he's even given the switch-hitting sexpot a green light to hook up with women. "Johnny accepts the fact that Amber has other needs, so he's told her it's OK for her to be with women when she has the urge," an insider told the Enquirer. But Johnny and Amber are in a bad place right now.

"When they first started dating, he promised to help her become the next Angellina Jolie, but Johnny simply hasn't followed through. Instead of finding exciting projects for Amber, or introducing her to TinselTown movers and shakers, he seems to block her from moving forward in her career.

"Apparently, she was offered the lead in the film version of the raunchy book 50 Shades of Grey," but Johnny told her to say no to it because it would be too smutty."

The two met while co-starring in the 2009 film The Rum Diary and have been an item since Depp's 14-year love affair with French singer Vanessa Paradis ended in June 2012. But Johnny has kept Amber cooped up in his Hollywood mansion, and she hates it, according to the source.

"It was cute for a while," noted the source. "Amber liked cooking for Johnny and watching old movies with him. But now she's bored out of her mind."

The couple's troubles came to a head while they were on a press jumped in Japan to promote The Lone Ranger, a box-office bomb that critics have mercilessly slammed. "The whole trip was a disaster, and Johnny and Amber got into a huge fight on the flight home," said the source.

"She pointed out how much she's given up to be with him and admitted that she misses her old life. Johnny's been super stressed about the movie and just snapped, telling Amber that she was lucky to be dating him."

But Depp soon changed his tune, said the source. "The promised Amber he'll make things more exciting for her, and he's still dangling the carrot of introducing her to agents and other key players," added the source.

"Amber's sticking around, hoping Johnny will be true to his word. But she's not going to wait much longer."
[From Enquirer, print edition, August 26, 2013]
If it's true that Johnny is just a boring homebody now, that's understandable because Johnny is no longer that guy who does coke benders all night long and throws furniture out the windows of hotel rooms. And that's a good thing — no one can sustain that ridiculous behavior forever. Johnny seems like he's just really mellow these days and would rather hang out at home while smoking the good stuff. At least he took Amber to a Rolling Stones concert, right? Yeah, that's for old people too.
Seriously though, I don't want to sound like I'm picking on Amber. For all we know, Johnny might be as controlling as this article describes. After all, he does rudely interrupt her interviews, and maybe the set trailer debacle was all his idea too. Maybe Johnny sweet-talked Amber like crazy just to land her — it happens to the best of us.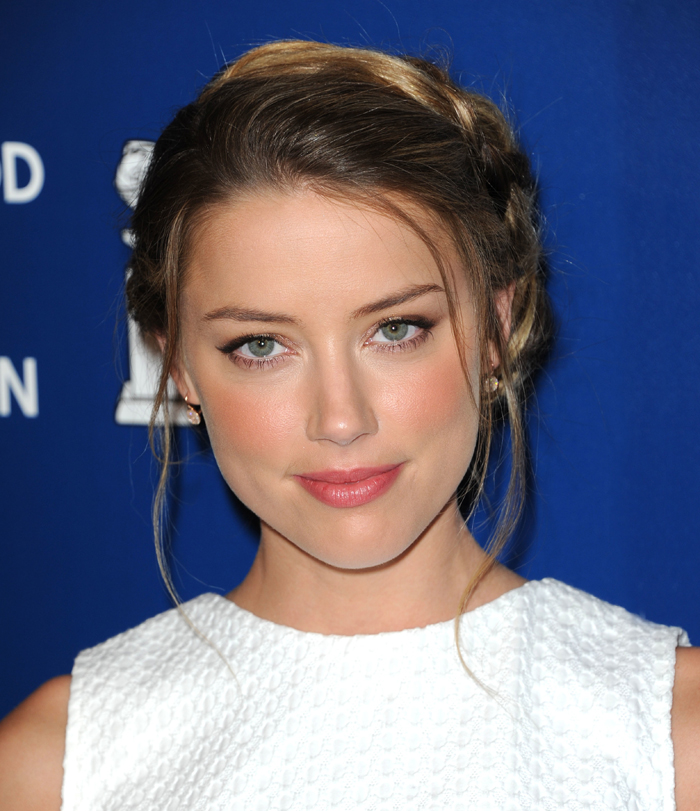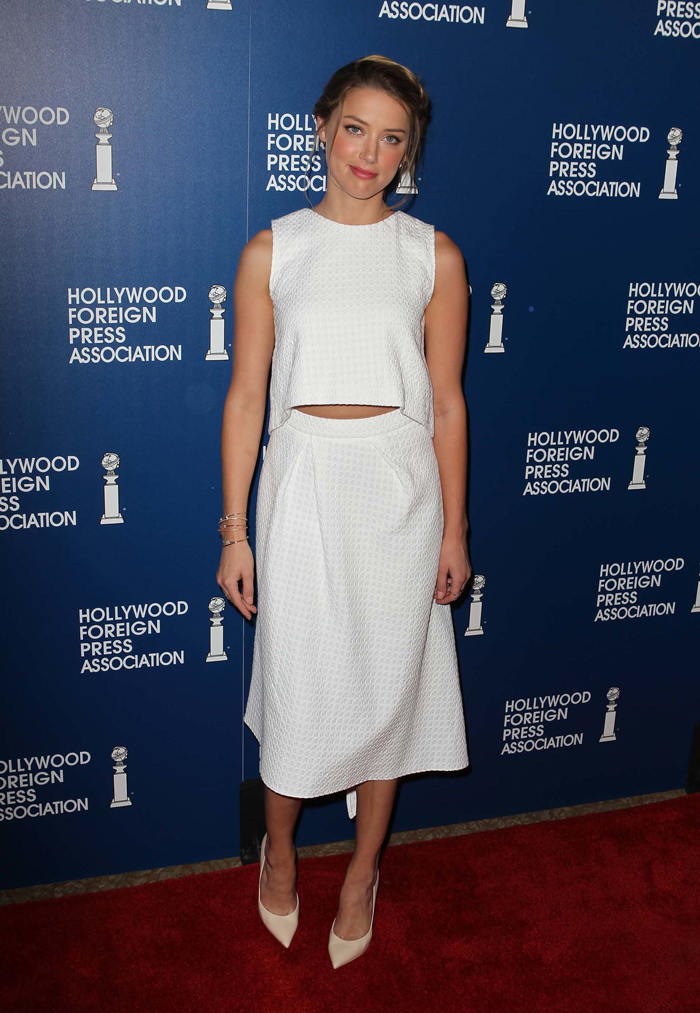 Photos courtesy of Fame/Flynet and WENN