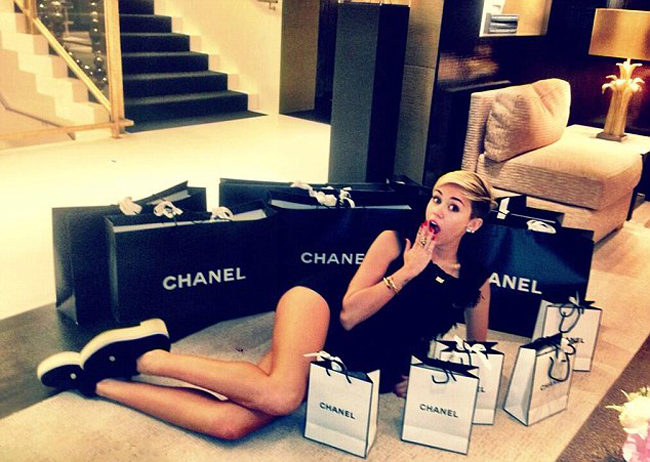 Remember when Miley Cyrus decided to annoy all of us in a different way other than sticking out her tongue and posed with scads of Chanel bags in London? It was mildly offensive for lovers of true fashion and just plain irritating for those of us who tolerate Miley's faux-rebellion but dislike that she's rubbing her riches in our faces.
Well, Miley is still using Chanel for her benefit, and I'm pretty sure the label doesn't mind because there's no way they let Miley out of that store without giving her some freebies. That's just the way it works, you know? The people with the most money get stuff for free all the time, but I'm losing my train of thought here. Miley is currently plugging her upcoming performing gig at the MTV VMAs on August 25, so she's made a little video for MTV Style (vid is not embeddable, but you can view it here). In the meantime, here are some excerpts of Miley talking about her grills again: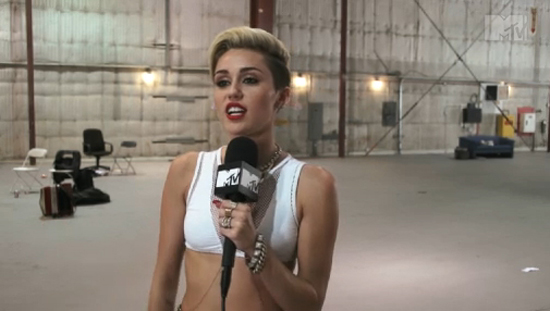 On her personal style: "You can just mix white trash and Chanel, that's me. That's my ultimate look. Pretty much everything is weird bondage stores except obviously my jewelry–gotta keep it classy with Chanel. I wear a lot of jewelry during the day, so I pretty much just come with my own jewelry, and give me some underwear to wear with it, and I call it a day."

On her three grills, which she has with her at all times: "One Lil Jon style, one more Beyonce style cause she has one with vampire teeth. Mine kind of have vampire teeth, but they have a space so it's my classy, dainty one. And then I have the plain gold when I'm trying to be chill, and I don't want to be too in your face."

On her onesies: "I have a hippo, which my boyfriend thinks is really sexy. So when I come downstairs it's Hungry Hungry Hippo, and I just go and smash everything and eat everything in sight."
[From MTV Style]
I find it so amusing that Miley carries these grills with her everywhere and acts like she's been doing so for years when her new image didn't really start taking shape until she signed on with Larry Rudolph earlier this year. So ridiculous.
Also, I can't even fathom how Miley is describing a grill as "classy" and "dainty." But sure, white trash and Chanel. She's totally correct.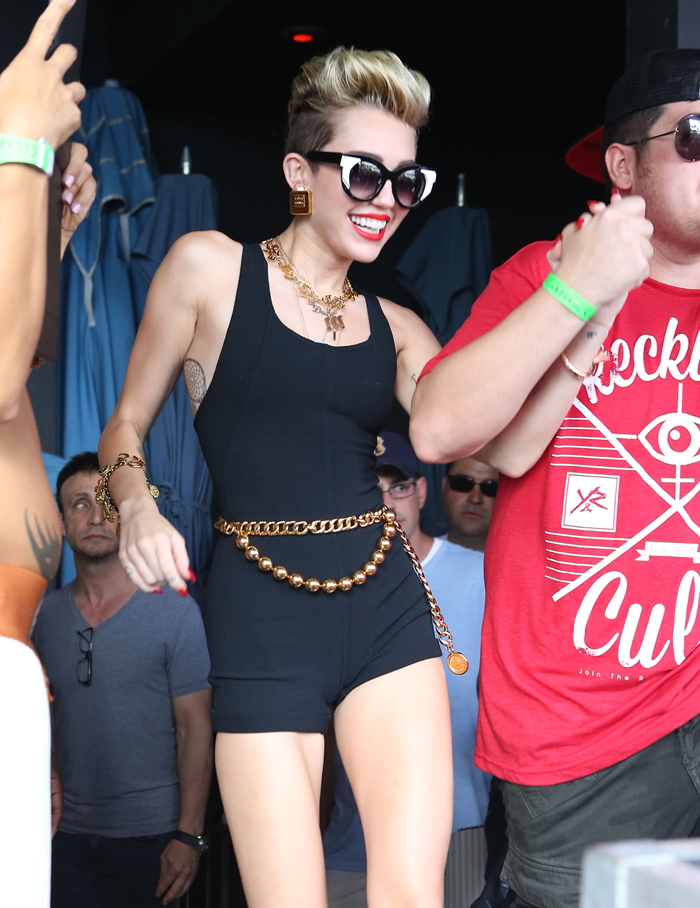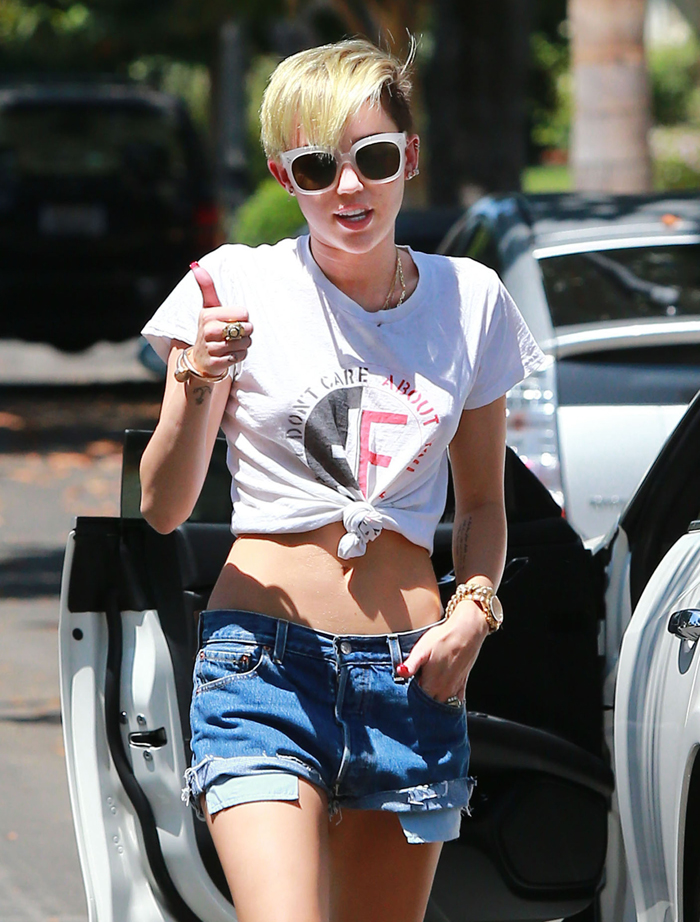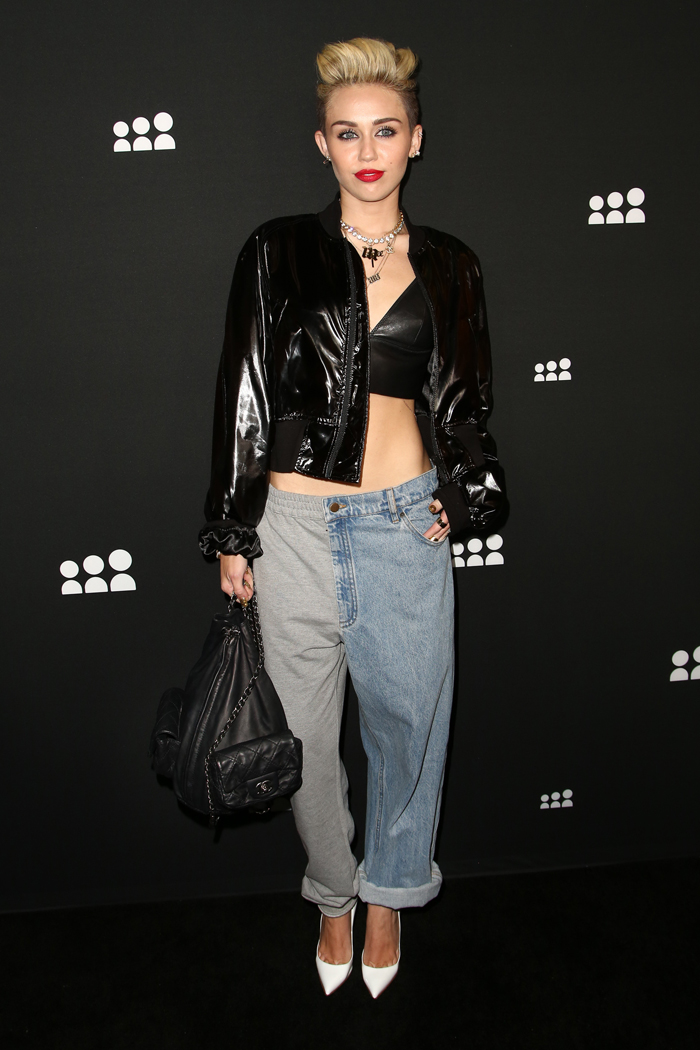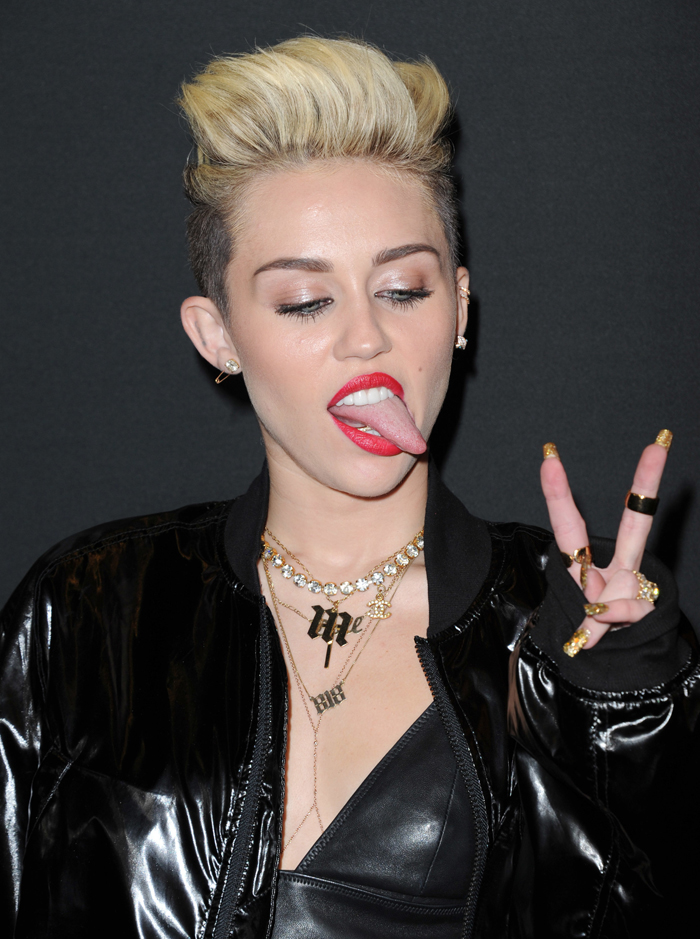 Screencap courtesy of MTV. Photos courtesy of Miley Cyrus on Twitter, Fame/Flynet, and WENN