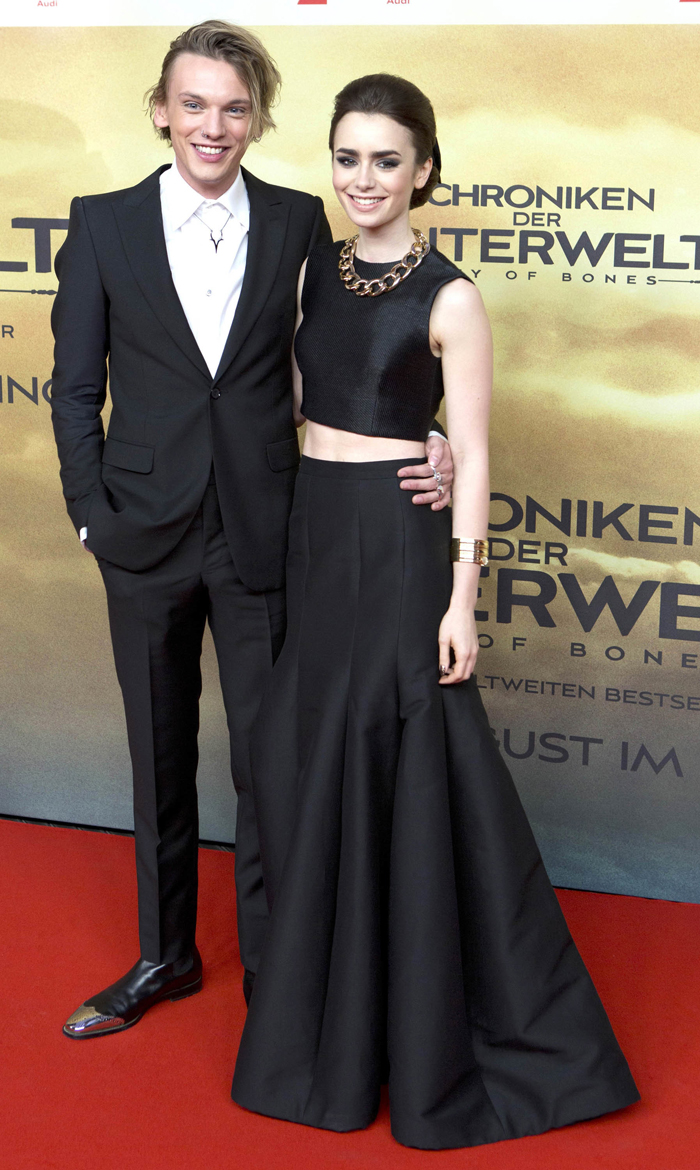 Here are photos of Lily Collins at the Berlin premiere of The Mortal Instruments: City of Bones. Lily's popularity as a fashion girl is hit-and-miss around here. I'm hoping this post will generate more interest than the last Lily post because I kind of like writing about Miss Lily and wouldn't mind doing so again.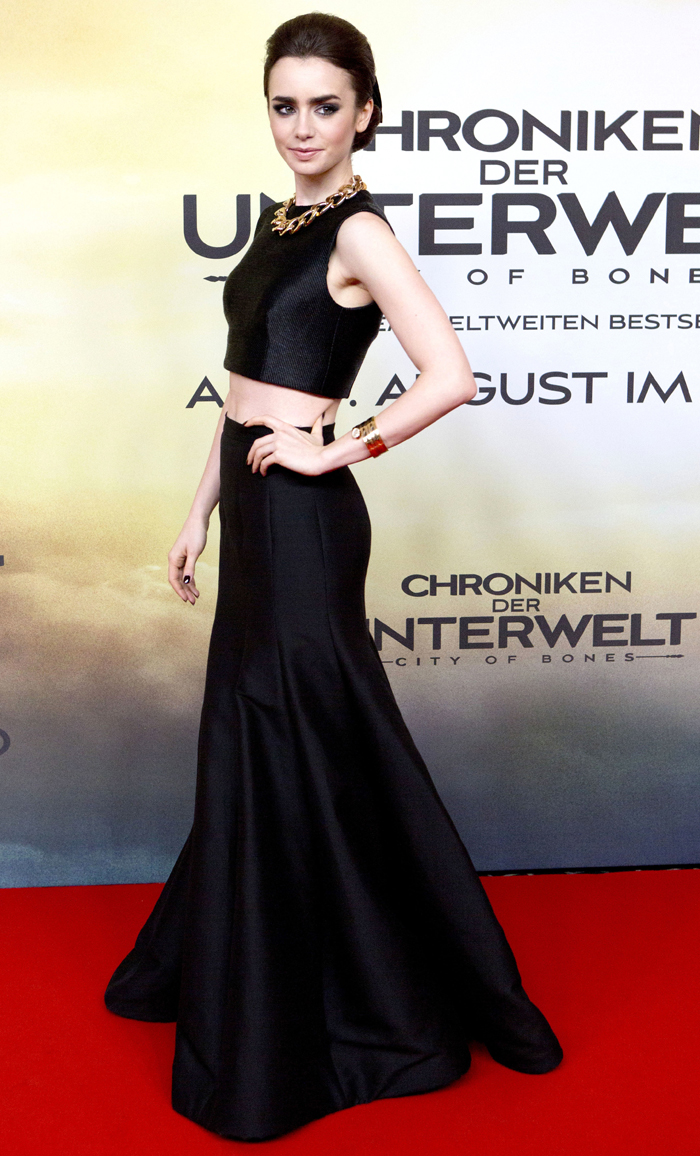 So let's get down to it, shall we? Lily chose to once again bare her abs (which is quickly becoming a trademark of hers), but this time she wore all black and made a gamble with separates. Lily donned a sleeveless, Paper London crop top with a Halston Heritage maxi skirt. I think this is a fantastic look for Lily because it flatters her body so well and looks both playful and sophisticated. The gold statement jewelry works quite nicely in this instance.
Lily was accompanied by her co-star and ex-boyfriend (they broke up last month), Jamie Campbell Bower. The Mail has photos of them looking quite flirty on the red carpet. I wonder if producers told them to put on an act. That would make sense because Variety is predicting that this movie will bomb terribly and end up with a mere $20 million for a five-day weekend. If that happens, this result will only confirm my feelings on the trailer, which was way too busy with all sorts of Harry Potter-esque elements haphazardly thrown in for the hell of it.
Still, I really love this dress! The back view is stunning with a slight flared skirt that sweeps the floor, and Lily's makeup and chignon are just right for the occasion.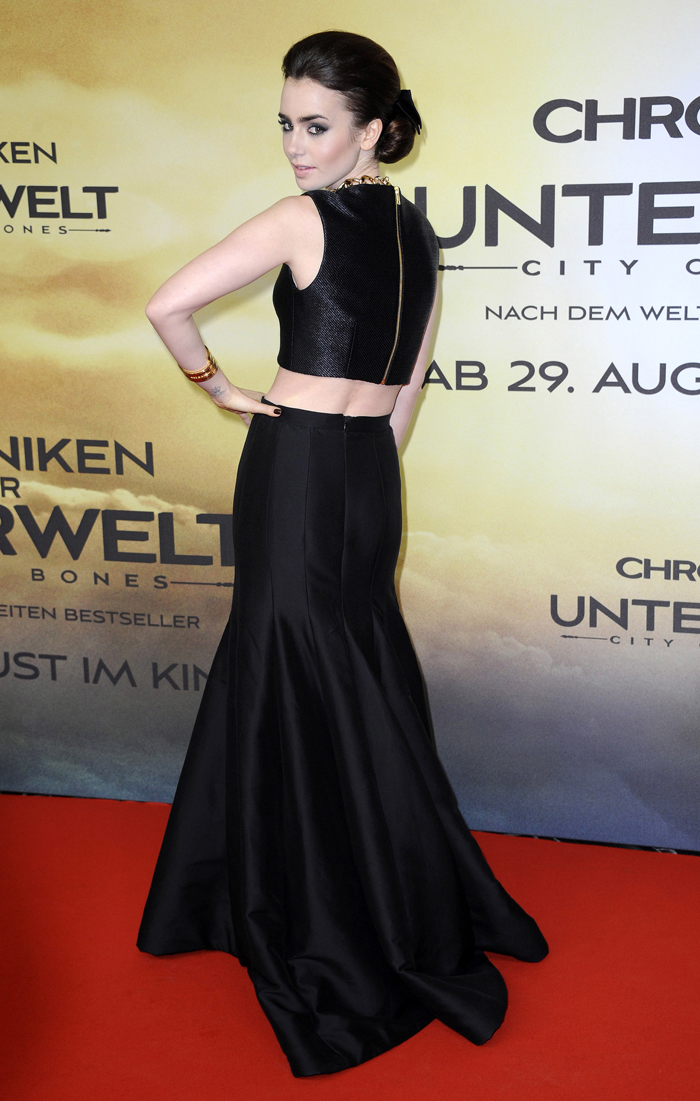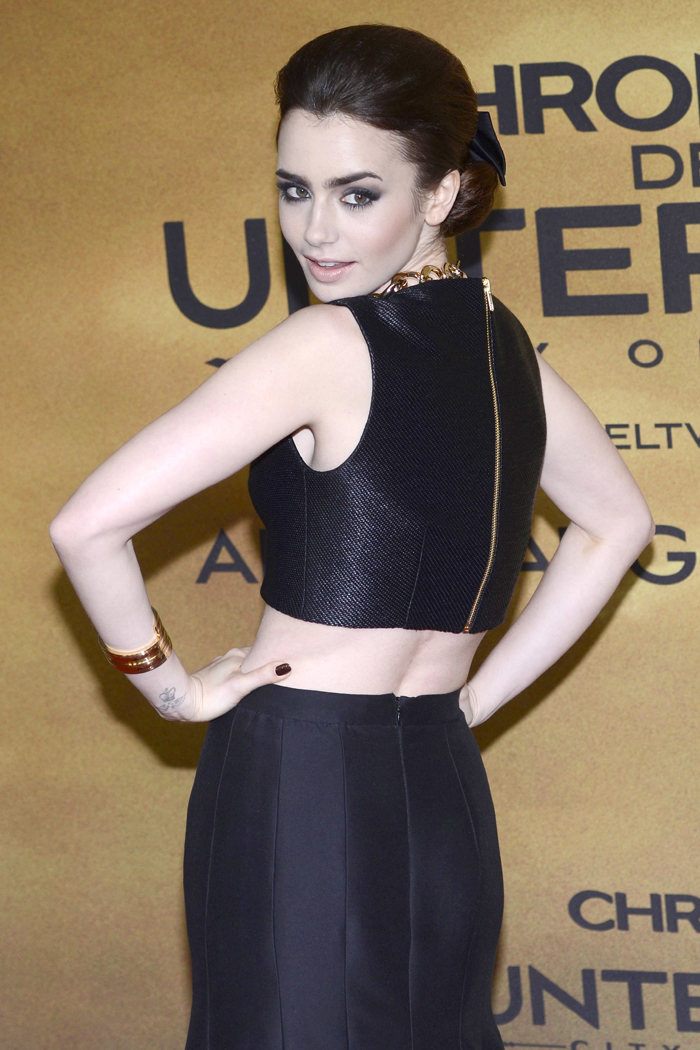 Lily has also been doing interviews like crazy, and here is one from Collider:
She doesn't like Twitter or Facebook: "I feel like all the time it's this influx of information to people that are not even asking. It takes away from an interview or a junket situation. It's this constant information about me that I just don't necessarily think is important. There was a moment when I realized that if people start to know me well as Lily interviewing and as my personality, they won't believe me as a character as much. If they know me so well as being happy and this personality or whatever, then I can't play that gritty girl who is a loner. I've done that where I've watched a movie before, and I've been like, 'Oh my God, I just heard about the best pizza they had last week and now I'm watching them.' It's weird. It's stupid. It shouldn't take you out of a movie, but I just feel like when you have so much information thrown at you about a certain person, and some of it is just so silly, and it's funny to read. But, for me personally, I don't want someone watching a movie of mine and being like, 'I saw a bikini shot of her the other day.' At least, if it's taken by a paparazzi, that's out of my control. But if I'm going to Tweet a picture of myself in a bikini, and then someone is watching a movie and I'm supposed to be this gritty character, they all of a sudden get taken out of the movie because they remember that picture. I see a movie as an experience, and I would like them to be able to [have that]. When I watch a movie with someone like Natalie Portman or Meryl Streep, or the women that I admire like Sandra (Bullock), Julia (Roberts), any of them, I don't see them playing a character. I see a character. I can only hope that one day I'm half as amazing as they are, but at least I want that same experience of watching someone play a character and not thinking about them as the person."

On her next movie: "I just finished a film called Love, Rosie in Dublin. I was shooting for two and a half months. I'm British. I aged ten years and have a 10-year-old child by the end of it. It was the most amazing, life changing experience for me being a mom. It's terrifyingly heartbreaking and at the same time so hilarious. It's kind of like Bridget Jones meets Love Actually meets Notting Hill and then a bit of Juno. There's so much in there. It feels like it was such a small crew and it was very much independent, but at the same time, it has this big feel. It's Sam Claflin and I and an amazing cast like Suki Waterhouse, Jaime Winstone and Tamsin Egerton. It's just a really cool European cast. So I did that, and then Stuck in Love just came out a while ago."

On Pride and Prejudice and Zombies: "I'm signed on for that for the role of Elizabeth Bennet. It's just when that happens that we're still [deciding]. That is something that I have, but I'm just not sure when."
[From Collider]
I definitely understand to a degree what Lily is saying about social media. While I quite enjoy a lot of celebrity tweets and find it quite charming when, say, Patrick Stewart tweets about pizza, I would be absolutely crushed if, say, John Malkovich started tweeting mundane stuff. Many actors and actresses can carry it off, but Malky had better stay away from the tweetboard if he wants to continue his enigmatic presence on the big screen. So I think Lily has the right idea to be cautious about oversharing online, and to me, Twitter and Facebook are best used as a means of sharing interesting links and articles.
Here's Lily showing off her toned midriff once again on Monday evening in London. These trash-bag pants have got to go.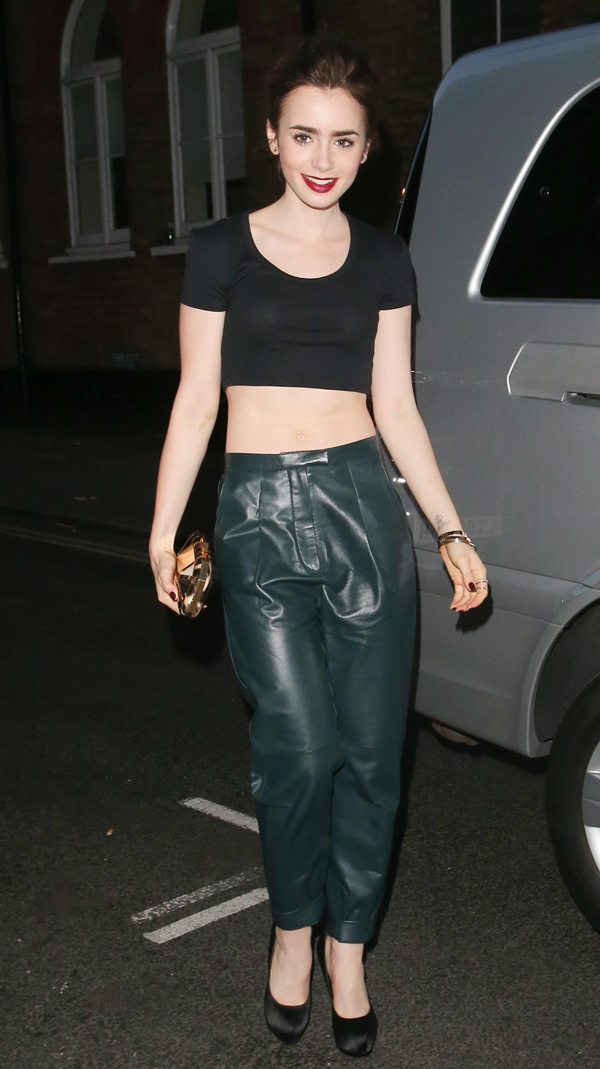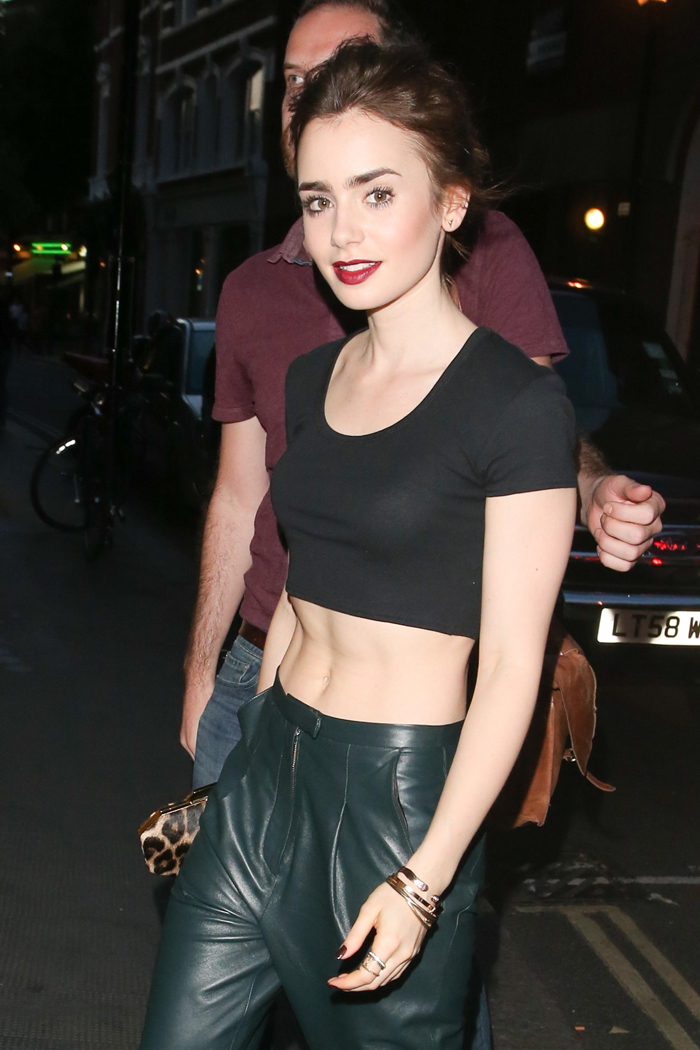 Photos courtesy of Fame/Flynet and WENN