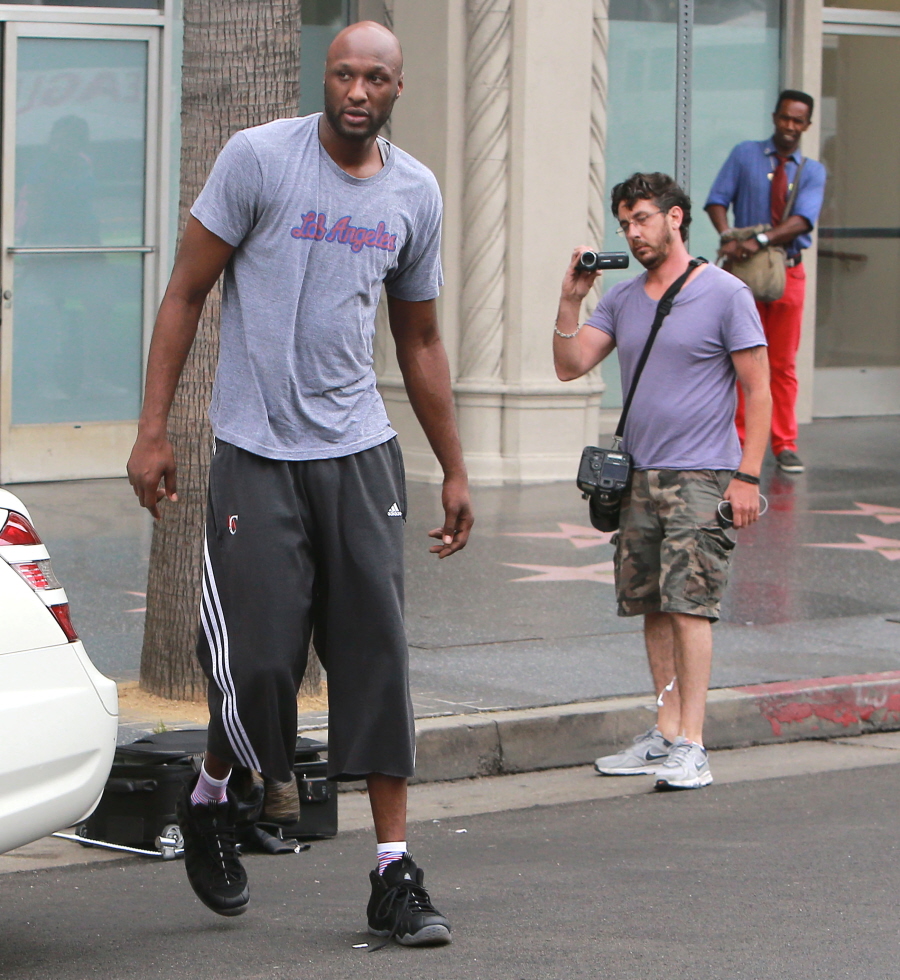 As we discussed yesterday (and the day before), TMZ has gone full-tilt against Lamar Odom. Apparently, Lamar "went missing" for 72 hours and his family thought he was on some kind of crazy drug bender. Apparently, Lamar smokes crack now. Apparently, he's been to rehab at least once in the past year and Khloe has been dealing with all of this by herself for a long time. Apparently, Khloe is worried about Lamar's wandering dong, but she's more worried about his drug use. And now they're separated. And now TMZ has a story about just how bad Lamar's drug use has been:
Lamar Odom was deep into drugs while he was playing for the Dallas Mavericks and there is evidence he was doing the exact same thing while playing for the Lakers … TMZ has learned. Sources connected to a Westin hotel in Memphis tell TMZ … in March of 2012, shortly before Lamar was cut from the Mavs, he stayed in one of the guest rooms while his team was in town playing the Grizzlies.

Our sources say when Lamar left, hotel employees found major carpet damage … including quarter-sized burn marks. The damage was so bad, the hotel had to replace the carpeting in the room.

Our sources say hotel employees also found white powder on the desk blotter and the room reeked of noxious smoke. Our sources say it was obvious there was serious drug use going on in the hotel room.

The Westin is one of numerous hotels where NBA players stay when they're on the road. TMZ has contacted a number of these hotels in various cities. We've learned from several hotel employees … they had complained about the state of the rooms when Lamar left — similar to what happened in Memphis — and this was while he was playing for the Lakers.

Our sources say no one on the Mavs knew Lamar was a substance abuser while he was on the team, but everyone knew something was seriously wrong with him. We're told that during at least part of the time he was playing for the Mavs, Lamar was smoking Oxycontin and cocaine. Odom's problems were so severe, he was cut from the Mavs mid-season and paid in full just so he would go away.
In retrospect, these stories do make some kind of sense. I know some of you think this is just PR shenanigans by the Kardashian-Jenner clan, but don't Lamar's recent career mishaps make more sense when you add this layer of "drug use" in? It makes sense to me. That being said, these leaks are totally coming from the Kardashian-Jenner clan. Radar has a "no sh-t Sherlock" story about it too:
As sensational reports about Lamar Odom's drug addiction swirl, the NBA star believes the Kardashian family leaked negative stories about his alleged use of crack cocaine, but he doesn't believe his wife Khloe Kardashian has had any role in the negative stories being made public, RadarOnline.com is exclusively reporting.

Lamar "absolutely believes Khloe's family has been leaking stories to the tabloid press about his drug use, and his trip to rehab last year. Khloe has been very private about Lamar's drug addiction, as she had done for the past year," a family insider exclusively told Radar.

"The last thing Lamar needs is for his battle to get sober made public. Khloe is also extremely angry that details about Lamar's past trip to rehab and recent failed intervention were published on various gossip websites."

Now that Lamar's alleged drug use is out in the open, "he will be obviously be subjected to increased drug testing by the NBA which has a very tough policy on using illegal substances and steroids," the insider continued.

"Lamar is a free agent, and of course, that could hurt his chances of being signed by an NBA team. Basketball is Lamar's life, and it's been hard for him to go from being a starter, to the sixth man sitting on the bench." As Radar previously reported, the Kardashian family fears Lamar has become hooked on the drugs OxyContin and Ambien and even secretly went to rehab last August. Khloe and Lamar have been in marriage counseling until he abruptly stopped in June — around the time he began an alleged six-week affair with California lawyer Polina Polonsky.

Meanwhile, ESPN is reporting that Lamar is holed up in a Los Angeles hotel, as friends urge him to get help. Lamar's sports agent shot down a report from over the weekend that he had been missing for 72 hours.

"Lamar is not missing. His wife knows exactly where he is. Playing in the NBA is still very much a part of Lamar's plans," his agent, Jeff Schwartz told ESPN.
Hot mess. Would it be so bad or off-side for an NBA player to go away for a year for some intensive rehab and therapy and then come back to play? Does that ever happen? I have to ask because I really don't know. I guess baseball players can do that or they have done that in the past, but what about NBA players?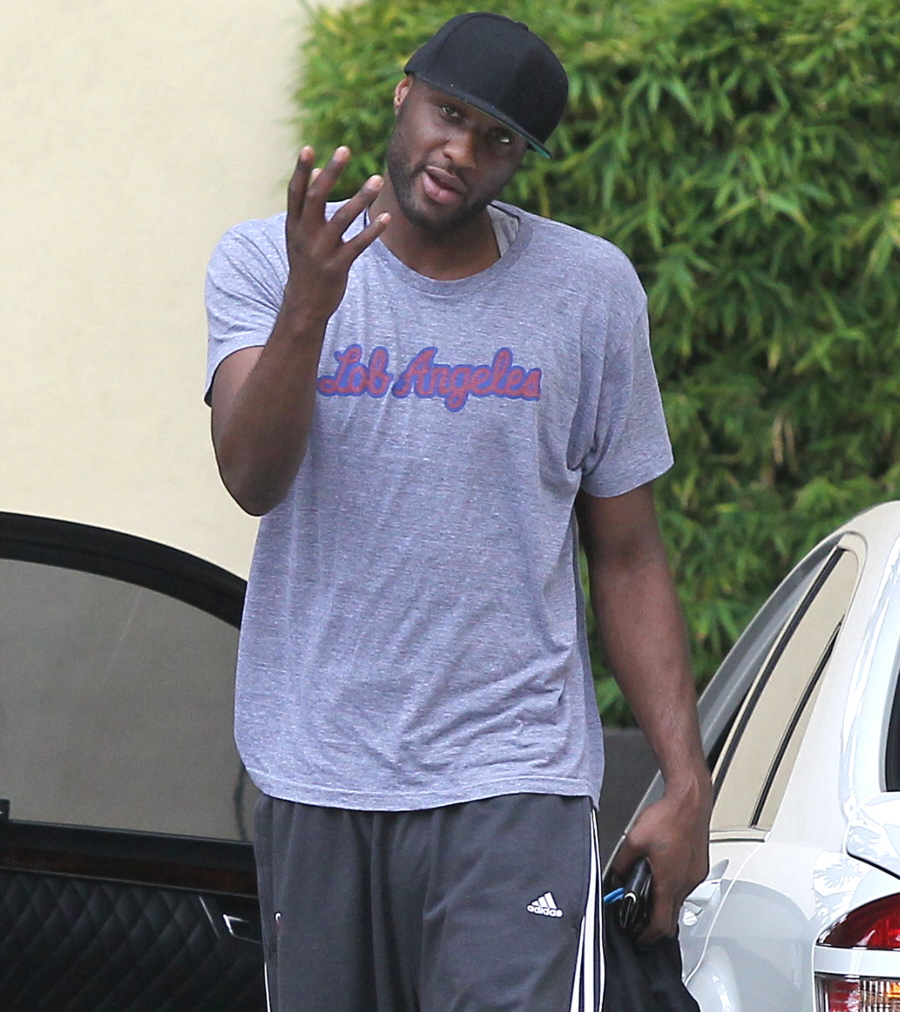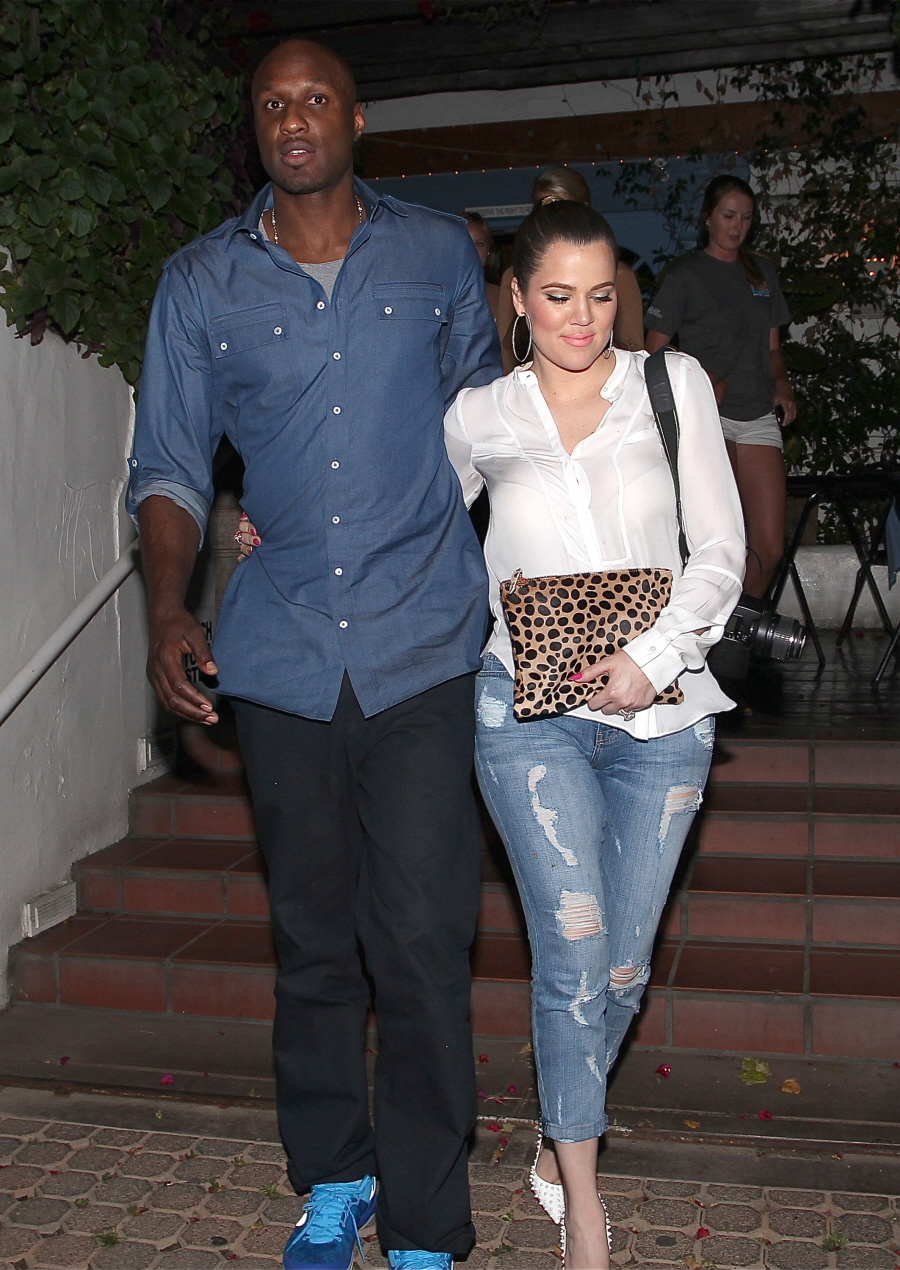 Photos courtesy of Fame/Flynet.