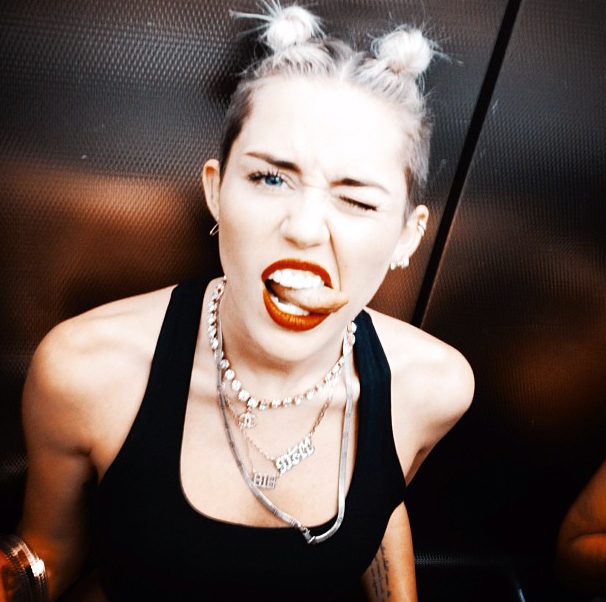 I have to admit that Miley Cyrus' new little devil-horned hairdo is steadily growing on me, but damn, this Miley news stream (much like Miley) just won't stop. In fact, there's a bit of crossover with today's Justin Bieber post, so if you're curious about the Miley-Bieb duet called (get ready for it) "Twerk," go to that post to listen to the song in all of its awful glory.
Meanwhile, people are still bagging on Miley for a VMA performance in which she stripped to a bra and (too-small) panties and set about gyrating with a bunch of stuffed bears and a stiff (no pun intended) Robin Thicke. Yesterday, we talked about how parent associations were all upset, and now it seems that the Teddy Bear Fund is calling Miley out too. According to TMZ, the organization stated, "Miley made a poor choice to use a universally loved children's teddy bear in an offensive way. There is always good art and bad art — unfortunately … this was bad art." Seriously.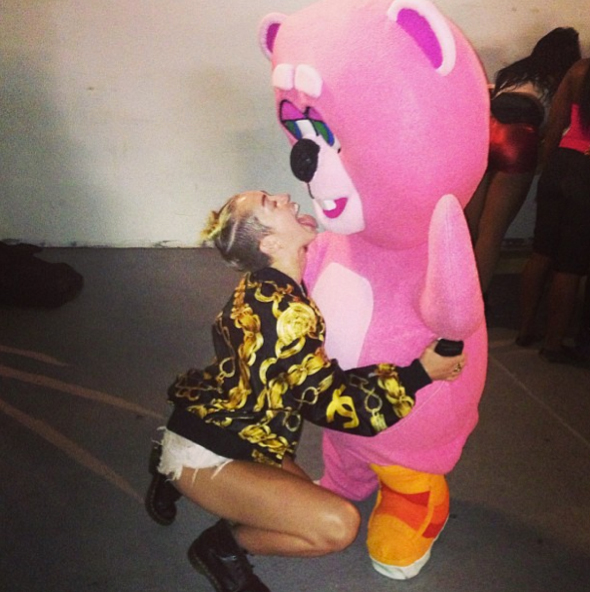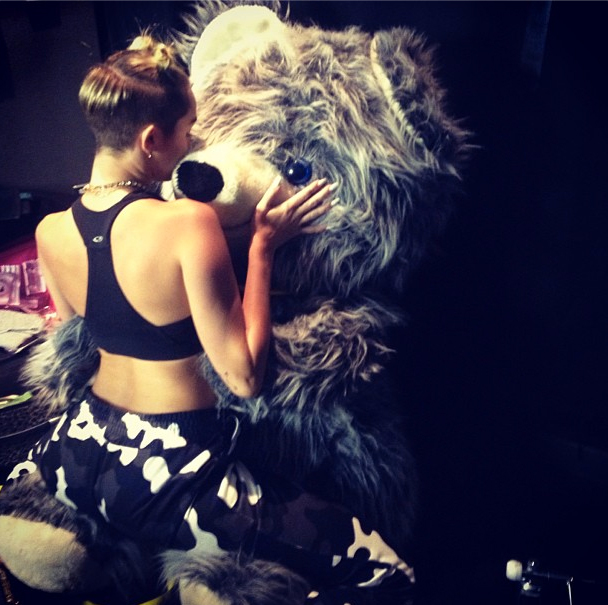 Miley's stunts are paying off because Billboard is predicting a week of strong single sales following the ass flash seen 'round the world.
Oh, and Miley is actually in the process of recording with Kanye West on a remix of "Black Skinhead." Kanye has jumped aboard the Miley train along with Wiz Khalifa and Juicy J, who have collaborated with Miley on the new Mike Will Made It single, "23." A clip of the song leaked yesterday, but it keeps getting yanked off YouTube. (The Mail has posted a few seconds of audio featuring Miley very awkwardly rapping.) Some of the lyrics of the song include the following: "I'm in the club high on Perc with some shades on / Tank up, mini skirt with some J's on / I be in the club standing on the couch / In the wolf greys like it's my house." Just wait — Miley will soon claim that she's not saying "Perc" at all. She's just saying her own name again, and we're too thick to figure that out.
If there was any doubt at all about that silly report about Miley's team allegedly freaking out, manager Larry Rudolph would like to clear up that rumor. Rudolph says that Miley's performance went exactly as she planned for it to happen. No word on whether or not she pulled a fast one on Robin Thicke or not, but Miley is entirely pleased with both the act and the ongoing reaction:
Cyrus, 20, had been working on the VMAs performance of her hit "We Can't Stop" – along with her racy duet with Robin Thicke – for about a month before MTV's big awards show on Sunday.

"Most it came from Miley's brain," Cyrus's manager Larry Rudolph tells PEOPLE. "But she collaborated with [her music video director] Diane Martel, who helped her conceive it and bring in the spirit of the VMAs. And with Todd James who designed all of those amazing bears."

Though her skimpy, flesh-colored outfit, her suggestive use of a foam finger and close contact with Thicke, 36, were panned on social media, not everyone is criticizing Cyrus's jaw-dropping performance.

So what does Cyrus, whose new record will be released Oct 8., think about the world's reaction? "She couldn't have been happier about the performance," says Rudolph.

"MTV and Miley knew exactly what they were doing," adds a source close to Cyrus, whose team wasn't alarmed by the performance. "No one is freaking out."

In fact, "We were all cheering from the side of the stage," Rudolph says of Cyrus's inner circle, which included her mom Tish. "It could not have gone better. The fans all got it. The rest eventually will."
[From People]
Somehow, I am not surprised at all that Tish Cyrus was actively cheering at Miley's onstage antics. Tish never criticizes Miley at all, and I can't help but think she just doesn't want to make any waves since Miley is the source of most of the family income.
Throughout all of this, a lingering question involves Liam Hemsworth's thoughts regarding his girlfriend grinding her bum against Robin Thicke's crotch. Hollywood Life claims to have an exclusive that Liam and Miley are still fighting like crazy, and Liam just can't get why Miley is being so aggressively sexual in public. Oh, Liam. It's Miley's mouth, and she can say/do/twerk what she wants to.
Here's a picture of Miley with Mike Will Made It, who has described Miley as "the new Madonna." Right.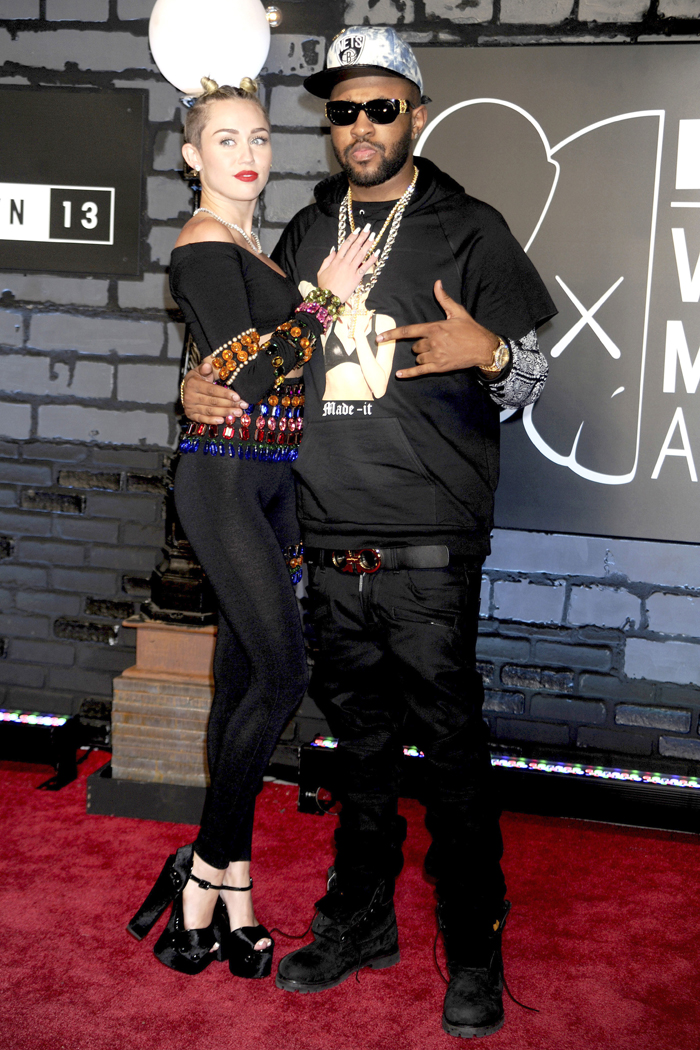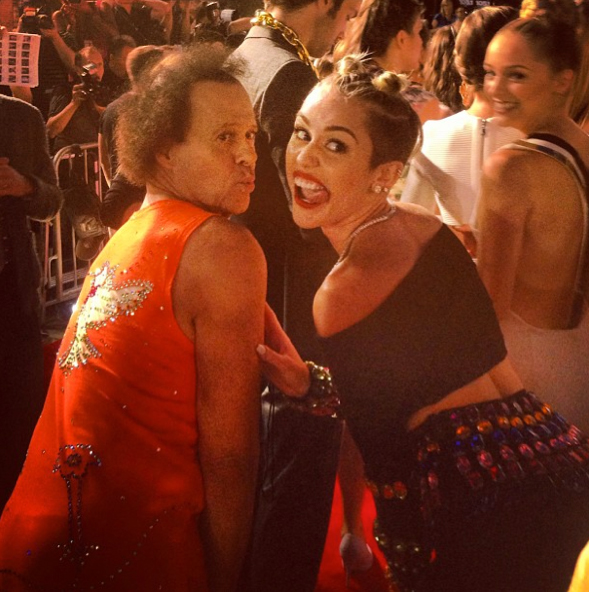 Photos courtesy of Miley Cyrus on Instagram and WENN