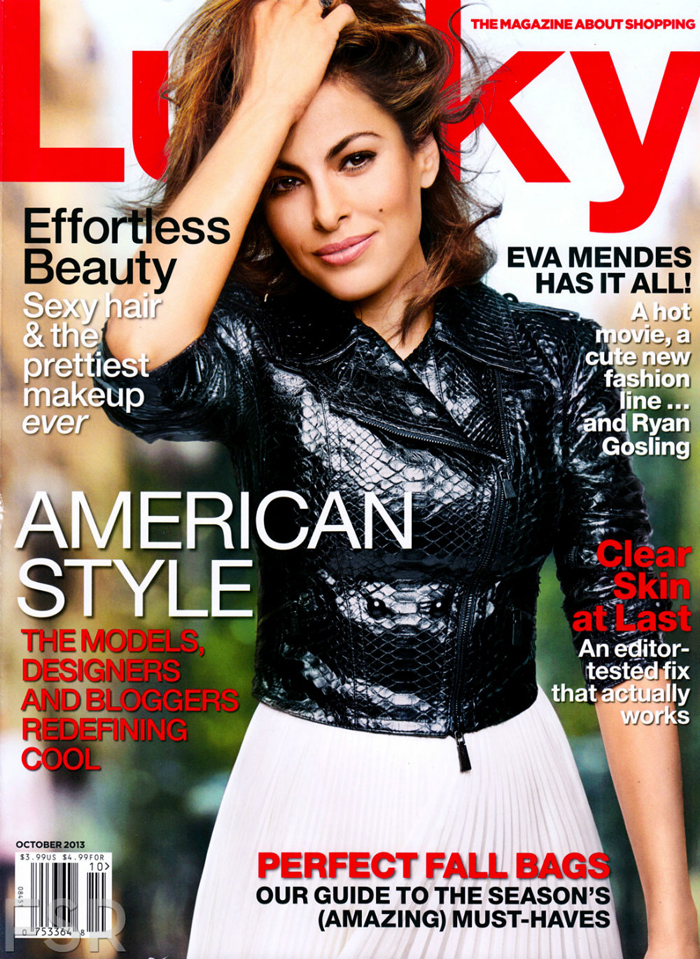 Eva Mendes has kept a pretty low profile lately, but she covers the October issue of Lucky magazine. While her aggressively arched eyebrows usually drive me crazy, she looks quite beautiful in this shoot. The clothes are also pretty cool with the exception of the cover. That jacket looks so plasticky and not comfortable at all, but the other outfits are totally things that I would wear.
The interview is kind of weird though because Eva is playing the innocent card when it comes to her own fashion sense. She alludes to her own fashion line, which is supposed to launch sometime this fall, but she's playing it coy by claiming not to like form-fitting, sexy clothing. That's a strange assertion from a woman who tries so hard to be sexy that she once claimed to have had sex in all 50 states. Eva also sort of explains that bizarro quasi turban from last year: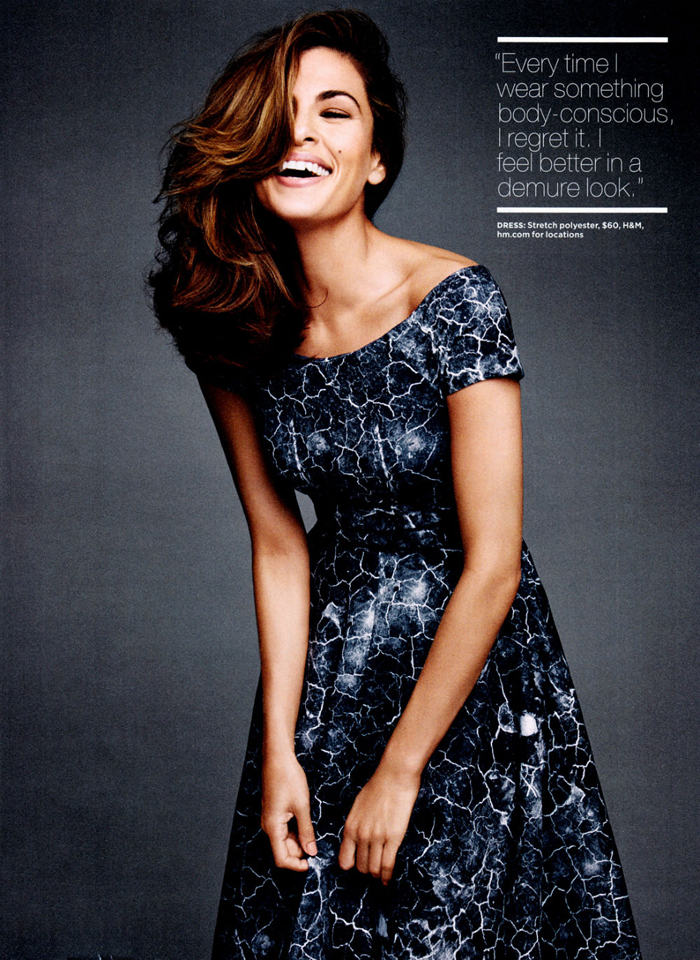 She's so method: "I'll do anything for a role! For A Place Beyond the Pines, I exercised a lot. I wanted my character to feel really depleted. My mom didn't understand why I would want to look that way. She's constantly telling me I'm too skinny!"

Her mom loves to keep tabs: "The way my mother keeps track of me is looking me up. I say, 'Please, Mother, don't Google me!'"

No dishing on the Gosling: "You can ask about my boyfriend. I just won't answer."

About that turban: "There are days when I don't feel great, but I put on my favorite dress and throw a scarf in my hair, and it makes all the difference. Hopefully my line can do that for women. Even if you're not feeling your best, let's admit it, the right outfit–it helps."

On her style: "Every time I wear something body-conscious, I regret it. I feel better in a demure look."
[From Lucky mag]
Do you buy that Eva feels entirely uncomfortable in body-conscious clothing? I guess I believe her because while she wears a lot of form-fitting stuff on the red carpet, most of her casual street wear includes sweaters and pants. All the same, she is the type to wander around naked in her own home almost all the time, so maybe her "demure" self-description is merely an act.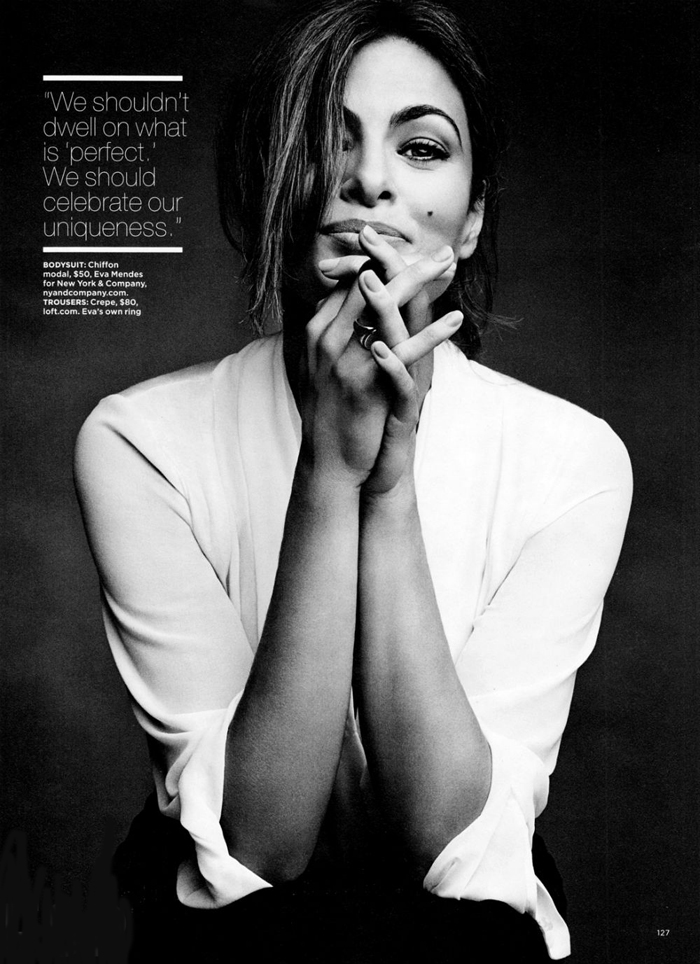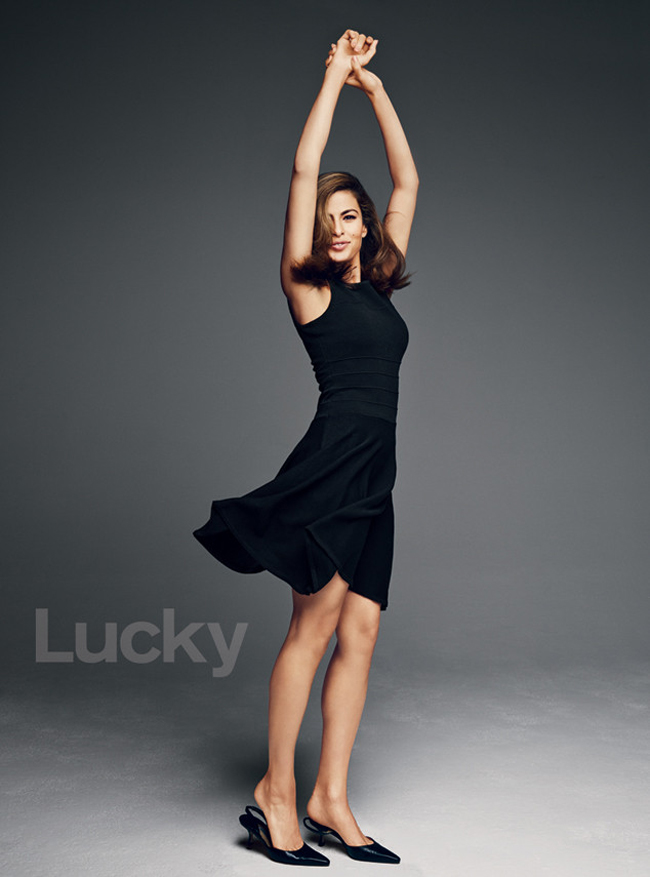 Photos courtesy of Lucky mag